British GP 2016
JULY 10, 2016
Race Notes - Hamilton wins third British GP in a row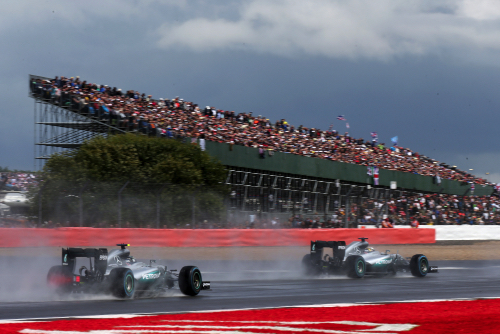 © Active Pictures
By Mark Karp
Lewis Hamilton, in a wet-dry British GP, won for the third year in a row in his Mercedes GP, followed by his team mate Nico Rosberg in second - 8.8 seconds behind, and in third place was Max Verstappen in his Red Bull-Tag Heuer - 1.3 seconds further back.
The win is Hamilton's fourth career British GP, and his 47th career win. Hamilton closes to only four points behind Rosberg in the drivers championship.
Verstappen's Red Bull team mate Daniel Ricciardo (26.2s) finished in fourth place, followed by Kimi Raikkonen (69.7s) in the Ferrari was fifth, Sergio Perez (76.9s) in the Force India-Mercedes was sixth, his team mate Nico Hulkenberg (77.7s) was right behind in seventh, Carlos Sainz (85.8s) in the Toro Rosso-Ferrari was eighth, Sebastian Vettel (91.6s) in the Ferrari was ninth, and Daniil Kvyat (92.6s) in the second Toro Rosso was in the final points position in tenth place.
Before the start the heavens opened and rain started falling on the grid, with Hamilton and Rosberg on the front row, Verstappen and Ricciardo on row two, Raikkonen and Bottas on row three, Sainz and Hulkenberg on row four, and Alonso and Perez on row five - Vettel starts from 11th after his gearbox change.
As we approached start time with five minutes to go, the rain stopped falling - it was announced that the race will start as a wet race behind the pace car - with the sun beginning to shine. All drivers will start on wet tyres and the question will be whether the teams will switch to intermediates, or go directly to dry tyres. There remains a chance of showers throughout the race, so we will see how much the race will be decided on tyre strategy.
The cars started behind safety car - Hamilton complaining that the safety car is going too slow. Drivers will be struggling to keep their tyre temperatures high enough to be effective.
At the end of lap five the safety car pulled off and the race started with Hamilton in the lead, many drivers diving for the pits and switching to intermediate tyres..
Hamilton leads Rosberg, Verstappen, Ricciardo, Perez, Massa and Kvyat.
On lap 6 Verstappen if chasing behind Rosberg. Ricciardo, Massa, Kvyat, Button, Palmer and Hayanto all pit for intermediates.
On lap 7 Wehrlein is in the gravel trap having aquaplaned off the track, and the virtual safety car is deployed. Hamiton, Rosberg, Verstappen, Perez, Nasr and Ericsson all pit for intermediates.
On lap 9 the virtual safety car is finished and the race continues with Hamilton leading Rosberg, Verstappen, Perez, Ricciardo, Raikkonen, Sainz, Massa, Bottas and Hulkenberg in tenth.
Alonso is pressuring Hulkenberg for tenth.
On lap 9 Hamilton sets fast lap of 1m52.310 as the track conditions get better by the lap.
Hulkenberg tries to pass Bottas, but the Finn comes back around the outside and keeps the position.
On lap 11 Bottas spins but continues. Ericsson retires with engine problems.
On lap 10 Verstappen sets fastest lap at 1m51.848s.
At lap 11 Hamilton leads Rosberg by 5.3 seconds, followed by Verstappen (6.5s), Perez (16.3s), Ricciardo (18.0s), Raikkonen (27.6s), Sainz (30.0s), Massa (35.9s), Hulkenberg (36.7s) and Alonso (37,9s) in tenth place.
On lap 13 Verstappen closes to 1.5s behind Rosberg in second place, as the track continues to dry.
Raikkonen runs wide but continues.Massa runs in eighth - holding back Hulkenberg and Alonso.
On lap 14 Verstappen sets fast lap at 1m51.350s.
On lap 16 Vettel pits and switches to medium compound
Hamilton sets fast lap at 1m50.639s.Verstappen passes Rosberg at the outside of Chapel for secondplace.
On lap 17 Hamilton pits from the lead for medium tyres.
On lap 18 Vettel spins after setting fast lap at 1m46.324, but continues.
On lap 18 Verstappen pits for medium tyres as well. All drivers switching to medium dry tyres.
On lap 19 Sainz spins but continues, Kvyat does the same.
Rosberg sets fast lap at 1m42.559s. Massa and Alonso battle for ninth - Alonso putting two wheels off.
On lap 20 Verstappen sets fast lap at 1m40.747s and follows the leader by 5.3s.
The next lap Hamilton sets fast lap at 1m39.092s, the track continues to quicken as it dries.
On lap 22 Rosberg sets lap at 1m38.737s, as Verstappen has a big moment and goes offline but saves it and continues. Rosberg goes faster still and sets a 1m38.041s.
Many drivers are looking to run to the end of the race. Alonso spins into the gravel, but continues.
On lap 24 Rosberg sets fast lap at 1n37.826s.
Sainz spins in seventh, but continues.
On lap 25 Haryanto spins and retires.
At lap 26, at half distance, Hamilton leads Verstappen by 6.4s, followed by Rosberg (8.1s), Ricciardo (24.7s), Perez (32,2s), Raikkonen (50.7s), Hulkenberg (53.1s), Sainz (57.3s), Massa (62.1s), and Kvyat (62.8s) in tenth place.
Hamilton runs wide at Abbey, and loses three seconds of his lead, but still is 3.7s ahead.
Verstappen is working the backmarkers, as Rosberg is closing in behind him in third place.
On lap 30 Ricciardo set fast lap at 1m37.157s, then Hamilton the next lap at 1m36.891s.
On lap 32 Hulkenberg half-spins in seventh place, but continues. Hamilton sets another fast lap at 1m26.659s. Rosberg continues to look for a way past Verstappen in second place, and runs 0.5 seconds behind him. Rosberg complains to the team that Verstappen is blocking. Rosberg makes an attempt on the outside at Stowe, but can't make it stick.
Verstappen complains that he is struggling with the rear tyres.
On lap 35 Hamilton sets fast lap at 1m36.611s. Vettel and Massa are fighting over ninth place.
On lap 38 Rosberg makes the move under the DRS zone on the Hanger straight and passes Verstappen into Stowe and takes second place. Massa pits.
Rosberg sets fast lap at 1m36.356s.
At lap 40 Hamilton continues to lead Rosberg by 7.1 seconds, followed by Verstappen (9.4s), Ricciardo (25.3s), Perez (51.1s), Raikkonen (53.6s), Hulkenberg (65.3s), Sainz (68.8s), Vettel (78.3s) and Kvyat (80.2s) in tenth.
Vettel is handed a 5-second penalty for his battle with Massa. Alonso and Bottas battling over 13th place.
On lap 43 Raikkonen chases Perez for fifth place. Hamilton sets fast lap at 1m35.833s. Rosberg goes faster the next lap at 1m35.548s - the lead down to 5.7s.
On lap 47 Mercedes tells Rosberg that there is a problem with seventh gear and to just shift through it - Verstappen is closing. Raikkonen passes Perez for fifth at Stowe.
The FIA says it will investigate Rosberg's radio communications after the race.
The race ends with Hamilton over Rosberg and Verstappen.