British GP 2016
JULY 9, 2016
Practice 3 Report - Every cloud has a silver lining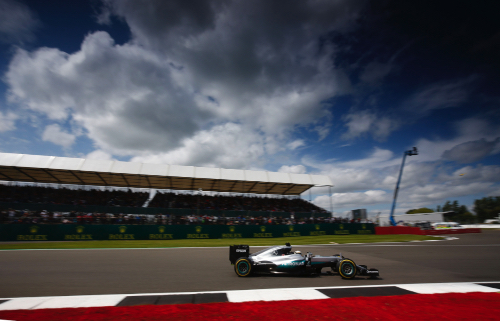 © Active Pictures
By Dan Knutson in Silverstone
Every cloud has a silver lining. It was cloudy during Free Practice 3 for the British Grand Prix, and fastest in that session were the Silver Arrows of Lewis Hamilton and Nico Rosberg. Marcus Ericsson crashed his Sauber heavily during the session, but the silver lining there was that he was uninjured.
The ambient temperature at the start of the 60-minute session was 63 degrees Fahrenheit (17 degrees Centigrade) and the track temperature was 66 degrees Fahrenheit (19 degrees Centigrade.) There was a 40 percent chance of rain.
The line-up for the weekend was: Mercedes - Lewis Hamilton and Nico Rosberg. Ferrari - Sebastian Vettel and Kimi Raikkonen. Williams Mercedes - Felipe Massa and Valtteri Bottas. Red Bull TAG Heuer - Daniel Ricciardo and Max Verstappen. Force India Mercedes - Nico Hulkenberg and Sergio Perez. Renault - Kevin Magnussen and Jolyon Palmer. Toro Rosso Ferrari - Daniil Kvyat and Carlos Sainz. Sauber Ferrari - Marcus Ericsson and Felipe Nasr. McLaren Honda - Fernando Alonso and Jenson Button. Manor Mercedes - Pascal Wehrlein and Rio Haryanto. Haas Ferrari - Romain Grosjean and Esteban Gutierrez.
Hamilton went quickest in FP1 and FP2 on Friday.
"Lots of positive steps forward with the balance of the car," he said. "Coming through Maggots and Becketts then down through Stowe, I was actually yelling in my helmet, it's that exciting! What a great combination of corners - particularly when the wind is blowing in the right direction. It just felt epic through there - one of the most fun rollercoaster rides you can imagine.
"We've still got work to do as our ultimate pace could be better. But the long run was good, so if we can keep the car in that window we'll be in a strong position."
Rain rather than wind was the story of FP3 as some light drizzle fell just before the start of the session. That left the track slick and therefore everybody was on Pirelli's intermediate or full wet rain tires.
Gutierrez and Vettel were the first out on that damp track. Another early track visitor was Rosberg who had missed FP2 because his car had a water leak.
While other drivers did just an installation lap, or stayed in the garages, Rosberg stayed on track getting in three laps in the Mercedes.
"Track usually dries mega quick here @SilverstoneUK, so we should see a switchover soon enough to make going straight onto slicks an option," Mercedes tweeted.
Indeed, 12 minutes into FP3 Perez headed out on the medium compound slicks for a single lap. Then his teammate Hulkenberg did the same.
Next, Rosberg starting lapping on the hard compound Pirellis. Nineteen minutes into FP3 he clocked the first time of the session: 1:42.634. His next lap was 6.5 seconds faster, and he then clocked a 1:33.591 before pitting.
Vettel came out with the mediums fitted to his Ferrari, and he surpassed Rosberg with a time of 1:33.203. Only eight drivers had set times at the midpoint of FP3.
Rosberg, on the softs, did a 1:31.331, while Hamilton, on the same tires, then clocked a 1:31.286.
With 24 minutes remaining, all the drivers except Raikkonen and Vettel were on the track. Ricciardo grabbed third place with a time of 1:32.004. Then Verstappen took the place away from him with a lap in 131.760.
The red flags same out with 22 minutes left in the session as Ericsson had a big accident coming out of Stowe corner and he slammed into the tire barriers and then slid back out onto the track. He climbed out of the wrecked Sauber, and doctors examined him on the spot.
A truck hauled away the damaged car while workers repaired the damaged tire barriers.
The top 10 at this stage were: Hamilton, Rosberg, Verstappen, Ricciardo, Vettel, Bottas, Alonso, Raikkonen, Sainz and Massa.
The session was restarted with five minutes remaining. The other 21 drivers all headed out for some final fast laps on the soft tires. Hamilton and Rosberg both improved their times and stayed first and second.
When it was all over, Ricciardo, Verstappen, Vettel (who reported a gearbox failure), Bottas, Alonso, Hulkenberg, Raikkonen and Sainz rounded out the top 10.