British GP 2016
JULY 8, 2016
Practice 2 Report - The opposite ends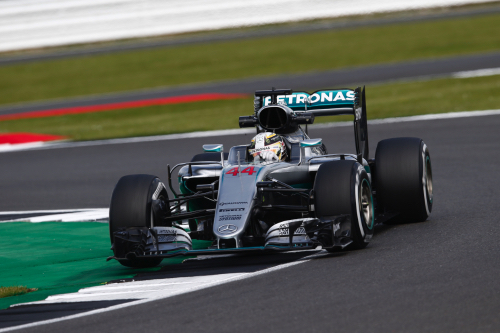 © Active Pictures
By Dan Knutson in Silverstone
Mercedes teammates Lewis Hamilton and Nico Rosberg filled the opposite ends of the spectrum in Free Practice 2 for the British Grand Prix. While Hamilton topped the times, Rosberg never even got out on the track because of mechanical woes on his car that could not be repaired in time. Hamilton had been quickest in F1 when he clocked a 1:31.654 on the medium compound Pirellis, yet his fastest time on the soft slicks in FP2 was a 1:31.660.
The ambient temperature at the start of the 90-minute session was 70 degrees Fahrenheit (21 degrees Centigrade) and the track temperature was 97 degrees Fahrenheit (36 degrees Centigrade.)
The line-up for the weekend was: Mercedes Lewis Hamilton and Nico Rosberg. Ferrari Sebastian Vettel and Kimi Raikkonen. Williams Mercedes Felipe Massa and Valtteri Bottas. Red Bull TAG Heuer Daniel Ricciardo and Max Verstappen. Force India Mercedes Nico Hulkenberg and Sergio Perez. Renault Kevin Magnussen and Jolyon Palmer. Toro Rosso Ferrari Daniil Kvyat and Carlos Sainz. Sauber Ferrari Marcus Ericsson and Felipe Nasr. McLaren Honda Fernando Alonso and Jenson Button. Manor Mercedes Pascal Wehrlein and Rio Haryanto. Haas Ferrari Romain Grosjean and Esteban Gutierrez.
As in FP1, Wehrlein was the first out on track.
Raikkonen used the hard compound Pirellis set the early pace with a time of 1:34.374. Back in the Mercedes garage the mechanics were working furiously to fix a water leak on Rosberg's car.
Eleven minutes into the session, Verstappen clocked a 1:33.894 on the medium tires. But he didn't stay on top long as Hamilton turned a 1:33.505.
Twenty minutes into the session time the top six were Hamilton, Ricciardo, Verstappen, Raikkonen and Hulkenberg. Things were fairly quiet on the track for about five minutes, and then Vettel started a run on the soft Pirellis, and he went to the front with a lap in 1:32.570.
Hamilton then set a time of 1:31.660 on the soft compound Pirellis while poor Rosberg was still stuck in the pits. Then came the news from the Mercedes garage that Rosberg would not be going out at all as repairs continued on his car. A dejected Rosberg climbed from the cockpit.
Meanwhile, Ricciardo used the softs to slot into second place with a 1:32.051. And Verstappen moved into third with a 1:32.286.
Vettel and Raikkonen filled the fourth and fifth slots ahead of Alonso, Bottas, Grosjean, Massa and Sainz with just under 40 minutes to go.
Button, who was 21st, ventured out after a long stint in the pits only to have the team tell him to come back in. "Very strange power," he radioed.
The drivers were now doing long runs, and with 10 minutes remaining all of them except Rosberg were out on the track.
The top 10 remained almost unchanged at the end of FP2. Having been out of sequence, Button did his fast lap in the last 10 minutes and jumped up to ninth. So the final order was: Hamilton, Ricciardo, Verstappen, Vettel, Raikkonen, Alonso, Bottas, Grosjean, Button and Massa. And Rosberg remained 22nd and last having not turned a single lap.