British GP 2016
JULY 8, 2016
Practice 1 Report - Severe deterrents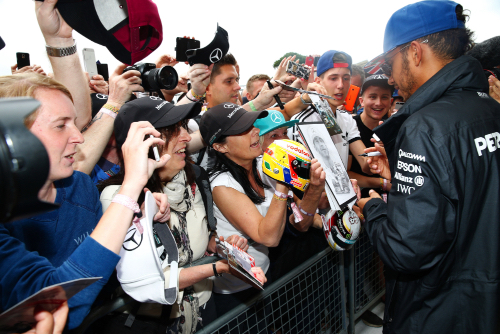 © Active Pictures
By Dan Knutson in Silverstone
The bosses at Team Mercedes have issued Lewis Hamilton and Nico Rosberg with severe deterrents to make them avoid hitting each other on the track as happened in the Austrian Grand Prix. The two drivers did not get anywhere close to each other on the track during Free Practice 1 for the British Grand Prix. But they were close together in lap times with Hamilton fastest and just 0.033 of a second ahead of Rosberg.
The line-up for the weekend was: Mercedes - Lewis Hamilton and Nico Rosberg. Ferrari - Sebastian Vettel and Kimi Raikkonen. Williams Mercedes - Felipe Massa and Valtteri Bottas. Red Bull TAG Heuer - Daniel Ricciardo and Max Verstappen. Force India Mercedes - Nico Hulkenberg and Sergio Perez. Renault - Kevin Magnussen and Jolyon Palmer. Toro Rosso Ferrari - Daniil Kvyat and Carlos Sainz. Sauber Ferrari - Marcus Ericsson and Felipe Nasr. McLaren Honda - Fernando Alonso and Jenson Button. Manor Mercedes - Pascal Wehrlein and Rio Haryanto. Haas Ferrari - Romain Grosjean and Esteban Gutierrez.
Esteban Ocon drove Magnussen's Renault, and Charles Leclerc took over Esteban Gutierrez's Haas in FP1.
All of the drivers were looking forward to getting out on the 3.660-mile (5.891-km) 18-turn track.
"Every driver likes Silverstone," Button said. "It's flowing, there's so much history here, whether your car works here or not, you still enjoy the circuit."
The drivers also enjoy the support from the fans.
"It's just an amazing feeling when you get on your home turf," Hamilton said. "I would imagine it's similar for football fans in their own stadium with their own fans...the majority of fans are there for them. It's unbelievable. It's as powerful as, for me; the energy is as powerful as the sea. Like a wave. It's unreal. It's so powerful it's hard to absorb - but you absorb as much as you can."
The fans at the track on Friday morning encountered a cool, cloudy, blustery day. The ambient temperature at the start of the 90-minute session was 61 degrees Fahrenheit (16 degrees Centigrade) and the track temperature was 64 degrees Fahrenheit (18 degrees Centigrade.)
Fresh off scoring his first ever F1 point in Austria, Wehrlein was the first out on the track.
Ricciardo set the first lap time of the session - a 1:37.297, but Verstappen soon beat that with a 1:36.973. Ricciardo responded with a 1:36.256. Verstappen answered with a 1:35.195.
Meanwhile, Vettel tried out the latest version of Ferrari's halo cockpit protection. He did one lap and came back into the pits.
The drivers had the choice of Pirelli's soft, medium and hard compound slicks for the weekend. Rosberg used the medium compound to clock a 1:34.855 and then a 1:33.484. Then along came Hamilton who set a time of 1:33.318 and then a 1:322.827 on the mediums. And back came Rosberg with a 1:32.645.
And on it went as Hamilton improved to a 1:32.478. Raikkonen, whose 2017 Ferrari deal had just been announced, was third with a time of 1:34.621.
Just before the half hour mark Leclerc had a harmless spin at Turn 3.
At the 40 minute break, when each driver had to give back one set of tires to Pirelli, the top 10 were: Hamilton, Rosberg, Alonso, Vettel, Verstappen, Hulkenberg, Button, Ricciardo, Raikkonen and Sainz.
Rosberg was the first to go back out. Hamilton followed him. Rosberg was on the mediums and set a time of 1:31.687. Hamilton, also on the medium Pirellis, beat with a 1:31.654. His pole winning time in 2015 was a 1:32.248.
Half an hour remained when Hulkenberg did a run on the soft Pirelli tires, as did Vettel. Their times of 1:32.492 and 1:32.501 respectively where eight-tenths of a second slower than the Merc drivers' times on the mediums. Behind the top four, the order was now: Ricciardo, Verstappen, Perez, Alonso, Button and Bottas.
Most drivers were now doing long runs, but Raikkonen put in a quick lap to move into sixth place.
The top 10 at the end of FP1, therefore, were: Hamilton, Rosberg, Hulkenberg, Vettel, Ricciardo, Raikkonen, Verstappen, Perez, Sainz and Alonso.