British GP 2015
JULY 4, 2015
Saturday Team Quotes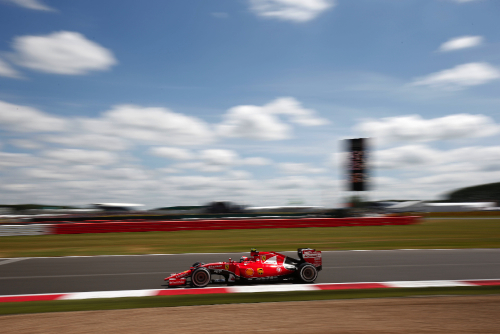 © Active Pictures
Mercedes GP
Lewis Hamilton (1st, 1:32.248): "It's a special day and an extra special feeling getting pole on my home turf in front of all the fantastic fans that have come out here to Silverstone. They've been absolutely incredible, so a big thank you to everyone for the support. It hasn't been a completely smooth weekend - I'd not quite managed to find the right balance throughout the practice sessions. Although it's my favourite part of the track, it's been tough through the middle sector in particular with the wind. But luckily it all came together in qualifying. That was such a buzz - having the car working underneath me and seeing all the flags waving out of the corner of my eye as I came round the lap. I've got my brother here too and I've seen so many messages on banners in the crowd and on social media building up to today. I can't thank everyone enough for their support. I'm very, very happy with that one!"
Nico Rosberg (2nd, 1:32.361): "My first run in Q3 was quick and I thought I had nailed it but, when I had a look on my dash, Lewis was just one tenth quicker which was very annoying! In the second run I was set to improve - but something felt wrong with my left front tyre. I had no grip, so we need to look into that later. I've had a tricky weekend so far with a few car problems - but it's all still possible tomorrow as we have seen in the last race. Another big thanks to the boys in the garage. They had a lot of work to do again in the morning session to get my car back out after the issue. Also, it's really great to race here in front of such massive crowds. The people clearly love racing and even cheer on the non-British drivers which is very cool to see, so a big hand for them too."
Paddy Lowe: "That was a fantastic competition! It was very tense and exciting between the drivers; I think the whole crowd has been waiting all weekend to see how the contest plays out between Lewis and Nico. So far, it has been back and forth between the two of them, with Nico quicker one moment, then Lewis the next. Within the team, we had no idea who would end up on top. They were two great laps from the drivers in tricky conditions and a great performance from the team to get the cars into a good position with the balance for the final runs. Congratulations to Lewis and Nico - and now we look forward to the main event and hope we will put on a good show for the fans."
Toto Wolff, Mercedes Motorsport Director: "What a fantastic qualifying session and such a close battle between the boys. In the end, Lewis mastered the windy conditions and put everything together on that first run in Q3 - and his time was good enough for pole. You could see the fans cheering every single time he went past the grandstands and a lap like that deserved pole position. But we can't overlook Nico, just one tenth behind. Like nearly every driver, he couldn't improve on the final run and reported a loss of grip from his tyres. It seemed like the conditions shifted and made it tricky out there. The advantage has been swinging back and forth between the drivers all weekend and everything's open for tomorrow. We have got the two Williams behind us and they had some strong pace in practice, so we cannot get complacent at any point. It's all about getting every detail right if we want to convert the front row into podium finishes."
Red Bull-Renault
Daniil Kvyat (7th, 1:33.636): "Our starting position is the maximum we could have achieved for today. I drove everything out of the car, I don't think there was anything left to extract. We came here without any big expectations and the car is handling really well this weekend. I have a good feeling about this track and looking forward to the race tomorrow. The race conditions can be quite challenging but we are hoping to get some good points."
Daniel Ricciardo (10th, 1:33.943): "It was a mixed qualifying for me. My fastest time was deleted and it's something we have to review as I don't think I went off, we'll check the video and see. The car felt really nice in the high-speed corners, it was a lot of fun to drive, but we have been struggling through the low-speed corners and I think that's where we have been losing most of our time, along with the straights. If I start from P10, we'll see what we can do with strategy to finish further up the grid."
Christian Horner, Sporting Director: "Mixed fortunes for us in qualifying today. Dany did an excellent job to secure seventh place on the grid, but for Daniel, life was a bit more complicated as, along with eleven other drivers, he lost his quickest lap time for going over the track limits. Overall, our pace so far at Silverstone has been reasonably encouraging - we are a bit closer than usual to the Ferraris - and the updates we have introduced here seem to be doing what was expected of them. As a British-based team, it's been great to see the huge crowds here at our home track, with even more expected to show up tomorrow. It's a fantastic advertisement for the popularity of our sport in this country."
Williams-Mercedes
Felipe Massa (3rd, 1:33.085): "It was a fantastic day for us at our home Grand Prix and it's great to have us P3 and P4. I enjoyed fighting closely with Valtteri and exchanging lap times. The wind into Copse was really strong and that affected the balance of the car, so I made sure to be cautious and not to waste a lap by running wide. It's very important for us to show that we have the pace to get both cars ahead of everyone except from Mercedes. Tomorrow won't be easy but we are ready for it and it will be an exciting race."
Valtteri Bottas (4th, 1:33.149): "We knew how much we could improve today but we were still a little bit surprised it was so much and that's a good thing because tomorrow could be a very good race for us. Of course you always want to be in front of your teammate but we had a good battle and Felipe improved a bit more at the end. It's great to be in front of our closest Championship rivals with both of our cars. That is a really good starting point and we now have the upper hand for the podium fight."
Rob Smedley, Head of Performance Engineering: "I'm really happy with how qualifying went, it's a great position and is well deserved. The improvement from yesterday shows we did the right homework yesterday and after FP3. The main thing now is to convert it into the right amount of points tomorrow. We're going to be doing everything we can to get at least one of our cars on the podium. The car has been good over long runs all weekend, so hopefully that should bode well for the race."
Ferrari
Kimi Raikkonen (5th, 1:33.379): "It was not an easy qualifying, with the strong wind the handling was not ideal and it was very tricky for everybody, because the conditions kept changing from run to run and from corner to corner. We know that when is windy it's not very easy for us, we improved our car on that side but here it was still difficult to get the lap right, putting all the sectors together. Obviously we can't be happy for fifth and sixth position, it's a bit disappointing, but we tried our best and hopefully tomorrow we'll do better. I don't think we're slipping back, it's just the different conditions we had today. In the race we'll see what is going to happen, we'll push to gain some positions."
Sebastian Vettel (6th, 1:33.547): "It was more difficult than we expected so we'll have to have a look at that, but clearly it's not 'clean' from my side. I struggled a bit to find the right balance. Tomorrow could be a different story, because our race pace should be fine. Today was not the best day. Hopefully tomorrow will be an exciting race, we can do plenty of things, we have the pace. I know that is difficult to pass, especially the Williams as they have a good straightline speed, but we'll see. Maybe we can find something for tomorrow. For sure it's not the best starting position. In Q3 we were not happy with either run. The out lap was not great, I nearly crashed with Felipe in last attempt, I think there was a bit of confusion because Nico was going so slow...nobody to blame though. In the end I made a mistake in the final lap, but in general, we were not quick enough."
McLaren-Honda
Fernando Alonso (17th, 1:34.959): "I had a problem at the end of FP3 this morning. There was no clear resolution to the problem, but we found a suitable solution, and everything started working after we reset it. That meant I went into qualifying having done very few laps. I didn't start the session knowing enough about either the set-up or the conditions, but, given those limitations, I think we got the best from the car. I don't think I could've gone much quicker than that today. We knew this race would be tough for us - as will fast circuits like Spa and Monza - but we all appreciate that this is a long-term project, and we're definitely building for the future."
Jenson Button (18th, 1:35.207): "I don't know why, but the Prime tyre has suited me far better than the Option this weekend. Normally, you add turns of front wing to balance the car for the Option tyre, but we've been taking front wing out this weekend. I've been struggling with the balance a little bit - hopefully we'll learn a lot tomorrow, that's all we can do, really. Unfortunately, this is our situation right now - and it's not easy for a team of this stature and experience. There's always an amazing atmosphere at Silverstone - and today is no exception - but this hurts in front of my home crowd. Hopefully tomorrow will be a better day."
Eric Boullier, Racing Director: "For McLaren to qualify 17th and 18th for the British Grand Prix, our home race, is very hard to take, I'll readily admit that. Our British fans are among the most knowledgeable, enthusiastic and loyal in the world, and, frankly, they deserve better than this. Success will come, in time, and they'll have reason to cheer in the future, but not this weekend clearly. For that I have to apologise. Having said all that, we know what we have to do to get where we need to get, and we'll continue to fight the good fight. As I say, we'll get there, mark my words. In Fernando and Jenson, moreover, we have two truly indefatigable champions, whose efforts in prolonged adversity have been and remain an inspiration to all of us. Chapeau! Equally, everyone at both Woking and Sakura is working as hard as is humanly possible to turn things around; when their efforts are finally rewarded by victory, as they surely will be, it will be their refusal to be browbeaten in these dark days that will have been the key to the team's eventual renaissance. In particular, here, today, I want to pay tribute to the brilliantly rapid and efficient work done by Fernando's mechanics, in readying his car for qualifying following his problem in FP3. Looking forward to the race, it would be foolhardy if I were to predict a points-scoring performance tomorrow, but the weather is notoriously fickle here at Silverstone, so anything is theoretically possible. So, come rain or shine, you may be well sure that we'll be giving it everything we've got, our endeavours spearheaded as ever and as always by our two great standard-bearers, Fernando and Jenson."
Yasuhisa Arai, Honda: "First of all, I must praise the tremendous teamwork displayed in the garage today to get Fernando's car out for qualifying. The result of losing both cars in Q1 was disappointing, but we know that the power unit set-up was working in the right direction.'' However, as I said yesterday, we need to have the perfect combination of chassis and power unit to gain further positions in qualifying. The team has implemented aero updates very recently, and, with such a fast-cornered circuit like Silverstone, we'll still need to further mature the overall package, which was reflected in the result. For tomorrow's race, we'll maintain and manage the power unit race pace, and hope to have a stronger result."
Force India-Mercedes
Nico Hulkenberg (9th, 1:33.673): "I enjoyed today. Silverstone is one of those fun tracks, especially on low fuel with new tyres, and I'm feeling satisfied with our performance. My laps were clean and tidy, and it was a smooth session. The updates we brought here are working really well and without them I don't think it would have been possible to be in the top ten today. So from that perspective I'm very happy because we know there is more to come as we explore and learn about our car. For this weekend, the long run pace has looked competitive, but the cars ahead of me also look very quick and we will have to work hard to come away with points."
Sergio Perez (11th, 1:34.268): "I am disappointed to have missed out on Q3 because the car was definitely capable of making the cut. I was expecting to be in the top ten, but in the end I missed out by a couple of hundredths, which was unfortunate. The weekend so far has been a bit of a struggle for me, trying different options with the set-up and getting used to the new car. The b-spec car is a big step forward, but we are still exploring the limits of what it can do. When we understand it fully, I think there is great potential. For the race tomorrow, I think we can be competitive. Eleventh place is not a bad place to start and I think we can fight well from there to get some points."
Dr. Vijay Mallya, Team Principal: "To be starting our home race in ninth and eleventh places is a very solid effort by the team. Nico continued his strong qualifying form by making Q3 for the third race in a row. Checo hasn't been as happy with the set-up of his car, but he performed well today and lines up just a couple of places behind his teammate. In the days leading up to this weekend, we have pushed incredibly hard to deliver our b-spec car and I'm happy to see the updates delivering the step forward we anticipated. It means we are well-placed going into tomorrow's race with a good chance of scoring some important points."
Toro Rosso-Renault
Carlos Sainz (8th, 1:33.649): "I'm happy, I really enjoy this track! We did the maximum today and I don't think we could've extracted much more from the car. We've looked strong all weekend and I've been optimistic the whole time. I'm satisfied with today's P8. Tomorrow we expect a tough race with plenty of battles, but as always we will try our best to finish in the position we are starting in or further ahead and score more points."
Max Verstappen (13th, 1:34.502): "To be honest, I don't really know what happened in today's qualifying session, because we've been really competitive during the whole weekend and then, as soon as I went into Q1, I suffered from oversteer and I was not happy with the balance, so in the end I just wasn't able to put a lap together. We need to look into this and find out why this happened. It's disappointing because I was really looking forward to this qualifying session, but the car wasn't behaving how I wanted it to and I couldn't improve. Hopefully we can do something before tomorrow, we showed good pace in the long runs so hopefully we can have a good race."
James Key, Technical Director: "A bit of a disappointing qualifying session really. I think we had shown some reasonably good performance in every session this weekend and the drivers were happy with the car, but in qualifying we had a bit of a scrappy session unfortunately. Max was reporting a problem with the rear of his car and a loss of grip, which we need to investigate tonight as we couldn't see anything on the data immediately. Carlos on the other hand got through to Q3 well. Unfortunately he didn't quite make enough progress in the last lap, as we think it would've been possible for him to end up in an even higher position. So, all in all, not the best of sessions, but our high-fuel level pace on Friday was good, so we just need to do our best in the race tomorrow and fight for points."
Lotus-Renault
Romain Grosjean (12th, 1:34.430): "I think that we had a decent enough qualifying session today and did a very good job with the car as it works here. It felt okay in Q1 on the option tyres, but we seemed to get a lot of understeer for Q2 which didn't help. The race will be long tomorrow but with some good tyre management we will see what we can achieve. It isn't the easiest track to make overtakes but as always we will push to achieve the best possible."
Pastor Maldonado (14th, 1:34.511): "Of course, I'm not happy with my position on the grid but we've seen before that we are better in the races than in qualifying, so we hope that is the case for Silverstone. I think that we still struggle with the harder tyre compounds and certainly I was not happy with the balance of the car this afternoon. The race is long and we're working on getting the best pace possible."
Alan Permane, Chief Race Engineer: "We have work to do in the race. Disappointing. We knew there was a possibility that Silverstone may not play to the strengths of our car and unfortunately that proved to be the case in qualifying. It's a downforce hungry circuit here and we struggled relative to our nearest opponents. Romain had a good run in Q1 but unfortunately we couldn't get the pace out of the car during Q2. The weather looks to be good and the tyres are pretty durable so there doesn't appear to be too many strategic variations at our disposal. Starting outside the top ten means that the starting tyre for both drivers is open. We'll be looking for any opportunity to leap those ahead of us on the grid tomorrow, but any positions gained are likely to be hard won."
Marussia-Ferrari
Will Stevens (19th, 1:37.364): "I'm really happy with my performance today. Things really couldn't have gone any better for me in my first British Grand Prix qualifying session. The upgrades have been working well for us all weekend and they've given me more confidence in the high-speed corners. In my second run everything just came together for the lap and I was able to show the potential of the developments we brought here, so it's a really nice result for the team's hard work over the past few months. It's been a very special weekend so far; the support here at Silverstone has been incredible. Tomorrow is the big day of course and I can't wait to line up on the grid and go racing in front of my home crowd. The conditions could be quite mixed, so it could make for an interesting race. Who knows what could happen?!"
Roberto Merhi (20th, 1:39.377): "Unfortunately it wasn't a very positive qualifying for me today, which is a real shame at our home race. On the last lap I had some snap oversteer in Turn 9, and my time got deleted. We haven't had a strong weekend on my side, so we need to analyse that and understand why. I'm hopeful that we can have a better race tomorrow though."
John Booth, Team Principal: "We're very satisfied with the way our new developments have translated into a significant qualifying performance step this weekend, so I'd like to acknowledge the determined efforts of everyone trackside and back at our temporary HQ at Silverstone for this achievement during what is still a period of relative infancy versus the rest of the field. Will did a great job and is clearly enjoying the very special experience of his first home Grand Prix here. Roberto has struggled rather more, but I am sure he will bring everything together for the race tomorrow. I would also like to thank the fans here at Silverstone. They're a fantastic crowd and we really enjoy and benefit from their incredible support for our team, so I hope we can put on a good show for them in the race."
Sauber-Ferrari
Marcus Ericsson (15th, 1:34.868): "We knew this would be a difficult weekend for us. But from session to session we made steps forward on the car-side, which was important. Today in Q1 I had a good feeling in the car. We knew it would had been difficult to get into Q2, but we made it in the end. It is a shame that we are not more competitive here, but we still have room to maximise our performance. Anything can happen tomorrow in the race."
Felipe Nasr (16th, 1:34.888): "I am a bit disappointed about being out in Q1. Looking back to the free practice sessions, we found a good balance for the car. In qualifying I struggled with the tyres as they were not at an ideal temperature, therefore, it was difficult to make them work. Nevertheless, I will try to fight for positions in the race."
Monisha Kaltenborn, Team Principal: "This is a result that reflects the free practice sessions. The Silverstone track is, as expected, a difficult one for us. Nevertheless, the entire team is highly motivated to fight here - which was demonstrated by us almost making it into Q2 with both cars. It is important that we make no mistakes tomorrow in order to be ready for any opportunity which could present itself during the race."