British GP 2013
JUNE 28, 2013
Practice 2 Report - Silver Stone Arrows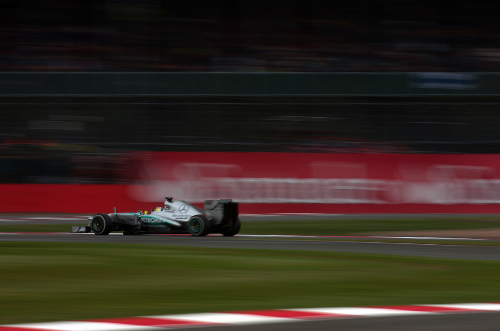 © The Cahier Archive
Nico Rosberg clocked the fastest lap time in his Mercedes Silver Arrows in Friday afternoon's Free Practice 2 session at Silverstone.
The teams had got no work done because of the rain in FP1, so there was plenty to do in FP2 now that the rain had stopped and the track was drying out.
"We will just have to compress all of our program into this afternoon's session," McLaren's sporting director Sam Michael said between the two Friday sessions.
The ambient air temperature at the start of FP2 was 68 degrees Fahrenheit (20 degrees Celsius), and the track temperature was 64.4 degrees Fahrenheit (18 degrees Celsius.) The humidity was 70 percent. And the chance of rain was only 20 percent.
World champion Sebastian Vettel roared out in his Red Bull to get things underway. His soon to be ex-teammate Mark Webber was next out. The track was still damp, so the drivers were using Pirelli's intermediate wet weather tire with the green sidewall.
Within a couple of minutes everybody but Fernando Alonso (Ferrari) and Lewis Hamilton (Mercedes) was out on the circuit.
Vettel posted the first time: 1:44.038. A couple of minutes later Valtteri Bottas clocked a 1:43.929 in his Williams.
This was one of those situations where the track was drying and the lap times were going down all the time. Bottas was soon fourth on the screens with Paul di Resta (Force India) on top with a 1:43.207.
Nico Hulkenberg radioed the Force India pit that it was almost time to switch to the Pirelli slicks as the inters were being shredded on the drying surface.
Pirelli brought its experimental hard compound slick (with the black sidewall) that the teams had tried briefly in Canada. Toro Rosso teammates Jean-Eric Vergne and Daniel Ricciardo were the first to try the tires at Silverstone. Vergne clocked a 1:41.868 and lowered that to a 1:38.901 and then to a 1:37.102.
By now other drivers were out on the prototype slicks.
18 minutes into the session, the top four were: Vergne, Ricciardo, Romain Grosjean (Lotus) and Adrian Sutil (Force India.) Within two minutes Sutil moved to the top with a 1:36.028 only to have teammate Paul di Resta beat that with a 1:35.822. Sutil responded with a 1:35.677.
18 minutes into the session, Felipe Massa lost control of his Ferrari and hit the barriers head on at Turn 16 at pit entrance. He was okay, but this was his fourth crash in three race weekends.
Just past the 30 minute mark Nico Rosberg wound up his Mercedes and set a time of 1:34.327. Next he clocked a 1:33.585. Teammate Hamilton, who had been delayed in the pits, came out and immediately moved into second with a 1:34.367. But Ricciardo beat that with a 1:34.161 and Vergne topped that with a 1:33.791.
38 minutes into the session, Ricciardo went quickest with a 1:33.550 on the orange sidewall slicks.
41 minutes into the session, Sutil beat that with a 1:33.374.
Vettel, on the medium compound slicks, set a 1:33.068 halfway through FP2. A couple of tours later he clocked a 1:32.680.
48 minutes into the session, Hamilton moved into second with a 1:32.911. Rosberg was on a fast lap now, and he moved to the top of the screens with a 1:32.248. That was .432 quicker than Vettel and .663 quicker than Hamilton. Vergne and Ricciardo were fourth and fifth but a second off Rosberg's pace.
After a spell in the pits, Webber took to the track on medium tires and moved into fourth place with just over 30 minutes to go. The Paul di Resta moved into third with a 1:32.832 in his Force India.
With 30 minutes to go, the top six were: Rosberg, Vettel, di Resta, Hamilton, Webber and Ricciardo. Webber soon moved into the second spot with a time of 1:32.547.
Meanwhile a number of drivers were out on Pirelli's regular hard compound slick (with the orange sidewalls.)
Almost all the drivers were using Pirelli's medium compound slick at this time. Kimi Raikkonen, with the hards on his Lotus, was one of the few exceptions. He was 19th quickest at that stage.
Everybody, except for the unlucky Massa, had completed over 13 laps by now, and some had hit the 20 lap mark.
And they continued to accumulate laps as the drivers began doing long runs with heavy fuel loads to simulate race conditions and tire degradation on both hard and medium compounds.
With 20 minutes to go, Rosberg was still in front. And Webber, Vettel, di Resta, Hamilton and Ricciardo rounded out the top six.
With just under 10 minutes remaining, everybody was on the track with the exception of Massa.
But with long runs being run, nobody was going to reset the top of the timing lists, and the session ended with Rosberg on top ahead of Webber, Vettel, di Resta, Hamilton and Ricciardo.