British GP 2013
JUNE 28, 2013
Practice 1 Report - Wet Wash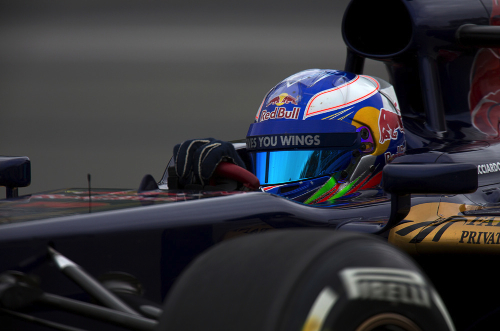 © The Cahier Archive
Rain washed out most of the Friday morning's Free Practice 1 for the British Grand Prix.
On Thursday all the talk had been about Mark Webber's announcement that he will retire from F1 at the end of the year to join Porsche's Le Mans program. But now it was Friday and time for the teams and drivers to get down to work.
The ambient air and track temperatures at the start of the session were 62.6 degrees Fahrenheit (17 degrees Celsius.) The humidity was 77 percent.
It had rained overnight and it was still drizzling in the morning, so the track was wet as the first 90 minute Free Practice session got underway.
Valtteri Bottas and Pastor Maldonado (Williams), and Esteban Gutierrez and Nico Hulkenberg (Sauber) were the first to head out. All were on Pirelli's extreme wet rain tire with the blue sidewalls.
A few more drivers trickled out for their installation laps, but nobody was in a hurry to get going on the slick track.
Paul di Resta (Force India) was the only driver who had turned 2 laps at 15 minutes into the session. Kimi Raikkonen (Lotus) and Toro Rosso boys Daniel Ricciardo and Jean-Eric Vergne had not even been out. Ironically, these were the three lead contenders to replace Webber at Red Bull in 2014.
The hardy, and wet and cold British fans stood or sat stoically watching the cold, empty wet track.
30 minutes into the session, and still nobody had ventured out for another lap.
40 minutes into the session, and still nobody had ventured out for another lap. Di Resta went out to the pit wall to wave to the fans in the main grandstand. It is covered, so at least they were dry.
40 minutes and 35 seconds into the session, Ricciardo drove out. His Toro Rosso threw up plumes of spray as he sluiced around the track for a single lap. Then his teammate Vergne took a turn out on the circuit for a single tour.
50 minutes into the session, di Resta had done 2 laps, and everybody else had done one lap except Raikkonen who still had not left the Lotus garage.
51 minutes into the session, and Gutierrez ventured out for his second lap, pitted at the end of it, and immediately headed out for another lap. And then did the same thing again. Then he pitted and stayed put.
At the 60 minute mark nobody else had gone out. Gutierrez had now completed 4 laps albeit none of them a flying lap.
Finally, with 28 minutes to go, Sebastian Vettel drove out in this Red Bull. But he also did just one slow lap.
With 20 minutes to go, nobody else had gone out.
With 16 minutes to go, Ricciardo headed out once more. He was on Pirelli extreme wet tires. And he stayed out! He posted the first lap time of the session: 2:00.029. The next time around he clocked a 1:57.992.
With 11 minutes to go, Jules Bianchi (Marussia) and Hulkenberg joined Ricciardo. The other drivers and teams thought this was a good idea, and with less than 10 minutes remaining more drivers headed on track.
Lewis Hamilton is quick in the rain and proved it with time of 1:55.458 a in his Mercedes. Hulkenberg moved into second place with a 1:57.292.
Charles Pic proved how slippery it was by spinning his Caterham into the barriers at Turn 18.
The racing line started to show some dry bits.
With less than a minute to go, Ricciardo turned a 1:54.249. Hulkenberg improved to a 1:55.033 to take second place, and Maldonado took third with a 1:55.354. Hamilton wound up third and Gutierrez fifth.
Only 11 drivers set a lap time, and Raikkonen never even did a lap.
The hardy, and wet and cold British fans, who had stood or sat stoically watching the cold, empty wet track, now stood, sat, or trudged stoically through the mud as they waited for FP2 to begin when, hopefully, they would see some cars going around the circuit.