British GP 2012
JULY 9, 2012
Race Report - Webber's home away from home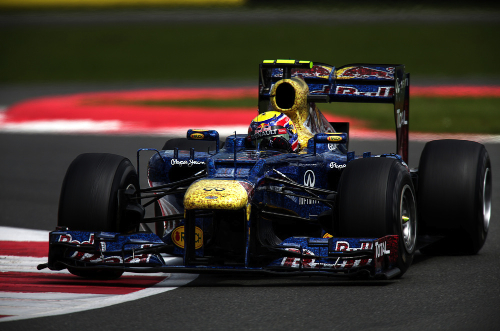 © The Cahier Archive
BY TONY DODGINS
Mark Webber made the point earlier in the weekend: consistency is all well and good but you need to win a few too.
After ceding the pole to Fernando Alonso by the narrowest of margins, Webber turned the tables on Ferrari with a superbly judged drive to join the Spaniard as the only twice winner of 2012, emulating his Monaco/Silverstone double of 2010.
Nobody was expecting a 100% dry race, but that's what we got. With precious little dry practice to go on, just FP3 on Saturday morning, and a green track after Saturday's downpours, it was always going to be interesting tactically.
When the tyre blankets came off, Alonso's Ferrari was on the hard (prime) tyre with everyone else down to Hamilton's McLaren, eighth on the grid, fitted with options.
Lewis went for the primes, with Grosjean and Paul Di Resta on options immediately behind him.
"We felt more confident on the hards in FP3," Alonso explained, "and if at any point it had rained and we had to put intermediates on, it meant that we wouldn't have to use the softs at all, so it was a better combination of possibilities for us."
Alonso knew that he might be slower away than those with more grip from the softs and immediately went defensive, chopping across in front of the quicker-starting Webber.
In the first lap sort-out Vettel's Red Bull lost a bit of the front wing in a contact with Massa's Ferrari and Paul Di Resta was soon out of the race following contact with Romain Grosjean's Lotus, which also sent the black-and-gold car into the pits for a new nose.
"The right rear was punctured and coming off the rim," Di Resta said. "There was quite a lot of damage to the floor but I took some new tyres and went back out. I was missing a lot of downforce and went off at Becketts."
Webber stayed within a second of the leading Ferrari for the first four laps but then the red car began to ease away. The gap went out to 1.3s, then 1.81; 1.90; 2.66; 3.05; 3.14; 4.01; 4.42; 5.07.
By this time the option runners behind the Ferrari had started to pit, with Vettel's Red Bull the first in after 10 laps. The double champion had been running fifth, bottled up behind Michael Schumacher's Mercedes and Massa's Ferrari. Schumacher had dropped 4s behind Webber and this was Red Bull's attempt to spring Vettel into clean air.
The strategy worked, with Vettel up into third, 3.5s behind Webber once the stops had played out. Alonso, on another set of primes, had maintained his 5s margin to Webber but the surprise was perhaps that Ferrari hadn't run him further. Webber, who had bolted on a set of primes on lap 14 didn't look to be so threatening that Ferrari needed to cover him immediately.
It ultimately meant that when Ferrari called Alonso in for his second stop on lap 37, he had 15 laps to run on the option tyre against Webber's 19 on a set of primes that everyone reckoned to be the better race tyre.
"I was confident in the tyres to be honest," Alonso said, "Felipe used the soft tyre in the first stint and did 14 laps with a heavy car, so I wasn't worried about 15 laps to the end with a light car. We were convinced the softs were okay but they were a little bit slower, with a bit too much understeer, so the balance changed and killed the performance a bit."
Alonso had re-emerged with a 3.9s margin over Webber and that was out to 4.4s after his golden lap on the options, but it soon became clear that the Red Bull had better pace on the prime. Webber was looming large in the Ferrari's mirrors with eight laps to go and within DRS range next time around.
The Australian had a look on lap 47 of the 52 but Alonso also received some DRS assistance from an HRT they were lapping and held on, but the Red Bull was noticeably quicker, especially in the middle sector. It looked as if wear to the Ferrari's left front option tyre, as predicted, was taking its toll.
"If you lose the balance around Silverstone you're in big trouble," Webber confirmed. "When I got close to Fernando I could see where he was struggling. It was obvious he was pushing as hard as possible but the balance wasn't with him and when you smell blood you've got to go for it."
Webber did just that and swept by on lap 48 with a well-executed move around the outside into Brooklands. Alonso had to accept the inevitable and after his superb win in Valencia, second was the maximum today.
The pair of them have now taken 68 points apiece in the past four races and given themselves breathing space at the top of the championship table. Alonso has 129 points, Webber, 116.
Their respective team mates finished third and fourth, Vettel just 1.8s behind Alonso at the flag, with Massa a further 4.6s in arrears and only just making it to the chequer ahead of Kimi Raikkonen's Lotus.
The Lotus E20s were as quick as anything in the place and paid for scrappy opening laps. Raikkonen got on the kerbs and was pushed wide, losing a place to Hamilton, and Grosjean had the contact with Di Resta. That had its roots in the mistake in Q2 on Saturday and forced the Frenchman into the pits for a new nose, after which he ran like a train through to the end on two sets of new primes.
Raikkonen set the race's fastest lap, a quarter of a second quicker than Webber's best, and the next best lap of the race came from Grosjean.
Fifth and sixth could have been much more but, as it was, Eric Boullier's men overtook McLaren in the constructors' championship even though they dropped behind Ferrari, who outscored them by 12 points on the day, and remain third overall.
Mercedes did not have the race pace to take advantage of Schumacher's third place on the grid and seventh from the seven times champion was about the extent of the car's potential on a day when team mate Rosberg was an anonymous 15th after a delayed pit stop.
What of McLaren and the men on whose shoulders rested the hopes of the British nation?
Alas, eighth was the best that Lewis Hamilton could do and Button, from a starting slot of 16th, took the last point for 10th place, the pair of them sandwiching Bruno Senna's Williams.
Hamilton actually led the race for three brief laps (16-18) as he took his first set of prime Pirellis to lap 20, but was then overhauled by Alonso before he stopped for options. He suffered substantial graining on those and was back in for a set of new primes after just seven laps, dropping him back down the order.
"At least I got a point in my home race," said Button, who has never had a podium in the British GP. "But, we're a front-running team and that's not what we should be aiming at."
There is work to be done at Woking and it could actually have been worse if the Saubers had not had such a chaotic afternoon (see separate stories) and if Maldonado's Williams had not been delayed by the collision with Sergio Perez.
Webber, a resident of nearby Buckinghamshire, was clearly delighted with his second home away from home win in three years. He's always had a special affinity with Silverstone.
"I've had a few wins now (nine) but this one is taking a bit of time to sink in! It's a special victory and I'm very proud. Seb lost a bit of time in the first stint and I've had some similar medicine. You've got to grab these when you can.
"We'll enjoy today, soak it up and tomorrow morning think about Hockenheim. I'm not getting too fired up with championship positions but I have a nice haul of points to keep going with."
That fact won't have escaped Vettel, who currently has 16 points and one race victory less. He won't be panicking just yet though. Well into July we may be but in a 20-race season we've yet to reach the halfway stage.
It won't have escaped Red Bull's notice either, that on a multitude of different circuits, Alonso and Ferrari are looking ominously strong with a chassis that bears no resemblance to the one they started the year with.