British GP 2010
JULY 11, 2010
British GP, 2010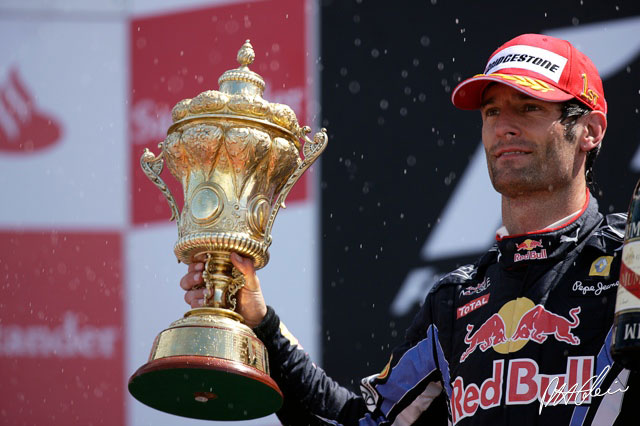 © The Cahier Archive
Mark Webber, clearly unhappy at what he felt was unfair treatment from Red Bull on Saturday, produced the perfect response when he became a highly popular first winner of the British Grand Prix on the new Silverstone layout.
"Not bad for a number two driver..." Webber said across the radio on his slowdown lap.
Red Bull had a new specification front wing at Silverstone and when Vettel's broke in free practice on Saturday, the decision was taken to give Webber's to the young German for qualifying and race. It was further evidence, if any was needed, that Vettel is Red Bull's favoured son. Vettel used it to take pole, 0.14s quicker than his team mate.
With a lot of support races on the Silverstone programme, for once grid slot two was not a significant handicap and Webber made a strong start. Vettel, 8 metres ahead on pole position, made an attempt to move over but Webber was already there and probably not to be trifled with given the circumstances.
"I was determined to make the first corner mine and it worked out well," he said. Exiting Copse, not wanting to cede the lead, Vettel ran wide and, coming back on there was light contact with the front wing endplate of Lewis Hamilton's McLaren. Vettel suffered a puncture and limped around to the pits, last.
Asked if he'd left enough room for Vettel, Webber said: "Yeah, plenty room, you could have driven a bus down the middle..."
Before the tyres were fully up to temperature, Lewis Hamilton gave Webber a tough time around the opening lap but there was even more determination than usual about Webber. There was no way he was going to lose this one and he turned in a fine drive to lead from first corner to last, controlling the gap to Hamilton.
Although the atmosphere created by the Saturday shenanigans undoubtedly soured Webber's weekend, there was no mistaking the delight as he mounted the top step of the podium 52 laps later at a venue where he has won in Formula Ford, F3000, sportscars and now F1.
"It seems there is a bloke upstairs every now and again," he smiled. "It was a good fight with Lewis and enjoyable, a good pit stop, then I just got my head down on the prime tyres. The car was faultless all day."
But Webber's message to Red Bull was clear: "Yesterday I wasn't happy, clearly, and I'm sure we'll have some pretty decent chats tomorrow. Some of the drivers offered me some front wings on the parade lap for the spectators but I said I'd stay with what I've got... Yesterday was unique, the first time the team had only one component but I would never have signed the contract again if that is the way I thought it was going to be going forward..."
After a disastrous weekend in Valencia, Mercedes bounced back with a podium from Nico Rosberg, the team's first since China. Fortunately for the German, the challenge of Fernando Alonso's Ferrari was blunted when the Spaniard made a poor start from third on the grid and lost places to Hamilton, Kubica and Rosberg. He fought his way back past Kubica's Renault but cut a corner in doing so and earned himself a Drive Through penalty.
Many thought the decision harsh but the Silverstone stewards were assisted in their decision-making by none other than four time British GP winner Nigel Mansell. To compound matters for Alonso, almost unbelievably a Safety Car was thrown for debris on the circuit just as he was about to serve his penalty. The rules state that you cannot serve a Drive Through under the Safety Car, so with the whole field closed back up, its effect was catastrophic when he was finally able to come in. For the second time in a fortnight Alonso had been the victim of awful luck with the Safety Car timing.
Jenson Button, a victim of McLaren's lack of set-up time when it threw away its new blown rear diffuser after Friday practice, produced a great drive to finish fourth having started 14th.
"I think sometimes Jenson doesn't get full credit for just how good a 'racing' driver he is," said McLaren's Martin Whitmarsh. "We might not have the fastest car but we've got two great racing drivers, which is why we are still leading both championships."
Rubens Barrichello followed up a fourth place for Williams in Valencia with fifth at a track on which he always excels, the Brazilian winning spectacularly for Ferrari at Silverstone seven years ago. He just pipped Sauber's Kamui Kobayashi, who produced another fighting drive from 12th on the grid after team mate Pedro de la Rosa had qualified the sister car in the top 10.
Vettel was helped by the Safety Car deployed after 29 of the 52 laps for debris on the pit straight after contact between Adrian Sutil and De la Rosa. He fought his way past Buemi, Liuzzi, Hulkenberg and Schumacher to take six points for seventh place.
Behind Vettel, Sutil, Schumacher and Hulkenberg completed the point-scorers.
Asked whether the Saturday business had made him more determined than ever, Webber said: "I've had a few hurdles in my career and sometimes privately as well, and it's a judge of character how you come back in adversity. You don't want it to test you too much, but it can sometimes put a bit of fuel on the fire, yeah..."
Hamilton still leads the championship with 145 points to team mate Button's 133. Webber moves back into third place on 128, seven clear of Vettel with Sebastian's home race next. You can probably bet that there won't be one example of a new component there. There was poetic justice to the result of the British GP, a fact lost on very few.
British Grand Prix Results - 11 July 2010 - 52 Laps
POS
DRIVER
NATIONALITY
ENTRANT
LAPS
TIME/RETIRE
1.
Mark Webber
Australia
Red Bull-Renault
52
1h24m38.200
2.
Lewis Hamilton
Britain
McLaren-Mercedes
52
1.360
3.
Nico Rosberg
Germany
Mercedes GP
52
21.307
4.
Jenson Button
Britain
McLaren-Mercedes
52
21.986
5.
Rubens Barrichello
Brazil
Williams-Cosworth
52
31.456
6.
Kamui Kobayashi
Japan
BMW Sauber-Ferrari
52
32.171
7.
Sebastian Vettel
Germany
Red Bull-Renault
52
36.734
8.
Adrian Sutil
Germany
Force India-Mercedes
52
40.932
9.
Michael Schumacher
Germany
Mercedes GP
52
41.599
10.
Nico Hulkenberg
Germany
Williams-Cosworth
52
42.012
11.
Vitantonio Liuzzi
Italy
Force India-Mercedes
52
42.459
12.
Sebastien Buemi
Switzerland
Toro Rosso-Ferrari
52
47.627
13.
Vitaly Petrov
Russia
Renault
52
59.374
14.
Fernando Alonso
Spain
Ferrari
52
1m02.385
15.
Felipe Massa
Brazil
Ferrari
52
1m07.489
16.
Jarno Trulli
Italy
Lotus-Cosworth
51
1 Lap
17.
Heikki Kovalainen
Finland
Lotus-Cosworth
51
1 Lap
18.
Timo Glock
Germany
Virgin-Cosworth
51
1 Lap
19.
Karun Chandhok
India
HRT-Cosworth
50
2 Laps
20.
Sakon Yamamoto
Japan
HRT-Cosworth
50
2 Laps
R
Jaime Alguersuari
Spain
Toro Rosso-Ferrari
44
Spin
R
Pedro de la Rosa
Spain
BMW Sauber-Ferrari
29
Damage
R
Robert Kubica
Poland
Renault
19
Driveshaft
R
Lucas di Grassi
Brazil
Virgin-Cosworth
9
Hydraulics
FASTEST LAP:
Fernando Alonso
Spain
Ferrari
52
1:30.874