British GP 2010
JULY 11, 2010
Race Notes - Webber dominates British GP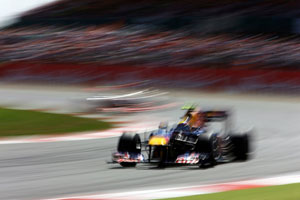 © The Cahier Archive
Mark Webber took a commanding victory in his Red Bull-Renault at the British Grand Prix at Silverstone today. Lewis Hamilton finished second in his McLaren-Mercedes, 1.3 seconds behind, and Nico Rosberg finished third in his Mercedes GP, 21.3 seconds behind the leader.
Webber never gave up the lead after the two Red Bull drivers battled into the first corner - Vettel picked up a puncture after a touch from Hamilton, and made a run from the back of the field to place seventh at the finish.
World Champion Jenson Button (21.9s) finished fourth (after starting in 14th) in the McLaren, followed by Rubens Barrichello (31.4s) in the Williams-Cosworth in fifth, Kamui Kobayashi (32.1s) in the BMW Sauber-Ferrari in sixth, Vettel (36.7s) in the Red Bull in seventh, Adrian Sutil (40.9s) in the Force India-Mercedes in eighth, Michael Schumacher (41.5s) in the Mercedes in ninth, and Nico Hulkenberg (42.0s) in the second Williams finished in the final point paying position.
Hamilton stretches his lead in the drivers' standing with 145 points, ahead of his team mate Button with 133, Webber jumps ahead of his team mate with 128 points, Vettel on 121, and Alonso with 98 points in fifth. In the constructors standing McLaren still leads with 278 points over Red Bull with 249, Ferrari 165, Mercedes 126 and Renault in fifth place with 89 points.
Vettel led the field around on the formation lap from pole position with his team mate Webber next to him on the front row, most of the runners starting on the softer tyre.
At the start Vettel gets a slow start and Webber takes the lead into the first corner, Vettel second - Hamilton jumps up to third and touches Vettel's right rear tyre with his front wing. Vettel goes wide at Maggots corner and reports on his radio that he has a puncture. Hamilton takes second and is right on Webber's tail. Robert Kubica up to third, followed by Rosberg, Fernando Alonso, Barrichello, Schumacher, Button, Kobayashi and Sutil.
Alonso and Felipe Massa touch and at the end of the first lap Massa pits with a punctured right rear tyre, and switches to the harder tyre.
Vettel limps back to the pits and changes to the harder tyres - and rejoins in last place almost a minute and a half behind the leader.
Webber starts edging away from Hamilton, while further back a line of cars starts to form behind Kubica, with Rosberg and Alonso fighting him for position.
Webber and Hamilton lapping in the 1m36 range, while Kubica and the train of cars behind him running in the 1m38's.
At lap 10, Webber leads Hamilton by 2.9 seconds, followed by Kubica (16.7s), Rosberg (17.8s), Alonso (18.5s), Barrichello (19.8s), Schumacher (20.8s), Button (21.5s), Kobayashi (22.1s) and Sutil (25.0s) in tenth place - Massa in 20th, and Vettel in 24th place, 1m27 seconds behind the leader.
On lap 10 Lucas di Grassi pits - the team working on the car in the garage.
On lap 11 Schumacher pits from 7th place and rejoins in 15th, switching to the harder tyres.
On lap 12 Alonso from fifth place, Barrichello and Kobayashi all pit. Kubica from third place and Pedro de la Rosa pit the next lap. Alonso runs wide at Copse corner but continues.
On lap 14 Rosberg running in third, trying to consolidate his position before his stop, sets the fastest lap.
On lap 15 Rosberg pits and rejoins in sixth place ahead of Kubica and Alonso. Sutil and Vitaly Petrov also pit.
On lap 16 Hamilton pits from second place, while running seven seconds behind Webber, and rejoins on the harder tyre.
Alonso battles Kubica and passes him for seventh place, being forced to cut across the inside of the corner to do so.
On lap 17 Webber pits and retains the lead, while Hamilton sets the fastest lap.
On lap 19 Rosberg passes Jaime Alguersuari, yet to pit, for fifth place. Webber responds and retakes fastest lap. Kubica limps back to the pits with a mechanical problem and retires - reportedly a differential problem.
At lap 20, Webber leads Hamilton by 3.9 seconds, followed by Button (7.6s) and Hulkenberg (21.6s), yet to pit, Rosberg (25.6s), Alonso (26.7s), Alguersuari (29.3s), Barrichello (32.2s), Kobayashi (33.0s), and Schumacher (34.1s) in tenth place - Massa in 16th and Vettel in 21st, 1m14 seconds behind.
On lap 21 Button makes his stop from third place, rejoining in sixth.
A piece of Rosberg's bargeboard falls off, but the German driver continues.
Webber sets a number of fastest laps pulling out a six second lead by lap 25.
On lap 25 De la Rosa and Sutil battle. The two make contact and the Sauber sheds pieces of it's rear wing. De la Rosa pits for repairs.
On lap 26 Hulkenberg pits from sixth place. Race control gives Alonso a drive-through penalty for cutting the corner while passing Kubica earlier. The Safety Car is deployed because of the debris from De la Rosa's rear wing.
Ferrari tells Alonso on the radio that he must take his penalty after the Safety Car period.
The race resumes on lap 30, Alonso pits to serve his penalty rejoining in 16th, and Hamilton pushes Webber at the start, but the Red Bull pulls away - setting the fastest lap.
At lap 31, Webber leads Hamilton by 1.3 seconds, followed by Rosberg (5.8s), Button (7.1s), Barrichello (8.1s), Kobayashi (8.8s), Schumacher (9.4s), Sutil (9.7s), Hulkenberg (10.9s) and Petrov (11.1s) in tenth place - Massa in 13th, Vettel 14th and Alonso in 16th.
Hulkenberg, Petrov and Alguersuari battle for ninth place. Sutil passes Schumacher for seventh place - the two making contact. Vettel passes Massa for 12th place. Alonso battles Buemi for 15th place - the Ferrari taking the position.
Webber sets a number of fastest laps and pulls out a 3.8 second lead on Hamilton by lap 35.
On lap 37 Alonso passes Liuzzi but runs wide, the Italian taking back the position.
On lap 38 Vettel passes Petrov for 10th place, and then passes Hulkenberg the next lap for ninth place.
On lap 39 Massa pits for an unscheduled stop after spinning in the final corner and flat spotting his tyres.
On lap 40 Vettel battles Schumacher and passes him for eighth place. Petrov pits for tyres.
At lap 41 Webber continues to lead Hamilton by 5.3 seconds, followed by Rosberg (20.0s), Button (21.1s), Barrichello (25.7s), Kobayashi (26.6s), Sutil (27.4s), Vettel (28.3s), Schumacher (29.8s) and Hulkenberg (30.4s) in tenth place - Alonso in 13th.
With 10 laps to go Button is pushing to catch Rosberg for the final spot on the podium, one second behind the German - but Button has to conserve fuel to finish.
On lap 44 Vettel battles with Sutil over seventh place. Webber continues to set fastest laps.
On lap 45 Alguersuari goes off in the gravel trap at the final corner and is out of the race.
On lap 49 Alonso pits from 12th place with a punctured left rear tyre after coming together with Liuzzi.
At lap 50, Webber leads Hamilton by 6.1 seconds, followed by Rosberg (25.3s), Button (26.6s), Barrichello (34.1s), Kobayashi (35.3s), Sutil (40.7s), Vettel (41.2s), Schumacher (42.1s) and Hulkenberg (42.3s) in tenth place.
Vettel continues to battle with Sutil, and finally passes him for seventh place, Hulkenberg battles with Schumacher behind them.
Webber crosses the flag to take the win for Red Bull - his third win of the season and fifth of his career.