British GP 2009
JUNE 22, 2009
British GP, 2009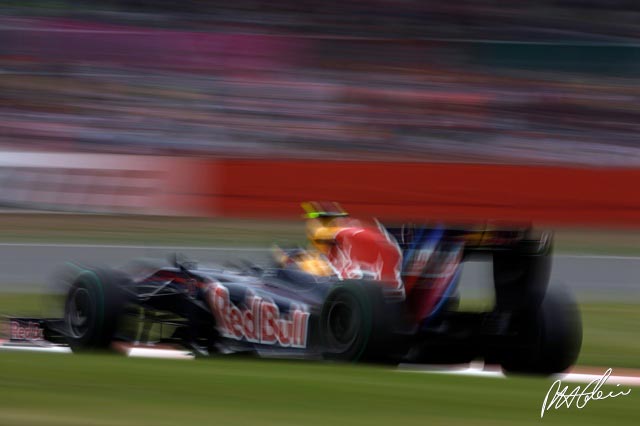 © The Cahier Archive
There are times when one dreams, and times when one has nightmares. And sometimes they come in close succession. You think everything is fine and it all starts to go out of control. On Sunday night at Silverstone, Jenson Button must have been wondering whether his dream year really has come to an abrupt end, or whether the speed of the Red Bull Renaults was because of the nature of the circuit.
The temperatures were low - which does not suit the Brawns - and there were lots of high speed corners, which are similarly not what the car likes. There was no doubt that Red Bull did take a step forward with the latest aerodynamic upgrade, but it remains to be seen whether it will be the same story when we get back to warm days on more twiddly circuits? At those kinds of tracks the Red Bulls are more likely to cook their tyres.
But, if Silverstone proved anything, it was that there is no such thing as a dead cert. Button may have dominated thus far this year, but the tide may be turning. In any case, we may yet have a World Championship fight on our hands.
That would be good because at the moment F1 is far too concentrated on politics, rather than on the racing. Off the track, the Silverstone action was potentially ruinous for the sport. There is such a thing as bad publicity - and F1 was wallowing in it all weekend...
Given his pace in qualifying and the size of his fuel load, there was never much doubt that Vettel was going to walk it at Silverstone, but there is no such thing as a cake walk in F1. There are simply too many things that can go wrong. The key point for Vettel was the start. His start was none too special and Rubens Barrichello looked like he might have a chance, but Vettel firmly closed the door before Barrichello could use the momentum he had and that was that. The Red Bull lit up its afterburner and jetted away from the field in impressive style.
"The car was fantastic; unbelievable," Vettel said. "It shows we're going the right way with development to catch Brawn. But it was really great to win here; very emotional. This is what I was dreaming of when I saw my first Grand Prix here in the era of Nigel Mansell. The British fans are fantastic. They were standing cheering me during the final laps and I wanted to wave back. The atmosphere is great and I began to regret that I'm not an Englishman. It must be amazing to win your home race here."
He may find that out in a couple of weeks when he goes up against the Brawns again at the Nurburgring.
Button had hoped for a good start to make up for his poor qualifying but things did not go well. He went from sixth on the grid to ninth and then found himself stuck behind Jarno Trulli. That was the end of that.
"I was screwed at the start," Button explained. "Trulli has never been that special at starts and he proved it today. I tried to go on the inside because Kazuki Nakajima was on the other side, so I was stuck while everyone else flew by. It was never going to be easy from then on. I was skating all over the place on the harder tyres. I couldn't get temperature into them and the car just wasn't working. It was better on the soft tyre towards the end of the race but, by then, it was too late."
Indeed so.
Vettel was fortunate in that Barrichello managed to keep Mark Webber behind him. If Webber had been free to go after the German we might have had more of a fight, but while the Red Bull had become a mighty machine, it was not mighty enough to pass the Brawn. One wonders whether the work of the overtaking working group achieved anything because the overtaking on Sunday depended mainly on the mistakes of others and occasional flashes of brilliance.
"The first stint was crucial," Vettel explained. "I wanted to build a gap and I pushed as hard as I could every single lap. It was fantastic to see my pit board showing the lead opening by a second a lap."
In the second part of the race Sebastian found himself in traffic a great deal.
"I was lapping a lot of cars and some of them were fighting between themselves," he said. "It's a position I know about and the last thing you want to do when in a battle is to pull over to let the leader through and lose time. My engineer came on the radio and told me to be patient."
Webber was frustrated in those early laps. He could see all hope of victory disappearing but he knew also that the damage had been done the previous day in qualifying.
"We really we needed to be on the front row at least," he said. "I just kept as close to him as I could and knew I could jump him in the first stop, but it was hard to watch Sebastian pulling away ahead of us."
Barrichello felt the same, especially as the Red Bull was leaving him at around a second a lap - despite its heavier fuel load.
Vettel made his first refuelling stop on lap 21 and such was his domination that he emerged in the lead, even at that point in the race. Later Webber would run a longer stint after passing Rubens at the first pitstop cycle and so he spent a couple of laps leading before he had to pit again. That left Vettel in a dominant place and Webber spent the rest of the race, lugging around the disadvantage he had picked up in the first stint.
"There was no chance to bridge that gap," he said. "We are so close these days that there was no way to pull that back, so it was just a question of getting the car home. I got the best I could have done today."
Barrichello ended up third, which was no surprise.
"Yesterday we said we thought third was the best we could have," he said. "The Red Bull guys were the class of the field this weekend."
Button made it home in sixth place, his worst result of the year, but he picked up three points. He lost points to Barrichello and to Vettel, but he remains 23 ahead of his team-mate.
"All points are important at this stage and to come away with three is therefore okay," he conceded, "but it's been a very frustrating home grand prix for us. We then had a long middle stint on the harder tyre and both Rubens and I struggled to get them into their working range in the cool conditions.
"On the softer rubber at the end of the race, I was able to close right up to Rosberg and Massa very easily so the pace of the car was actually pretty good, but it is so difficult to overtake that I couldn't make any improvement on sixth position with only a few laps left."
He emerged with a still-healthy points lead, 23 over Barrichello. He is still in a strong position.
Behind the two Red Bulls and the Brawn there was a big old gap and then, for much of the race, we had Nico Rosberg in his Williams. The car looked good and we even wondered at one point if he might have a chance to catch and get ahead of Barrichello, but when the second round of fuel stops came, Felipe Massa managed to get ahead. After that Nico chased, but also had to watch his mirrors as Button came charging in. So Massa finished fourth, Rosberg fifth and Button sixth.
"I almost feel as though I won the race!" Massa said. "To start 11th and finish fourth is a really great result. We weren't expecting it. We had a good strategy and I pushed to the maximum at the key moments. Today, the KERS was a great help, especially at the start, but the whole car was also working well. We have to continue down this route. Maybe it just needed those few extra degrees of track temperature to get the tyres working better."
Maybe.
Felipe's team-mate Kimi Raikkonen was less impressed with his eighth place - as were other observers...
He had a good start and ran fifth early, despite a decent fuel load.
After the first pit stops, he found himself stuck behind Trulli and that was about it really.
"I tried to pass him getting very close sometimes, but it wasn't really on as overtaking is still very difficult," he said. He ended up fighting with Timo Glock, who was on his tail all the way to the flag.
"A single point is better than nothing," he said.
Nico Rosberg was also happy
"We still didn't get the result that we are capable of today," he said. "Barrichello was slow in the middle stint and I was stuck behind him and that cost me the place to Massa. If that hadn't happened, we would have had a solid fourth place."
Kazuki Nakajima's strategy ruined his race. He looked good in qualifying and ran fourth but he pitted on the 15th lap and when the other cars had all stopped he was down in ninth and that was the last we saw of him. The second stops dropped him two more places and he ended the day 11th, behind even Giancarlo Fisichella.
The Toyotas were seventh and ninth, a typically dull result as they started fourth and eighth.
"I had a difficult start because the car didn't pull away as fast as normal," Trulli explained, "I lost a couple of positions. I was trying to fight back all through the race but the car was sliding around quite a lot. I expected the weather today to be a little warmer than it was and I was struggling a bit with my set-up. We expected more from this race."
Glock was also less than pleased.
"I was really quick out of traffic," he said, "but I lost a few positions at the first corner and that left me in traffic and compromised my race. On the hard tyres at the end the car felt good and I very quickly caught Kimi but I had no chance to overtake. I tried into the final corner on the last lap but it didn't work out."
All this meant that Giancarlo Fisichella gave Force India its first top 10 result of the season. His performances have been pretty poor this year but on the second lap he pulled a nice move in Maggots, passing both Robert Kubica and Fernando Alonso in one move. Not long after that he overtook Nick Heidfeld at Stowe. It was a decent effort.
Adrian Sutil started from pitlane in the spare Force India VJM02, which was built up overnight to replace his wrecked race car. He finished only 17th, ahead of Sebastien Buemi who seemed to be well off the pace all weekend. Sebastien Bourdais for once did not have to worry about his novice team-mate but still managed to mess things up by running into Heikki Kovalainen.
"He changed line twice," the Frenchman whinged. "At the exit to Stowe, I was on the normal line and he went to the inside, I moved to the outside, then he moved over so I moved across to the other side and he changed again. He braked early, because he'd only just left the pits on full tanks and cold tyres. I was trying to out-brake him, but he should not have changed line like that. It was frustrating."
Kovalainen had a rather different view of the incident.
"Bourdais just ran into the back of me and damaged the left-rear corner," he said. "I had to stop because the damage had made the car undriveable."
It was not McLaren's day. Not its weekend, come to that. In fact, not its season at all.
Lewis Hamilton was messing about at the back with the likes of Fernando Alonso, who seemed rather aggressive and put Lewis off at one point. This lost him a place.
He ended the afternoon in a shocking 16th.
"I gave it my all today," he said. "Despite fighting for the lower positions, I was absolutely on the limit for the whole race. I enjoyed my battle with Fernando, but we didn't have the pace to get into the points. The best thing was the fans: they really gave me some consolation by cheering me on throughout the race."
At the end he gave his fans a thrill by having a deliberate and rather smoky spin on the slowing down lap.
"I don't know what happened at the front," he said. "I was a million miles away. I was pushing and pushing but this car has no grip. It was ridiculous."
The Renaults were 12th and 14th and given that Alonso had started in the top 10 it was not a good performance. It went wrong from the start with the light-fuelled Alonso making a slow start. He was then stuck behind Nick Heidfeld's BMW. After the stops he was down in 18th, battling with Hamilton (!) and even Bourdais. By the time the second stops came around he had been overtaken by Nelson Piquet. A miserable day for him.
The BMWs were off the pace as well with Kubica 13th and Heidfeld 15th.
But Germans were rejoicing despite the poor beasts from Bavaria. Vettel had won his first race in the dry. And this was utterly convincing.
"We have to use every opportunity that we have," he said. "We have to win as much as we can, but we are up for the fight. The season is still long."
"Who knows what might happen?"
British Grand Prix Results - 21 June 2009 - 60 Laps
POS
DRIVER
NATIONALITY
ENTRANT
LAPS
TIME/RETIRE
1.
Sebastian Vettel
Germany
Red Bull-Renault
60
1h22m49.328
2.
Mark Webber
Australia
Red Bull-Renault
60
15.188
3.
Rubens Barrichello
Brazil
Brawn-Mercedes
60
41.175
4.
Felipe Massa
Brazil
Ferrari
60
45.043
5.
Nico Rosberg
Germany
Williams-Toyota
60
45.915
6.
Jenson Button
Britain
Brawn-Mercedes
60
46.285
7.
Jarno Trulli
Italy
Toyota
60
1m08.307
8.
Kimi Raikkonen
Finland
Ferrari
60
1m09.622
9.
Timo Glock
Germany
Toyota
60
1m09.823
10.
Giancarlo Fisichella
Italy
Force India-Mercedes
60
1m11.522
11.
Kazuki Nakajima
Japan
Williams-Toyota
60
1m14.023
12.
Nelson Piquet
Brazil
Renault
59
1 Lap
13.
Robert Kubica
Poland
BMW Sauber
59
1 Lap
14.
Fernando Alonso
Spain
Renault
59
1 Lap
15.
Nick Heidfeld
Germany
BMW Sauber
59
1 Lap
16.
Lewis Hamilton
Britain
McLaren-Mercedes
59
1 Lap
17.
Adrian Sutil
Germany
Force India-Mercedes
59
1 Lap
18.
Sebastien Buemi
Switzerland
Toro Rosso-Ferrari
59
1 Lap
R
Sebastien Bourdais
France
Toro Rosso-Ferrari
37
Damage
R
Heikki Kovalainen
Finland
McLaren-Mercedes
36
Damage
FASTEST LAP:
Sebastian Vettel
Germany
Red Bull-Renault
16
1:20.735