British GP 2008
JULY 6, 2008
British GP, 2008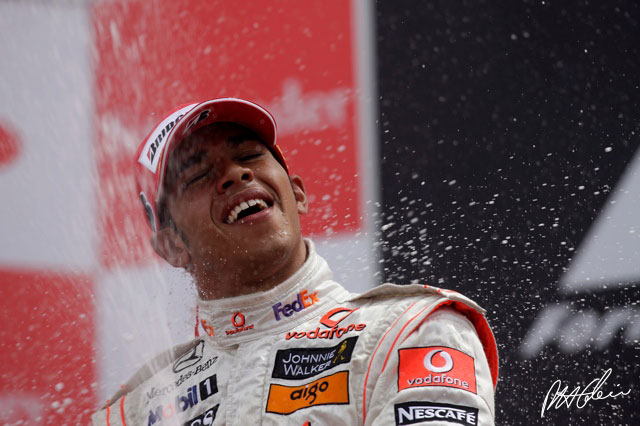 © The Cahier Archive
In the days when Mr Kipling was a celebrated poet, rather than a man who makes cakes, he wrote a poem by which many young men of the age tried to live their lives. It typified the attitude that built the British Empire.
"If you can keep your head when all about you are losing their's and blaming it on you," Kipling wrote. "If you can trust yourself when all men doubt you, but make allowance for their doubting too..." and so it went on until it reached the conclusion that if one could do this long list of things, you would in the end become a man.
At Silverstone on Sunday, Lewis Hamilton became not a man, but a superman. He did not need a telephone box in which to change into a Lycra suit, he simply climbed into his McLaren-Mercedes MP4-23 and showed the rest of the F1 field that he is moving into a league which may already have left them all behind. Yes, he has made mistakes this year. Yes, he may need a different kind of management. But is there anyone else in the field who could have driven like that? This was a classic drive, one to compare with the very best in the history of the sport. The conditions were horrible, and constantly changing, but as others stumbled in his wake, Lewis drove brilliantly. There were times when he was going away from the field at a rate that frightened his engineers, but when they called him up to slow him down, he replied that he was fine and was amazed when he was told how fast he was pulling away from everyone else.
"The team were telling me that it was forty seconds, 48 seconds, you're five or eight seconds or whatever it was faster than the guy behind," he said. "And I'm thinking, hold on a second, what's going on? I'm not even pushing. I'm driving to a comfortable pace. I didn't want to slow down because the moment you slow down, you perhaps lose concentration, so I just said 'I'm comfortable at the pace I'm going' and even then I was a silly amount quicker than everyone. So I really had to be very, very sensible. Imagine I was a minute, sixty seconds ahead and I came off, and I didn't win. There would be no way you could come from that. That would be the most embarrassing thing. You would have to retire. I was comfortable with the pace I was doing but I asked the team 'How much slower can I go?' They gave me a margin which I was comfortable with, yet I still did a 1m36s and that was quicker than I'd been in my last stint. But I was comfortable there. The car felt good, I felt comfortable where I was."
"It is by far the best victory I've ever had. It was one of the toughest races I've ever done and as I was driving I was thinking if I win this, this will definitely go down as the best race I've ever won, not only because of its history but it's on my home ground, but also I think I drove one of the best races I ever did. But I was coming to the last lap and I could see the crowd beginning to stand up and I was just praying, praying and praying: keep it on the track, just finish and you could not imagine that we're going inside. I wanted to push, I just wanted to get it round."
Hamilton started the race on unused wet tyres and admitted that with a damp road it was tough.
"It was so extreme out there," he said. "It was probably as extreme in some cases as Fuji last year. Obviously there wasn't as much rain but such tricky conditions: the first sector maybe dry or not so bad, and then in the second sector you could see big drops of rain on your visor. I was having big problems with my visor, I couldn't see a thing, especially the right side was fogging up, so always between turn one and two I would have to put the visor up and clean it on the inside and then put it down, and then I would have to do it again before Stowe. I had to do that nearly every lap, just to be able to see, especially when it started to rain. It was so slippery, it was so tough, it was a real mental challenge. I just focused on making sure I didn't make any mess-ups and mistakes and they were doing such a great job in analysing the weather forecast and making sure that we were on the right path."
"I had a lot of pressure on me," he went on. "I had done a terrible job, really, in qualifying, at least by my standards, but today I just kept saying 'I'm not going out there to' the plan is not to beat myself up and say 'I'm going to go out and win and try and do everything on the first lap' I just wanted to get a point. I would have been happy with eighth today, I would have been happy just getting a point and so with that approach, I just remained relaxed, I remained calm. It was really important that I had three Cs: cool, calm and collected. That's really what helped me keep everything together. It was such a mental challenge out there. You could see the fans, they were getting all excited. The track conditions were changing non-stop."
The race began with a great start which took him from fourth on the grid, past Kimi Raikkonen and Mark Webber and down the inside of the pole man Heikki Kovalainen.
"To be honest, I lifted too early into Turn One," Lewis admitted. "Heikki had the outside line, so he had the grip but unfortunately I was on the inside and I was just sliding, sliding across. There was nothing I could do to avoid him, I think we tapped or we touched. I had another opportunity on the exit of the last corner but that's not a place to overtake really. We were almost side-by-side and I had an oversteer moment and the last thing I wanted to do was take my team-mate out, so I just tried to keep it on the track."
He went ahead of Kovalainen at Becketts on lap 5 and after that he was gone. He had only a couple of moments after that.
"Going into Brooklands, I hit the brake too hard," he said. "I locked up the wheels and I was stuck, I thought I was going straight onto the gravel. That gravel trap is horrible, there is no way you can get through it. But fortunately I kept it together."
The sceond incident was going into Abbey when rain had started to fall, as it did intermittently.
"I couldn't see, I honestly couldn't see, " he said. "There was no way I could even see what line I was on. I had already gone wide through Turns Nine and Ten. I couldn't see the white line, the car was just skidding everywhere but luckily I just kept it cool, I was already forty or fifty seconds ahead, so I didn't have to get out there and start pushing, I just took it easy from then on."
"Today was not a physical challenge," he said. "It was just mental. I don't know how I've done it but I did it and that's the most important thing."
Lewis ended up trying to quote from Martin Luther King, which is not something you're going to hear from Kimi Raikkonen. He made a bit of a mess of it (and admitted as much), but the point was made.
"The ultimate measure of a man," King said, "is not where he stands in moments of comfort and conveniences, but where he stands at times of challenge and controversy."
Raikkonen looked a potential threat early on, particularly after Kovalainen spun and dropped behind him. Kimi closed up on Hamilton for a while but the team left Kimi on the same set of intermediate tyres. McLaren gave Hamilton a scrubbed set, and that proved decisive. Kimi dropped away in dramatic fashion and it was not long before Hamilton was more than 20secs ahead of Heidfeld and Kovalainen. Raikkonen had fallen back to fourth and then another stop for tyres on lap 30 dropped him back to 11th.
"There were mistakes made that we cannot afford to repeat," said team boss Stefano Domenicali. "We could have won this race with Kimi but we made a key mistake at the first pit stop. The rain did not ease off and our drivers - Felipe had also gone for the same choice - found themselves in difficulty. Formula 1 is not an exact science: sometimes strategic choices pay off and sometimes they don't. All the same, we have to admit that, this weekend, we did not operate to our usual standard. We made mistakes at every level. Now we have to work out why, but calmly without panicking."
Felipe Massa had an awful weekend and spun no fewer than five times in the race and finished in 13th place.
"This Silverstone weekend is one to be wiped out," he said. "On Friday I had an accident, yesterday there was the problem in qualifying and today a series of mistakes at all levels. After nine races I am still in the lead in the classification and I have every chance to fight for the title all the way to the end. Today, I could hardly keep the car in a straight line and it was always very difficult to drive."
Robert Kubica looked to be on course for a podium finish but made a rare mistake.
"I was already aquaplaning for many laps and unfortunately in a straight line I just lost the car completely and went off," he said. "It was a crazy race in difficult conditions. I couldn't keep the car in a straight line, was losing power, the rear wheels were losing contact with the tarmac, and that was it."
In the end Nick Heidfeld came through. He made a great start and was fourth at the end of the first lap. After the first stops he moved up to second behind Hamilton, after a brilliant move on both Kovalainen and Raikkonen on lap 28. It was a great effort, but (as usual) Nick had to make do with second place.
"Before the stop we were discussing it on the radio," he said. "They said it should only be a short shower but I was going down Hangar Straight and I thought how could that become just a small shower, it was so dark and the rain was getting stronger, so I told them I think we should go on new inters and don't keep these ones on. But I said this is your decision, you have the better overview and then luckily we chose new inters which I think was the most important thing today."
The biggest surprise was the progress made by Rubens Barrichello who decided that he wanted extreme wet tyres and came in on the same lap as team-mate Jenson Button to get them. That meant he had to wait longer than might have been the case, but the risk paid off and Rubens charged up to third to take Honda to its first podium finish for a very long time.
"This is fantastic," he said. "It was the right decision for us to take the extreme wets, and I could pass people inside and outside. It was just magic. I made the decision after I nearly ran out of track at Club and almost hit the wall. Club and Abbey were the most difficult, so I said I was coming in for extreme wets. It was a great call."
Kovalainen had one spin and in the closing laps was able to climb up and pass Fernando Alonso for fifth.
"It was an extremely difficult race with lots of things happening," Heikki said. "It was so easy to get caught out today by aquaplaning and slippery conditions: I spun twice but I was not the only one."
Alonso fought a good race and was rewarded with more points but once again Nelson Piquet threw away a good opportunity for points. He had done well up to that point and one almost felt sorry for him. A similar fate befell Jenson Button.
The last few laps saw a lively fight for the minor points with Kovalainen, Alonso, Kazuki Nakajima and Jarno Trulli all running in close order. In the end Jarno managed to scramble to seventh on the last lap, leaving Nakajima with just one point. This may not seem much but this was a significant event for it was the first time that Kazuki completely dominated Nico Rosberg. The German started from the pit lane and later damaged yet another nose by rear-ending Timo Glock's Toyota. He was ninth by he finish.
Mark Webber had a bad day as well, spinning on the opening lap and losing his qualifying advantage. He charged hard to recover but a light fuel load meant that he was soon back down the order again. He had several spins and ended the day 10th ahead of Sebastien Bourdais, Glock and Massa. All of them had one or more spins. Both Force Indias spun out of the race while Red Bull suffered the indignity of watching Sebastian Vettel and David Coulthard collide on the first lap.
"Massa spun going into Bridge," Vettel said. "That caused a lot of confusion and meant the cars were all running very close. In Priory I got hit on the rear left and it spun me around. I tried to save it, but I got stuck in the gravel. I thought there might have been a chance of being pushed out, but when I got out of the cockpit I saw the gravel was much too deep."
Coulthard said he had not been able to see anything.
"I'm sorry for Red Bull," he said. "It was two cars out in one hit."
Hey-ho, as one star fades another rises.
It is ever thus in F1, but the Lewis Hamilton star seems set to rise far higher than those of his generation.
British Grand Prix Results - 6 July 2008 - 60 Laps
POS
DRIVER
NATIONALITY
ENTRANT
LAPS
TIME/RETIRE
1.
Lewis Hamilton
Britain
McLaren-Mercedes
60
1h39m09.440
2.
Nick Heidfeld
Germany
BMW Sauber
60
1m08.577
3.
Rubens Barrichello
Brazil
Honda
60
1m22.273
4.
Kimi Raikkonen
Finland
Ferrari
59
1 Lap
5.
Heikki Kovalainen
Finland
McLaren-Mercedes
59
1 Lap
6.
Fernando Alonso
Spain
Renault
59
1 Lap
7.
Jarno Trulli
Italy
Toyota
59
1 Lap
8.
Kazuki Nakajima
Japan
Williams-Toyota
59
1 Lap
9.
Nico Rosberg
Germany
Williams-Toyota
59
1 Lap
10.
Mark Webber
Australia
Red Bull-Renault
59
1 Lap
11.
Sebastien Bourdais
France
Toro Rosso-Ferrari
59
1 Lap
12.
Timo Glock
Germany
Toyota
59
1 Lap
13.
Felipe Massa
Brazil
Ferrari
58
2 Laps
R
Robert Kubica
Poland
BMW Sauber
39
Spin
R
Jenson Button
Britain
Honda
38
Spin
R
Nelson Piquet
Brazil
Renault
35
Spin
R
Giancarlo Fisichella
Italy
Force India-Ferrari
26
Spin
R
Adrian Sutil
Germany
Force India-Ferrari
10
Spin
R
Sebastian Vettel
Germany
Toro Rosso-Ferrari
0
Accident
R
David Coulthard
Britain
Red Bull-Renault
0
Accident
FASTEST LAP:
Kimi Raikkonen
Finland
Ferrari
18
1:32.150