British GP 2007
JULY 8, 2007
British GP, 2007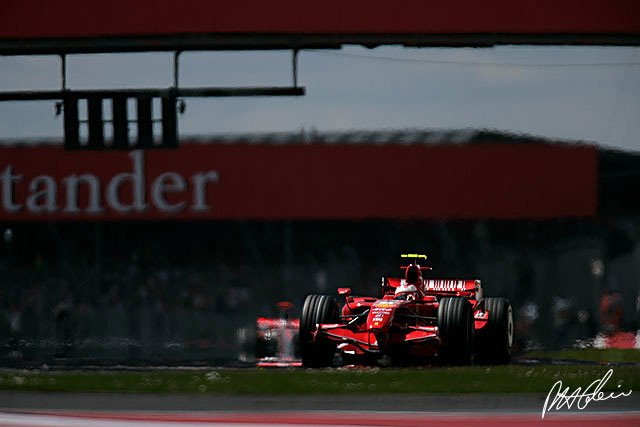 © The Cahier Archive
After his pole position on Saturday, Lewis Hamilton was a national hero but down in the McLaren camp there were worries that the Ferrari pace was going to be too quick to stop. The big hope was not actually Hamilton - who was trying to keep his World Championship challenge going - but rather Alonso who had a lot more fuel in the car. But the threat was Raikkonen.
Felipe Massa's chances evaporated before the race even began when his car stalled on the grid. He had to start at the back from the pitlane. That made life a little easier for the others up front and Hamilton got away well and managed to keep Kimi behind him. The two men then began to exchange fastest laps but Hamilton was not able to pull away. And we waited for the moment when he would peel off into the pits, which would signal the end of his challenge. Maybe Raikkonen did not have a great deal more fuel but even a could of laps would be enough. Hamilton pitted to refuel as early as lap 16 and it was all over for him at least in terms of winning the race. Raikkonen did two extra laps and then headed for the pits leaving Alonso ahead. He did two more laps and then scuttled into the pits and took on a light fuel load, hoping to make a gap and be able to stay ahead of Raikkonen at the second stops. It was a gamble.
Hamilton was out the picture by then because of a fumbled pitstop.
"I selected first gear ready to go and thought I saw the lollipop move a little, so I let the clutch out trying to anticipate it and I was too early."
He hit the brakes the moment he realised the refuelling hose was still attached, but it cost him time. Alonso's second stop came on lap 37 but Raikkonen went on for another six laps and when he finally pitted he had enough gap to emerge ahead.
"We had a good car all day, and to begin with I just looked after it, tried to save some fuel and look after tyres," he said. "It's a very nice feeling to win again, because other times I have been close and something has happened."
Hamilton might have lost this battle but he is still ahead in the war, with 70 points from Alonso on 58, Raikkonen on 52, and Massa, who recovered to fifth place, on 51.
BMW Sauber were best of the rest as usual with Robert Kubica a good fourth, fending off Massa all the way to the flag, and Nick Heidfeld sixth after fighting up from ninth on the grid.
Seventh and eighth places brought Renault three much-needed extra points, but not much else. Ninth place went to Rubens Barrichello after a hard, single-stop fight in a car that was lacking in performance. Team-mate Jenson Button fought hard too, having David Coulthard's Red Bull all over the back of his RA107 in the closing stages as he battled oversteer and understeer.
The rest did little of note.
It was not a great race but for Hamilton it was enough.
"I wouldn't say I was lucky to be on the podium as we worked extremely hard all weekend, but I made a mistake in the set-up. I had a different rear end on the car to Fernando which caused me problems in the race. Even in qualifying I didn't have the pace I had expected. But I think I'm still the most consistent driver here, so I just have to look forward."
A battle has been lost but the war is still up for grabs.
British Grand Prix Results - 8 July 2007 - 59 Laps
POS
DRIVER
NATIONALITY
ENTRANT
LAPS
TIME/RETIRE
1.
Kimi Raikkonen
Finland
Ferrari
59
1h21m43.074
2.
Fernando Alonso
Spain
McLaren-Mercedes
59
2.459
3.
Lewis Hamilton
Britain
McLaren-Mercedes
59
39.373
4.
Robert Kubica
Poland
BMW
59
53.319
5.
Felipe Massa
Brazil
Ferrari
59
54.063
6.
Nick Heidfeld
Germany
BMW
59
56.336
7.
Heikki Kovalainen
Finland
Renault
58
1 Lap
8.
Giancarlo Fisichella
Italy
Renault
58
1 Lap
9.
Rubens Barrichello
Brazil
Honda
58
1 Lap
10.
Jenson Button
Britain
Honda
58
1 Lap
11.
David Coulthard
Britain
Red Bull-Renault
58
1 Lap
12.
Nico Rosberg
Germany
Williams-Toyota
58
1 Lap
13.
Alexander Wurz
Austria
Williams-Toyota
58
1 Lap
14.
Takuma Sato
Japan
Super Aguri-Honda
57
2 Laps
15.
Christijan Albers
Netherlands
Spyker-Ferrari
57
2 Laps
16.
Vitantonio Liuzzi
Italy
Toro Rosso-Ferrari
53
6 Laps, Gearbox
R
Jarno Trulli
Italy
Toyota
43
Retired
R
Anthony Davidson
Britain
Super Aguri-Honda
36
Mechanical
R
Scott Speed
United States
Toro Rosso-Ferrari
29
Damage
R
Ralf Schumacher
Germany
Toyota
22
Retired
R
Adrian Sutil
Germany
Spyker-Ferrari
16
Engine
R
Mark Webber
Australia
Red Bull-Renault
8
Differential
FASTEST LAP:
Kimi Raikkonen
Finland
Ferrari
17
1:20.638