British GP 2004
JULY 11, 2004
British GP, 2004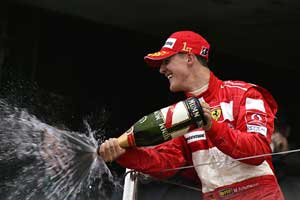 © The Cahier Archive
It is nice to listen to the German national anthem on a Sunday afternoon. It is a magnificent piece of music. Frederick Handel knew how to scribble a decent tune. The only problem is that after listening to the same tune for the 80th time on a Sunday afternoon is becoming a bit too much of a habit. Michael Schumacher's 10th victory in the 11 races this year was evidence once again that Michael can pull rabbit after rabbit out of his hat. Each race these days seems like a conjuring trick. Michael wins from any position on the grid.
It was, of course, a great performance and by no means a foregone conclusion in the early laps but Michael put the hammer down when he needed to do it and his pace was such that there was nothing that anyone could do about it. Michael says that the fact that he has to use different strategies is an indication that the rival teams are catching up. Perhaps there is an element of truth in that but when it comes to a Sunday afternoon, it seems that Michael can do no wrong.
Still, the grandstands at Silverstone were full and the crowd was treated to a fine display. The TV coverage was much better than it has been in recent races and so the show made much better viewing. Given this sort of thing there is no reason why TV viewing figures should drop. The problem remains the same: the other teams are just not doing a good enough job. At Silverstone the result had a lot to do with temperature and with the British summer doing its usual thing, the temperatures were low. When that happens we see the Michelin teams fall away from the Bridgestones. And that was certainly how it looked. Schumacher and Barrichello were strong. Giancarlo Fisichella in the Sauber was strong. So was Felipe Massa. The Michelin teams were weak.
The result showed Michael Schumacher finishing two seconds clear of Kimi Raikkonen but that was not a true picture of what had happened. It would have been a much bigger massacre were it not for a Safety Car that came out after Jarno Trulli suffered a suspension failure and had a big crash on lap 40.
"The arrival of the Safety Car after the accident cancelled out all the advantage that Michael's different strategy had produced," Jean Todt explained. "This was because all those behind were able to make their third and final pit stop without losing time compared to Michael. From lap 45 onwards therefore we witnessed a sprint race, which went in Michael's favour."
Schumacher said that he had not expected his strategy to work as well as it did.
"We sacrificed qualifying for the race, but I never expected it to pay out so early," he admitted. "I was not worried by Kimi's pace at the start because I knew my strategy and even if he had been ahead after my second stop I would not have worried as he had to come in again. I did not want to overdo it and just let the potential of the car do the work. The car was going so well when I had an open track. I lost a comfortable lead with the Safety Car and so I was lucky to have two cars between me and Kimi. The Safety Car was going very slowly and that meant after it went in, I had to fight hard for a couple of laps until my tyres came good and then I was able to pull out a lead again."
A Schumacher victory is not news but a McLaren finishing second very definitely is something to write home about.
"We have made a significant step forward," said Ron Dennis. "Our weekend is a great boost for the entire team who have worked so hard to achieve the difficult targets that we had."
But there were words of caution too from Mercedes-Benz boss Norbert Haug.
"We are not there yet," he said. "But we are close."
Well, Raikkonen might have been. David Coulthard came home in seventh place, angry that he had not done as well he might have done because he felt the car was too nervous.
Perhaps one should stop analysing how well Ferrari is doing and rather concentrate of the failings of the other teams. The only team to win this year other than Ferrari has been Renault and they left Silverstone with no points. Fernando Alonso was a miserable 10th. He had started at the back after an engine failure in practice and so eighth was not bad. But the car was not on the pace. Fernando was stuck in traffic all the time and unable to get ahead.
"I only did a few laps on my own," he said, "and when I did I was very quick."
The numbers did not really bear that out on this occasion as Fernando's best lap was only the eighth quickest in the race, behind such luminaries as Giancarlo Fisichella's Sauber and the two Williams-BMWs.
Trulli had a similar lacklustre race, complaining that the car was very edgy until something went seriously wrong at Bridge Corner on the 40th lap of the 60-lap race. The left rear suspension broke as Trulli was travelling at 167mph. The Renault went backwards into the barriers, spun around several times and then flipped over as it bounced into the gravel trap. Trulli quickly popped the belts and climbed out, proving once again just how safe these automobiles have become. There were bits of car all over the place and so a Safety Car was needed and Alonso found himself in trouble. The team had only seconds to decide whether to bring Alonso in. The decision came too late and so Fernando lost some potential advantage, but it would not have been a correct picture if Alonso had got points. This time the cars were not up to the job.
The story was similar down at Williams where Juan Pablo Montoya finished fifth and Marc Gene came home 12th. It was a pretty horrible result, bringing to an end a pretty horrible weekend. The news Williams aerodynamic package has still to show its worth and the team is now looking at some serious testing work before the F1 circus meets again in Hockenheim in 10 days.
BAR-Honda got Jenson Button home in fourth place and Takuma Sato was 11th but this was not something to get every excited about.
"Our performance was nowhere near our testing performance earlier in the year," said Button. "We are really struggling for grip compared to the Ferraris and it was like a different race in terms of the way the car was handling."
Sato went for a different strategy, the aim being to run a two-stop strategy and that did not work out at all.
Funnily enough it did work for Sauber (on Bridgestones). The team had a new aerodynamic package and Fisichella, starting from the back because of an engine failure, used it.
"It was fantastic," he sad. "At the end I lost time in my stop as the mechanics topped up my engine's pneumatic system and without that I would easily have beaten Montoya for fifth." As it was sixth was good for a Sauber and with Felipe Massa ninth things were looking much better than they have done.
"We should have scored points today," Massa said. "Towards the end I was challenging Webber and my car was faster than his but overtaking is always difficult here."
And so Felipe did not overtake.
Jaguar was another team to suffer from Michelin-itis.
Mark Webber was happy to get a point and reckoned he might have had two if the Safety Car had not gone out and negated the advantage he gained from a two-stop strategy. Christian Klien was 14th.
Toyota suffered a dose of the Michelin problem and 13th for Cristiano da Matta was hardly anything to get the chaps in Tokyo dancing in the streets over. Still it was better than parking beside the road which was what poor old Olivier Panis had to do when his onboard fire extinguisher went off and sprayed everything gunk. Olivier could not see anything and ended up in the gravel.
The Jordan team managed to get Nick Heidfeld home in 15th which was disappointing given that the Bridgestone performance was good. Heidfeld's progress was spoiled because he tagged a front wing early on and that really upset the car and Giorgio Pantano had a couple of spins and ended up in the gravel.
Minardi was only too happy to get to the end of a miserable weekend. Zsolt Baumgartner went out with an engine problem and Gianmaria Bruni's race was spoiled by a refuelling problem but he finished 16th.
BRITISH GRAND PRIX RESULTS - JULY 11, 2004 - 60 LAPS

POS

DRIVER
NATIONALITY
ENTRANT
LAPS
TIRE
TIME/RETIRE

1.

MICHAEL SCHUMACHER
Germany
Ferrari
60

1h24m42.700

2.

KIMI RAIKKONEN
Finland
McLaren-Mercedes
60

2.130

3.

RUBENS BARRICHELLO
Brazil
Ferrari
60

3.114

4.

JENSON BUTTON
Britain
BAR-Honda
60

10.683

5.

JUAN PABLO MONTOYA
Colombia
Williams-BMW
60

12.173

6.

GIANCARLO FISICHELLA
Italy
Sauber-Petronas
60

12.888

7.

DAVID COULTHARD
Britain
McLaren-Mercedes
60

19.668

8.

MARK WEBBER
Australia
Jaguar-Cosworth
60

23.701

9.

FELIPE MASSA
Brazil
Sauber-Petronas
60

24.023

10.

FERNANDO ALONSO
Spain
Renault
60

24.835

11.

TAKUMA SATO
Japan
BAR-Honda
60

33.736

12.

MARC GENE
Spain
Williams-BMW
60

34.303

13.

CRISTIANO DA MATTA
Brazil
Toyota
59

1 Lap

14.

CHRISTIAN KLIEN
Austria
Jaguar-Cosworth
59

1 Lap

15.

NICK HEIDFELD
Germany
Jordan-Cosworth
59

1 Lap

16.

GIANMARIA BRUNI
Italy
Minardi-Cosworth
56

4 Laps

R

GIORGIO PANTANO
Italy
Jordan-Ford
47

Spin

R

JARNO TRULLI
Italy
Renault
39

Accident

R

ZSOLT BAUMGARTNER
Hungary
Minardi-Cosworth
29

Engine

R

OLIVIER PANIS
France
Toyota
16

Extinguisher

FASTEST LAP: Schumacher

Germany
Ferrari
14

1:18.739



DRIVERS CHAMPIONSHIP POSITIONS:

POS

DRIVER
NATIONALITY
ENTRANT

POINTS

1.

MICHAEL SCHUMACHER
Germany
Ferrari

100

2.

RUBENS BARRICHELLO
Brazil
Ferrari

74

3.

JENSON BUTTON
Britain
BAR-Honda

53

4.

JARNO TRULLI
Italy
Renault

46

5.

FERNANDO ALONSO
Spain
Renault

33

6.

JUAN PABLO MONTOYA
Colombia
Williams-BMW

29

7.

KIMI RAIKKONEN
Finland
McLaren-Mercedes

18

8.

TAKUMA SATO
Japan
BAR-Honda

14

DAVID COULTHARD
Britain
McLaren-Mercedes

14

10.

GIANCARLO FISICHELLA
Italy
Sauber-Petronas

13

11.

RALF SCHUMACHER
Germany
Williams-BMW

12

12.

FELIPE MASSA
Brazil
McLaren-Mercedes

5

OLIVIER PANIS
France
Toyota

5

14.

MARK WEBBER
Australia
Jaguar-Cosworth

4

15.

CRISTIANO DA MATTA
Brazil
Toyota

3

NICK HEIDFELD
Germany
Jordan-Cosworth

3

17.

TIMO GLOCK
Germany
Jordan-Cosworth

2

18.

ZSOLT BAUMGARTNER
Hungary
Minardi-Cosworth

1




CONSTRUCTORS CHAMPIONSHIP POSITIONS:

POS

CONSTRUCTOR

POINTS

1.

FERRARI

174

2.

RENAULT

79

3.

BAR-HONDA

67

4.

WILLIAMS-BMW

41

5.

MCLAREN-MERCEDES

32

6.

SAUBER-PETRONAS

18

7.

TOYOTA

8

8.

JORDAN-COSWORTH

5

9.

JAGUAR-COSWORTH

4

10.

MINARDI-COSWORTH

1