British GP 2002
JULY 7, 2002
British GP, 2002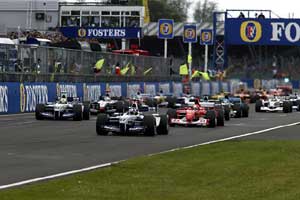 © The Cahier Archive
A story of black round rubber things...
MICHAEL SCHUMACHER dominated the British Grand Prix and finished the day leading home Rubens Barrichello to another Ferrari 1-2. This time there was no controversy Michael had the field to himself while Rubens started from the back of the grid, drove through the entire field, had time for a spin and still finished second.
It was pretty much what we have come to expect, except that for a brief moment or two Montoya looked like a man who had a car which was capable of competition with the Red Brigade. The minute the woods of Northamptonshire (and a bit of Oxfordshire) were sprinkled with some of that refreshing English drizzle, the game was over. Michelin have famously poor wet weather tires and here, for the first time this year, was the evidence.
If the Michelin engineers had been in court they would have been condemned.
Montoya made no attempt to disguise the issue
"The team has made a big step forward this weekend with the new aerodynamic package," he said. "To finish 15 seconds behind the Ferraris is not that bad. We have made a big step forward. We have a really good engine, the chassis works well. We need a little bit more downforce but I think the biggest issue at the moment is the tires."
If this had been the Grand Prix of Stating The Obvious, Monty would have won...
Alas it was not and so we had Ferrari domination once again. And what dominance it is! Everything went right for Michael again as others got it all wrong and he ended the day with his 60th Grand Prix victory. He leads the championship to such an extent that if he goes on like this he will end the year with 150 points from 17 races. People will tell you that this is dull but in the circumstances the racing this year has actually been quite entertaining. It is just the result which is the same.
To underline the dominance of the Ferraris Barrichello went from the tail of the field to second place in just 19 laps. He then had a spin and for a brief moment fell back behind Montoya once again but a few more laps and he was off and away.
Montoya did as much as he could have done but Brother Ralf's hopes of a good solid score went wrong as soon as the rains came. He had to wait behind Montoya in the pits and then at the second stop his refuelling machine failed. That meant a second stop and by the time that had been achieved he was 10th. By the end he was back to eighth but nothing could be salvaged.
But if Brother Ralf had a bad day, the inhabitants of McLaren Silver Grey Towers were in a state of gloom and doom. To start with it did not look too bad. Kimi Raikkonen managed to scramble his way ahead of Brother Ralf in the early laps and David Coulthard was right with the pair of them but as soon as the rain came, the troubles began. Radio interference meant that DC and Kimi were talking to Chinese restaurants and digital TV commentators (or perhaps that should be commentators from digital TV). As a result of this Coulthard went on running when he should have stopped for tires. After he eventually stopped, the weather (according to McLaren experts) began to improve and so the team decided to try to claw back time by switching him to dry tires earlier than the others. DC spent the next few laps going on and off the track until it became clear that the rain had increased rather than decreased and so he went back to the pits just in time for the track to start to dry at which point his intermediate tires did not seem such a good idea. So it was back to the pits again. By the time he had finished all this he was so far back in the field that there was no-one left to overtake him so he did the only thing possible and trolled around until the checkered flag came out and he was allowed to go home.
Raikkonen got to go home early when his engine failed but he too was a long way back because the radio troubles meant that when he arrived in pitlane in the rain storm the team was not ready for him and so he went into the same sequence of tire changes as Coulthard and was 10th when his Mercedes-Benz V10 went "Boom. Gotcha!"
"Our weather forecasting was not as accurate as we would have liked," said team boss Ron Dennis, between grinding teeth...
But as always when suffers another rejoices and this time it was BAR's turn to have a bit of song and dance. The team has failed to score all year and the nastier critics had already started to slide from beneath their rocks to throw darts at David Richards. Now Richards had something with which to reply. The Dark Ages at BAR may not be completely over but things are moving in the direction one would expect them to be moving.
Sauber was to be found banging its collective head on a wall at the end of the day as World Championship points had been there to be grabbed and the team (or rather the drivers) failed to grab them. Massa spent a lot of the afternoon spinning while Heidfeld was more restrained but not as quick. Still he was the man who brought home a point. Peter Sauber felt he might have had five.
Others who might (or should) have benefited were Arrows which retired two cars when they were on course for points. Frentzen started slowly but made the most of his early stop to be well on his way to a handful of points when his engine stopped. Enrique Bernoldi made less of an impression but was sixth at one point before a McLaren-like strategy dropped him down the field from whence he had come and the car then suffered a driveshaft failure.
The Renaults should have been there but bad weather-calling meant three pits stops apiece and then retirement with electrical for Trulli and a suspension problem for Button.
Jordan might have picked up some points but Sato's race was ruined when the team told him to stay out for an extra lap when the rains came which meant he plummeted down the order a la Coulthard. He fought back and then his engine blew. Fisichella complained that his car was too nervous but plugged away all afternoon and finished seventh.
Toyota lost McNish at the start with a terminal clutch problem and Salo's hopes were thrown away when he spun early in the race. He was beginning a recovery drive when he went out with a transmission problem.
Jaguar had a miserable time but de la Rosa made it to the finish in 11th place while Irvine's race achieved little and ended on lap 24 with a spin into the gravel.
Minardi too had a disappointing day despite Webber making a good start and running along in 17th place. He was 16th on lap 10 when something went wrong with the car and he spun off at Stowe Corner.
It was a day of missed opportunities for almost everyone - except Michael & Rubens and Jacques & Olivier.
BRITISH GRAND PRIX RESULTS - JULY 7, 2002 - 60 LAPS

POS

DRIVER
NATIONALITY
ENTRANT
LAPS
TIRE
TIME/RETIRE

1.

MICHAEL SCHUMACHER
Germany
Ferrari
60

1h31m45.015

2.

RUBENS BARRICHELLO
Brazil
Ferrari
60

14.578

3.

JUAN PABLO MONTOYA
Colombia
Williams-BMW
60

31.661

4.

JACQUES VILLENEUVE
Canada
BAR-Honda
59

1 Lap

5.

OLIVIER PANIS
France
BAR-Honda
59

1 Lap

6.

NICK HEIDFELD
Germany
Sauber-Petronas
59

1 Lap

7.

GIANCARLO FISICHELLA
Italy
Jordan-Honda
59

1 Lap

8.

RALF SCHUMACHER
Germany
Williams-BMW
59

1 Lap

9.

FELIPE MASSA
Brazil
Sauber-Petronas
59

1 Lap

10.

DAVID COULTHARD
Britain
McLaren-Mercedes
58

2 Laps

11.

PEDRO DE LA ROSA
Spain
Jaguar-Cosworth
58

2 Laps

12.

JENSON BUTTON
Britain
Renault
54

6 Laps

R

TAKUMA SATO
Japan
Jordan-Honda
50

Engine

R

KIMI RAIKKONEN
Finland
McLaren-Mercedes
44

Engine

R

JARNO TRULLI
Italy
Renault
29

Electronics

R

ENRIQUE BERNOLDI
Brazil
Arrows-Cosworth
28

Driveshaft

R

EDDIE IRVINE
Britain
Jaguar-Cosworth
23

Spin

R

HEINZ-HARALD FRENTZEN
Germany
Arrows-Cosworth
20

Engine

R

MIKA SALO
Finland
Toyota
15

Transmission

R

MARK WEBBER
Australia
Minardi-Asiatech
9

Spin

R

ALLAN MCNISH
Britain
Toyota
0

Clutch

DNQ

ALEX YOONG
Malaysia
Minardi-Asiatech

Did not Qualify

FASTEST LAP: RUBENS BARRICHELLO

Brazil
Ferrari
58

1:23.083




DRIVERS CHAMPIONSHIP POSITIONS:

POS

DRIVER
NATIONALITY
ENTRANT

POINTS

1.

MICHAEL SCHUMACHER
Germany
Ferrari

86

2.

RUBENS BARRICHELLO
Brazil
Ferrari

32

3.

JUAN PABLO MONTOYA
Colombia
Williams-BMW

31

4.

RALF SCHUMACHER
Germany
Williams-BMW

30

5.

DAVID COULTHARD
Britain
McLaren-Mercedes

26

6.

KIMI RAIKKONEN
Finland
McLaren-Mercedes

11

7.

JENSON BUTTON
Britain
Renault

10

8.

GIANCARLO FISICHELLA
Italy
Jordan-Honda

6

NICK HEIDFELD
Germany
Sauber-Petronas

6

10.

JARNO TRULLI
Italy
Renault

4

FELIPE MASSA
Brazil
Sauber-Petronas

4

12.

JACQUES VILLENEUVE
Canada
BAR-Honda

3

EDDIE IRVINE
Britain
Jaguar-Cosworth

3

14.

MARK WEBBER
Australia
Minardi-Asiatech

2

MIKA SALO
Finland
Toyota

2

HEINZ-HARALD FRENTZEN
Germany
Arrows-Cosworth

2

OLIVIER PANIS
France
BAR-Honda

2




CONSTRUCTORS CHAMPIONSHIP POSITIONS:

POS

CONSTRUCTOR

POINTS

1.

FERRARI

118

2.

WILLIAMS-BMW

61

3.

MCLAREN-MERCEDES

37

4.

RENAULT

14

5.

SAUBER-PETRONAS

10

6.

JORDAN-HONDA

6

7.

BAR-HONDA

5

8.

JAGUAR-COSWORTH

3

9.

MINARDI-ASIATECH

2

TOYOTA

2

ARROWS-COSWORTH

2