British GP 2001
JULY 15, 2001
British GP, 2001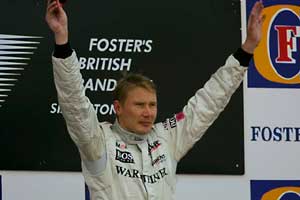 © The Cahier Archive
The retiring Mr. Hakkinen...
AT the start of the British Grand Prix weekend all the talk was of Mika Hakkinen's supposed retirement from Formula 1. But it never really rang true. Mika had a run of bad luck and was not as motivated as perhaps he might have been. But in recent weeks the McLaren has started to work well on the latest Bridgestone tires and suddenly it is the men in grey and black who are the ones to be watched. It is pretty unlikely at this stage that anyone will beat Michael Schumacher to the World Championship but do not be surprised to see a string of McLaren victories (with perhaps a BMW Williams win or two) in the remaining races. Michael Schumacher was never really in a position to challenge Hakkinen on Sunday at Silverstone and with David Coulthard being punted off at the first corner, it was Hakkinen all the way...
Michael Schumacher was on pole position and when the red lights went out the Ferrari came off the line with what one would expect from an electronic start. Hakkinen's start was similar. So was Coulthard's and Trulli's. Fully automatic starts are pretty dull. Into the first corner Coulthard had Trulli looking for a gap but there was no way that there was ever going to be a successful move.
"I don't know whether he just did not see me and did not want to give up his fight," said Trulli. "Either way he closed the door, leaving me with no room to move."
Naturally enough Coulthard saw the incident in a rather different light.
"I was ahead coming into Turn One and even though I was on the outside and it is quite an open corner I feel that Trulli should have given me room. He didn't and we touched."
Both men spun: Trulli into the kittylitter on the outside and Coulthard to the inside, across the grass verge and on to the pitlane exit road. All the blue and white flags in the grandstand lowered slightly. David was not going to win this one. In the end he kept going until his rear suspension failed (probably thanks to Trulli) on the third lap. He then bounced into retirement in the sand trap.
Behind Coulthard in the first corner there was another accident happening and this was an embarrassing one because the two BAR-Hondas bumped one another and Olivier Panis went off on the left, ending up not far from Trulli in the gravel.
There was an explanation for this. Jacques had suffered a failure of his automatic upshifting before the start and so decided to go with a manual start. As he accelerated down to the first corner he forgot this and ended up in the wrong gear in the wrong place. He locked everything up but could not turn and so bonked into Panis and dumped his mate into the pebbles.
"Things like that happen," said Jacques, "But it is not good for the team or Olivier. I feel very sorry about that."
Olivier might have been mad but what was the point. He had to resign himself to that fact that he had suffered because of a mistake made by Jacques. But he could be frustrated because as everyone knows the guys who get the results are the ones who are remembered. Bad luck counts for nothing.
Team boss Craig Pollock was philosophical (the only other choice would have been to chainsaw his lead driver into two pieces) and said that the boys would sort it out between themselves before the next race.
The thinning out of the field had a couple of interesting effects: Juan-Pablo Montoya found himself in a very nice position. He had lined up eighth on the grid but with Williams's launch control being better than those of the others he was off and running better than Kimi Raikkonen, Rubens Barrichello and Heinz-Harald Frentzen. With Trulli and Coulthard doing their sychronized spinning, Juan-Pablo found himself third. Barrichello followed with Ralf Schumacher fifth (up from 10th) and Kimi Raikkonen and Nick Heidfeld sixth and seventh. Frentzen had a very disappointing first lap and went from fifth to eighth.
All eyes, however, were on the battle at the front. Michael Schumacher was ahead with Hakkinen behind him. Hakkinen was faster. This was because Michael was on a one-stop strategy. This was decidedly odd because in purely theoretical terms if you are on pole at Silverstone it is 20 seconds quicker to run a two-stop strategy in the race. Choosing a one-stop was an odd decision. However, the Ferrari strategists are smart people so there must have been a logical reason why they did what they did. But after the race the rival teams were scratching their heads on that one. Perhaps Ferrari was expecting rain...
Whatever the logic behind it, Hakkinen blew past Schumacher at the start of the fifth lap and within two laps was 3.6 seconds ahead.
"My car wasn't really the way I would have liked to have it," said Michael. "I lost it at the entry to Copse. I managed to keep it on the track which was the only thing I was worried about at that moment and then Mika was beside me and there was nothing I could do against that."
And that really was that as far as the lead was concerned. Between lap five and lap 21 Hakkinen built up a lead of 26 seconds. Then he pitted and was just too slow out of the pits to stay ahead of Montoya (who was also able to catch and pass Schumacher). It took Montoya until lap 18 to find a way through.
For four laps Montoya and Hakkinen tussled for the lead but Mika was not going to take any risks and eventually the Williams disappeared into the pits. He came out in fourth place leaving Hakkinen with an open road again and immediately Mika went back to building his lead with more fastest laps. Michael was still chugging along in second but the gap was growing. On lap 39 the Ferrari men came out of the garage to get ready for Michael to come in. At the same time the McLaren men came out to give Mika his second stop. It was all over for Michael. After that the race was not a race at all but rather a procession to the flag with Hakkinen around half a minute ahead.
"It feels really good," he said. "Obviously after all the trouble that's been going on this year, it feels good to win it." Hakkinen admitted that on the last lap he was worried that the car would break as it did in Spain. "I was sure something was going to happen," he said. "But it was OK."
Schumacher ended the day a very subdued individual. It did not matter much because he still put another six points between himself and Coulthard but something somewhere had gone horribly wrong but Michael would not say what it was. "We were simply not fast enough here," he said.
Barrichello finished third and so moved back up to third in the Drivers' Championship but there was little to report. He lined up sixth on the grid but ended the first lap in fourth. He went for a long one-stop strategy and did not pit for new tires and fuel until lap 42. By then he had moved to third. And there he stayed.
"I didn't have the balance I would have liked since Friday," he said. "I was having to drive it quite carefully."
Fourth place at the end of the day went to Montoya and there are some who would argue that he might have done better. After his moment of glory in the lead he pitted and rejoined behind Barrichello and Ralf Schumacher. Ralf was obviously on a one-stop strategy. At Magny-Cours Schumacher got in the way of Montoya and screwed his race. The radio got the blame. On this occasion it looked like he was doing the same. But impressions can be misleading. The team was calling Ralf and asking if he would move over and let Juan Pablo through. Ralf declined the invitation but not because he was being difficult. He reckoned that he was going fast enough to pass Barrichello but in the end he did not do it. But then again after Ralf went into the pits he too was stuck. But might he have got ahead if Ralf had not been there? No-one can answer that. Some in the team felt one thing. Others felt the opposite. One can blame indecision or one can say that there need to be clearly defined strategies but when all is said and done Williams wasted the chance for Montoya to finish third. Ralf was angry (presumably because the team insisted he stop). Montoya was a bit grouchy because Ralf was in his way again. These things happen. It was irrelevant for Ralf because just a few laps after his pit stop (slightly longer than normal because the refuelling nozzle became stuck on the car) his engine cut out.
Fifth and sixth places went in the end to Sauber which was a very good effort for the Swiss team. The cars were fitted with a new aerodynamic package and this clearly worked. Once again Raikkonen beat Heidfeld. Raikkonen made a bad start but described his afternoon as "the perfect race". Heidfeld enjoyed an interesting battle with Frentzen but stayed ahead apart from one moment when Frentzen went for a wild lunge to try to grab the place but he overshot and Heidfeld went back into the lead.
Frentzen was seventh but when you start fifth this is not a great result. Heinz-Harald could do nothing more. He was quite sure that something has broken. "All we can do is look forward to Hockenheim..." he said.
Villeneuve finished up 10th but it was not a startling performance.
Jaguar was off the pace again and Eddie Irvine and Pedro de la Rosa ended up ninth and 12th at the finish. The cars were reliable. Irvine reckoned he had done all right despite making a bad start. De la Rosa's hopes suffered considerably when his refuelling rig malfunctioned and he had to stop twice.
Two laps down in 10th was Jos Verstappen's Arrows. As usual it was a question of the car going backwards. Enrique Bernoldi also finished but 14th place was nothing to get excited about.
Jean Alesi dragged his Prost home in 11th. "The car was heavy with fuel which made it more difficult for me to keep the pace," he said. Jean's team mate Luciano Burti was not as fortunate. He suffered an engine problem after only six laps.
Benetton managed to get two cars home as well but 13th and 15th did not catch the imagination of anyone. And it was a similar story at Minardi. The single car (Tarso Marques did not qualify) looked very average and then suffered the indignity of losing a wheel just after the pit stop.
All in all it was a curious race " but not a very exciting one...
BRITISH GRAND PRIX RESULTS - JULY 15, 2001 - 60 LAPS

POS

DRIVER
NATIONALITY
ENTRANT
LAPS
TIME/RETIRE

1.

MIKA HAKKINEN
Finland
McLaren-Mercedes
60

1h25m33.770

2.

MICHAEL SCHUMACHER
Germany
Ferrari
60

33.646

3.

RUBENS BARRICHELLO
Brazil
Ferrari
60

59.280

4.

JUAN PABLO MONTOYA
Colombia
Williams-BMW
60

1m08.772

5.

KIMI RAIKKONEN
Finland
Sauber-Petronas
59

1 Lap

6.

NICK HEIDFELD
Germany
Sauber-Petronas
59

1 Lap

7.

HEINZ-HARALD FRENTZEN
Germany
Jordan-Honda
59

1 Lap

8.

JACQUES VILLENEUVE
Canada
BAR-Honda
59

1 Lap

9.

EDDIE IRVINE
Britain
Jaguar
59

1 Lap

10.

JOS VERSTAPPEN
Netherlands
Arrows-Asiatech
58

2 Laps

11.

JEAN ALESI
France
Prost-Acer
58

2 Laps

12.

PEDRO DE LA ROSA
Spain
Jaguar
58

2 Laps

13.

GIANCARLO FISICHELLA
Italy
Benetton-Renault
58

2 Laps

14.

ENRIQUE BERNOLDI
Brazil
Arrows-Asiatech
58

2 Laps

15.

JENSON BUTTON
Britain
Benetton-Renault
58

2 Laps

16.

FERNANDO ALONSO
Spain
European Minardi
57

3 Laps

R

RALF SCHUMACHER
Germany
Williams-BMW
36

R

LUCIANO BURTI
Brazil
Prost-Acer
6

R

DAVID COULTHARD
Britain
McLaren-Mercedes
2

Spin/Damage

R

JARNO TRULLI
Italy
Jordan-Honda
0

Accident

R

OLIVIER PANIS
France
BAR-Honda
0

Spin

FASTEST LAP: MIKA HAKKINEN

Finland
McLaren-Mercedes
34

1:23.405




DRIVERS CHAMPIONSHIP POSITIONS:

POS

DRIVER
NATIONALITY
ENTRANT

POINTS

1.

MICHAEL SCHUMACHER
Germany
Ferrari

84

2.

DAVID COULTHARD
Britain
McLaren-Mercedes

47

3.

RUBENS BARRICHELLO
Brazil
Ferrari

34

4.

RALF SCHUMACHER
Germany
Williams-BMW

31

5.

MIKA HAKKINEN
Finland
McLaren-Mercedes

19

6.

JUAN PABLO MONTOYA
Columbia
Williams-BMW

15

7.

NICK HEIDFELD
Germany
Sauber-Petronas

10

8.

JARNO TRULLI
Italy
Jordan-Honda

9

KIMMI RAIKKONEN
Finland
Sauber-Petronas

9

10.

JACQUES VILLENEUVE
Canada
BAR-Honda

7

11.

HEINZ-HARALD FRENTZEN
Germany
Jordan-Honda

6

12.

OLIVIER PANIS
France
BAR-Honda

5

13.

EDDIE IRVINE
Britain
Jaguar

4

14.

JEAN ALESI
France
Prost-Acer

3

15.

GIANCARLO FISICHELLA
Italy
Benetton-Renault

1

JOS VERSTAPPEN
Netherlands
Arrows-Asiatech

1

DE LA ROSA
Spain
Jaguar

1




CONSTRUCTORS CHAMPIONSHIP POSITIONS:

POS

CONSTRUCTOR

POINTS

1.

FERRARI

118

2.

MCLAREN-MERCEDES

66

3.

WILLIAMS-BMW

46

4.

SAUBER-PETRONAS

19

5.

JORDAN-HONDA

15

6.

BAR-HONDA

12

7.

JAGUAR

5

8.

PROST-ACER

3

9.

BENETTON-RENAULT

1

ARROWS-ASIATECH

1