Brazilian GP 2022
NOVEMBER 13, 2022
Sunday Team Quotes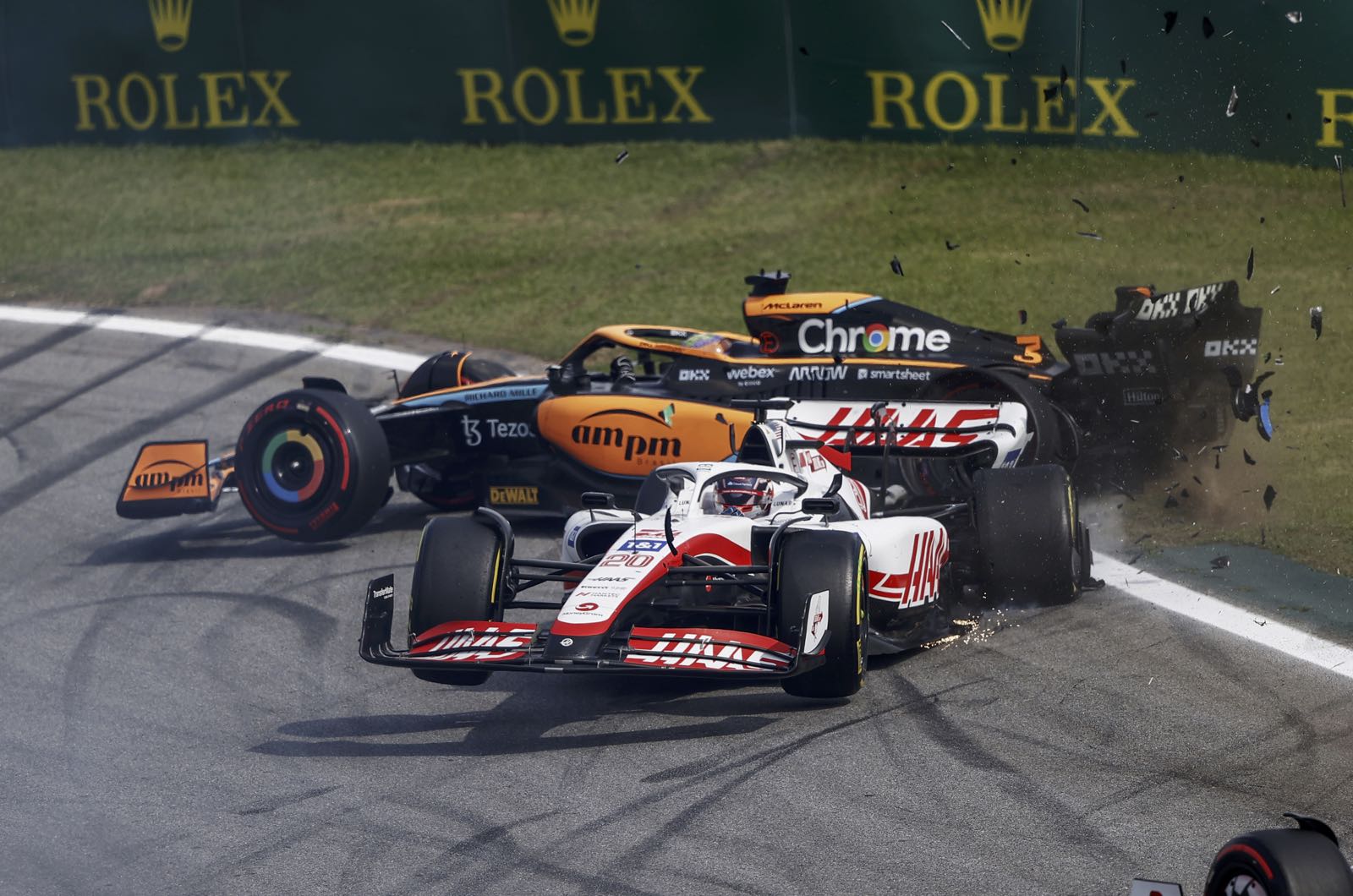 © Haas F1 Team / LAT
Mercedes-AMG Petronas F1 Team
George Russell (1st): "What an amazing feeling. A huge thank you to the whole team for making this possible. It's been an emotional rollercoaster, this season, this race. I felt in control, Lewis was super-fast and then when I saw the safety car, I thought this is going to be a difficult end. He put me under so much pressure. But I'm so happy to come away with the victory. On the in-lap, all of these memories came flooding back, starting off with my Mum and Dad in go Karting, going through and all the support I've had from the rest of my family, my girlfriend, my trainer, my manager. The likes of Gwen, who first gave me the opportunity to get on the programme with Mercedes, and James Vowles and Toto. I can't thank everyone enough."
Lewis Hamilton (2nd): "I have to say huge congratulations to George, what an amazing drive he did today, he did an amazing job yesterday in the Sprint so he truly deserves it. To my Team, I'm so proud of everyone back at the factory and here. This is an incredible result - we've worked so hard through this year to get a 1-2, and to get a win. This is hugely, hugely deserved for everybody, so a big thank you to you all!"
Andrew Shovlin: "One nice thing about having a year without wins is you remind yourself just how special they are and just how good they feel. What a result; huge congratulations to George who drove a perfect race - he looked so comfortable at the front and this will no doubt be first of many. Also a fantastic recovery for Lewis, we thought he'd have been out of the picture after the collision with Max but he put in a brilliant drive to get back to P2. The team back in Brackley and Brixworth have done an amazing job to make this possible, we had no idea we'd be able to achieve this given where we were at the start of the year but today, we're glad it's just a long season as we'd not have wanted to miss this result. The engineers and drivers clearly did a good job getting the car in the right place with just a single session on Friday, we were using the tyres well and great to see that the pace was strong. We're looking forward to the last round in Abu Dhabi; it's been a tough season for the entire team, but it's given us even more motivation for 2023 to make sure we can hit the ground running."
Oracle Red Bull Racing
Max Verstappen (6th): "We had no pace again today, similar to yesterday – we were sliding too much and we had bad degradation so it was hard to attack. I didn't quite understand the five second penalty for the incident with Lewis, but it didn't affect the race too much as we already lacked pace. We've discussed internally as a Team the matter between Checo and myself and have moved on as a Team. If he needs the help and there is a chance to help him in Abu Dhabi, then I will be there, and I will of course support him. We're fighting for first and second in the Drivers' Championship, so we'll work hard to achieve that."
Sergio Perez (7th): "I am a bit surprised by our performance today. We were very slow on the medium tyre and also on the soft. I was competitive, but as soon as we switched, I couldn't defend. I lost more positions due to the safety car and without that I think I could have finished third or fourth. We were definitely down on pace this weekend so I really hope we can go back to our usual form next weekend in Abu Dhabi. I am obviously disappointed with what happened today between Max and myself. It is something we have discussed internally, we will move on and keep working together as a Team. I am sure if I need support in Abu Dhabi, it will be different, and going forward we will always put the Team first."
Christian Horner, Sporting Director: "We haven't often left a Grand Prix weekend this season feeling disappointed. Coming away from Brazil with P6 and P7 is far from the standards we have set for ourselves this season. The main issue for us was our pace. George drove very well all weekend and the various updates Mercedes have been bringing throughout the year has seen them get quicker and quicker. We need to understand why we gave away performance this weekend and will come out firing on all cylinders in Abu Dhabi. Regarding Max and Checo, we have discussed the matter internally and we go into Abu Dhabi as a Team to do the very best that we can to help Checo achieve second place in the Championship. Max is supportive of that. Ultimately, we work as a Team and race as a Team. It is that ethos that has seen us gain such great success this season and will continue to drive us forward."
Scuderia Ferrari
Carlos Sainz (3rd): "The team fought well for this result. We had a strong weekend and a solid race despite the penalty and some setbacks today, namely the issue with the tear-off that meant I had to pit earlier than planned and we had to rethink our strategy. We managed to stay focused, picked up the pace again and were fast during the entire race. We reacted to every challenge today and the boys did great pitstops. We brought home the best possible result for the team and we look forward to racing again in Abu Dhabi for the last time this season. Congratulations to George on his maiden win. He's had a good weekend and he deserves it."
Charles Leclerc (4th): "It was a tough race today, the incident shortly after the start dropped me all the way to the back of the field. The pace and the feeling in the car were good and I'm satisfied with my performance and the recovery I made to finish P4. It's going to be a tight battle with Checo (Perez) and I look forward to racing in Abu Dhabi where I'll give it my all for one last time this season."
Mattia Binotto, Team Principal: "Our race immediately got much harder right from the early stages because of Charles' incident and, in Carlos' case because a visor tear-off got stuck in a brake cooling duct on his car, which meant he had to make his first pit stop earlier than planned, while the mechanics dealt with the problem. From then on, it was a case of attacking all the time and, thanks to an aggressive strategy and a great job from the whole team, we managed to finish third and fourth, picking up plenty of championship points that could prove vital going into the final round in Abu Dhabi. Now we are concentrating on ensuring we are as well prepared as possible for this decisive last race. My congratulations to George Russell on his first win."
McLaren F1 Team
Lando Norris (DNF, Electrical): "My start today was good, but it was a disappointing Sunday for us. Regarding the contact with Charles, I thought it was a racing incident. Of course, I didn't want contact, and I held my line as much as possible. Maybe I could have given him 5cm more and he could have given me 5cm more but it's just a shame what happened. For the rest of the race, we were off the pace. I'd like to believe there was a little bit of damage because we were too slow today. I'm not sure why we stopped, the team will investigate. I've not been very well this weekend, but I've had a lot of support from the team, and we're now focusing on finishing strongly in Abu Dhabi."
Daniel Ricciardo (DNF, Accident): "Firstly, I'm disappointed as it's always difficult when your race is over so quickly. I touched the back of Kevin and it's a shame. I think the biggest disappointment is that it was such a small touch, but it had massive consequences. I didn't expect him to spin, I guess that was just the angle that we touched and it just unloaded his rear. I feel most times, a small touch like that, you can get away with it. So it was pretty unfortunate for both of us. It was an eventful race, so, it's a shame not to have been out there. Apologies to the team here and back at home but we will reset and go one more time in Abu Dhabi."
Andreas Seidl, Team Principal: "That's not what we had in mind when coming to the track this morning. We have to acknowledge that we didn't manage to put it together today as a team. The primary objective is always to see the chequered flag on Sunday, which we didn't manage with either car today. We lost Daniel in the first lap with the incident with Kevin, and we lost ground with Lando with a five second penalty after the incident with Charles. We struggled with pace then lost power and were forced to stop on track with Lando. At the same time, our competitors for P4 in the championship scored a big result. Thanks to the entire team here at the track and back home, HPP, and Daniel and Lando for the hard work again. We will reset, analyse and learn what we can do better next week and give it our all once more in Abu Dhabi."
BWT Alpine F1 Team
Fernando Alonso (5th): "It was a very good race for us today here in São Paulo. The car was very competitive and with our race strategy we were out of sync with most of the cars. Then, at the end, during the Safety Car period, I had newer tyres and we pushed as close to the front as we could; I overtook Sergio [Perez] and then I tried to look at Charles [Leclerc] but they were a step too fast for overtaking. I made a mistake yesterday when Esteban and I made contact, so today we wanted to do our best and race hard for the team. We needed these points heading to Abu Dhabi. There is one more race with the team to go and my heart is in the racing."
Esteban Ocon (8th): "It's a great result for the team today and I'm very happy with our race. We maximised the different strategies on both cars and scored fourteen points heading into the last race of the season. It was a good recovery drive from Fernando and me after starting from where we did, so credit to the team for the execution. We knew we had to be at our best after yesterday's disappointment and that's exactly what we did in the race. The season is not over and we still have one more race to go. It's going to be full push until the chequered flag in Abu Dhabi."
Otmar Szafnauer, Chief Operating Officer: "If yesterday was a low point in our season, today is certainly up there as a high. Congratulations to the entire team – both factories at Viry and Enstone – everyone trackside, and the drivers for a fantastic Sunday effort where we've scored 14 points and, importantly, extended our lead in fourth place in the Constructors' Championship. The race was well executed with both drivers showing very strong race pace, which allowed them to close in on the top ten. We had Esteban on a two-stop strategy where he utilised the pace on the Soft tyre at the start with Fernando on a three-stop with his aim to attack at the end of the race on his new set of Softs. It worked out well with Esteban very comfortable inside the top 10 and Fernando benefitting from the VSC and SC in the closing stages to impressively overtake a number of cars on his way to fifth place. The championship is not over yet until the chequered flag drops in Abu Dhabi. We will remain focused, do our normal preparation next weekend, and give it our best to have both cars finish the season as strongly as possible. We're nearly home..."
Scuderia AlphaTauri
Pierre Gasly (14th): "I gave everything I could today and I'm happy with my performance, it's just frustrating not to be able to fight for points. I had a strong start and was able to get up to P9, we were quite competitive on the Softs, but then on the Mediums we struggled. I fought as hard as I could, but we just did not have the pace and there wasn't much we could do this afternoon. We've got one last opportunity to score points in Abu Dhabi and hopefully finish the season in eighth. It'll be my last race for the team so it'll be an emotional one and I hope we can finish our journey together on a high."
Yuki Tsunoda (17th): "After the changes ahead of the race the car felt slightly better, but I still wasn't that comfortable in it, and we didn't have the pace today. Normally, you're able to unlap yourself under the Safety Car, but today I was told to stay in my position, so we ended the day a whole lap behind the pack, with no opportunity to make my way forward. It's been a difficult weekend, so we need to go away and investigate why we've struggled so much ahead of the final race in Abu Dhabi next week."
Jonathan Eddolls, Chief Race Engineer: "It was a difficult afternoon for the team. Yuki struggled for the majority of the weekend to extract competitive lap times from the car, so we took the difficult decision to change the setup and start from the pitlane. Although the changes did give him a better feeling, it wasn't enough to allow him to move forward and challenge for points. For reasons that we still need to clarify he couldn't unlap himself, so not only was he a lap down but he got the blue flags from everyone and therefore this put pay to any chances he had to overtake some cars at the end, to finish only 17th. Pierre was holding his own at the start of the race, but with that pace our tyre degradation was high, and we had to convert to a three-stop strategy. Even with the extra stops, and fitting the new tyres, we didn't have enough pace to get inside the top 10, although we crossed the line within 3.3 seconds of P10. The five second penalty for speeding in the pits dropped us further down, rounding off what has been one of the more challenging races of this season. In any case, we will regroup before Abu Dhabi, push hard and do all we can as a team to score points in the final race."
Aston Martin Aramco Cognizant F1 Team
Lance Stroll (10th): "There was a lot going on in the race, but we were able to take some chances towards the end. We did not have much pace with the Medium tyre earlier on in the race but the balance on the Soft was much better. It is a nice feeling to score a point after a challenging weekend as a whole but it is a shame that Alfa Romeo pulled a little bit further away from us in the Constructors' Championship today. It will be tough, but we will try and overhaul them in Abu Dhabi next weekend."
Sebastian Vettel (11th): "I made a decent start but lost a couple of positions at the first pit-stop and that started to reshape my afternoon. I had decent pace, but the timing of the second Safety Car did not go in my favour because I was on Mediums while a lot of cars around me were on Softs for the restart. It feels like we should have scored more points today – but, given how things played out, I do not think we could have done much more than we did. That is racing sometimes. We will go again in Abu Dhabi next week."
Mike Krack, Chief Operating Officer: "This was a thrilling race on a fantastic racetrack in front of a terrific crowd – but, despite running in the top 10 for the entire afternoon and coming home with a valuable World Championship point, things did not really work out for us today. Sebastian raced hard on a two-stop strategy, running as high as third, but the timings of the Safety Car and Virtual Safety Car really played against him today. From 15th, Lance made another customary blistering start and was able to run on the edge of the top 10, ultimately scoring a point. I want to thank both drivers' teamwork today – Lance helped Sebastian to gain ground after his second stop; then Sebastian moved aside to let Lance challenge Valtteri [Bottas] for ninth place. We come away encouraged by our pace and will go again one final time in Abu Dhabi next weekend."
Williams Racing
Alexander Albon (15th): "Our race was okay, but we got unlucky with the safety car, with everyone in front of us getting a free pitstop, ultimately compromising our whole race. We did a good job and in terms of the race, I was happy how I was driving, and it looked like we were optimising the race. I do think we may have made an error with our start tyre as everyone else was on the softs and mediums, but the safety car gave us an opportunity to immediately swap to a 2-stop Medium race. It's unfortunate but we'll look forward to the next and last race of the season."
Nicholas Latifi (16th): "The car was better today in the race. We had damage yesterday on the floor, which we repaired overnight and so the car was feeling better today. I had a big flat spot on the first lap which affected the first stint pace. It was then unfortunate we had a slow pitstop and struggled on race pace from there. The safety car gave us a little bit of hope at the end, but I wasn't able to catch up to the pack."
Dave Robson, Senior Race Engineer: "Another difficult day and we struggled for pace throughout the race. With the early safety car, we were able to switch Alex to an effective 2-stop race using only Medium tyres. With the 2nd safety car coming shortly after Alex had made his final stop, most of the tyre advantage we were accruing for the final stint was lost. At the restart Alex suffered with a loss of power, which took us a couple of laps to recover and he was unable to make any further progress. Nicholas ran a short stint on the Hard compound, but this was a poor tyre today and, coupled with a slow pit-stop, dropped him off the back of the pack. The 2nd safety car gave him a chance to recover and to race Alex over the final laps, but it was otherwise a frustrating day."
Alfa Romeo F1 Team ORLEN
Valtteri Bottas (9th): "I'm happy about today's race and we're happy as a team. Everyone did a really good job – to go from 14th on the grid to ninth at the flag definitely classes as a good result. We could have been even higher, but the Safety Car at the end didn't really play in our favour: it cancelled the advantage we had on the cars behind us, and it left us exposed. Still, we scored more than our direct rivals so we can't complain too much. I did enjoy myself today, I was in some good fights and the car's pace was strong. I also want to give big thanks to Zhou for being a true team player today. We have been in good form in the last few events, we have one more to go to get the job done but we approach it with confidence."
Guanyu Zhou (12th): "Overall, we can be quite happy about the weekend, especially when you look at how we started, compared to where we finished. Our focus was to maximise the team's potential, and I'm confident we've managed that. Still, today has been a bit difficult on my part: I got my drink system straw stuck in my helmet at the beginning of the race, before managing to remove it, but, later on, we suffered from some turbo issues, something we will have to investigate ahead of next week. We pitted early, aiming to undercut other drivers, but then towards the end, the Safety Car made it quite difficult for us to keep up, especially because we didn't have many tyres left. Nevertheless, it's good to see that the team managed to bring home some more points to give us a good position for the constructors' championship ahead of the final race."
Frédéric Vasseur, Team Principal: "The team did a really good job today and we were able to turn the weekend around and leave with a good result. Both yesterday and today we have shown good pace and made up a lot of ground and we can be satisfied to leave Brazil with an increased gap over our closest rivals. We had a good start and were able to run as high as fifth during the race: it's a shame the late Safety Car nullified our advantage and put us within range of other cars, but we still brought home the points we wanted. Most importantly, it was yet another event in which we showed good form, as we did in Mexico, so we can approach the final race of the season in Abu Dhabi with confidence: we can be in the mix for points once again and hopefully clinch sixth place in the championship."
Haas F1 Team
Mick Schumacher (13th): "That medium tire didn't seem to work for us and we struggled a lot. Once we got onto the softs I was a lot more comfortable and felt a lot more competitive as well. We maybe extended the first stint a bit too much, but you never know how long the softs will last, so overall it was alright. Sometimes it's your year and sometimes it's not and I guess this year hasn't been mine. We still have one more to go and we'll give it our best."
Kevin Magnussen (DNF, Accident): "I think our car has had great pace all week, but it is what it is. Daniel (Ricciardo) didn't do it on purpose which isn't any help to us but we move on. We're not always up where we have been this weekend so it's a shame that we weren't able to capitalize on that fully today as we had great pace."
Guenther Steiner, Team Principal: "Unfortunately no points for us today. Kevin's race finished on Lap 1 when he was hit by Ricciardo and there was no way to get back out on the track, the car was destroyed. Mick battled fiercely in the race but he just couldn't make up the positions he was behind. We now head to the Abu Dhabi where we will give it our all like we have done all season long."