Brazilian GP 2022
NOVEMBER 12, 2022
Sprint Race Report - Russell wins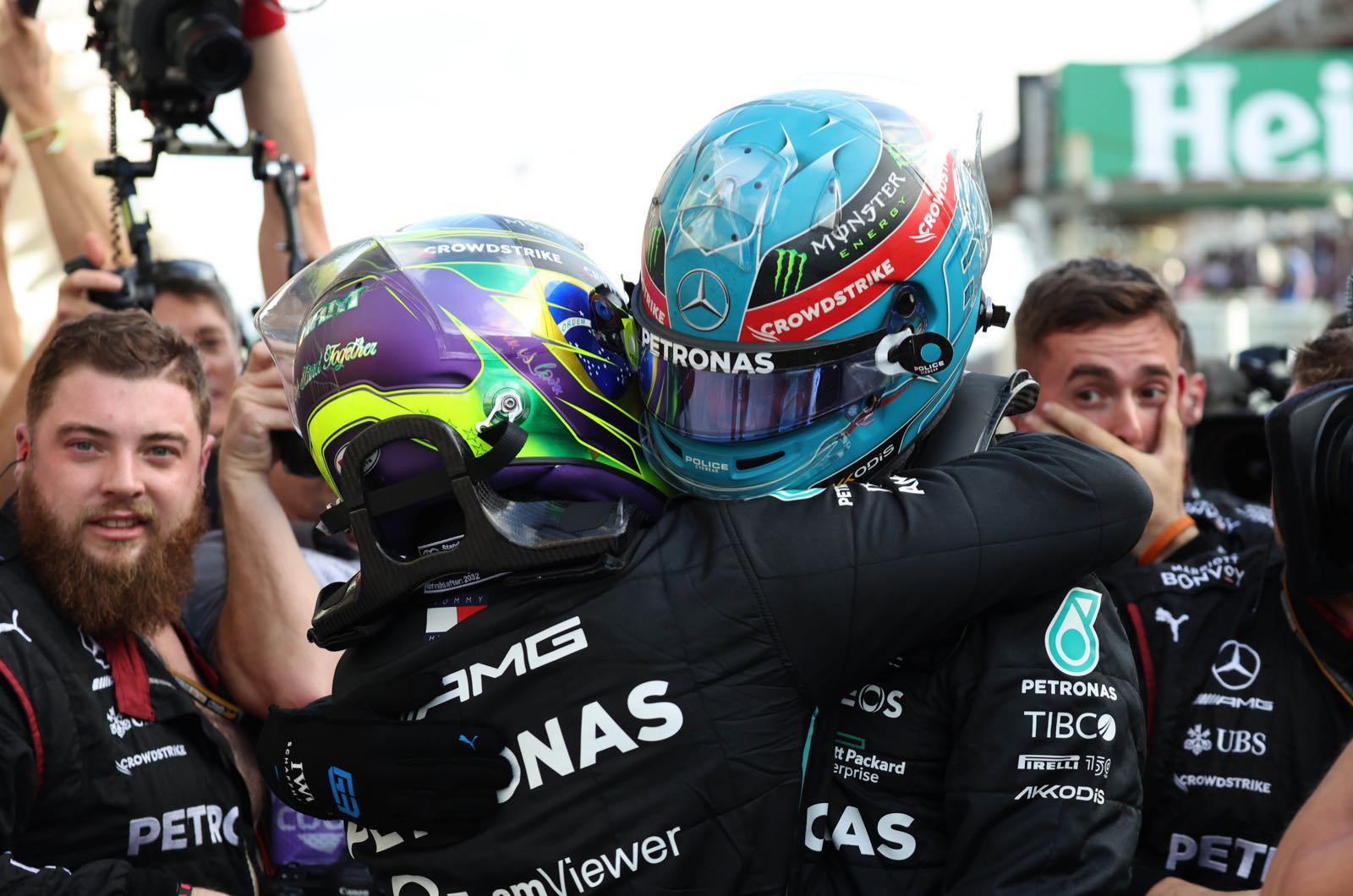 © Mercedes-Benz Grand Prix Ltd.
By Mark Karp
George Russell won the Sprint Race on Saturday for the Brazilian Grand Prix in his Mercedes GP, 3.995 seconds ahead of Carlos Sainz in the Ferrari.
Lewis Hamilton in the second Mercedes was third, 4.492 seconds behind the winner.
Max Verstappen (10.494s) in the Red Bull finished fourth, followed by his team mate Sergio Perez (11.855s) in fifth, Charles Leclerc (13.133s) in the Ferrari was sixth, Lando Norris (25.624s) in the McLaren-Mercedes won seventh, Kevin Magnussen (29.768s) in the Haas-Ferrari, after starting from pole, finished in eighth, Sebastian Vettel (30.218s) in the Aston Martin-Mercedes was ninth and Pierre Gasly (34.170s) in the AlphaTauri finished tenth
Before today's 24-lap Sprint Race, yesterday through a combination of good timing and changing conditions.
Magnussen sits on his and Haas' first pole position, with Verstappen alongside on the front row, Russell and Norris on row two, Sainz and Ocon on row three, Alonso and Hamilton on row four, with Perez and Leclerc rounding out the top ten.
Everyone starting on soft tyres, except for Verstappen Latifi starting on medium tyres - will the soft be able to hold on for 24 laps?
At the appointed time the field came around and the lights went out and Magnussen gets a good start, Verstappen and Russell behind.
On lap 2 Sainz passes Norris for fourth. Alonso sliding back and pits with wing damage,
On lap 3, Hamilton passes Ocon for sixth.
Verstappen passes Magnussen for the lead into the first corner.
On lap 4 Russell passes Magnussen for second place, Sainz passes Magnussen for third down the hill.
Russell sets fast lap at 1m14.233s.
Hamilton passes Norris for fifth, then Magnussen for fifth.
At lap 6 Verstappen leads Russell, Sainz, Hamilton, Magnussen, Norris, Perez, Leclerc, Gasly and Ocon in tenth.
On lap 8 Perez passes Norris for sixth into the first corner.
On lap 9 Perez passes Magnussen for fifth.
Vettel makes a passing attempt on his team mate Stroll, but Stroll keeps coming and Vettel goes on the grass.
Later in the lap Vettel passes Stroll for 11th.
At lap 10 Verstappen leads Russell (0.507s), Sainz (2.7s), Hamilton (4.5s), Perez (8.9s), Magnussen (11.6s), Leclerc (12.8s), Norris (13.6s), Gasly (18.2s) and Vettel (20.2s) in tenth place.
On lap 12 Russell makes an attempt to pass Verstappen, but can't get it done.
Again on lap 13 Russell makes another attempt at Verstappen but still can't get the pass made.
Sainz and Hamilton are closing up on Russell. Verstappen is continuing to struggle with his medium tyres.
On lap 15 Russell passes Verstasppen down the hill for the lead.
On lap 16 Hamilton looks to pass Sainz, but Sainz holds him off.
Stroll is handed a 10-second penalty for blocking Vettel.
Schumacher is looking to pass Stroll in 12th.
On lap 18 Sainz has closed up on Verstappen and passes him for second into the first corner. The two touch slightly and Verstappen has some damage on his left front wing.
On lap 20 Hamilton passes Verstappen passes for third place in the DRS.
Norris passes Magnussen for seventh place.
On lap 21 Vettel passes Gasly for ninth.
Russell wins ahead of Sainz and Hamilton.