Brazilian GP 2022
NOVEMBER 12, 2022
Saturday Team Quotes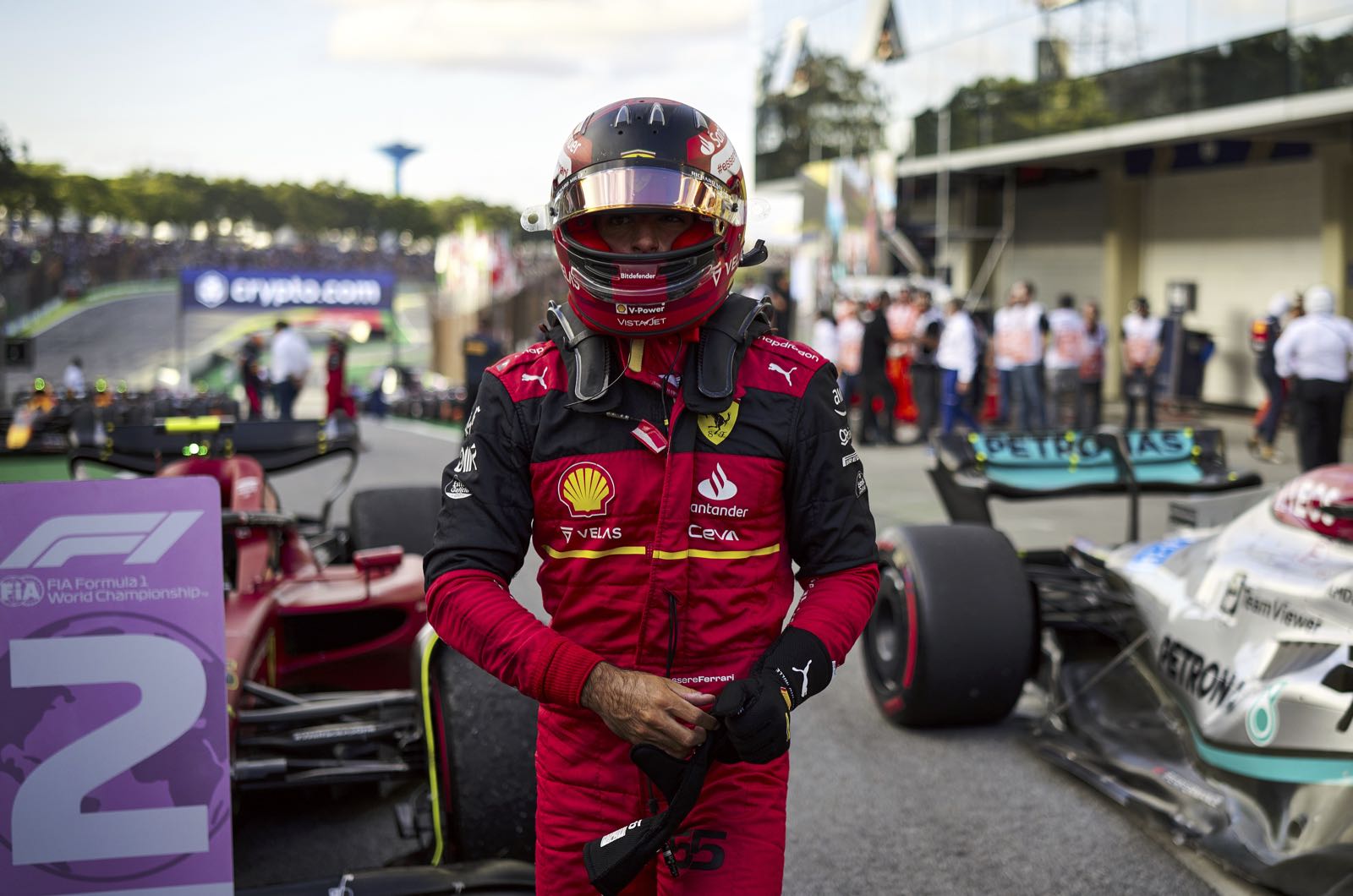 © Ferrari
Mercedes-AMG Petronas F1 Team
George Russell (1st): "That result just goes to show all the hard work that everybody is putting in and the progress that we have made as a team. The car has been feeling great since we brought our last update to Austin, but I wasn't expecting to have that much pace. Obviously, it's difficult to know how Max would have got on had he been running the Soft tyres - but it's still a great feeling to come out on top. It was a nice battle - in the Sprint, you're always managing the balance of risk and reward, and I didn't want to take too many risks and end up starting at the back - but I also wanted that victory. Lewis did a great job coming from P8 and it's crazy to think we're both starting at the front, it's going to be exciting. I'm sure Max will be flying tomorrow, but we're in the nice position where we can maybe split the strategies and go for the win."
Lewis Hamilton (3rd): "I'm so happy to be standing here - it's been an incredible week so far. It was a difficult qualifying for me but the crowd at the circuit today has been amazing. First, congratulations to George - my race was all about working my way up from P8, and this result goes to everyone back at the factory, everyone here at the track, they have just been working so hard this year. For us to be on the front row tomorrow is incredible: from there, we should be able to work as a team and hopefully hold off the cars behind. We're going to be pushing as hard as we can and if we can have good tyre degradation and hopefully some good weather, then we will have a nice fight on our hands."
Andrew Shovlin: "A fantastic drive from George to win the Sprint and a great recovery from Lewis to join him on the front row tomorrow. After such a lot of hard work over the season by the drivers and the entire team in Brackley and Brixworth, today was a fine reward for those efforts. We were no doubt flattered by being on the right tyre against Max but we can also look at the fact there were two Ferraris and Sergio on the soft and we clearly had pace on them. We're certainly not expecting an easy fight tomorrow; Max has a slight tyre advantage with a second new set of Soft but having both cars on the front row gives us the best possible opportunity to control the race from the front. We're all excited for the race and hopefully the conditions won't be too different to what we just had!"
Oracle Red Bull Racing
Max Verstappen (4th): "It was a really difficult race for us today, I honestly didn't expect that type of performance. To be that slow in such a short race wasn't great, maybe the mediums were slower than I expected they would be, but at that pace, I don't know if the softs would have got me where we wanted. We need to understand why our degradation was so bad too. There wasn't much I could do, the front and the rear were sliding around a lot – I had no grip. At the moment I'm not feeling too confident for tomorrow but let's see what we can do overnight, there's a lot of data to analyse."
Sergio Perez (5th): "There is plenty to analyse tonight because today wasn't great, it was a poor afternoon out there. For some reason we had higher degradation than we expected and generally the car balance wasn't there. I was expecting a lot more pace and it was very difficult to make any progress, I couldn't fight with Lewis or Carlos ahead of me, and in the end I couldn't get close enough to Max. We are behind Mercedes and Ferrari this weekend, they are very strong and seem to have a lot more pace than us. We lost a lot of performance from FP2 to the Sprint race, I felt a lot happier this morning with the car. I think if we continue with this trend we could struggle in the race, so we need to improve, get back into our rhythm and understand what happened today. Hopefully we can turn it around."
Christian Horner, Sporting Director: "We felt that the soft was limited in range so we took the decision to start on the mediums, thinking if we could survive the first half of the race, we would be alright. However, when we got there, we found we were suffering worse degradation than anticipated. To add to that, Mercedes had a quick car today and those two factors meant we couldn't hold them off. They have been developing the car all season and continual upgrades have enabled them to get closer and closer throughout the year. I think the soft tyre would have been better but the advantage is we go into tomorrows race with an extra set, so what we gave up strategically today we get back tomorrow. Mercedes will be quick, they will drive a tactical race and its two Red Bulls against two Mercedes with Ferrari thrown in. It sets up a fascinating grand prix tomorrow."
Scuderia Ferrari
Carlos Sainz (2nd): "It was a good Sprint today. We had a solid pace, so we were able to overtake a few cars and then I defended well to finish P2. Tomorrow we can expect a very busy race as I will have to serve the penalty and will start from seventh. We still have some work to do if we want to fight at the very front, as Mercedes is also very competitive here. However, I'm confident we can run a good race and I think we are up for a very interesting battle. Now it's full focus on tomorrow."
Charles Leclerc (6th): "Starting from P10, my target today was to gain as many positions as possible without taking too many risks. That's exactly what I did and with the good pace we showed today, I will push as hard as I can in the race to bring home a strong result for the team."
Laurent Mekies, Sporting Director: "All in all, this Sprint went reasonably well for us, as we had decent pace and moved up the order, with both drivers securing good grid positions for tomorrow's Grand Prix. Carlos and Charles showed great fighting spirit and did an excellent job in bringing home as much as was possible today without taking too many risks. Carlos drove a great race, pushing right from the opening lap, then attacking Max (Verstappen) for second place and finally defending from Hamilton's comeback. Thanks to his aggressive drive he will start from seventh tomorrow, thus mitigating the impact of the penalty he has to serve after changing the engine. Charles also did very well by gaining four places, thus securing a place on the third row, which is what we had targeted. We expect a long and demanding race tomorrow and we will now prepare for it thoroughly, going through the data we gathered today."
McLaren F1 Team
Lando Norris (7th): "Tough day today but our main objective was to pass Magnussen, and we did that, so I'm happy. We didn't really have a chance to compete against the top three teams and I really wasn't expecting more than P7. I found it tough today. I've been unwell, it was hot and this track is hard work – but we had a good race. We're in a decent position, and if we can get both cars into the points tomorrow, it could be a really good day for us. We'll work hard tonight, and see what we can do."
Daniel Ricciardo (11th): "It was fun today, definitely fun. There were lots of battles. I want to watch it again to see because I gained spots and then lost spots, so I don't know if that's positioning. I'm sure I could have done some things better – but yeah, then I found my way back through, so it was decent. I guess when you start in the midfield, it can yo-yo a little bit. I think I've still got to find a couple of tenths, just to help out for tomorrow and put me a bit more in the fight, so we'll see what we can do tonight – but we gained some spots, so that's positive and obviously puts us much closer to the points tomorrow."
Andreas Seidl, Team Principal: "Mission accomplished. We had two targets today in Brazil: with Lando, we wanted to ensure we had the best finishing position behind the top three teams. They are significantly faster than us and, for the moment, there's little we can do other than make sure we're ahead of everyone else. For Daniel, we simply wanted to move forward to start tomorrow's São Paulo Grand Prix in a better position. Thanks to good work from the drivers and the entire team, we achieved both objectives, scored two points with Lando, and so are happy with today's outcome. The full focus now is on race prep and we're looking forward to another exciting race at Interlagos."
BWT Alpine F1 Team
Fernando Alonso (15th): "It was not the Sprint Qualifying we wanted today. Unfortunately, I touched with Esteban on the first of the lap of the race and we lost the momentum from there. With the deficit lost in the pit-stop, the Sprint is too short to recover places. On the positives the car is very fast, and we have good race pace, so all is not lost this weekend just yet. We start in fifteenth for the race on Sunday and we have a chance to score points and that's the goal. We both tried to do our best and unfortunately today it didn't work out. We will think about it tomorrow and try to score points for the team."
Esteban Ocon (18th): "Today was not the day we needed. We were optimistic leading up today's Sprint Qualifying after a good first Qualifying session on Friday but, unfortunately, the racing incident on the first lap very much ended our race today. The car damage was extensive and we lost significant performance and there was nothing left to do after that. It is really a shame as we were performing well this weekend and needed all the points we could get for our championship battle. We'll need to pull together as a team to fight our way through the field tomorrow and get back into the points."
Otmar Szafnauer, Chief Operating Officer: "We are extremely disappointed with today's Sprint Qualifying result, which has put us in a worse position on the grid for tomorrow's main race. We are in a very tight and competitive championship fight for fourth place in the Constructors' Championship; an objective for which over 1,000 staff are tirelessly working and striving towards. Frankly, both Esteban and Fernando must do a better job to compliment the fantastic efforts of everyone in the team by avoiding on-track incidents and compromising the entire team's performance. Today, both drivers have let the team down. I expect more from them tomorrow where we must do everything we can to recover some points from the weekend for the Championship. We aim to ensure we go to Abu Dhabi next weekend in a position where we can reach our season goals. Tomorrow is a new day."
Scuderia AlphaTauri
Pierre Gasly (10th): "I'm happy with today, starting 12th and finishing 10th, it was our main goal today to recover some positions ahead of tomorrow's race. The start of the race was good, it was tricky trying to reach the end on the Softs, but we've finished in a strong position. We had some nice battles out there and I don't think we could've done much better. We're in the top 10, we know we're capable of fighting up there, so we'll try to come away with some points."
Yuki Tsunoda (16th): "I managed to gain some positions at the start but unfortunately, I didn't have the pace after that and I really struggled. It's been a difficult weekend in general, as I've really lacked grip, and there's not much you can change after Qualifying in the Sprint format, which makes things harder. I don't think tomorrow will be that easy, but I'll do whatever I can to try and make my way forward."
Jonathan Eddolls, Chief Race Engineer: "The focus for FP2 was tyre evaluation in preparation for the Sprint. As the cars were in Parc Fermé we couldn't make any mechanical changes to them, so it was a case of understanding the optimum aero balance and tyre management techniques to make the tyres survive for the 24 laps. There was a part of us that was hoping for some rain today, as we'd shown that the car was competitive on the Inters on Friday, but it never appeared at the track. This meant we started both cars on the Softs which, from FP2, was faster over the Sprint distance. Both drivers made up places at the start, and Pierre was able to capitalise on the Alpines dropping back, but Vettel was just a bit quicker than us today, so we couldn't keep him behind. Yuki continued to struggle with sliding but made a couple of places at the end with the penalty of Stroll and passing Ocon, we need to understand why he was struggling that much. Tomorrow is looking dry, so we will need to evaluate the strategic options we have to try to maximise our chances in the race tomorrow."
Aston Martin Aramco Cognizant F1 Team
Sebastian Vettel (9th): "I was fighting hard out there today – a few of us were stuck behind Esteban [Ocon], who I think had some damage, so that lost us some time. Without that, I might have been able to catch Kevin [Magnussen] before the end – and that would have earned us a point. Overall, however, I think we can be happy with today: our pace was good, we looked after the tyres well and we were making up places. Everything worked well today – let us see what we can do tomorrow."
Lance Stroll (17th): "I made a good start and gained a few positions on the first lap. Everything was looking positive, but then I started to lose a little bit of pace as the race unfolded – and that meant I dropped a couple of places battling in the midfield. We need to look at what happened there. We go again tomorrow – and anything can happen at this place."
Mike Krack, Chief Operating Officer: "I think the Sprint served up a very entertaining spectacle for the fans today. Even though today's race is only to determine the grid, we saw hard racing up and down the grid, not least among our cars. Sebastian had good pace and was able to make it count as he secured ninth place at the flag. Lance had a strong opening lap, making up three places, but he was not as comfortable in the car today and his pace dropped off in the second half of the race. Nonetheless, it is Sunday that counts and we will take the lessons learned today to try and maximise tomorrow and score some points."
Williams Racing
Nicholas Latifi (19th): "It was a very lonely afternoon out there. We found some damage on the rear of the car after FP2, which we fixed before the sprint race. However, after two or three laps the car began to feel difficult again. I ran over some debris as well, which caused some significant damage to the floor."
Alexander Albon (DNF): "I don't know what happened to be honest, but I think it was the debris caused by Fernando and Ocon on the main straight. Ultimately, from the start it was not good with low grip and front locking every corner for the first laps, so we really need to have a good look at the car overnight."
Dave Robson, Senior Race Engineer: "The Sprint race was very difficult for both drivers. Alex had a poor start but was starting to get things back under control and was catching the group in front when he ran over some debris, which caused him to retire. Nicholas's car needed a bit of work to fix an issue from FP2 and his team did a good job to get the car ready. Unfortunately, he struggled for pace throughout the Sprint race and we need to see if there is anything we can do to recover some of this for tomorrow."
Alfa Romeo F1 Team ORLEN
Guanyu Zhou (13th): "Our pace was actually quite good today, and we can be satisfied to gain a few positions back and a better place on the grid ahead of tomorrow. At first, I thought this would be a difficult afternoon as I didn't have an easy opening lap - I lost a few positions after being boxed in and I also went wide in turn five. I feared we were just going to remain there for most of the race, but we were fairly quick and could overtake quite a few cars on our way to P13. The car felt good, so if we work on our lap one performance and keep our position at the start, we will have a very good chance to be fighting for the top ten tomorrow."
Valtteri Bottas (14th): "I gave everything I had in the sprint and we'll be starting tomorrow in a much better place than we were today. I lost a couple of positions at the start, but I had good momentum after that and our pace looked ok. We were able to make up places and keep making progress until the end of the race. The longer the stint went, the better our pace became, and this gives me confidence about tomorrow: the objective is to make it into the top ten and I think it's a wholly realistic one. We had better pace than the cars around us today, so let's bring home some points tomorrow."
Frédéric Vasseur, Team Principal: "Both cars made some good progress from the back and we showed some good pace, which leaves us confident ahead of tomorrow's race. It will be a long one but we've seen today that there can be plenty of action, and if we can replicate the performance we had today, we should be well in the mix for points. It will be important to have a clean start and make sure we keep out of trouble in the opening stages, but the potential is there for a good result."
Haas F1 Team
Kevin Magnussen (8th): "I really enjoyed today – and we got a point, and that's also a very important point given our battle for eighth with AlphaTauri. We knew we weren't going to win this race and that wasn't really the aim. It was all about enjoying staring from the pole position and then really trying to get a point out of it. The dream was to try and finish ahead of Lando (Norris) just behind all the big cars, that didn't quite happen, but we're still happy with the point for eighth. We start from there tomorrow and that's a position we'd be very happy about in regular qualifying. So, we start from inside the top 10 and hopefully we can go for points tomorrow too."
Mick Schumacher (12th): "We had a good opening lap which definitely helped get us into position and our pace didn't look too bad either, so we were able to fight a bit. We had a small issue with the engine, so that's something we need to look at, but we'll find out how much pace we lost through it. We've started further back before and got into the points so if everything goes well I'm sure we have a lot of potential."
Guenther Steiner, Team Principal: "After starting from pole with Kevin today, we accomplished what we wanted to accomplish and get points. Only one point but it's difficult to do with all the big boys coming through but we got one. Mick had a very good race – he came from P20 to P12 – and for tomorrow we're in a good position. There's a chance for points so it was a pretty good day to for us and once again, fantastic teamwork."