Brazilian GP 2022
NOVEMBER 11, 2022
Friday Team Quotes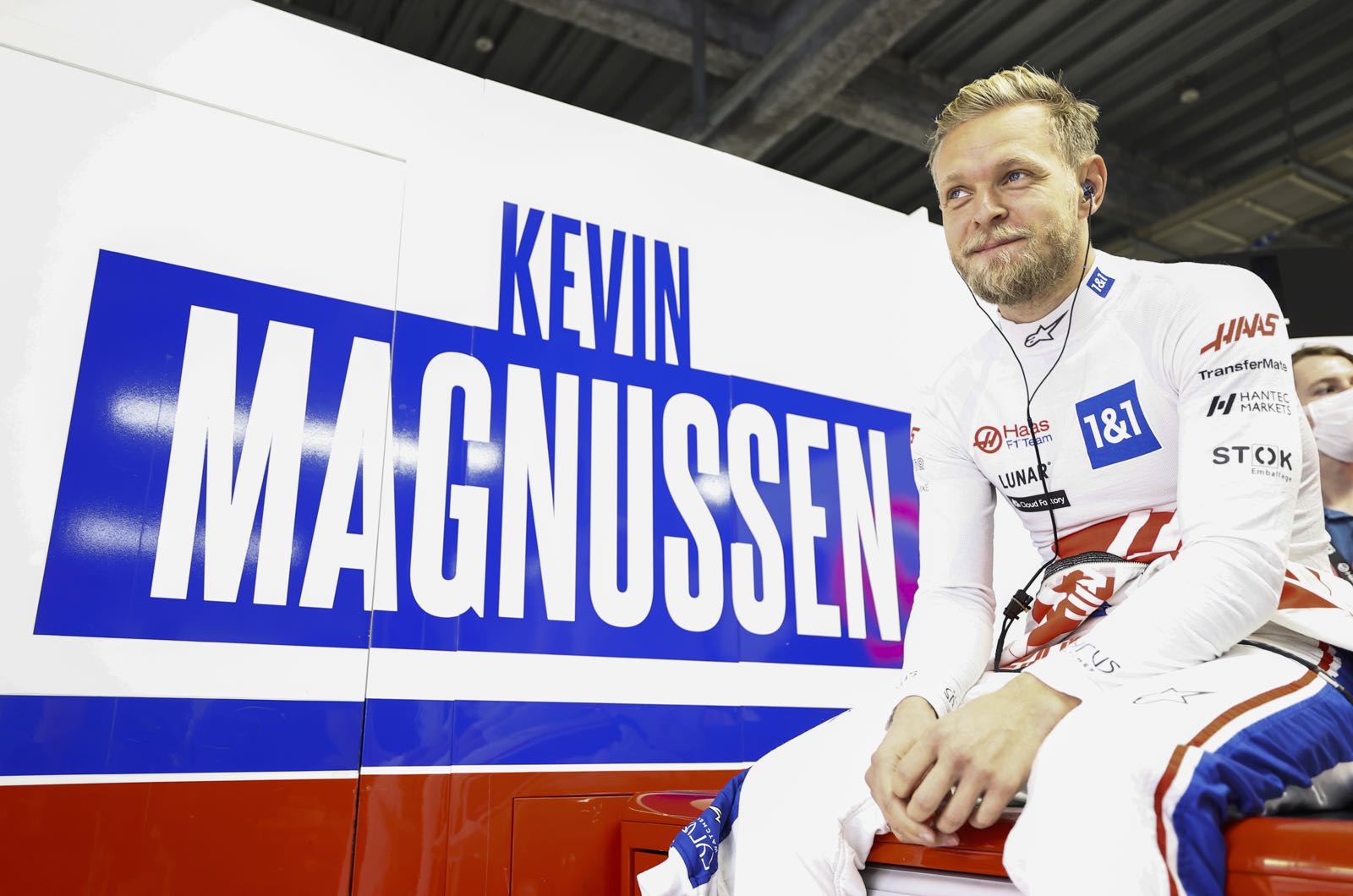 © Haas F1 Team / LAT
Mercedes-AMG Petronas F1 Team
George Russell (3rd, 1:12.059): "There were some mixed emotions for me in that session. It was a pretty unique experience in Q3 - we were one of the last cars on the road, and as the lap progressed, the rain was falling harder and harder - and it was a lot wetter in the final corner than on the lap before. On the next lap, I lost the car into Turn 4 and actually broke the headrest because my head was bouncing round so much; then I tried to do a 360 and beached the rear tyres in the gravel, which wasn't my best decision. There's a lot of gravel in there but the guys will have to take it to pieces to get everything out, so hopefully it will all be okay. Even so, P3 is a good starting position for tomorrow, and I have to say a massive congrats to Kevin and Haas on pole. These kinds of unexpected results are exactly what make sport so special!"
Lewis Hamilton (8th, 1:12.611): "That was a difficult session overall. It wasn't an easy session to predict the weather, and then it was getting so dark that it was hard to see the rain drops out there. We were among the final cars on track, so it was getting wetter out there on my lap compared to the cars in front. I think we probably lost some tyre temperature while queuing in the pit lane, so it just didn't come together on the one timed lap that we got in and the grip just wasn't there for me. We did a lap on Inter at the end, just to scrub the tyre, but the track was always going to be slower than when it was dry. So P8 is not ideal - but George did a great job on his lap, and a big congratulations to Kevin for pole."
Andrew Shovlin: "A tricky qualifying session where each part had its own challenges. It wasn't easy to get a clear lap in, especially at the points when you needed consecutive laps, but we did manage to get through the first two sessions safely although it wasn't as relaxing as we'd have liked. The final session was all about track position; the conditions were deteriorating and, as it turned out, you wanted to be at the front of the group to get the best of the track. Neither driver had a great lap in the final session; George was happier with his car than Lewis who was lacking grip on the final run, but we have plenty of racing laps to recover with Lewis and at least he's ahead of both Ferrari and one Red Bull on the grid. The unsettled weather is forecast to continue to that could make for a bit more decision-making during the sprint race than you normally have to do - and that may bring with it more opportunity."
Oracle Red Bull Racing
Max Verstappen (2nd, 1:11.877): "We were working with pretty tricky conditions today and I locked up into turn eight which cost me pole today. It's just difficult out there and you have to see how far you can push, but you don't want to make any big mistakes that can be costly. Tomorrow is looking good but in these conditions anything can happen. We are still up there at the front which is the most important thing. Let's see how competitive we are going to be tomorrow in the race, we have no clue what will happen with the weather but that always makes Interlagos so special for everyone. Well done to Kevin and the Haas team today, I hope they enjoy every moment."
Sergio Perez (9th, 1:15.601): "It was an unfortunate qualifying. I was held up by Leclerc and Ferrari. It was very clear to me that he was too slow on the inter on the outlap and I thought he was going to pit. I was expecting him to box and go onto the slicks. Instead, he stayed in front of me and I had to finish my lap just behind him, that meant I lost too much time. We will never know where I could have finished, top three should have been possible today but instead we finished P9 and I am super disappointed with the result. We will try hard tomorrow to try to recover and get into the points."
Christian Horner, Sporting Director: "Firstly, well done to Kevin Magnussen and Haas on pole. Conditions were tough, the rain was all around us throughout Q1, Q2 & Q3 but the guys did a good job of navigating their way through to Q3. Unfortunately, a small mistake at turn 8 cost Max a bit of time but nevertheless, being on the front row is very positive for the sprint race. Checo was unlucky, Charles was out on a set of inters and I think Checo was expecting him to come into the pits but he stayed out. This compromised Checo's lap but I'm sure he can race well from there tomorrow, so it promises to be a very exciting Grand Prix weekend."
Scuderia Ferrari
Carlos Sainz (5th, 1:12.357): "A tough day for the team in a tricky qualifying. We had one shot in Q3 with the Softs before the rain arrived and we will be starting from P5 tomorrow. We will try to use the sprint race to gain some positions before serving the penalty on Sunday. Congratulations to Kevin and the entire Haas team for their first pole position."
Charles Leclerc (10th, No Time): "A disappointing outcome given that the pace was there. We still have a good car, so now we need to get on it and push to make up positions tomorrow in the Sprint."
Laurent Mekies, Sporting Director: "Today's qualifying was something of a lottery. The whole session was hard work and we got some calls just right and others less so, as was the case with Charles at the start of Q3. We split the strategies because we knew rain was imminent. In fact, the drivers on Soft tyres only just had time to put in a lap before the rain became heavy. It's clearly frustrating for Charles and for all of us, because, this season, we have had some great qualifying sessions in equally difficult conditions. We will try and move forward, learning from today. We weren't the only team to have had mixed fortunes in qualifying, with one car towards the front and another further back. It's just the start of a long weekend and we will try and get the most out of tomorrow's Sprint in which our drivers will have similar goals. Carlos will be trying to finish as high up as possible to counteract the five place grid penalty which he has on Sunday, while Charles will be aiming to secure a place in the front three rows of the grid for the Grand Prix. Finally, congratulations to the Haas F1 Team and Kevin Magnussen on their first ever pole. It's a day they will never forget."
McLaren F1 Team
Lando Norris (4th, 1:12.263): "I'm extremely happy with today. I think we did the best job we could have done throughout the whole of qualifying. I think the only thing we could have done a little bit better was going out first in Q3 – but there was also some risk to that. So, apart from that, we made perfect decisions, and the team did an excellent job. The car was feeling good, even in the tricky conditions. I was extremely happy to be P1, P5 and P4 through the qualifying runs. I feel like I did a good job all day, even with how I've been feeling – and maybe wasn't driving as perfectly as I should have done, but P4 is still a great position for tomorrow, so hopefully we can stay in that position and score some good points tomorrow."
Daniel Ricciardo (14th, 1:12.140): "It was a tricky session in tricky conditions. It was quite fun to be honest, but we didn't have the pace. So yeah, that was a little tricky just to get it out of the first timed lap for the peak of the tyre. When I heard some lap-times of some of the others I was not really sure if that was possible. I simply didn't have the pace once we put the slick tyres on. We'll try to make up for it tomorrow though. The good thing is we've got the Sprint race as well, so you've got two chances and hopefully we can make up some ground."
Andrea Stella, Racing Director: "It's a Sprint weekend here in São Paulo, so already on Friday evening we are discussing the outcome of Qualifying. It was a tricky session today with changeable weather demanding some difficult decisions. For us, it was a bittersweet afternoon. We're very happy to see Lando in P4 after he drove very well in all conditions. On Daniel's side, qualifying P14, we need to review why we didn't find more performance on slick tyres – so that we can recover positions in the Sprint and score good points in the race. In terms of overall preparation, we were a little concerned with our pace in FP1 but Qualifying was more encouraging. We'll do our due diligence tonight and prepare for the busy weekend ahead."
BWT Alpine F1 Team
Esteban Ocon (6th, 1:12.425): "I'd like to first congratulate Haas and Kevin [Magnussen] for their result today. They took a risk and it paid off, so I am happy for them. For us, it was of course a challenging Qualifying session but, in the end, it's a good result for the team, finishing in sixth and seventh. It was very tricky today with the weather and we managed tyre choices well, which was important. Tomorrow is a great opportunity as the grid is quite mixed up compared to what we're used to, so we'll need to be at our best to take home the valuable points on offer for the Sprint race."
Fernando Alonso (7th, 1:12.504): "I'm pleased with today's Qualifying, which we had to execute in very tricky conditions. In the beginning, with the Intermediate tyres, we adapted quickly, and it was nice to be in first place! Once we switched to dry tyres, we were again in first place throughout, and we seemed to be fast in these challenging conditions. In Q3, when it started raining, it was always going to be a benefit to the ones at the front of the queue. We probably missed a chance to start higher up for the Sprint, but tomorrow the aim is to make up some places and I'm sure that is possible."
Alan Permane, Sporting Director: "We're happy with our Qualifying today with Esteban in sixth and Fernando in seventh ahead of tomorrow's Sprint. These sessions, with the mixed conditions, are always tricky to manage as it's about striking a balance between risk and reward. Of course, we have an eye on the championship and we took an air of caution in our decision making in these wet-dry conditions. We didn't need to take any risks today as we know there's a long way to go this weekend with the Sprint and the main Race when points are scored. Today, Q3 was particularly challenging as it was about either banking an early lap on dry tyres before the rain or opt for Intermediates and await what might come. Eventually, we settled on sneaking a lap on Soft tyres – like most others – and we're pleased to start in sixth and seventh. It means we're in the mix for some points tomorrow and we'll be doing everything we can to ensure we are in competitive grid spots for Sunday's Race."
Scuderia AlphaTauri
Pierre Gasly (12th, 1:11.675): "We took the risk in Q1, as the first to fit the Slicks, and it really paid off. We knew it would be really tight as the track dried in Q2, and we missed out on Q3 by just four tenths today but overall, I think it's been a positive Quali and I have to be happy with the laps I have done. The pace was obviously there, so it's a bit of a missed opportunity that we weren't able to get through to Q3, especially when you see who's on pole. I think we're in a strong position to make up some places tomorrow in the Sprint and move forward for the race on Sunday."
Yuki Tsunoda (19th, 1:16.264): "I'm obviously disappointed today, I've lacked grip in general straight from FP1 and we weren't able to find a solution to this before heading into Quali. I was able to go out on the dry tyre for two laps in Q1 and try to get a good lap in, but unfortunately I just didn't have the pace with this lack of grip."
Jonathan Eddolls, Chief Race Engineer: "The weather can always throw up surprises in Brazil, and so far this weekend has been no different. As it's a Sprint format this weekend, we had to complete all our set-up work before Quali, as the cars go into parc fermé and we can't make any more changes, so our focus was on Quali preparation in FP1. As there was just one practice session ahead of Qualifying, it was a busy one and we concentrated a lot on set-up work. We managed to find a good balance on Pierre's car, but Yuki struggled more with overall grip, so we made some changes to his car ahead of Quali. It rained a reasonable amount between the two sessions, so Quali started in the damp. We made reasonable choices with the tyres, however Yuki still struggled with a lack of grip and was knocked out in Q1. Pierre did a very good job and progressed through to Q2. His pace was looking promising but on the second set of dry tyres the first lap was the one that counted, as there was some more light rain, but his front tyres weren't in the optimal temperature window, which meant he wasn't able to set a lap good enough to get through to Q3. It's disappointing as it was a strong performance from him up until that point and we could've capitalised on the opportunities in that final session. The cars are now in parc fermé, so we can't make any additional changes, which means our focus tomorrow is now on learning more about the tyres to help us try to make up places in the Sprint and the race. The weather forecast for tomorrow is still saying a chance of rain, which could work in our favour, and hopefully we can look to make our way forward both tomorrow and in Sunday's race."
Aston Martin Aramco Cognizant F1 Team
Sebastian Vettel (13th, 1:11.678): "I always like these conditions. It was slippery out there, and very tricky to correctly judge the weather. We missed out on getting through to Q3 by a tenth – maybe even a bit less – which makes you think about where you could have made up that time. But, to be honest, I was pretty happy with the lap – then it started to drizzle, so maybe the timing was not ideal. It is a shame because I thought we could have got through today. There is lots to play for tomorrow and on Sunday."
Lance Stroll (15th, 1:12.210): "It was a difficult session all around today. I do not think we had the pace in qualifying, so we need to look into why that was. We will see what we can do tomorrow in the Sprint and again in the Grand Prix on Sunday. The weather is expected to be a bit up and down all weekend, so there should be plenty of opportunities to make some overtakes and pick up some points."
Mike Krack, Chief Operating Officer: "The unpredictable weather made for a challenging qualifying session today. A damp but drying track in Q1 forced everyone to run for pretty much the whole session as the surface was constantly improving. We timed the switch to dry tyres well and both Lance and Sebastian progressed. For the start of Q2 the track remained mostly dry, but some light rain returned in the final part of the session and prevented us from improving our times. There is plenty to play for tomorrow in the Sprint and we will work hard to make some progress ahead of Sunday's race."
Williams Racing
Alexander Albon (11th, 1:11.631): "As a car, what makes our tyres work is different to most people, so we were really doing our own thing today. We did a really good job with P11 and at a track like this, it's not easy and it was really close out there. We were only a couple tenths behind P5, so I'm really proud and think we did a great job. This hopefully sets us up for the rest of the weekend, but we'll see what we can do out there tomorrow."
Nicholas Latifi (16th, 1:15.095): "In these conditions it was quite clear when we went out on the inters that at some point it was going to switch to slicks. So it was tricky to try to judge the conditions and we tried to build the rhythm and get the right lap in at the end and I think I was among one of the first few cars to switch to slicks, so it could have gone either way. It was frustrating as you hope to be able to make a bit of a difference in the session, but we had some issues during the session as well, and without that I think there was room for a bit more."
Dave Robson, Senior Race Engineer: "After a productive FP1 session in the dry, we were straight into wet qualifying. The conditions in Q1 were tricky with the track always likely to be ready for slicks before the end of the session but timing the swap off the intermediates was key. We got this about right, but it was tricky during the opening laps on the slick. Both drivers had several good opportunities to set a lap and Alex was able to make the most of them to qualify comfortably for Q2. Nicholas just missed out on a place in Q2 despite doing a good job in the difficult conditions. We were expecting more rain before the end of qualifying and tried to time the final run in Q2 as late as possible. Frustratingly, Alex wasn't quite able to get into Q3, which is a shame as Haas showed what a good opportunity it was today; congratulations to them on an excellent pole position. We now move focus to FP2 and the Sprint race. We will get Alex's car ready for Logan and then we'll see what we can do in the Sprint. With more tropical weather around for the rest of the weekend, a lot could still happen and we'll be ready to make the most of any opportunities."
Alfa Romeo F1 Team ORLEN
Guanyu Zhou (17th, 1:15.197): "Everything was going really smoothly, especially considering the conditions were very slippery. Unfortunately, we probably pitted one or two laps too late, and I only had one push lap on the slicks, so it was nearly impossible to give everything on it. It's obviously frustrating to be missing the cut-off by less than two tenths, especially because we would've likely improved had we got one more lap, so it's a bit of a tough one. We felt we had the pace in the beginning, I did a really good lap on the softs, so it makes it more frustrating as I feel there was a lot more we could have given today. Nevertheless, we can hopefully gain some ground tomorrow and improve our starting positions ahead of Sunday's race."
Valtteri Bottas (18th, 1:15.486): "It's a disappointing result, especially after we looked strong in FP1 earlier today. In the end, we made the call to go with intermediate tyres when pitting and that turned out to be the wrong choice: on my in-lap, I saw a Williams struggling and decided to stay on the inters. We realised softs were the best option and pitted again, but two laps were not enough to bring these tyres into temperature. Still, there's everything to play for: we have two days to get into the points and, given our pace in the dry, we still have a chance to bring home a good result."
Frédéric Vasseur, Team Principal: "When you have pace in practice, as we did today, going out with two cars in Q1 is definitely not the result you expect. Unfortunately, we didn't make the most of the changing conditions and we ended up paying the price for it. It's disappointing to miss out on this opportunity, but the only consolation is that we have tomorrow's Sprint to try and make up ground. Brazil has historically been a place where overtaking is possible, and if we replicate the pace we had in FP1, we can move up: if we do that, we give ourselves the best possible chance for Sunday's race."
Haas F1 Team
Kevin Magnussen (1st, 1:11.674): "It's incredible. I want to say thank you to Gene Haas, Guenther and the whole team for taking me back on and giving me the opportunity to have a day like this – I'm so chuffed. The team put me out in the pitlane as the first car and that was the gamechanger. It gave me the best piece of track as it started to rain and we got pole. It was the longest minute of my life trying to stay calm as it looked like it was going to be wet but you never know. I'm so happy."
Mick Schumacher (20th, 1:16.361): "Firstly, Congratulations to Kevin and the team – they really deserve this. On my side, it was a bit confusing but maybe I underestimated the grip. The track looked pretty damp, but it wasn't as much as I thought. It's very frustrating and tomorrow it means the job will be a bit harder but we're up for it."
Guenther Steiner, Team Principal: "It's a great moment for Haas F1 Team. We've waited seven years for this, and we work hard, it shows again that hard work and determination pays off. You have to be in the right place at the right time and I think we didn't luck into this, we worked hard to be there. When it came to it, Kevin pulled the lap off and was better than the others out there in difficult conditions. To the whole team, I can't say more than thank you and I think it's a birthday present for the boss. I told Gene we had to do it a day early as we couldn't change qualifying. Unfortunately, with Mick he was very quick on the intermediate tires but when we put the dry tires on for his last run, he couldn't get the feeling with the car. Now we focus on tomorrow, we are still in a fight for eighth place in the Constructors' Championship and we'll put 100 percent effort to achieve it. Thanks again to the whole team and to the fans for supporting us all the time."