Brazilian GP 2019
NOVEMBER 17, 2019
Race Analysis - A crazy race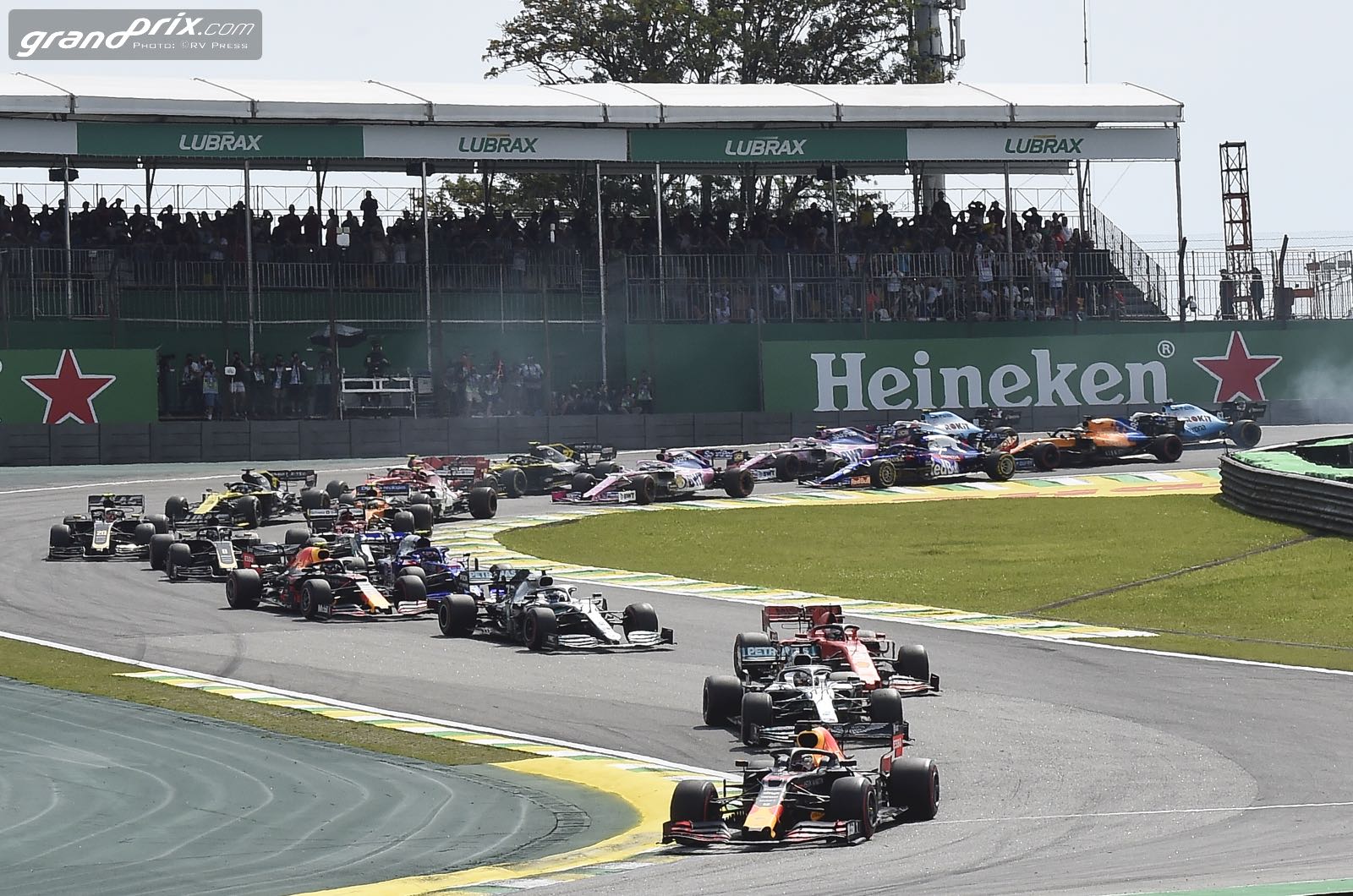 © RV Press
By Dan Knutson in Interlagos
The Brazilian Grand Prix started off as a staid and processional affair, but then it turned into a crazy race with all sorts of battles, accidents, twists and turns. Max Verstappen and Red Bull Honda sailed through it all to win. Here is how his victory unfolded.
MAKE IT THREE FOR ME
Verstappen earned the second pole of his F1 career. Or, as he insists, his third, as he counts his pole in Mexico that was stripped because he ignored the yellow flags on his fast lap.
THE CAST OF CHARACTERS
Rounding out the top six on the grid were Sebastian Vettel (Ferrari), Lewis Hamilton (Mercedes), Valtteri Bottas (Mercedes), Alex Albon (Red Bull) and Pierre Gasly (Toro Rosso). All of them would play a central role in the final laps and the outcome of the race.
ADD CHARLES
Add Ferrari driver Charles Leclerc to that cast. He started 14th because of a grid penalty due to getting a new engine. But he would climb through the field to join the action.
THE START
Verstappen took the lead at the start of the 71-lap race ahead of Hamilton, Vettel, Bottas, Albon and Gasly.
SIXTH
By lap 10 Leclerc had passed Gasly for sixth place.
FIRST STOPS
Hamilton pitted at the end of lap 20. Verstappen stopped a lap later. Vettel and Bottas, now first and second, stayed out. Vettel led laps 22 to 25 and then made his pitstop.
BRIEFLY
Hamilton stayed ahead of Verstappen, but the latter quickly swooped back in front. Once Vettel pitted, Verstappen and Hamilton were one/two again on lap 26.
SECOND ROUND
The second round of stops came when Hamilton pitted at the end of lap 43 and Verstappen at the end of lap 44. That put Vettel back in first for laps 45 to 48. He pitted and then Verstappen and Hamilton were one/two again from laps 49 to 53.
SAFETY CAR 1
Mercedes suffered a rare power unit failure when Bottas pulled his smoking car off the track on lap 52. That triggered the safety car because the marshals could not safely remove the Mercedes and a crane needed to be used.
BOX OPPOSITE
Mercedes told Hamilton to "box opposite" to Verstappen. So when the latter dived into the pits at the end of lap 54 for another set of the Pirelli soft compound tires, Hamilton stayed on the track.
NO CHANCE
Hamilton stayed ahead from lap 54 to 59, but his tires were 11 laps older than Verstappen's, and there was no way he was able to fend off the Red Bull driver who retook the lead on lap 60.
CRASH
On the start of lap 66 Leclerc swooped past Vettel in the Senna Turns to take fourth place. Then Vettel pulled alongside Leclerc on the straight. Vettel moved slight to his left. Leclerc's right front tire and Vettel's left rear tire connected. That put both Ferraris out of the race.
NO BLAME
The stewards later decided neither Ferrari driver was more to blame, and so took no action against them. Ferrari team principal Mattia Binotto, however, summoned both his drivers to a meeting when they got back to Maranello from Brazil.
SAFETY CAR 2
The crash triggered the second safety car of the race.
THIS TIME
This time Hamilton pitted and Verstappen did not.
RESTART 2
The race restarted at the end of lap 69, and the order was now: Verstappen, Albon, Gasly and Hamilton.
CRASH 2
Hamilton hit Albon trying to pass. Albon spun and dropped to 14th.
FENDED OFF
Gasly, in second, fended off of Hamilton to claim a career-best second place by 0.062 of a second.
"You dream a lot about being in F1," Gasly said. "You dream about your first podium, but then when it happens all of the emotions coming through me are just unpredictable, it's just the best day of my life right now!"
THIRD BUT
So Hamilton finished third, but he was given a five second penalty for causing a collision and that dropped him to seventh place.
MY FAULT
"I never want to collide with anyone, it was really unfortunate with Alex," Hamilton said. "Naturally I take it on me, it was my fault, I was coming from behind. He was doing a great job, so apologies to him. I gave it absolutely everything and more today, I was pushing so hard in every lap just to keep up with Max in front of me. We really didn't have a lot of pace today and I think we were probably going faster than we should have gone."
NO CELEBRATIONS
Hamilton's penalty came after he had celebrated on the podium. So Carlos Sainz, who started last and finished fourth and was now classified as third, never got to celebrate his first F1 pole right after the race. But Sainz and many members of the McLaren team did celebrate on the podium later.
"It's a weird first podium not being there straight after the race," Sainz said, "but I'm extremely happy with our race today. To finish P3 coming all the way from the back of the grid was a big challenge, but we fought until the end with everything we had!"
THREE-EIGHTHS
This was Verstappen's third win of the season and the eighth of his F1 career.
"It was a crazy race with a lot of action and fighting," he said, "but luckily we always had the pace to counter back and overtake Mercedes in every scenario. It wasn't easy out there but the team made all the right calls, especially at the end to pit for the soft tires during the safety car which gave us the win today."