Brazilian GP 2019
NOVEMBER 16, 2019
Qualifying Report - Two the Max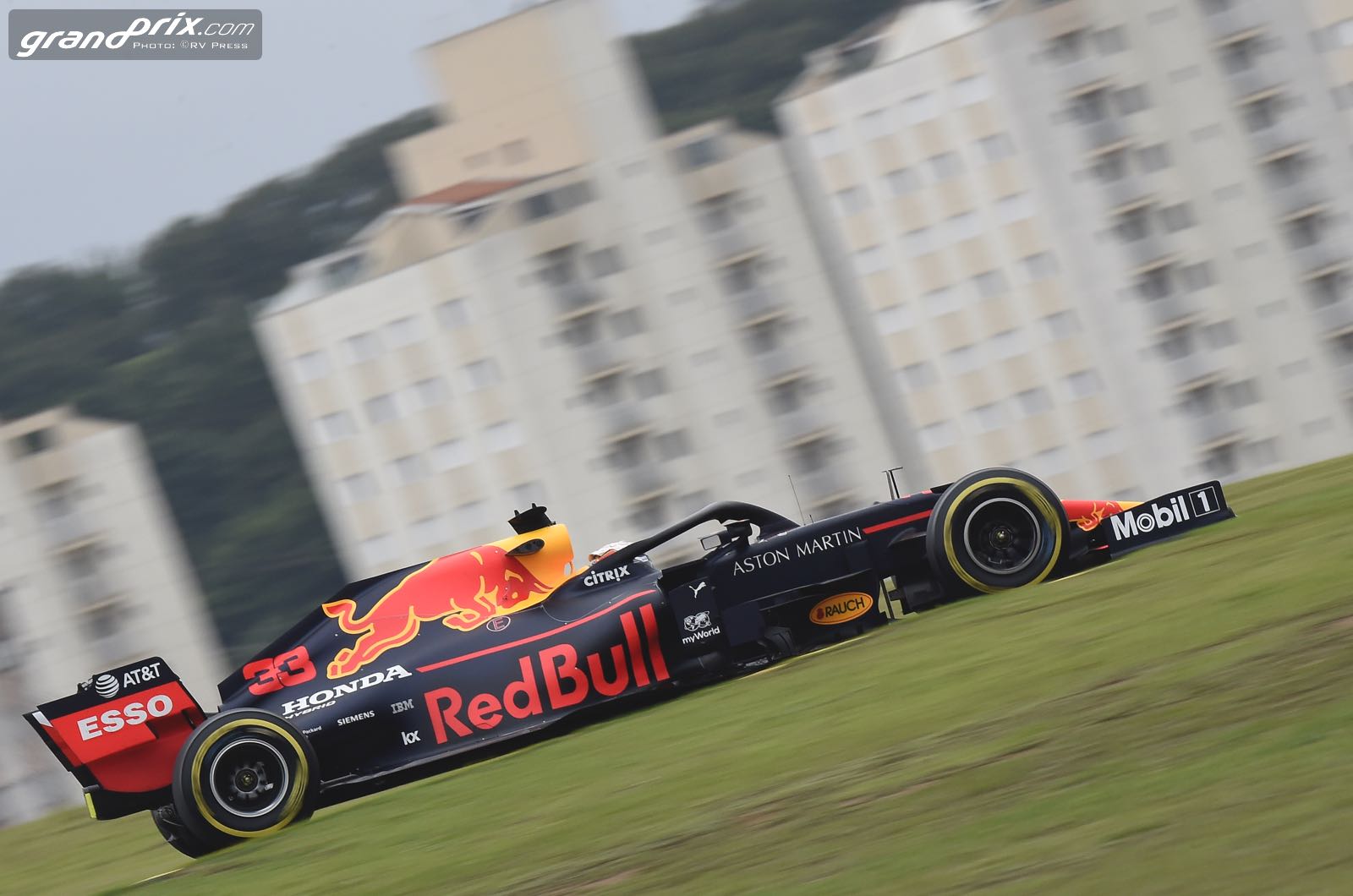 © RV Press
By Dan Knutson in Interlagos
Max Verstappen earned the second Formula 1 pole of his career after clocking the fastest lap during qualifying for the Brazilian Grand Prix. His first pole came in Hungary earlier this year. He also clocked the fastest time in qualifying in Mexico, but that lap was deleted because he had not slowed for the yellow flags.
The line-up for the weekend was: Mercedes – Lewis Hamilton and Valtteri Bottas; Ferrari – Sebastian Vettel and Charles Leclerc; Red Bull TAG Heuer – Verstappen and Alexander Albon; Renault – Daniel Ricciardo and Nico Hulkenberg; Haas Ferrari – Romain Grosjean and Kevin Magnussen; McLaren Renault – Carlos Sainz and Lando Norris; Racing Point Mercedes – Sergio Perez and Lance Stroll; Alfa Romeo Ferrari – Kimi Raikkonen and Antonio Giovinazzi; Toro Rosso Honda – Daniil Kvyat and Pierre Gasly; Williams Mercedes – George Russell and Robert Kubica.
Hamilton was best in FP3 with a time of 1:08.320, which edged out Verstappen by a mere 0.026 of a second.
Leclerc was due to take a 10-place grid penalty for have a new power unit installed in his Ferrari.
QUALIFYING 1
The ambient temperature at the start of the session was 68 degrees Fahrenheit (20 degrees Centigrade) and the track temperature was 97 degrees Fahrenheit (36 degrees Centigrade).
First out in Q1, which lasted 18 minutes, was Kubica. He returned to the pits without setting a time. It was his teammate Russell who posted the first flyer of the session – a 1:10.688. Vettel clocked the first fast flier at 1:08.556, and seconds later Leclerc crossed the line in 1:09.592. Albon beat them both with his 1:08.503.
Sainz reported an engine problem and drove slowly back to the pits.
In the meantime, Hamilton, Verstappen and Bottas were on their warmup laps. Verstappen was first across the line and stopped the clocks at 1:08.242. That him on top and ahead of Albon, Leclerc, Vettel, Hamilton, Bottas, Magnussen and Norris.
Right on the bubble in 15th place with five minutes to go was Perez. Meanwhile, Raikkonen was 14th and Hulkenberg was 16th.
Every driver from seventh to 19th (no Sainz) was on track in the final two minutes.
The five drivers who were eliminated at the end of Q1 were: Kvyat, Stroll, Russell, Kubica and Sainz.
The fastest 15 drivers who moved on to Q2 were: Verstappen, Leclerc, Albon, Bottas, Vettel, Hamilton, Magnussen, Norris, Gasly, Hulkenberg, Ricciardo, Giovinazzi, Grosjean, Raikkonen and Perez.
QUALIFYING 2
Q2 lasted 15 minutes. Bottas and Hamilton got things rolling. Hamilton crossed the line at 1:08.088. Then Bottas did a 1:08.232. Leclerc beat that with his 1:07.888, and Verstappen topped that at 1:07.503.
Albon grabbed fifth, so the order was: Verstappen, Leclerc, Vettel, Hamilton, Albon, Bottas, Grosjean, Gasly, Magnussen, Raikkonen, Norris, Ricciardo, Giovinazzi, Perez and Hulkenberg.
All had done a run, and now all were in the pits with five minutes left. The first driver to blink was Hulkenberg who headed back out with three minutes on the clock. Others joined him.
Leclerc was on the medium Pirelli compound slicks. But there was only one change in the order as Hulkenberg moved ahead of Perez.
The five drivers who were eliminated at the end of Q2 were: Norris, Ricciardo, Giovinazzi, Hulkenberg and Perez.
QUALIFYING 3
Out went the 12 drivers, with Albon, Verstappen and Magnussen bringing up the rear.
Out front among the fast cars was Hamilton who came back in 1:07.861. Bottas could not beat that. But Vettel's 1:07.631 did. And then Verstappen's 1:07.623 sliced 0.008 of a second off of Vettel's time.
So the order was: Verstappen, Vettel, Leclerc, Hamilton, Bottas, Albon, Grosjean and Raikkonen. Gasly and Magnussen did not make an initial run.
Just over two minutes remained when the drivers started filing out of the pits.
Verstappen's second run yielded a 1:07.508. Nobody beat that, and so Max earned his second career F1 pole.
The top 10 qualifiers were: Verstappen, Vettel, Hamilton, Leclerc, Bottas, Albon, Gasly, Grosjean, Raikkonen and Magnussen. But Leclerc's engine penalty would drop him to 14th on the grid.