Brazilian GP 2019
NOVEMBER 15, 2019
Practice 2 Report - Ferrari to the fore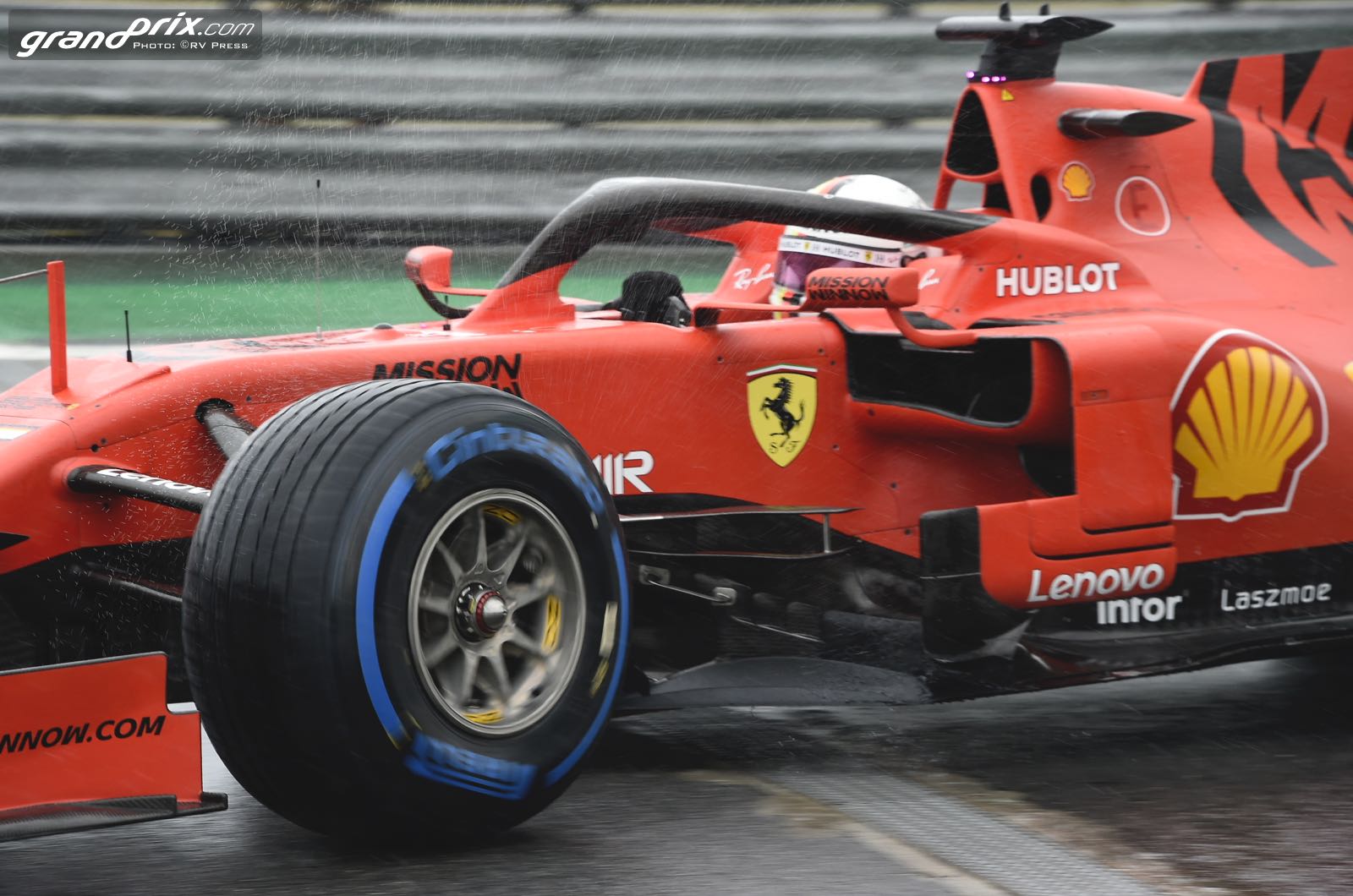 © RV Press
By Dan Knutson in Interlagos
After struggling for pace during the United States Grand Prix, Ferrari drivers Sebastian Vettel and Charles Leclerc were back in front during Free Practice 2 for the Brazilian Grand Prix. But the Scuderia's advantage over its main rivals were a mere tenth or two of a second.
The line-up for the weekend was: Mercedes – Lewis Hamilton and Valtteri Bottas; Ferrari – Vettel and Leclerc; Red Bull TAG Heuer – Max Verstappen and Alexander Albon; Renault – Daniel Ricciardo and Nico Hulkenberg; Haas Ferrari – Romain Grosjean and Kevin Magnussen; McLaren Renault – Carlos Sainz and Lando Norris; Racing Point Mercedes – Sergio Perez and Lance Stroll; Alfa Romeo Ferrari – Kimi Raikkonen and Antonio Giovinazzi; Toro Rosso Honda – Daniil Kvyat and Pierre Gasly; Williams Mercedes – George Russell and Robert Kubica.
Albon turned the quickest lap in FP1 – a 1:16.142 – on a drying track while he was on Pirelli's intermediate rain tires. He switched to slicks at the end of the session but slid off the track into the barriers.
"An expensive session for us," Red Bull team principal Christian Horner commented dryly about FP1.
As the teams got no dry running in FP1, it was important to garner as much data as possible on the dry track in FP2. First out onto that dry track were Giovinazzi and Norris.
The ambient temperature at the start of the 90-minute FP2 session was 68 degrees Fahrenheit (20 degrees Centigrade) and the track temperature was 77 degrees Fahrenheit (25 degrees Centigrade).
Bottas, on the hard compound Pirelli slicks, quickly got down to a 1:10.812.
Then Kubica spun and hit the barriers, which got the session red flagged after just five minutes. The left-side suspension got clobbered as did the front wing. It took seven minutes to clear things away and then FP2 restarted.
The track got very busy very quickly, and Verstappen took the lead at 1:10.051. Hamilton shaded that with a 1:09.938. But the Mercedes driver did not stay out front for long as the Ferrari duo overtook him. Vettel's 1:09.570 put him in first. Leclerc was second and Verstappen fourth after 22 minutes.
Albon, his car repaired, was one of the man y drivers on track at the same time, and he climbed up to fifth place. All the drivers were using the medium and hard compound Pirellis at this stage.
After half an hour, with the initial flurry of track time over, the order was: Vettel, Leclerc, Hamilton, Verstappen, Albon, Bottas, Gasly, Sainz, Giovinazzi and Kvyat.
Most of the drivers were back in the garages. A very light rain had now made the track slick in some areas. In fact, Verstappen was the only one in action. He reported that it was quite slippery, and then pitted after several laps.
Next, Russell tried the soft Pirelli slicks. Others did the same. Vettel's first lap on the tires was slower than his run on the mediums. Hamilton aborted his lap after swerving to miss Bottas.
It all worked out for Leclerc, however, who did a 1:09.328, which was 0.135 of a second better than Bottas. Then Vettel beat them both with his 1:09.217.
Verstappen's 1:09.351 put him up to third behind Vettel and Leclerc with 38 minutes remaining. Bottas was fourth ahead of Hamilton, Magnussen, Ricciardo, Raikkonen, Albon and Sainz.
Next, as the session entered the final half hour, most drivers had finished their qualifying simulations and now moved on to race sims. It got very busy again, and in the final minutes every driver was touring Interlagos except Kubica.
Then, just like in FP1, the session wad red flagged with just five minutes remaining. In FP1 it had been Albon who had slid into the barriers. In FP2 it was Kvyat who did the deed, albeit in a gentler fashion.
The top 10 remained the same with the Ferraris out front.