Brazilian GP 2019
NOVEMBER 15, 2019
Practice 1 Report - The soggy dry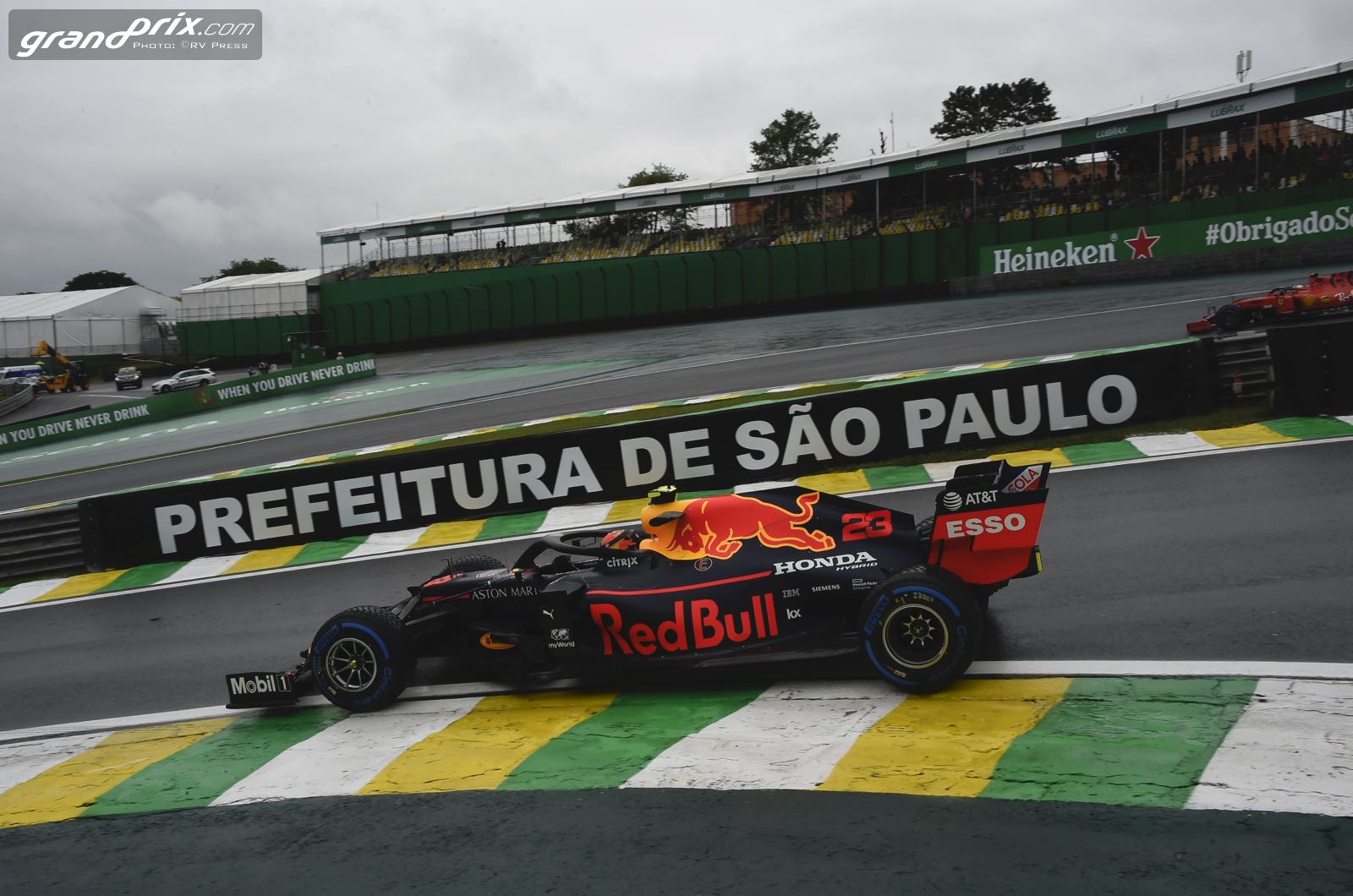 © RV Press
By Dan Knutson in Interlagos
Free Practice 1 for the Brazilian Grand Prix began in soggy conditions but then things started to dry off as the rain stopped. Alex Albon posted the fastest lap time on intermediate rain tires but then crashed late in the session when he tried slick tires on the still slick track.
The line-up for the weekend was: Mercedes – Lewis Hamilton and Valtteri Bottas; Ferrari – Sebastian Vettel and Charles Leclerc; Red Bull TAG Heuer – Max Verstappen and Albon; Renault – Daniel Ricciardo and Nico Hulkenberg; Haas Ferrari – Romain Grosjean and Kevin Magnussen; McLaren Renault – Carlos Sainz and Lando Norris; Racing Point Mercedes – Sergio Perez and Lance Stroll; Alfa Romeo Ferrari – Kimi Raikkonen and Antonio Giovinazzi; Toro Rosso Honda – Daniil Kvyat and Pierre Gasly; Williams Mercedes – George Russell and Robert Kubica.
Nicolas Latifi drove Kubica's Williams in this session.
"Interlagos is a short circuit without many high-speed corners," Ricciardo said of the 15-turn 2.677-mile (4.309 km) track officially known as the Autódromo José Carlos Pace. "It's very technical and you need to find a good rhythm to do well there. Overtaking can be difficult, but I've come through the field a couple of times there in the past, so it is possible to gain places. The weather is usually interesting too. It can play a big part and you have to be ready for all conditions."
The weather certainly played its part in FP1 as steady rain created rivers across the track. However, the FIA did not officially delay the session. At precisely 11:00 a.m. the green light signaled that the pit exit was open.
Vettel and Leclerc went out for a single reconnaissance lap. Then Vettel went to pit exit to try a practice start.
The ambient temperature at the start of the 90-minute session was 63 degrees Fahrenheit (17 degrees Centigrade) and the track temperature was 72 degrees Fahrenheit (22 degrees Centigrade).
Next out to sample the track were the Alfa teammates. And then that was that for a while as all the drivers then stayed in their garages.
Fifteen minutes into the session Grosjean became the fifth driver to venture out. And now, with the rain having virtually stopped and the skies brightening, a number of drivers did their recons.
Sainz did the first flying laps – a 1:23.689 followed by a 1:22.149. Bottas radioed that the track conditions were drying to the point where it was close to switching from wet to intermediate rain tires.
At the 30 minute mark all the drivers had completed at least one lap except Albon, Verstappen and Hamilton.
Leclerc set the second time of FP1 – 1:21.792 and then a 1:21.259 – and shortly thereafter that final trio of drivers finally ventured out. Hamilton and several others were on the intermediates. And Leclerc, now on the inter, posted a 1:17.285. The track was definitely drying but there were still puddles in places.
Just before the halfway mark the order was: Leclerc, Hulkenberg, Ricciardo, Sainz, Vettel, Kvyat, Norris, Gasly and Russell. But that was destined to change quickly and often as the drivers started to find more grip. But Leclerc's 1:17.285 remained unbeaten until Vettel posted a 1:17.041 with 37 minutes remaining.
The track continued to dry, but by now some driver's sets of inters were wearing out. So nobody beat Vettel's time until Bottas turned a 1:16.693 with 26 minutes remaining.
Bottas, Vettel, Leclerc, Sainz, Hulkenberg, Ricciardo, Gasly and Kvyat were the top eight with 20 minutes left in the session. Hamilton and the Red Bull duo had yet to clock times.
Then Albon, on a nearly fresh set of inters, took the lead with a 1:16.399 followed by a 1:16.142. Then he pitted, and all 20 drivers were stationary with a dozen minutes left.
There were just five minutes to go when drivers went on track on the soft or medium compound Pirelli slicks. But it was still slick out there Verstappen spun on his at Turn 1. Kvyat spun in the same bend. Albon crashed into the barriers on his, and that brought out the red flags with three minutes left.
The top 10 at the end of the drying session were: Albon, Bottas, Vettel, Leclerc, Sainz, Hulkenberg, Ricciardo, Gasly, Kvyat and Norris.