Brazilian GP 2015
NOVEMBER 16, 2015
Race Report - Rosberg Rules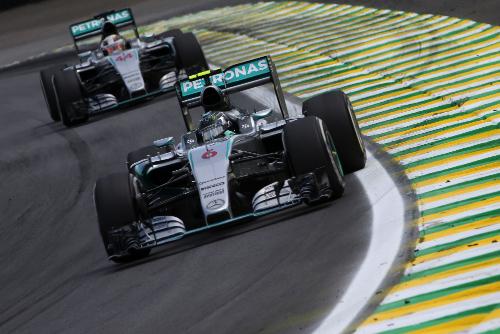 © Active Pictures
BY DAN KNUTSON IN INTERLAGOS
Nico Rosberg ruled the Brazilian Grand Prix. He qualified his Mercedes on the pole, took the lead from teammate Lewis Hamilton at the start, and stayed in front for all but six of the race's 71 laps. The only time Hamilton was able to get into first place was during the three rounds of pit stops. He led laps 13 and 14, 33 and 34 and 48 and 49.
Rosberg's win insured that he will finish second in the world championship.
"Wow - another great win in front of another great crowd!" said Rosberg who also won in Mexico two weeks earlier. "I'm so happy with that one, especially at this great circuit with all this history, which makes it extra fun. It was a perfect weekend for me. I was able to control the race the whole time and won with a comfortable margin to Lewis in the end.
"The team made a good decision to switch to a three-stop race as we saw that Lewis' tires went off very quickly. I want to remember at this moment also that we have to put our sport in a different perspective after the incident in Paris. My thoughts are very much still with the family and friends of the people involved."
Hamilton just could not get close enough to Rosberg as he would lose downforce and chew up his tires.
"I felt good out there today," Hamilton said. "I was pushing like crazy and genuinely had nothing left. I really love this track but it's so difficult to overtake. I was all over Nico but couldn't get past as the DRS Zone sadly just wasn't long enough.
"It would be great to do something different strategy-wise once in a while to mix it up - but as drivers we rely on the team. They do so many simulations that they know what's best. The three-stop strategy was slower but the tires wouldn't have lasted, so it was the right decision. At the end of the day, Nico drove a fantastic race and he's done a great job in qualifying recently too.
"Since Singapore the car has changed a bit which seems to have swung it towards him - but I just need to get my head down, work out why that is and get back on top of it for the final race."
Ferrari teammates Sebastian Vettel and Kimi Raikkonen qualified third and fourth and finished in the same positions.
"We were close as we had never been before," said Vettel who crossed the line 14.244 seconds behind Rosberg, "which is a massive achievement, considering that Mercedes was pushing all the way, as they had nothing to lose. For sure it is not the most exciting race when you are a little bit alone, but it is still a very nice track, enjoyable on every single lap.
"It's not easy to get everything right, looking after the tires but still trying to go to the limit. Overall I'm very happy. We know Mercedes have a very strong engine and Power Unit, a very strong car, and that both drivers are doing a good job. So that made their package very difficult to beat."
Raikkonen tried a two-stop strategy while just about everyone else pitted three times for tires. "Not much happened in my race today," he said. "The start was kind of ok, I had some wheel spin but I managed to keep the position and I could follow Seb (Vettel) down the corner. We had enough speed to keep the fourth position easily, but I had hoped to have a better feeling with the car.
"I was struggling a bit with the soft tires and then again with the mediums. They were ok for a few laps, when they were still new, but afterwards I was not so happy with the handling. Still, I don't think my race result would have been different if we had switched to a three-stop strategy, so we stuck to the two stops as planned in advance. My last stint was probably the best but obviously there was not much I could do at that point, as we were already too far away from the guys in front."
Valtteri Bottas clocked the fourth best time in qualifying but had a three-place grid penalty for passing a car when the red flags stopped FP2. He brought his Williams home in fifth place and in doing so he helped the team clinch third place in the constructors' championship.
"The start was the most exciting part of the race for me as I gained a few places," he said. "After that I just had to maintain the tires and make them work on a two-stop strategy. We are competing against teams that are much bigger than us, and in some cases beating them, which is really cool."
His teammate Felipe Massa finished eighth but was later disqualified because his left rear tire had temperatures and air pressures that exceeded the legal limits prior to the start of the race.
Nico Hulkenberg finished sixth for the third time this season, and his Force India team has now sewn up fifth place in the constructors' championship.
"It's the best result in our history and shows the progress we have made over the years," he said. "The race today was fun, although I didn't have the best start and got some wheel spin, which dropped me behind Bottas and Kvyat. Fortunately I was able to get one of those places back with an aggressive early pit stop, but that forced me to do two very long stints on the medium tires, which was the main challenge of the day. We made it work, though, managing the tires and delivering the two-stop strategy."
Daniel Kvyat started sixth and finished seventh in his Red Bull. "Today we extracted pretty much the maximum out of what we could have done," he said. "Unfortunately we got undercut by Force India at the first pit stop which compromised our race a bit. After that I was following Hulkenberg all the time and it was quite hard to find a place to overtake. We were stuck behind him trying to attack but they were controlling us in a straight line so it wasn't easy, I got in DRS range a couple of times but it didn't really help."
Eighth place went to Lotus driver Romain Grosjean. "It was a fun race," the Frenchman said, "and I enjoyed going through the field with some nice overtaking maneuvers with our aggressive race strategy. It was quite hard to follow the cars but we had good power to overtake into turn 1. It has been an emotional weekend so it is good to be back in the points. The next race will be my last one with the team and taking the checkered flag in Abu Dhabi will be very special but I will give my best to bring a good result."
Max Verstappen (Toro Rosso) and Pastor Maldonado (Lotus) rounded out the top 10.
"P10 was the maximum we could do today," said Verstappen who has scored points in six consecutive races. "On the straights we were slow and it's very difficult to defend position with a Lotus or a Force India unfortunately, but to add another point is always good. I enjoyed it out there this afternoon, and I managed to do some good overtakes, especially at Turn 1! There were some good battles, I was attacking but behind they were also doing the same to me, so I had no rest but it was good fun! I'm happy to finish in the top ten once again."
California's Alexander Rossi fought his Marussia all through the race and finished 18th. "Wow, that was a tough race," he said. "My first stint wasn't so bad, but in the second and third stints the balance was terrible and I was losing so much time with understeer. Will (Stevens) getting past was inevitable and I was pretty resigned to that fact. It's a shame, because the early part of the weekend was stronger for me.
"I would have liked my final F1 round of 2015 to have a better outcome, but I look back at the five races I've had since Japan and I'm pretty happy overall. It's been a totally positive experience and I know I've given it everything I've got. So now we wait and see what the future brings, but I want to thank the team for this incredible opportunity to show what I can do and I hope I've done that."
The teams now head to Abu Dhabi for the season finale.
"I look forward now to Abu Dhabi where I'll be pushing to end the season on a high," said Rosberg. "It's good to have secured P2 in the Championship in front of Sebastian (Vettel) today, but that's never really been my ambition. I want to be first, so I need to raise my game as this year it wasn't high enough."