Brazilian GP 2015
NOVEMBER 13, 2015
Practice 2 Report - Rosberg's Turn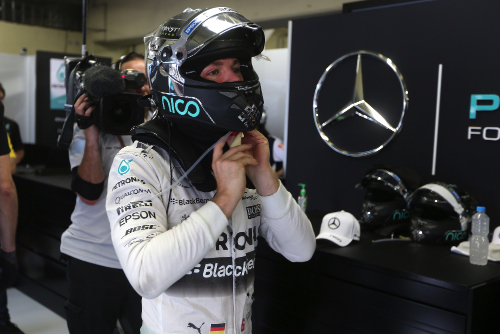 © Active Pictures
Lewis Hamilton was half a second quicker than Mercedes teammate Nico Rosberg in Free Practice 1, but Rosberg turned the tables in FP2 by being nearly half a second faster than Hamilton.
The line-up for the weekend was: Mercedes - Lewis Hamilton and Nico Rosberg. Red Bull Renault - Daniel Ricciardo and Daniil Kvyat. Williams Mercedes - Felipe Massa and Valtteri Bottas. Ferrari - Sebastian Vettel and Kimi Raikkonen. McLaren Honda - Fernando Alonso and Jenson Button. Force India Mercedes - Nico Hulkenberg and Sergio Perez. Toro Rosso Renault - Max Verstappen and Carlos Sainz. Lotus Mercedes - Romain Grosjean and Pastor Maldonado. Marussia Ferrari - Will Stevens and Alexander Rossi. Sauber - Marcus Ericsson and Felipe Nasr.
The ambient temperature at the start of the 90-minute session was 82 degrees Fahrenheit (28 degrees Centigrade) and the track temperature was 90 degrees Fahrenheit (32 degrees Centigrade). There was an 80 percent chance of rain, and there had been some drizzle spots prior to the start of the session. But the drivers headed on slick tires.
Verstappen was soon up to speed and clocked a 1:15.410. But the lap times soon began to drop down and Bottas went in front with a 1:14.621 only to have Rosberg beat that with a 1:13.793.
The drivers were concentrating on getting in laps, and all of them were on the medium compound Pirellis. Hamilton was now in second place with a time of 1:13.947. And then he was first with a 1:13.634.
20 minutes into the session, everybody was in the pits except Grosjean. The top six were: Hamilton, Rosberg, Vettel, Ricciardo, Kvyat and Bottas. The rain was holding off.
28 minutes into the session, Bottas clocked a 1:13.603 on the soft compound slicks. Others were also on the softs when Alonso parked his car at Turn 10, and that brought out the red flags.
After a 10 minute delay the session was restarted. Hamilton, on the softs, clocked a 1:112.843, and Rosberg beat that with a 1:12.385.
Just past the midway point of FP2 the top six were: Rosberg, Hamilton, Vettel, Raikkonen, Ricciardo and Bottas.
The drivers used the rest of the session to do long runs on the soft and medium compound Pirellis.
With 28 minutes remaining in the session, Bottas had a spin at Turn 9.
The top 10 in FP2 were: Rosberg, Hamilton, Vettel, Raikkonen, Ricciardo, Bottas, Grosjean, Hulkenberg, Kvyat and Massa.