Brazilian GP 2013
NOVEMBER 23, 2013
Practice 3 Report - Webber Rains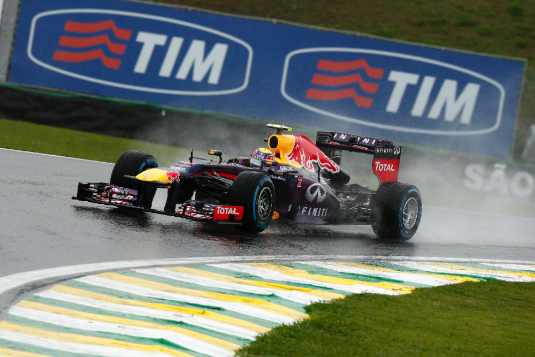 © Active Pictures
Red Bull driver Mark Webber reigned supreme as he set the fastest lap time in Saturday morning's Free Practice 3 session for the Brazilian Grand Prix.
Friday's rain stuck around for Saturday. The ambient air temperature at the start of the 60-minute session was 66 degrees Fahrenheit (19 degrees Celsius), and the track temperature was 70 degrees Fahrenheit (21 degrees Celsius.)
Esteban Gutierrez (Sauber) was the first out on a track wet enough to require the cars to run on Pirelli's extreme wet tires. Nobody seemed very anxious to go out, and the drivers took their time heading out for their installation laps.
Gutierrez was the exception and was circulating around. 8 minutes into the session, he posted a 1:34.671 and then he did a 1:34.129. He completed 7 laps before pitting.
13 minutes into the session, Lewis Hamilton (Mercedes) tried a lap but then immediately came back to the pits.
15 minutes into the session, everybody had done their installation laps except Toro Rosso teammates Jean-Eric Vergne and Daniel Ricciardo.
17 minutes into the session, Felipe Massa (Ferrari) was the only driver on the track. He then pitted and soaked fans watched an empty and wet track until Hamilton headed out for another go. The Mercedes team warned him that the water level on the track was higher than the last time he'd been out. He did a practice start, one lap, pitted, and then headed for pit exit to try another practice start. And pitted again.
33 minutes into the session, the fans watched the rain fall and no cars on the circuit. The teams were waiting for the rain to ease off before they did any serious running.
Midway through FP3 the top six was: Gutierrez. Nobody else had set a time.
Then Max Chilton (Marussia) and Nico Hulkenberg (Sauber) headed out to sample the conditions. Jules Bianchi (Marussia) joined them.
With 26 minutes remaining in the session, another driver finally turned a lap time: Chilton with a 1:36.654. Then Bianchi crossed the line to clock a 1:33.412, which beat Gutierrez's time by 0.717 of a second.
The rain had abated a bit, and more drivers took to the track including Red Bull's Sebastian Vettel and Williams driver Valtteri Bottas.
With 23 minutes remaining in the session, Bottas went quickest with a 1:32.772.
With 21 minutes remaining in the session, Vettel beat that with a 1:31.857.
With 20 minutes remaining in the session, only eight drivers had set lap times. But more drivers were now lapping including Hamilton who jumped to the top with a time of 1:29.980 as Gutierrez moved into second with 1:31.121.
With 15 minutes remaining in the session, Hulkenberg was now third and Adrian Sutil (Force India) fourth. 12 drivers had set times. Ricciardo finally headed out for his first installation lap.
With 10 minutes remaining in the session, Chilton slid off the track as Turn 4 and continued. And Mark Webber headed out.
With 8 minutes remaining in the session, Webber went fastest with a 1:29.493 while Bianchi slid off at Turn 10. On his next tour Webber clocked a 1:27.891 as Pastor Maldonado (Williams) turned a 1:29.686 only to have Bottas beat that with a 1:28.600.
With 6 minutes remaining in the session, the lap times were coming down as the track dried enough for some drivers to try Pirelli's intermediate wet weather tire.
With 2 minutes remaining in the session, Heikki Kovalainen, with inters on his Lotus, moved into second with a 1:28.595. His teammate Romain Grosjean, also on inters, beat that with a 1:28.195.
McLaren's Jenson Button, Ferrari teammates Felipe Massa and Fernando Alonso, and Mercedes driver Nico Rosberg all did installation laps but no flying laps.
The top 10 at the end of FP3 were: Webber, Grosjean, Kovalainen, Bottas, Hulkenberg, Vergne, Gutierrez, Maldonado, Paul di Resta (Force India) and Sutil.