Brazilian GP 2013
NOVEMBER 22, 2013
Friday Team Quotes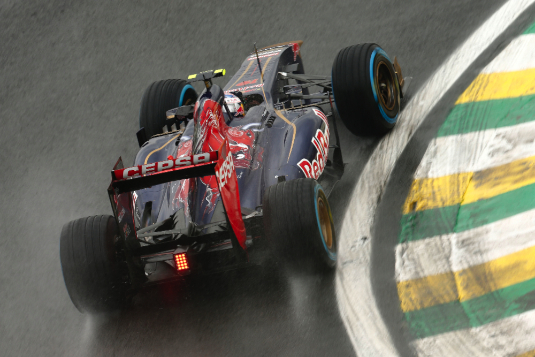 © Active Pictures
Red Bull-Renault
Sebastian Vettel (2nd, 1:27.531): "We knew it would be wet today and might be tricky. The main loss from the rain was that we didn't run on the 2014 tyres. Not many people went out this afternoon in order to save tyres for the weekend - it's a bit of a shame for those in the grandstands, but unfortunately it's like this. Come Saturday and Sunday, we may need to have the tyres available. It was good to get a bit of a base line in these conditions; we need to be sharp for the next two days and make the right calls."
Mark Webber (3rd, 1:27.592): "We were working on understanding the tyres in both conditions today, we had the full wet and intermediate tyres on the car and we did quite a few laps considering most people only used one set of intermediate tyres. It was a productive day in preparation for tomorrow, as we expect some more wet conditions. We have to understand the inters on both long and short runs and also try to save tyres, so it was a testing day for the teams, but overall we got what we could out of the day."
Ferrari
Felipe Massa (7th, 1:28.540): "Today was a difficult day, complicated by the rain in both the morning and afternoon. With the track wet throughout, we chose to do not much running and what we did was on Intermediates. That way we managed to save the sets of Extreme Wets, in expectation of very variable weather over the weekend. It's hard to establish how the weekend will go, because even if we weren't quick today in the rain, it's too early to say what conditions will best suit our car. It will definitely be important to use the tyres well and to get confident with the track. For me, this is a very special weekend, my last race with Ferrari on my home track. I am racing here with an all-red helmet and a fantastic race suit, given me as a sign of affection by my team, with whom I hope to end the season in the best way possible."
Fernando Alonso (11th, 1:28.928): "It's always hard to get much running when it rains here, as the level of water on track is never consistent and can affect lap times by two to three seconds. Each time you go off the racing line you then have to try and understand the track conditions at that precise moment, because there are no absolute values. But given that the forecast for the weekend is similar to today's, we can say that, even if it was short, it was a good practice. Qualifying and the race will be very complicated from the strategy point of view and, on that front this evening we will have to come up with a good plan. To do well here, you also need a bit of luck, because in conditions like this, being in the right place at the right time is always a help."
Pat Fry: "On Friday, it's always difficult to work out the hierarchy in the pit lane, especially in mixed conditions like today's. In the morning we carried out some practice starts, as well as pit stops and constant speed runs, which will provide useful data when it comes to working out the best set-up for the wet. As it is also expected to be wet tomorrow, in the second session, we opted to save the tyres, only going out for the final half hour. Even if the total number of laps over the two sessions is not enough to give an accurate picture of where we stand in terms of our competitiveness with other teams, I don't expect anything very much different from the last few Grands Prix. This evening we will try and evaluate our performance as well as possible compared to the opposition and will prepare to get everything out of the car both in qualifying and the race."
McLaren-Mercedes
Sergio Perez (17th, 1:30.748): "It's very difficult to know accurately how our car is performing - I didn't do too many laps in either session, and those that I did were done in different conditions from our rivals. I'm not perfectly happy with the set-up - but, at least by doing some running, we have an understanding of what we can change for tomorrow. If the conditions stay the same for tomorrow, I think we'll take a step forward. If the weather stays dry, we know where we'll probably end up; but if it's wet, we could have a stronger race. Our current forecast says it'll be wet for qualifying, and that it's 50:50 for the race. But you just never know in Sao Paulo..."
Jenson Button (22nd, 1:31.770): "It was very slippery out there today - we even had high-speed aquaplaning along the straights, which was unusual. Fortunately, we got a lot of miles under our belts in this morning's session - we felt the conditions were consistent enough for us to conduct some running on the Intermediate tyre. We did a longer run on high fuel, and also did a single-lap run on lower fuel - on each occasion, the car seemed okay. The afternoon session was more about waiting for the weather to settle down enough for us to continue running on Inters. That would enable us to back-to-back our morning run in order to measure the changes we'd made between sessions. We got some useful information. In these conditions, it would've been nice to have more tyres to play with - the wet weather presents more of an opportunity for us, but it's also more of a risk, so we'll see how the rest of the weekend pans out. Typically, the forecast suggests that it will be unpredictable for the remainder of the weekend."
Martin Whitmarsh, Team Principal: "You can take nothing for granted at Interlagos and this place once again showed its capricious side by hurling the elements at us during both of today's free practice sessions. It's something we've come to expect - and even enjoy - from such a mighty racetrack. As such, while we were able to complete a useful number of laps - particularly during the lighter rain that fell this morning - we still don't have a conclusive read on pace and performance ahead of Sunday's race. Still, I'm sure our engineers were kept busy collecting data during both sessions, and we'll put that information to good use tonight as we leave no stone unturned in our efforts to refine our cars' set-up for qualifying tomorrow."
Lotus-Renault
Heikki Kovalainen (4th, 1:28.129): "Obviously, it was challenging conditions but it was good for me to get the experience in the wet weather. There were no big surprises and the car was behaving quite well. It was a little bit trickier than driving in the dry, but we expected this. That said, I think the team have made good progress in this area as it wasn't too difficult to drive. There are still a couple of areas where we can improve on, and whether we have valid information for tomorrow's weather we don't know yet."
Romain Grosjean (10th, 1:28.891): "It wasn't perfect weather and we still have some progress to make on the wet set-up for conditions like we had today. In the morning it was a struggle for grip with too much understeer, but we made progress in this area for the afternoon and have a few ideas about how we can improve further for tomorrow. It's certainly a challenge with the spray and standing water, but despite this it's still awesome to be driving around Interlagos."
Alan Permane, Chief Race Engineer: "We've gained strong data using both of Pirelli's wet tyres. Romain wasn't happy with his set-up in the morning, but he was much happier in the afternoon. Heikki continues to get comfortable with the car and in the team and showed great pace in the wet in the afternoon with the fourth quickest time. We're happy with today's work."
Mercedes GP
Nico Rosberg (1st, 1:27.306): "Today I had a good start into the weekend, and I was very quick in the rain even though we don't really know about the fuel levels of the other teams. Therefore we need to read the time sheets with some caution. But generally I have higher hopes now that perhaps we can give Red Bull a hard time this weekend. We all know that the weather plays always a big role here at Interlagos and can catch you out. We were not able to run that much but the track feels really great and it was great fun to be out there and find the limit in these difficult conditions."
Lewis Hamilton (5th, 1:28.147): "The conditions were tricky out there today and it's a real shame for the fans that they didn't get to see more action on track. Of course, it's frustrating for us drivers to be sitting in the garage for so long but I really feel for everyone who has made the effort to come here to the track. We were able to get some running during the two sessions and that will be useful as the conditions for the rest of the weekend look pretty much the same. I'm struggling a little to get the feel of the car in the wet, and that's really been the same for me with our car all season, so we have some work to do overnight to see where we can make improvements. I'd really prefer a dry weekend but that's out of our hands."
Ross Brawn, Team Principal: "That was an interesting day which could well be relevant for the rest of the weekend - certainly for tomorrow and perhaps even for Sunday. The balance of the car wasn't too bad on either the intermediate or the full wet tyres but, in common with our rivals, we don't have any data on how it will be in dry conditions. Overall, it was a useful and straightforward day in the context of preparations for the possibility of a wet qualifying session or race."
Toto Wolff, Mercedes Motorsport Director: "We had two decent sessions today, which further confirmed the tendency already seen this season that our car performs well in mixed conditions. However, the forecast is so inconsistent that we need to ensure we have the right compromise for both wet and dry as we cannot assume it will be a wet race. So we will be working hard overnight to make sure we are in good shape whatever the weather."
Sauber-Ferrari
Nico Hulkenberg (8th, 1:28.560): "It was a strange Friday. It's difficult because we don't know how the weather is going to be over the rest of the weekend. If it is wet, as it was today, then the running we did was useful. But if it's dry then we don't have much experience. In terms of the running, I'm not too happy with the car today. I think we have quite a bit of work to do regarding the balance in the wet, on both intermediate and full wet tyres. There is room for improvement and I hope we can find some gains in that direction."
Esteban Gutierrez (12th, 1:29.049): "Obviously it was a very wet Friday, which made it difficult to follow the programme we had planned. However, it was useful to gain experience in the wet. In the morning we ran on the intermediate tyres, while in the afternoon we ran on the full wet tyre compound, so we were able to get a comparison there. Tomorrow we just need to be ready for anything, as we are not sure how the weather will be. We simply need to find the right compromise on the set-up, because it doesn't look like it's going to rain on Sunday. Today the balance of the car improved from the morning to the afternoon. It's my first time driving here, but it was strange because I felt like I already knew the track from choosing it so often on my PlayStation when I was younger. It was a bit slippery today, but I feel comfortable."
Tom McCullough, Head of Track Engineering: "As the forecast predicted, the two practice sessions were wet today giving us some experience on both the intermediate and the full wet tyres. It was not ideal for Esteban who was trying to learn the track. However, he did a good job. We evaluated some mechanical development parts for next year and were still able to complete that programme, which was good. The drivers were not very happy with the balance of the car initially, so we worked on that and made some progress. However, there is still some work to do tomorrow, as the forecast is potentially for more rain."
Force India-Mercedes
Paul di Resta (13th, 1:29.174): "After missing the morning session I did my best to get up to speed quickly with the wet track. The balance on the intermediates is not too bad and I think we know the areas we need to improve tonight. So it looks like we are in reasonable shape and the car appears to be working better in the wet conditions compared with earlier in the season. I didn't get the opportunity to complete the ideal lap this afternoon so I think there is more time to come from the car tomorrow."
Adrian Sutil (15th, 1:29.783): "We tried a lot this morning and I was one of the cars to do the most laps. We ran through some different options with the set-up to try and improve our performance in the wet. I spent most of the morning on the intermediate tyres and stayed on the same set for the afternoon to make sure I have some new sets available for qualifying and the race. After such a busy morning we didn't run so much this afternoon and my performance was compromised by using the old tyres. So I think it's fair to say that my laptime in FP2 is not that representative. The most important thing was to understand how the tyres work in the wet."
James Calado: "It was my first experience of driving a Formula One car in the rain and the conditions were quite difficult. It was important not to take any risks so I held back a little bit, but I was reasonably happy with my pace and ended up just three tenths away from Adrian. I only managed nine laps, but that was enough to give the team some data and give me experience of the damp track conditions. It was also my first time at Interlagos and my initial impressions are positive. It's quite high-speed with some fast and flowing sections, and it's also quite a technical lap."
Robert Fernley, Deputy Team Principal: "A damp day at Interlagos saw us run a reduced programme with both cars on the wet and intermediate tyres. With no dry track time it means we missed the opportunity to sample the 2014 development tyres, which is a shame. With the wet weather likely to continue over the weekend, the drivers simply focussed on trying to understand the tyres and improving the drivability of the car in the wet conditions. Adrian's morning programme was quite extensive and he ran through a lot of different options, which will help us with our decision-making overnight."
Williams-Renault
Pastor Maldonado (14th, 1:29.717): "It was a limited day today because of the weather and the tyre restrictions. The driving conditions were difficult with a lot of aquaplaning on a track that is normally fast. I think we understand the tyres more so that is a positive and hopefully we can capitalise on that for tomorrow."

Valtteri Bottas (16th, 1:30.425): "Wet conditions throughout both practice sessions disrupted our running today but we still managed to try different tyre pressures and temperatures to gain some more information. We have a lot of work to do get the tyres in the optimum window, especially if it's going to be wet this weekend. We will sit down and analyse the data to work out the best set-up for tomorrow."

Xevi Pujolar, Chief Race Engineer: "We ran intermediate tyres throughout FP1 this morning, changing the rear wing level to suit the conditions but remaining on a dry mechanical set-up. We tested different tyre pressure levels in the wet to try and get more grip as overall we were struggling in the tricky conditions. As the rain continued to fall harder, full wet tyres were required for FP2 but we limited running in order to save tyres for the rest of the weekend. We did a run on intermediates right at the end and found some improvements but in the slippery conditions it was difficult today. Despite the limited running it was useful to get some track time in these conditions though as qualifying is expected to be similar, with a chance of rain also forecast during the race on Sunday."

""
Toro Rosso-Ferrari
Jean-Eric Vergne (6th, 1:28.405): "Usually, I am comfortable in the rain, but this morning the car didn't feel right and so in a way I was pleased to learn the team found that something was not quite right and it was fixed in time for this afternoon, when it all felt much better. Given my lap time on quite worn Intermediates, I think we are looking in reasonable shape. I waited a while before going out, because with the limited number of extreme wet tyres, you have to think of saving them for the rest of the weekend. So it was a usual Friday in most respects, except that we didn't do so many laps, which is a shame on what is a lovely track to drive. We still need some work to do to improve the car further, but we have a good baseline to start from."
Daniel Ricciardo (9th, 1:28.739): "I don't think only having the one session today affected me very much, even if we ran less than the 90 minutes because of the weather. I got a couple of runs, one on the extreme, the other on the inter. It was still productive even with the limited time. As always, we have some work to do, but I don't think we look too bad in these conditions. We need to improve grip in the rear to stabilise the car in for the wet. If we get on top of that tonight, we can have a good car for the rain and I am confident that if it stays like this, we can get two cars into Q3 tomorrow."
Daniil Kvyat: "It was a very positive experience today, running in the wet. I got a reasonable lap which was good enough for P8. Towards the end, we had to limit my track time a bit, doing fewer laps than would have been ideal, because we had to save tyres for the next session of course. I ran the intermediate tyre and in a way, it was a shame it didn't rain harder so that I could have also experienced driving on the extreme rain tyres. This is a really nice and technical track and it seemed quite grippy today, which is good as this was the first time I ever drove a Formula 1 car in the wet. Overall, with this morning, then last week in Austin and the running before that, I now have a lot of confidence in the car. I have got used to the power, I am getting used to the downforce and also the brakes."
Caterham-Renault
Giedo van der Garde (19th, 1:31.118): "I drove here last year in FP1 and had a good session then so I already knew the circuit which meant we could get on with the programme quickly in FP1. The track looked wetter than it felt after the installation lap so we switched from wets to inters for the baseline run and I was pretty happy with the balance to start with. The rear was a bit unpredictable, a bit loose, but the front end grip was good, particularly in the high speeds and for me, in conditions like this which I really like, it felt ok. Run two was a couple of single laps with a stop in between to allow us to do some launches and live pitstop practice, but after the stop the car developed an upshift issue which meant I had to get it back to the garage in second gear. We took a look at it and found it was a software issue so it was fixed quickly which meant I could put in a final run at the end of the session, finishing up with 18 laps which, considering the condition of the track, wasn't too bad. FP2 started well. We waited a bit at the start of the session and then headed out on wets and I had a decent outlap, giving me good grip and giving me a car I could push with right from the first flying lap. There was a little bit of tyre dropoff, but I was pretty happy with the performance and the balance on full wets. For most of the rest of the session we waited until the water levels on track had dropped enough for inters and went out for the last run with 15 minutes left, putting another 12 laps on the board in the sort of conditions we had on race day last year, and which we'd obviously like again this year. I have to say that the car feels really good in the wet - the last couple of times it was like this was Spa and Monaco, two of the real highlights for me this year, so if we get that again I think Sunday could be really interesting."
Charles Pic (20th, 1:31.165): "We started FP1 with the usual installation lap, using wets to begin with but the track conditions were ok so we went to inters for the first full run. The initial balance was ok but towards the end of the run we stopped for another set of inters with lower tyre pressures and that gave an improvement in front grip, but at the expense of overall balance. At the end of that first run the rain started again so we changed the runplan so we could run through some procedures and make sure we didn't use up the tyres. We waited to go out again until the end of the session when the rain had stopped falling and for me it was a pretty useful session, particularly bearing in mind what might happen with the weather this weekend. Like most of the other cars we waited for the rain to stop at the start of FP2 and then headed out for our first run on full wets. The track was very wet with the car aquaplaning in quite a few places but we put in a couple of laps before a sensor issue meant we had to come back in. By that point the weather wasn't good enough for inters and, wanting to hang on to as many sets of wets as we can for Sunday, we opted to wait until the last 15 minutes before heading out again on inters. We've accumulated enough data from today's wet running to give us a lot of really useful information for the rest of the weekend - now we'll have to see what the weather does tomorrow and Sunday."
Marussia-Cosworth
Jules Bianchi (18th, 1:31.061): "The weather has defined our sessions today but we have made some good progress for the different situations we may face during the rest of the weekend. Once the racing line started to dry a little we could have more confidence to push, but on my quick lap on the intermediate tyre I made a few mistakes, so there was definitely more to come. There is still quite a lot to focus on in terms of the balance so another long night of work to do with the engineers."
Max Chilton (21st, 1:31.211): "It is an important weekend for us so with Rodolfo having taken over my car this morning, I spent that session focusing on the feedback being given to the engineers by him and Jules in light of the track conditions. This afternoon I was finally able to sample the track for the first time and it's a great circuit but pretty challenging in the wet. We've made good progress in tricky conditions and worked through a few scenarios for what could be changeable weather over the next couple of days, although we are hoping we have seen the worst of the rain. Generally I'm really happy with the pace."
Rodolfo Gonzalez: "Today was my ninth Free Practice 1 session at what is the closest event to my home race, so it was nice to have a clean session, although it was hampered by the rain. We did achieve 19 laps though and a lot of our planned wet weather scenario programme, so the information will be useful for the rest of the weekend. I wish the Team all the best of luck now for the right outcome on Sunday."
John Booth, Team Principal: "We came to this event with no significant developments for Friday, however we were geared up to do a comprehensive assessment of the 2014 tyres. Unfortunately this program had to be put to one side due to the weather but that said, we have still done some good testing today. The wet conditions have been an area where we have never been 100% happy with car balance and performance and it was good today to spend significant time working on this. It appears we have made some progress in the afternoon session and it was good to also get both drivers to feel the cross over from the extreme tyre, which will be good experience if it is wet for qualifying or the race - or both! It looks like the weather is still unpredictable for the next two days, however we can be confident that we have conducted some good preparation for that situation and we hope to get some dry running in FP3 to see how the car behaves more generally at this circuit."