Brazilian GP 2012
NOVEMBER 26, 2012
Race Report - Vettel's three-peat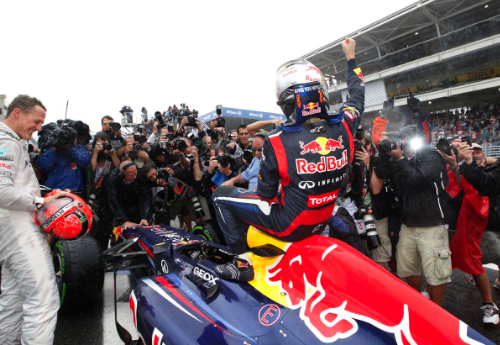 © Active Pictures
By Tony Dodgins
When all is said and done, Sebastian Vettel joined Juan Manuel Fangio and Michael Schumacher as the only men in the history of the F1 World Championship to win a hat-trick of successive world championship titles.
That is the fact, but the season-closing Brazilian GP was pure theatre from beginning to end.
From the moment the teams landed in Brazil the race day weather forecast was ominous, with a 96% chance of rain. It was exactly what Ferrari and Fernando Alonso had been hoping for.
In 2012 races unaffected by rain, Vettel had 248 points to Alonso's 192. In rain-affected races, Alonso had 68 points to Vettel's 25.
"And that's Fernando, not the car," said Ferrari's technical director Pat Fry.
Literally minutes before the start the drizzle began. It wasn't heavy enough to demand intermediate Pirelli tyres but it was enough to make the surface greasy and slippery.
The front row McLarens of Hamilton and Button got away well but third-placed Mark Webber didn't do Sebastian Vettel too many favours at the first corner.
Vettel knew exactly what he had to do. Starting with a 13-point advantage, if Alonso somehow won, Sebastian needed to be fourth or better; if Alonso was second he needed to be eighth; and if Alonso was third he need to be ninth.
Let Sebastian take up his story: "The start was okay then Mark squeezed me to the inside. The angle into Turn 1 became worse and I had to back off, slow down and go down to first gear because it's so easy to lose a front wing.
"Everyone came around the outside using their extra momentum and I lost positions. Down the back straight to Turn 4 I benefited from a slipstream, Paul (Di Resta) was behind, then I was hit in Turn 4 for no reason by Bruno (Senna). Probably he was fighting someone, was on the inside, it was drizzling and slippery and maybe he forgot...
"For him it was probably like I said about Turn 1, your angle gets smaller and mine was the car he used to stop - boof!
"So there I am facing the wrong way at T4... I came off the brakes and rolled downhill trying to avoid cars, driving backwards. I didn't know how bad the damage was but we got going again.
"Then my pace in dry conditions was not there. I was stuck behind Kamui (Kobayashi), was slow on the straight and the tyres were not good. The floor didn't look nice and I was lucky to be able to continue.
"Then we lost the radio - not exactly what you want in those conditions!"
There was frantic activity at Red Bull as they generated stills from TV images, expanded them and rushed them out to the pit wall so that Adrian Newey could assess the damage.
He didn't like what he saw. Apart from damage to the floor at the rear, which would obviously rob Vettel of downforce, the exhaust tail pipe was kinked. Exhausts are trick pieces of kit on F1 cars these days, they are tightly packaged and apart from the likelihood of it costing Vettel some power, the concern was that it would break, overheat and set the bodywork alight. Christian Horner's 'nervous foot' ran higher taps-per-minute than ever before..."
To make matters worse, Alonso was on the move. Up from seventh to fifth on the opening lap, he swept inside both Webber and team mate Massa into Turn 1 on lap 2, as Felipe did a sterling job to assist his cause.
Nico Hulkenberg was also doing a storming job, soon up to fourth in the Force India, who also had Paul Di Resta running seventh. Hulkenberg, in fact, was flying. On lap 5 he demoted Alonso and was only a couple of seconds behind the McLarens - Hamilton leading but shadowed by Button.
As the rain started to increase, Jenson, always a master in these conditions, passed Hamilton to lead the race on lap 8. Three laps earlier Raikkonen had pitted for intermediates but his lap times were still a second and a half away from the McLarens on their used medium compound Pirellis.
Soon, more drivers went for the treaded tyres: Kobayashi, Schumacher, Rosberg, Ricciardo and Webber had all pitted for intermediates by lap nine and were followed in next time around by Hamilton, Alonso, Vettel and Di Resta.
"I wasn't sure," Alonso admitted later, "but we weren't in a position to be able to risk sliding off."
Button and Hulkenberg, however, gambled and stayed out. The young German took a memorable pole position for Williams in similar conditions in 2010 and confidently outbraked Button to lead on lap 18.
Their nearest challenger among the stoppers was now Hamilton, some 15s behind. The gap was growing all the time as the track dried and everyone on intermediates started to struggle. They were all back in to go back onto dries around lap 18 and suddenly Hulkenberg and Button, still on the Force India's gearbox, had a 45s advantage at the front. It looked all over, the race between the pair of them.
On lap 22, however, there was contact among the tail-enders and debris on the circuit. Alonso, as might have been expected, radioed in that it was definitely "a safety car situation."
Moments later came the confirmation "safety car deployed,' a situation that Force India's deputy team principal Bob Fearnley called "a joke."
As they all closed up in line astern behind the official Mercedes, the order was Hulkenberg, Button, Hamilton, Alonso, Vettel, Kobayashi, Webber, Di Resta, Ricciardo, Raikkonen.
"We need to go quicker, we're losing too much tyre temperature," said an anxious Button on the radio. By the time the stragglers had been allowed to unlap themselves we were away again on lap 30 of the 71.
Again there were anxious moments for Vettel at the restart as, slow on the straight, he found Kobayashi inside him into Turn 1 and team mate Webber on his outside, again not doing him any favours. Mark outbraked himself, however, and dropped back down the pack to 14th.
There followed a period of relative sanity with Alonso running fourth and Vettel sixth, just behind him on the road, Fernando on used mediums and Sebastian on new primes.
Button and Hulkenberg had both taken the opportunity to pit for a new set of prime tyres under the Safety Car but Hamilton got around his team mate at the restart to take second place. He didn't seem to be able to do anything about Hulkenberg though, Nico maintaining a 2s lead with some impressively consistent laps.
Around lap 48 though, heavier drizzle returned, Hulkenberg half spun and Hamilton was through into the lead. The Force India driver did not give up and quickly started to draw Hamilton in again.
On lap 52 Vettel peeled out of his seventh place and stopped for another set of medium compound Pirellis.
"We did the stop at the wrong time," he admitted. "Formula 1 spends a fortune on high tech weather forecasting equipment but if you really knew, you wouldn't stop for dries a lap before it rains!
"I came back two laps later for intermediates and they weren't ready because we had no radio!"
So it had been an extra stop and with most averaging around 22-23s, Sebastian's intermediate stop took 28s. It looked as if it was all starting to slip away from Red Bull. And even more so when, on the same lap Hulkenberg, trying to retake the lead from Hamilton into Turn 1, lost the back end, clouted the McLaren's left front and put Lewis out of the race.
Hamilton had been determined to leave McLaren with another win and the disappointment was palpable as he stalked back to the team garage for the last time. Hulkenberg was given a drive through penalty and would still make it home a deserved fifth after a fine drive. A class act, he walked straight down to McLaren, shook Hamilton's hand, apologised and wished Lewis well.
There followed a universal rush for internediates as the rain increased and once that had shaken out, Button led by 16s from Massa, with Alonso catching his team mate and obviously about to be waved through into second place and 18 points. Vettel, flying on his intermediates, was seventh with 11 laps to go. Which was enough.
"In the wet you can make up time," he said. "I wouldn't say with commitment because everyone was committed, but you can drive different lines. We definitely benefited from the time on intermediates.
"But I didn't know if I'd done enough. I'd been told it should be fine, then I saw the crash from Nico and Hamilton and I knew they had been ahead of Fernando, so I didn't know again!"
The car in front of Vettel was now Schumacher. The pair form something of a mutual admiration society and so it was no surprise when Michael offered little in the way of resistance. Sebastian was now sixth.
Up ahead, Button was comfortable but Alonso was indeed now second, from Massa, Webber and Hulkenberg. If push came to shove, Red Bull would slow down Webber and drop him back behind Vettel, but that would only mean fifth. Vettel's nightmare was that something would befall Button in the last 10 laps...
McLaren was already contemplating what might have been. They had looked to be set fair for a 1-2 until Hulkenberg began his heroics. That would have ensured second place in the constructors championship ahead of Ferrari, a difference of around £10-£12m. So there was irony when Force India, who enjoy a technical collaboration with McLaren, put a spoke in that wheel!
On lap 69, with just two to go, Paul Di Resta lost the other Force India coming through the long left onto the front straight and put the car into the wall, bringing about a Safety Car that was effectively race and championship-ending.
"We limped home under the Safety Car and to get told it was okay again was unbelievable!" Vettel said. "Of course they couldn't hear my answer... Christian came on the radio and listed all the triple champions I'd joined, but he missed out Prost and I couldn't tell him!
"That was the toughest race I've ever had but I never thought it was Game Over."
At the tail of the field the drama was just as tense and could not have been scripted.
The financially all-important 10th place in the constructors' championship, worth about $10m to Caterham if they could finish 12th or better in Brazil and ahead of Marussia, was at stake.
With six laps to go Vitaly Petrov managed to overtake and beat Marussia's Charles Pic - a Caterham driver in 2013! -- to take 11th place by 1.6s.
"That was massive for us," said Caterham sporting director Steve Nielsen. "Twenty races is a long season but you've got to push right to the end. Vitaly passed Charles when they moved over for the Ferraris. I said on the radio, 'Make sure you tuck in behind and see if you can get past him and, two or three corners later, he did.
"We were expecting it to be more of a battle than that. You then think, 'For God's sake don't fall off...' There was a lot of money, big numbers, riding on that.
"I think Marussia have finished in front of us on the road twice this year - the first was in Melbourne, where they were 14th. We took it back off them in Monaco, where we were 13th, then they got it back from us in Singapore, where they were 12th.
"They've done a good job but we did feel that if there was any justice, having beaten them 18 times out of 20 on the road, we would get it back. I feel for them, it can be a cruel business...
Marussia team principal John Booth echoed that: "Disappointed doesn't even come close...." he lamented.
Team president Graeme Lowden added: "It's disappointing for everyone who has worked so hard. And because we made all the right calls in the race and got Timo (Glock) a long way ahead of both Caterhams until the Safety Car wiped that out.
"We still felt confident of beating them, then somewhere between Turn 12 and 13, just before the restart, Vergne ran straight up the back of Timo -- just smashed his car.
"Even after that we got Charles into a good position and his pace with the dry tyres on the wet track allowed him to pull a gap on Petrov. Then a Toro Rosso pitted and moved everyone up.
"It all started to get a bit more important and on the intermediates Petrov just drove past him on the straight when they had the blue flags for Alonso. He used the situation to his advantage, which was fair enough, but he did seem to just drive straight past."
Did they have concern that the man they were depending on is driving for Caterham next year?
"No," Lowden said, "Charles is a professional and wouldn't have wanted to be overtaken."
Epic stuff, from front to back. For drama, we thought Interlagos 2008 could never be surpassed. This one came very close.