Brazilian GP 2012
NOVEMBER 24, 2012
Qualifying Report - All McLaren front row in Brazil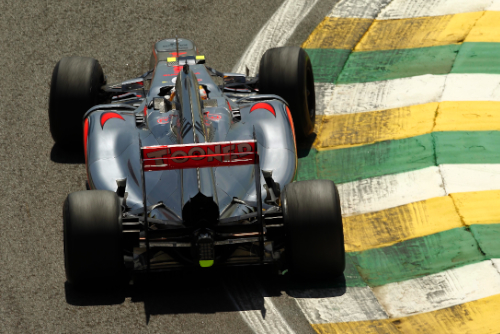 © Active Pictures
Lewis Hamilton (1:12.458) and Jenson Button (1:12.513) locked out the front row of the grid for tomorrow's championship-deciding Brazilian GP at Interlagos.
It was the fourth all-McLaren front row of the season and increases the heat on championship aspirants Sebastian Vettel (1:12.760), who qualified fourth, and especially Fernando Alonso (1:13.253) who qualified eighth but starts seventh after a 10-place grid penalty for a third reprimand (mising a weight check) is applied to sixth-placed Pastor Maldonado (1:13.174).
It was Hamilton's 26th career pole and his seventh of the season as McLaren heads into the race hoping for a 1-2 finish that would see the team overhaul Ferrari for runner-up slot in the constructors' championship.
The big question mark is the weather. The forecast for Sunday in Sao Paulo is 96% rain with some sources predicting 10mm in the one day. Quite when and at what intensity is unpredictable , although qualifying itself, at least Q1 and Q2, were held in changeable conditions.
Mark Webber (1:12.581) was the quicker Red Bull driver in qualifying as Vettel ran wide in Turn 4 on his first Q1 and was then forced into a more conservative second run than the banzai lap he could have afforded if his first run had been a banker.
At Ferrari too, the usual number two was quicker than the championship aspirant as Felipe Massa (1:12.987) lines up fifth, a quarter of a second faster than Alonso.
The Spaniard's understeering Ferrari looked suspiciously as if it had been optimised to give him the best possible opportunity in a wet race, a fact his post session comments also hinted at heavily.
"I think I did a good qualifying," Alonso said, "and given how the last few races have gone, my chances of making it onto the podium are still intact. That will be my objective because I know that, at least under normal circumstances, we are not in with a chance of fighting for the win.
"I also know that if I am to have any hopes for the title, it's more plausible to count on a retirement for Vettel rather than for him to finish in a position where I can get ahead of him in the classification.
"Obviously I am therefore hoping for a chaotic race and so the rain could be an important factor even if, in the wet, it's riskier for everyone."
Alonso then claimed that his car had not been particularly set up for the wet, given that there is not so much difference between wet and dry set-ups these days, and that Massa had performed above the norm to outqualify him. But then he would say that, wouldn't he?
Alonso must finish on the podium if he is to overhaul the 13-point advantage that Vettel heads into the race with and, as he says, hope that Sebastian does not score.
While he has only failed to make it onto the Interlagos podium three times in nine attempts, Alonso could have a nervous Turn 1 from the middle of the grid.
Kimi Raikkonen (1:13.298) and Nico Rosberg (1:13.483) completed the top 10 qualifiers while Michael Schumacher will make his 306th and last F1 start from 13th on the grid after Maldonado's penalty is applied.