Brazilian GP 2012
NOVEMBER 23, 2012
Friday Team Quotes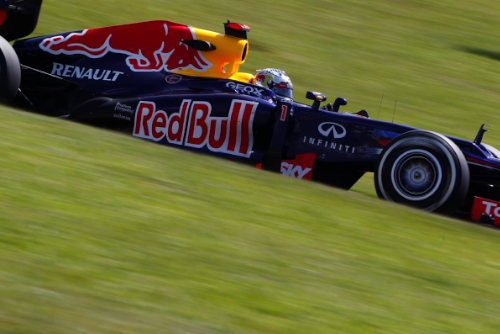 © Active Pictures
Red Bull-Renault
Sebastian Vettel (2nd, 1:14.300): "It was alright today, it was very slippery for everyone. It was quite hot today and in terms of track conditions not that easy, so I think everyone suffered the same kind of problems looking for traction and stability etc. So far we can be happy, we have to do our homework now, first comes tomorrow morning and we go from there."
Mark Webber (3rd, 1:14.523): "The track was slippery today, it's very hot. I think we're all a little bit surprised by the lack of grip we had, but we got what we could out of today in these conditions. We got through plenty of stuff and also did a bit of'13 work, which was useful. It's the last test before next year, so we made the most of the beautiful sunny day in Brazil, before we go to colder Jerez in February."
McLaren-Mercedes
Lewis Hamilton (1st, 1:14.026): "I'm savouring every moment It's been a positive first day - I hope we can maintain our form or even progress it tomorrow. We're certainly looking strong, but this place can be so tough on tyres that it's hard to make any accurate predictions at this stage. The track and ambient temperatures were so high today that it felt almost as though I was sliding around the track with the tyres melting! Having said that, our long runs are usually tougher on the tyres [than shorter runs], but our long runs still looked quite good today. It's great to have such a positive final Friday with the team - it's been one of the best Fridays we've had for a long, long time, in fact. I'm savouring every moment of this weekend, and I'll be taking photographs of my engineers and mechanics through each day. The car feels really good - thanks, guys - and it would be the perfect Saturday if I could take pole tomorrow."
Jenson Button (8th, 1:14.863): "We were running a lower downforce set-up package to Lewis this afternoon. It was quite an interesting comparison, but, in the hot weather, lower downforce makes things trickier because the car slides more, which hurts the tyres. Still, it was a useful test, because we needed to see how well the smaller rear wing works. Obviously, it operates in a different way [from the higher-downforce set-up package], so we wanted to be able to understand that. Using the smaller rear wing, our long-run pace was surprisingly good. However, our single-lap pace wasn't as strong - probably because we weren't able to use DRS as fully as we could with the bigger wing."
Martin Whitmarsh, Team Principal: "Topping the time-sheets in both today's sessions was a nice fillip for the whole team, and it gives us great motivation to carry that momentum forward with us for the rest of the weekend. Indeed, our car appears to be competitive on both low- and high-fuel loads, and, as ever, I'm sure our hard-working engineers will once again mine the data this evening, further to refine our package ahead of FP3 and qualifying tomorrow. For Lewis, it must have been an emotional final Friday with Vodafone McLaren Mercedes. But, as ever, he performed faultlessly. Jenson, too, has worked diligently with his engineers, following a divergent set-up route from Lewis's, and has given us plenty of useful data to work through this evneing. Finally, the decision to provide each team with 2013-spec Pirelli rubber was extremely useful. Many teams, ourselves included, took full advantage of the opportunity to measure and understand the new tyres' behaviour ahead of their introduction next year. It was an extremely productive day in terms of strengthening our understanding of a key performance variable. Now, though, our focus narrows towards qualifying: we expect strong competition from our key rivals, but we're in a good position to fight for pole, and victory, this weekend."
Ferrari
Felipe Massa (4th, 1:14.553): "A very busy Friday in terms of our work on track, with a lot of kilometres completed to find the best set-up for the car. I am reasonably pleased with my times, especially when it comes to pace over a long run: I think I was the fastest man on track in the final part of the session. On my first lap with the Mediums, I lost a few tenth at the second corner, so, in terms of an outright time, I could have done even better than fourth place. The tyres are the same, but their performance is completely different to what we saw in Austin last week: definitely degradation is much higher here and so I don't think we will see a one-stop strategy. The helmet? It's odd not seeing anything yellow in the mirrors to the extent that sometimes I thought it wasn't me at the wheel!"
Fernando Alonso (5th, 1:14.592): "It was very hot out on the circuit today and, especially this afternoon, the track temperatures were well above normal, even for this circuit. We have not yet found the ideal balance on the car, so there is still a lot of work to be done with the engineers going into the rest of the weekend. The predictions are for very different conditions from Saturday to Sunday, further reason to concentrate on the best choices when it comes to preparing the car for qualifying, but especially for the race. After so many Fridays, there is nothing much new to say about the tyres: the Hards appear to be more consistent, while the Mediums produce a quicker lap time. It's hard to say if we prefer rain or the dry: as I said before, it is vital to be prepared to tackle both situations. We know we have to score 14 points more than Vettel for the Championship and not lose the same number to McLaren to maintain our second place in the Constructors'. Our targets are clear, but also difficult to achieve."
Pat Fry: "We have reached the very tight finale and today it was important that we managed to complete our entire planned programme: we did it and that is already a first, if small positive step. We worked this morning on evaluating various aerodynamic solutions, while in the afternoon, we concentrated mainly on a comparison of the two types of tyre brought here by Pirelli. It's alway difficult to assess the hierarchy in the pit lane on a Friday and today was not different. From what we can see a few minutes after the end of the session, we can say that we are reasonably competitive, especially over a long run. We are well aware that, in order to reach our objectives, first and foremost we will need to be perfect in everything we do and be ready to exploit whatever opportunity might come our way. It's not just the Drivers' title that's up for grabs, as there is also a second place in the Constructors' classification which is actually something quite important for us."
Mercedes GP
Michael Schumacher (6th, 1:14.654): "It was a reasonably good day, and we kept working on our planned programme. However, the predictions for Sunday at the moment are for rain, so there may be totally different conditions then. We therefore have to see what we can make of today's data and transform it into a good qualifying and, even better, a good race."
Nico Rosberg (7th, 1:14.669): "It was a decent Friday for us today. There were difficult conditions out there because of the high track temperatures and the altitude which made it hard to find grip. However we managed quite well and, especially on the long runs, the pace was good. So I hope we can do better here than in the previous races. But it will be tough for us, and our focus is still on learning and understanding for 2013."
Ross Brawn, Team Principal: "We had a pretty good final Friday of the season today. We had the 2013 development tyres from Pirelli to work with and spent this morning going through a series of evaluations. It was a good session and we collected a lot of interesting data. This afternoon, we focused on race preparation and high fuel work. The car seems fairly well balanced and the tyres for this weekend proved consistent despite the high track temperatures. There is speculation that Sunday will be very wet so it may prove futile, but we've completed a large part of our preparation if it remains dry."
Norbert Haug, Mercedes Motorsport Director: "A smooth and decent first day for us at this last Grand Prix of the 2012 season. During the first session, we had our first experience with the Pirelli tyres for the 2013 season. In the second session this afternoon, our lap times looked quite consistent during our race simulations. The weather forecast predicts rain for Sunday and slightly cooler temperatures tomorrow than we experienced today when track temperatures reached about 50 degrees. If the forecast is right, everybody will have to handle different conditions than experienced today."
Lotus-Renault
Romain Grosjean (9th, 1:14.994): "It was a very hot and sunny day which wasn't so easy for the tyres as it was difficult to get them to work properly so we struggled a little bit. Speed was not especially easy to find today, but we ran through our normal programme with a little bit of focus on a wet set-up as we know there's rain forecast for Sunday. We only ran a little with the 2013 tyres in the morning; my initial impression is that they feel a bit better and you can notice they have a different construction. Our long run pace was good so let's see what we can do tomorrow."
Kimi Raikkonen (12th, 1:15.371): "We had a problem in the morning but it's just one of those things; you don't want it to happen, but it's not the end of the world. It's unfortunate it took a while to fix as we missed time on track. Other than that, it was a very normal Friday for us. It was quite difficult to find a good set-up so we tried quite a few things. Tricky is usually the way for our Friday's and we've always been able to find a better set-up for Saturday so that's exactly what we'll try to do for tomorrow."
Alan Permane, Chief Race Engineer: "We've had an encouraging start to the weekend. Although Kimi's track time in FP1 was restricted, Romain completed some interesting back-to-back comparison runs with Pirelli's 2013 development tyre which looks to be a few tenths quicker than the current configuration even on this year's car. Kimi had some catching up to do in the afternoon and struggled initially on the prime tyres, but with a few balance tweaks to accommodate the soaring track temperatures and his engine now running as it should he settled down to put in some decent runs. The track temperature was around ten degrees higher than in the morning - one of the hottest Friday's we've seen all year in fact - and therefore yielded less grip. Despite this however, our long run pace with Romain looked very competitive. We also ran differing setups in anticipation of a potentially dry qualifying, wet race scenario, so there's a lot of data to look at overnight but overall we're pretty pleased."
Force India-Mercedes
Paul di Resta (10th, 1:15.129): "I think we can feel quite positive about today. It was all pretty straightforward and the data looks quite encouraging. The hot conditions were tricky for everyone and the car was moving around quite a bit, but we've ended the day with a pretty sorted car that is working well in the low and high speed parts of the lap. I'm certainly feeling more confident with the car compared to recent races and I think we are looking reasonably competitive here."
Nico Hulkenberg (11th, 1:15.131): "You certainly felt the heat today and the car was quite loose and difficult to drive at times. Apart from that it was business as usual - doing the long runs and getting the tyre data. We also had an extra set of the 2013 tyres available this morning so it was interesting to get a taste for them and do a direct comparison with this year's tyres. It's difficult to judge where we stand at the moment, but we have all the information we need, so it's just a case of trying to understand things more tonight to be ready for tomorrow."
Jakob Andreasen, Chief Engineer: "Two productive practice sessions today have left us well prepared going into the weekend. There were some aero test items on the cars this morning and we also had a chance to sample the 2013 development tyres. That proved extremely valuable and we made the most of the opportunity to try and get a head-start on next year. In the afternoon the temperatures continued to rise, with the track reaching a high of 55žC - one of the highest peaks we have seen all year - and the drivers said the car was sliding around quite a lot, as you would expect in such conditions. More warm weather is forecast for tomorrow, unless the rain arrives, and there is also a high risk of rain on Sunday."
Sauber-Ferrari
Sergio Perez (14th, 1:15.542): "It was a good day in terms of getting done everything that was on the programme. We did a fair amount of work, but the heat just doesn't suit us. I found the car very difficult to drive this afternoon and I think some big changes are required. The difference between the two tyre compounds is really marginal. Let's see how we can improve."
Kamui Kobayashi (15th, 1:15.839): "We did a lot of set up work today and also tested some aerodynamic items. We had a busy day, but performance wise we are not good yet. Because of the high track temperatures the rear tyres overheated. The lap times were slower in the afternoon than in the morning. The rear is really weak and so far I don't know how to cool the tyres. We will now work on that."
Giampaolo Dall'Ara, Head of Track Engineering: "With regard to today's programme, everything went well including the evaluation of Pirelli's tyres for next year. That was important for the 2013 car design. With regard to this weekend, we will have a long night ahead of us as we are struggling with the grip, but we have collected a lot of data regarding down force levels and set up. Now we just have to put it all together to understand where we can find performance and hopefully to be where we want to be tomorrow."
Toro Rosso-Ferrari
Daniel Ricciardo (16th, 1:15.902): "We must try and learn from today, but we have to bear in mind that the conditions could be very different when it really matters on Sunday. The two sessions could have been better, but hot conditions have not been the most suitable ones for us this year. All the same, we tried various different set-ups, splitting the work between me and Jev to learn as much as we could. It's going to be a long night trying to evaluate everything and then see what the weather does. In performance terms it would have been nice to do better, but in terms of knowledge I think we gained a lot. The 2013 tyres? They felt a little bit different, but nothing dramatic. Let's say we didn't find any negatives with them."
Jean-Eric Vergne (18th, 1:16.048): "I don't have much to say as we seemed to struggle a lot today to get the car working properly. That was mainly linked to the high temperature which did not suit us and made life hard for the tyres. We will have to work very hard tonight to come up with ways of improving the car for qualifying, even if we expect Sunday's race to be a wet one. Rain would definitely suit us better. We had some 2013 tyres to try and we had some sensors fitted this morning to see what they did. It's interesting to see for next year as the shape of the tyre is slightly different which will have an impact on the aero."
Laurent Mekies, Chief Engineer: "Quite a tough day for us, which was not unexpected as we know we find things a bit more difficult when the conditions are as hot as this - the track temperature reached 54 degrees today - and this year we have always suffered a little bit more than our competitors in these conditions. On the plus side, it has been a trouble free day, during which we tried various changes to try and find the right set up. Even though it is meant to stay hot tomorrow, I feel we can improve the car and then we are expecting a wet Sunday anyway. It was interesting to have both drivers run the 2013 tyres that Pirelli supplied to all the teams here. We got some useful data for next year, therefore it was important to invest some of our track time in this exercise in both sessions."
Williams-Renault
Bruno Senna (13th, 1:15.432): "It was quite a tough session today as we didn't get as much information as we would have liked for tomorrow. We've got some work to do to understand how we can do things better to make sure we're competitive for tomorrow, as the grid is very close here. It's very hot today but it was great to see all my home fans out there, even with sweat in my eyes!"
Pastor Maldonado (17th, 1:15.953): "The car felt good today; we were alternating the strategy between the two sessions, as we were trying different things, which meant we lost a bit of performance against this morning. However, I think we'll be competitive in qualifying tomorrow. We just need to work through the data to get the set-up right, but I feel confident heading into tomorrow."
Valtteri Bottas: "Today were predominantly doing some tests for next year which mainly involved doing short runs just to gather data. It was interesting to feel the difference on the new 2013 tyres and we will now go away and analyse the data from FP1. The last run was slightly busy with traffic but it's great to experience this track for the first time as it was really enjoyable to drive."
Mark Gillan, Chief Operations Engineer: "We completed a very busy FP1 programme in the morning testing the 2013 prototype tyres and some development items. With the very high track temperatures and track evolution it was difficult to find a decent balance, especially in FP2. The weather still looks like it will play a big part in the race on Sunday so we need to keep the changeable weather conditions in mind as we prepare for tomorrow's qualifying."
Caterham-Renault
Vitaly Petrov (19th, 1:16.126): "I think we made some good progress in both sessions and I'm reasonably pleased with where we ended up. In the morning session we ran both the development tyre and the prime we have for this weekend and have a lot of very good data from both. We also tried a couple of different aero configurations which gives us options for this weekend, particularly bearing in mind the chance of bad weather on Sunday. In the afternoon we were looking at fine tuning the setup on long and short runs - we have more to do to get the best out of the harder of the two compounds but the car felt pretty good on the options and we can get even more out of them for the rest of the weekend. One thing that was immediately clear was how high tyre deg is going to be here. It's completely different to last week in Austin where one stop was the obvious choice - if it's dry here on Sunday it's much more likely to be two or three stops so tyre management is going to be key."
Heikki Kovalainen (20th, 1:16.655): "Having sat out FP1 I was back in the car for the afternoon session and it was important to get as much mileage completed as possible. We went through the usual program, focusing on tyre usage and setups on different fuel loads and I think it went ok. It's a shorter lap here in Brazil than quite a few of the other circuits, but our times looked ok relative to the cars around us and with some more work tonight and tomorrow we should be ok both for qualifying and the race on Sunday."
Giedo van der Garde: "That was a really good way to sign off my 2012 FP1 sessions for sure. We got through a decent number of laps and I have to say I enjoyed myself today! The track is great, especially with the 2013 development tyres I was on for the first couple of runs, and it's good to know I've helped the team get through a lot of work that will be really valuable this weekend. I thanked the guys at the end of the session for today and for all the work they've done to help me this season. I've really enjoyed working with them this year and I feel like I've learnt a lot and developed well. Now it's back to the normal race weekend plan and I hope it's a good one for the team."
HRT-Cosworth
Pedro de la Rosa (21st, 1:17.244): "This is an amazing circuit and really fun to drive. We found a good set up base from the beginning but it would have been better to do many more laps and long run simulations to fine-tune it in order to get a better use of the tyres. We have a lot of work to do mainly on the rear end because traction is still pretty poor. Today's times may not be quite representative, as we haven't worked on full loaded configuration but, on a positive note, the car worked very well on the medium tyres and I am confident that we can improve on the hard compound for tomorrow."
Narain Karthikeyan (24th, 1:18.139): "The circuit is exactly how I remembered it. It is very nice and flowing and there are a lot of nice corners, which makes it quite enjoyable to drive around. It was a difficult day because we couldn't do many laps and we didn't get the most out of the option tyres as I got a lot of traffic on my flying laps at the end of the session. I have to say that the car balance has been pretty good from the start and we managed to improve it slightly throughout the sessions. We certainly have room for improvement, though. Rear tyre degradation is still too high and we must improve traction so that's where we are going to mainly focus for tomorrow."
Luis Perez-Sala, Team Principal: "It has been a first positive day overall; much better than in Austin. Here we don't have any issues with getting the tyres up to temperature. On the contrary, temperatures have been very high and I think everyone struggled with tyre degradation. We need to take a step forward to improve this as well as traction, especially on the hard compound. This track seems to suit our car better and hopefully we can do a good qualifying tomorrow. Once again, I want to thank the whole team for the job they are doing here in Brazil despite the circumstances."
Marussia-Cosworth
Timo Glock (22nd, 1:17.675): "It has been a difficult start to the weekend to be honest. As usual it's all about the tyres and we are experiencing a bit of a different behaviour here again. We had quite a bit of oversteer in the car this morning, which was slightly better for FP2. However, at the end of the day we were still struggling with the balance of the car. Overall we concentrated more on race pace and didn't do much for qualifying yet, so we have some work to do tonight when we will try to improve the car and, I hope, make it a bit quicker!"
Charles Pic (23rd, 1:18.127): "The day started well for me as I completed some aerodynamic testing whilst acclimatising to one last new circuit for me. This afternoon we were focusing rather more on set-up work and the behaviour of the tyres in race-representative conditions. We were not able to get a good read of the option tyre and then unfortunately, towards the end of the session, I had to pull off the track as we experienced an alternator problem. I'm pleased with my long run pace but we have some more work to do to improve our qualifying pace."
John Booth, Team Principal: "A very interesting first day of running at the final race weekend of the season. The work we were able to do this morning with the Pirelli PZero prototype tyre was extremely useful and the information we gathered from that will be fed straight into the development cycle so that we can work on the set-up for winter testing. Timo did a great job with carrying out most of the evaluation work, while we tried to give Charles the opportunity to learn what is another new circuit for him. This afternoon we opted to stay with running the programme which evaluated the tyres in the eventuality of a dry race. Although this seems slightly at odds with the weather forecast, since there were no wet conditions today this is the only thing we could prepare for. We are reasonably happy with the performance of the car on high fuel, although we do seem to be experiencing some quite specific tyre issues at this event. We need to look a little more at our low fuel pace and that's what we will be focusing on this evening."