Brazilian GP 2010
NOVEMBER 7, 2010
Brazilian GP, 2010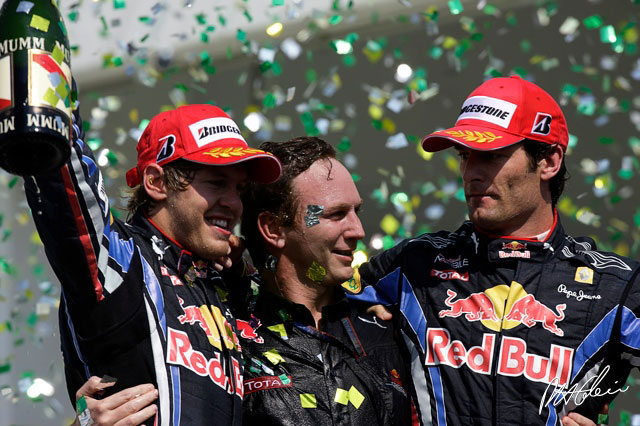 © The Cahier Archive
Red Bull Racing sealed the constructors' championship with a dominant 1-2 finish in the Brazilian Grand Prix at Interlagos. Sebastian Vettel scored his fourth win of the season to put himself within 15 points of Fernando Alonso's championship lead and give himself a chance of winning the drivers' title in Abu Dhabi next week. Mark Webber's second place leaves him right in the hunt too.
Vettel made a fine start and went inside pole position man Nico Hulkenberg into the first corner, while Webber fended off the advances of Lewis Hamilton. The Aussie then passed Hulkenberg on the exit of Turn 4 to put Christian Horner's cars first and second at the end of the opening lap.
Vettel explained: "I saw Nico struggle a bit off the line and I floored the pedal and used the momentum I had. I had that bit better start, he was trying to squeeze me down the inside and I was just praying there was no debris going into T1. It was okay and I got through."
It was then Webber's turn to attack the Williams, desperate not to let his team mate escape. "I saw Nico go a little bit deep into T4 and I thought he couldn't make the apex from there, and thank God he didn't!" Webber said. "That opened my race up a bit and allowed us to ease away at the front. But, most of the races these days are decided on Saturday and on the first lap. In the old days you could play with strategy a bit, with different fuel loads, but that's not how it is now."
The gap between the Red Bulls was never a significant one but Vettel claimed he had everything under control, striving to keep the margin at around 2.5s. Behind them, Alonso was tucked under Hamilton's rear wing on the opening lap, passed him as they crossed the line but then had to cede the inside to the McLaren again at Turn 1. Hamilton then also went a bit too deep into Turn 4 and Alonso was by. He then set about Hulkenberg but the young German calmly defended the inside at T1 for the first seven laps before Alonso took advantage when he ran slightly wide at Turn 4 to take third place. By that stage the Ferrari was around 12s behind Vettel's lead and any realistic chance of challenging for the win was gone.
"We just lost too much ground in the first laps," Alonso said. "We were maybe only a tenth or two slower on race pace. There was another chance later with the Safety Car but I found seven cars between Mark and me and by the time I passed them the gap was 6-7s again."
Jenson Button, after a difficult qualifying session which had seen him start 11th, was up to ninth on lap 1 but then dropped a place to Schumacher's Mercedes. He was the first to pit for prime tyres, on lap 12 of the 71, with Felipe Massa, who'd been running just ahead of him, covering him next lap. But, as soon as he left the pits, Massa felt something awry with the right front wheel. A cross-threaded nut forced him to stop again a lap later, dropping him from contention.
Hulkenberg was still in fourth place, keeping Hamilton at bay, with Kubica right behind, when he made his stop on lap 14. The Renault followed him in and they rejoined in the same order.
"This was not our finest race of the season," admitted Renault's chief race engineer Alan Permane. "In terms of strategy, we were left between a rock and a hard place on the call to stop Robert: Button and Massa had stopped for fresh tyres before us, and were making up time, so we pitted to cover them and try to get out in front. Unfortunately, Hulkenberg also chose to stop on the same lap and we simply followed him in and out of the pits, and then Robert lost time running behind his team-mate for several laps."
As, too, did Hulkenberg. The handful of laps behind Petrov meant that the pole-winning Williams and Kubica were jumped by Schumacher at the stops. Michael then rued stopping a bit too early, lap 20, emerging from the pits behind Adrian Sutil who, along with Kamui Kobayashi, was the only driver to start on the prime tyre. Sutil would run as far as lap 50 before pitting with Schumacher stuck behind him all the way. The seven times champion was destined to finish seventh, letting team mate Rosberg by after Nico made a relatively late first stop, then was called in again at a lap 52 Safety Car for a Turn 2 accident to Tonio Liuzzi, whose Force India suffered a broken suspension.
The plan had been to put Nico back onto options but the team had a radio communications problem and the Mercedes left on primes, pitting again three laps later, still under the Safety Car, to get the supersoft tyres without losing track position.
At the front, Webber had a water pressure problem and his Renault engine was starting to run hot. It cooled down again behind the Safety Car but once the field was released again, the temperatures climbed once more and Webber was forced to short shift and turn the engine down.
It was maybe fortunate for Webber that there were seven backmarkers between him and Alonso when the Safety Car pulled in, the second place Red Bull 5s to the good by the time Alonso was through the traffic. The Spaniard attacked hard and closed the gap but Webber was in control and followed Vettel across the line, 4s in arrears to secure a great moment for Red Bull Racing.
"I could control the gap and it was the right choice not to pull away too much with the Safety Car at the end because we could have been in trouble with tyre degradation," Vettel said. "After Korea it was the right answer to come back here, stay focused and getting the constructors championship one race before the end is fantastic.
"I'm proud of the team and myself. I don't wish bad luck on Fernando in Abu Dhabi but it wouldn't be too bad if we saw some nice Ferrari smoke! But it's about the team today. I was a small boy and had just got my driving licence when I drove to the Red Bull factory in England in 2005. If I compared then to now it is so much progress. I was fascinated looking at F1 and to be part of the driver line-up to give them their first championship is incredible. It's not always just about investing money, it's time, patience and passion."
Behind the five championship contenders and the Mercedes pair, Nico Hulkenberg got his pole position Williams home in eighth place. That might not sound sensational but it was an excellent drive given that he managed to keep Robert Kubica behind him all afternoon and score a crucial four points, which elevated his team to sixth place in the constructors championship, one point ahead of Force India. Williams co-owner Patrick Head estimated that the difference in financial reward between the two positions was probably in the order of $3-4m dollars!
The serious business though, will be decided next weekend in the Middle East. Four men go into the season finale with the possibility of taking the title. Lewis Hamilton, fourth across the line in Brazil, has a straightforward task - he must win with Alonso, Webber and Vettel all failing to score. If that happens he is champion by a point. If Vettel wins, Alonso must be lower than fourth for the German to take the title. If Webber wins, Alonso must be second.
An entirely plausible scenario is that the closing laps in Abu Dhabi will mirror the order as Interlagos. If they do, will Vettel move over to allow Webber to take the title? You can bet that if he does, it will be within sight of the chequered flag, and only when he is convinced that Alonso is still running. If he did it any sooner and then Alonso had an engine failure, for example, he'd have cost himself the world championship.
Asked whether he would cede to Webber in those circumstances, Vettel smiled. "Sometimes I hated it when my parents teased me and wouldn't answer questions," he smiled. "You will have to wait until next week and you will see then. I went to school obviously. I think it's clear."
Alonso, meanwhile, tried to turn the screw a little with the psychology. Was he confident?
"One hundred per cent! It doesn't matter who wins, I just need to finish second. I want to be on pole and win but if we can't do that, we'll try to be second."
Today though, belonged to Red Bull, Christian Horner, Adrian Newey and everyone involved with the team.
Newey, of course, has a long and distinguished title-winning history with Williams and McLaren but this one was particularly satisfying.
"It's amazing to have done it with this team," he said. "To be with it from near the start and for us to have jointly built the team up is a fantastic achievement for all the team in Milton Keynes. Certainly, we didn't have the infrastructure of the big teams. When I joined Williams, and then McLaren, I was very lucky the teams had the infrastructure and you could just go about designing the car. Here it's been a bigger task, building everything up, getting the operation together and everybody in Milton Keynes has risen to that task fantastically. Peter Prodromou and Rob Marshall need a special thanks for their efforts as head aerodynamicist and chief designer. They have made an enormous contribution but it's getting everybody to gel that matters."
The team has deserved it, no doubt. Any other team result in 2010 would have been a travesty. Roll on Abu Dhabi!
Brazilian Grand Prix Results - 7 November 2010 - 71 Laps
POS
DRIVER
NATIONALITY
ENTRANT
LAPS
TIME/RETIRE
1.
Sebastian Vettel
Germany
Red Bull-Renault
71
1h33m11.801
2.
Mark Webber
Australia
Red Bull-Renault
71
4.243
3.
Fernando Alonso
Spain
Ferrari
71
6.807
4.
Lewis Hamilton
Britain
McLaren-Mercedes
71
14.634
5.
Jenson Button
Britain
McLaren-Mercedes
71
15.593
6.
Nico Rosberg
Germany
Mercedes GP
71
35.320
7.
Michael Schumacher
Germany
Mercedes GP
71
43.456
8.
Nico Hulkenberg
Germany
Williams-Cosworth
70
1 Lap
9.
Robert Kubica
Poland
Renault
70
1 Lap
10.
Kamui Kobayashi
Japan
BMW Sauber-Ferrari
70
1 Lap
11.
Jaime Alguersuari
Spain
Toro Rosso-Ferrari
70
1 Lap
12.
Adrian Sutil
Germany
Force India-Mercedes
70
1 Lap
13.
Sebastien Buemi
Switzerland
Toro Rosso-Ferrari
70
1 Lap
14.
Rubens Barrichello
Brazil
Williams-Cosworth
70
1 Lap
15.
Felipe Massa
Brazil
Ferrari
70
1 Lap
16.
Vitaly Petrov
Russia
Renault
70
1 Lap
17.
Nick Heidfeld
Germany
BMW Sauber-Ferrari
70
1 Lap
18.
Heikki Kovalainen
Finland
Lotus-Cosworth
69
2 Laps
19.
Jarno Trulli
Italy
Lotus-Cosworth
69
2 Laps
20.
Timo Glock
Germany
Virgin-Cosworth
69
2 Laps
21.
Bruno Senna
Brazil
HRT-Cosworth
69
2 Laps
22.
Christian Klien
Austria
HRT-Cosworth
65
6 Laps
Lucas di Grassi
Brazil
Virgin-Cosworth
62
9 Laps
R
Vitantonio Liuzzi
Italy
Force India-Mercedes
49
Accident
FASTEST LAP:
Lewis Hamilton
Britain
McLaren-Mercedes
66
1:13.851