Brazilian GP 2010
NOVEMBER 6, 2010
Saturday Team Quotes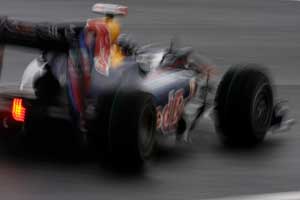 © The Cahier Archive
McLaren-Mercedes
Lewis Hamilton (4th, 1:15.747): "I've started from fourth at this track before [in 2008], and it's not my favourite spot, but I can't really complain today. On the other hand, on my final lap, I got a bit held up in the final corner when someone was backing-up ahead of me, which was frustrating. But the car didn't feel too bad - it wasn't spectacularly good in the wet, but it felt a lot better in the dry at the end of Q3. For tomorrow, I think we've got good race pace and good end-of-straight speed; so, yes, I think we're in a good position. We're definitely still in the world championship fight. I'm confident that I'll be able to battle my way forwards from fourth position on the grid, because we're all close at the front. We can fight [one another]. It's also quite cool to see Nico [Hulkenberg] right up there - so well done to him! - but my aim for tomorrow is to get ahead of everyone in front of me!"
Jenson Button (11th, 1:19.288): "It's been a pretty tough weekend - I've been struggling to find a balance. The front wheels have been locking quite a lot [under braking], and it's therefore been quite hard to slow the car down. That's been my biggest issue, and it was no exception in qualifying. Having said that, the car was better in qualifying than it had been all through practice beforehand. We'd fitted new Intermediates at the end of Q2, and my first lap was okay but not quite good enough. Then I damaged my tyres a bit too much on my second lap, and I couldn't get a decent time out of them after that. So I got squeezed out of Q3 at the last second. It's frustrating to be quite a way behind Lewis on tomorrow's starting grid, because I'll consequently have less chance to support him during the race. It's disappointing not to get into the top 10 actually - but, then again, I've started from farther back than P11 here at Interlagos in the past and have gone on to drive a good race, so let's see what happens. Let's put it this way: my aim is to have some fun tomorrow!"
Martin Whitmarsh, Team Principal: "First of all I'd like to congratulate Williams on their first pole position in more than five years, and Nico on his first pole position ever. I guess it was a surprising result for everyone - perhaps it was even surprising for Williams and Nico, too! In truth, though, tricky conditions such as we experienced this afternoon frequently lead to unforeseen outcomes, and that was certainly the case today. But unexpected qualifying results often presage eventful races, so in that context Nico's pole can only be good for the sport. Lewis will start tomorrow's race from the second row of the grid, and he was perhaps a little unlucky that his time was pipped at the very end of the session by both Red Bull drivers. The reality is, though, that the track was drying out all the time by that stage of the session - and, since he was at the head of the queue on the track, it was consequently getting grippier and gripper, and therefore faster and faster, all the time, behind him. But, as I say, he'll start tomorrow's race from P4, and there's no doubt that he's well capable of winning from there. Jenson missed out on getting into Q3 by a fraction of a second, which was also a little unlucky - but then again that's also the kind of unanticipated occurrence that can all too easily happen in changeable weather conditions. Besides, he's a superbly combative racing driver - as we've seen him demonstrate many times in the past and indeed in fine style on this very circuit a year ago - so, like Lewis, he'll attack Interlagos with controlled aggression tomorrow, and will be looking to score as many world championship points as he possibly can."
Mercedes GP
Michael Schumacher (8th, 1:16.925): "I am somewhat disappointed as the circumstances today were exactly as I had wished them to be. I really hoped for more from qualifying but it didn't turn out right for us. I couldn't have gone any quicker on my lap and there were no issues so the only explanation is that my tyres cooled down at the beginning when I had to leave the racing line to let Sebastian and Mark past. It's a shame that it didn't work out better today. Congratulations to Nico Hulkenberg who did a fantastic lap."
Nico Rosberg (13th, 1:19.486): "We were on for a good result in qualifying today but on the drying track, the intermediate tyres were only good for one fast lap and I was blocked by Buemi on my lap in Q2. So that was it for me and it's disappointing to qualify so far down the field when we could have taken advantage of the conditions."
Ross Brawn, Team Principal: "It was a very exciting qualifying session and although we made the right decisions, it didn't quite go our way today. Nico was baulked on his crucial lap which meant he missed out Q3. If you look at the sector times, he should easily have made it. With Michael, we didn't quite get the dry tyres into their working range at the end of Q3. He got caught up with other cars coming through, had to go offline where the track was still damp, and therefore the temperatures weren't there when he had to push. So it didn't quite work out as we planned today but there is still a lot to be gained tomorrow. We are in reasonable positions with a ringside seat for the championship race ahead and will be ready to take advantage where we can."
Norbert Haug, Mercedes Motorsport Director: "Q3 started well with Michael being second fastest on the intermediate tyres. After the change to slicks, he got into traffic which lost him tyre temperatures and grip, and that was it. Instead of a possible top five result, he ended up in eighth place after driving excellently in the wet conditions. Nico would have made it into Q3 without hitting traffic in the last sector of his quickest lap and will start in 13th place. Tomorrow should be dry and we will hope to make up places with both our drivers. Congratulations to Nico Hulkenberg and Williams Cosworth on their first joint pole position today."
Red Bull-Renault
Sebastian Vettel (2nd, 1:15.519): "It was a tricky session. It was a tough call in Q3 after the first run on intermediate tyres, the circuit looked dry, but the last sector was very tricky. In the end I think everyone decided to go on to dry tyres. The track was getting better and better, but it was still slippery. At first I thought I had missed pole by only a tenth, but then I saw that there was another digit and Nico had a second lead over us! Congratulations to him, it's very easy to make a mistake in these conditions. We were targeting for pole today, but it could have been worse in the difficult conditions, so I'm happy to start from second."
Mark Webber (3rd, 1:15.637): "I enjoyed that, it was a challenging session for all of us. It's easy to get things wrong in those conditions and not qualify, so I'm very happy to get that position near the front. It was really tricky to get clean laps in Q3, but I did my best. It was pretty close between Sebastian and I and we're both up there. It was a good team performance today and both Seb and I have laid good foundations for the Constructors' Championship, so there are a lot of positives from today. We're in a good position for tomorrow. Nico (Hulkenberg) got his car working very well, he was very confident and got the most out of it when it mattered, so congratulations to him for pole, it was like he was driving on a different track!"
Christian Horner, Sporting Director: "It was a very, very strong team performance today from both drivers to finish second and third on the grid, ahead of our main components. It was quite an amazing couple of laps from Nico Hulkenberg, so congratulations to him and Williams. It sets up an interesting race for tomorrow."
Fabrice Lom, Renault: "Firstly I would like to say I'm very happy we have extended Renault's partnership with Red Bull Racing for another two years - we have developed a great relationship with them over the last four years. To come back to today, it was a messy qualifying, but the car proved to be good in the wet as it was yesterday in the dry. We have a very good package and all our main contenders are behind us for tomorrow's race. We have to congratulate Hulkenberg and Williams for their incredible pole position lap - so well done to them."
Ferrari
Fernando Alonso (5th, 1:15.989): "Fifth place is not the end of the world. Many times this year, the two Red Bulls have been out in front and Hamilton's McLaren has been in the fight with us for third place. Today, the surprise came from Hulkenberg, the only one to do a clean lap in Q3: everyone else, myself included, was not as clever, also because the dry line was really narrow and you only needed to get the tyres ten centimetres outside it and you lost a lot of time. There's a lot to lose in these conditions and little to gain: it would have just needed one wrong choice to already be out of it before the final part of qualifying. Tomorrow in the race, we will have to try and make the most of our strong points, especially our race pace. If we can do a good job of managing the tyres maybe towards the end we can have the edge. The start will also be important: we will try and make up some places, while keeping an eye on what our rivals are doing, because it will be a crucial moment for them too. From a strategic point of view, clearly the presence of Hulkenberg on pole introduces an unexpected variation. The main aim this weekend is to increase my lead over Webber to arrive in Abu Dhabi in as calm a frame of mind as possible. If that's not possible, then it will be a case of damage limitation."
Felipe Massa (9th, 1:17.101): "Conditions today were certainly not easy and the track was changing all the time. In the wet, with intermediates, I was able to do reasonably good times, but when we fitted the soft slicks and the track was still damp, I immediately felt a lack of grip which in the end affected my performance. In fact, all season I have struggled to get my tyres up to temperature and the damp track definitely did not help. A shame, as I was unable to fight for the top places as I had hoped in order to give the Brazilian fans a good result. It is always exciting racing here in front of this fantastic crowd. The race should be run in the dry, which means with very different track conditions to this afternoon. Yesterday, Fernando was very quick over a long run and I think we will be able to make up some places. Congratulations to Nico on his first pole: I can well believe he is in seventh heaven."
Stefano Domenicali, Team Principal: "We knew that with the forecast weather conditions for today, this would be an especially complicated qualifying session and that was indeed the case. A shame, as this result does not reflect our aspirations or our potential. But putting this disappointment to one side, we have to keep in mind that the points are given out on Sunday, which is something we have said after a good qualifying and which bears repeating today. Our closest rivals are there ahead of us and we will stick to them. We will have to try and run a judicious race and pick up as many points as possible, banking on a race pace which, from what we saw yesterday, is competitive with the best. So many times this year the outcome of qualifying has been turned on its head in the race which is often played out to a different tune. We have to concentrate: reliability, strategy, the work in the garage and on track will, as always, hold the key. Finally, I want to congratulate Nico Hulkenberg, a youngster who has just taken the first pole of his Formula 1 career and his Williams team."
Chris Dyer: "This result leaves a slightly bitter taste in the mouth because we had the potential to do better, but we knew that in these conditions anything could happen. We had been expecting it since yesterday: the wet track should have been an opportunity to close the gap to the Red Bulls who, on a first flying lap in the dry seemed quicker. But it could also have been a risk because there was always the chance of finishing much further back on the grid. At the end, everyone fitted slicks and it was very difficult to put together the perfect lap: only Hulkenberg managed it. Tomorrow, the race should be run in the dry and yesterday, we saw that our pace over a long run is not bad. Our main rivals are all ahead of us on the grid and we will try and make up some places, both with Felipe and Fernando, although without taking any excessive risks."
Williams-Cosworth
Nico Hulkenberg (1st, 1:14.470): "I didn't expect to be on pole today but the team gave me a car that worked really well in these conditions and I hooked up a tidy lap. My engineer came over the radio and told me I was on pole, but I couldn't quite believe it. It's such an amazing feeling. We have to stay realistic for the race, and I'm aware that there are drivers behind me fighting for the championship, but we are fighting for position and we will be doing everything we can to get a good result. For now, thanks to AT&T Williams for giving me a really great car today; I'm just so happy and I want to enjoy the moment with the team!"
Rubens Barrichello (6th, 1:16.203): "I am truly happy for the team; it's been a wonderful afternoon for us. We have a pole position, just not with me! I am thrilled for Nico though. In these conditions, you need to keep temperatures up in the tyres, but I had a car in front of me going a bit slow so I lost temperature and went off. I'm pleased with P6, it's still a strong place to start the race from."
Patrick Head, Director of Engineering: "That was a fantastic qualifying for the team; and for Nico and his engineers in particular. I think we saw something pretty special from him today. He did three timed laps on dry tyres, with his pole time over a second quicker than anyone else's. Rubens also drove well to sixth, a good starting point for the race."
Renault
Robert Kubica (7th, 1:16.552): "It was a very difficult qualifying session. We made the right choices with the tyres in the final part of the session, but when I completed my quickest lap on the slicks, I was happy just to have made it round without any mistakes because I was struggling to keep the car on the track. It was hard to get enough temperature into the tyres and our downforce level for the dry probably didn't help in this respect - but it's always easy to see what you could have done better after the session. We made the right calls today and it wasn't quite enough, but I'm still hopeful that we can have a good race tomorrow."
Vitaly Petrov (10th, 1:17.656): "I had a really difficult day yesterday and my mechanics and engineers did a great job overnight to fix the problems, and give me a car that I felt comfortable with in the wet conditions today. It was a really tricky qualifying session because the circuit was changing all the time, and it was getting drier and drier towards the end. In fact, we almost missed out in Q1 because we had expected rain early in the session but it never came - so we ran the whole session on a single set of tyres and I ended up only P16. Overall, I'm very happy to be back in the top ten, but there was still more performance to come on the dry tyres and we could probably have been higher up. In any case, I am confident we can have a good race tomorrow and I'd also like to congratulate Nico Hulkenberg who did a great job to take pole position."
Eric Boullier, Team Principal: "It's rather frustrating to only be seventh and tenth on the grid, after finishing first and sixth in free practice this morning in similar conditions, but we have to focus on the positives. First of all, I'm pleased for Vitaly because the crash yesterday was not his fault, and it's good to see him back in Q3 for the first time since Hungary - and recovering his confidence in difficult conditions. With both cars starting in the top ten, we can expect to score a good number of points tomorrow."
Alan Permane, Chief Race Engineer: "We're very pleased to get both cars into the final part of qualifying and congratulations to Vitaly for putting together a solid session. If I'm honest, we'd hoped for a little bit more after our performance in the early stages of qualifying, but seventh is a still a decent starting position for Robert. We know we have a strong car for the race and hopefully we can score good points with both drivers tomorrow."
Force India-Mercedes
Vitantonio Liuzzi (17th, 1:20.357): "It was a strange session as we were really positive about the car in the morning and everything was working very well. The car seemed balanced and we didn't change very much from FP3 to qualifying as we were pretty confident we could be very close to Q3. But then in the afternoon the car seemed to lose grip and we were really struggling in braking, particularly in sector two where the car was sliding all over the track. We tried but in the end we couldn't get higher than P17. But we are fighters, and we just come back stronger when things are hard."
Adrian Sutil (18th, 1:20.830): "I had an untidy Q1 today. On the first run I lost out when I came up to Tonio just as he had gone off and that was probably when the track was at its best. Then the grip was just not there on the last outing. The track came up a little bit at the end but then the rain started and I had a lot of graining on the tyres at that point and couldn't do a reasonable lap time. With the penalty we are starting quite far down the field, but I'm definitely not giving up. We've got a very strong race pace and our pit calls in changeable weather this year have been good. We've achieved too much this year to let ourselves go at the last jump so I'm massively motivated to go out and give it everything."
Otmar Szafnauer, Chief Operating Officer: "This was obviously not the session we were looking for, or what we were expecting. But as we know the race can be unpredictable. Last year at this very track we started P3 and didn't finish, at the last race in Korea Tonio started P17 and finished sixth: there's still everything to play for. We are going to go away tonight, refocus and look at every possible scenario so we're well prepared for anything that might come in tomorrow's race. That is going to be the key to doing well."
Toro Rosso-Ferrari
Jaime Alguersuari (14th, 1:19.581): "I am reasonably satisfied with this qualifying performance, as I think we got pretty close to the maximum we could get out of our package in difficult conditions. The track conditions were very changeable but we were able to confirm that we had found a solution to the problems we had in the wet this morning. With a wet qualifying, but the prospect of a dry race, we went with a set-up that was halfway between the two, which will hopefully serve us well tomorrow. I was not expecting to be this high up the order, so I hope that, with a good strategy and depending on tyre wear, we might be able to get some points tomorrow."
Sebastien Buemi (15th, 1:19.847): "I am very disappointed with the way this qualifying went, especially after I had been quick in the morning session. I think that maybe we made the switch to Intermediates a bit too early in Q2 as the track was drying out. By the time the track had dried more, my tyres were no longer in the best condition, so I could not exploit the dry track."
Laurent Mekies, Chief Engineer: "14th and 15th means that overall, this was an okay qualifying for us. It is always more interesting for everyone, when the conditions are tricky which makes life difficult for both drivers and the crew. We can be pleased with the fact that our two cars outpaced both Force Indias and one Sauber. However, the fantastic job done by Williams and Hulkenberg today shows that there was probably more potential to come from all of us, so congratulations to them. Tomorrow we can expect a dry race and we will be pushing very hard to try and get some points."
Lotus-Cosworth
Jarno Trulli (20th, 1:22.250): "There was a lot of traffic out there because of the weather which meant I couldn't really put together my best lap. At the end I managed to get a decent time in but it felt like it was wetter than at the start of the session and obviously that meant I couldn't get ahead of Timo. Despite that the car has felt good all weekend in the wet and the dry conditions, and I think tomorrow we'll be strong. We kept a dry setup on the car today and that should put us in a good position for the race."
Heikki Kovalainen (21st, 1:22.378): "That was a disappointing session for me. I was held up by traffic each time I went for a quick run and definitely didn't get the most out of the car, but I think we'll be ok tomorrow. It's a short track here and it's pretty normal that traffic plays its part in qualifying but yesterday we worked hard on making sure we have a good setup for the race and it will be good to get back in the car tomorrow and show what we can do."
Tony Fernandes, Team Principal: "Firstly I want to say congratulations to Nico for such an outstanding performance today. That is the first Williams pole since 2005 and the very first time AirAsia can celebrate a pole position - the whole team deserves every plaudit coming their way today and I am very proud to be part of the Williams dream. For Lotus Racing it was a decent job today from both Jarno and Heikki who were obviously held up by the traffic. It is still very pleasing that we keep taking the fight to our direct competitors even though we have been focusing on next year's car since back in July. It is also satisfying to see that all of the off-track attention that is being paid to the team has not distracted any of us from what is important. I will be making an official statement about the off-track situation in due course but for now we are focusing on being a professional race team that is gaining more experience with every lap and turning that into long-term success."
Mike Gascoyne, Technical Director: "A fascinating qualifying session but slightly disappointing for us. Both drivers lost their quickest laps to traffic and Heikki in particular was held up by Heidfeld on a couple of occasions. However, with the dry forecast for tomorrow and the performance of our car in dry conditions we will look to have a strong race and get both cars home across the finish line."
HRT-Cosworth
Christian Klien (23rd, 1:23.083): "I am very pleased about the qualifying outcome today under these difficult conditions. This morning was the first time I was driving this car in the rain and especially in qualifying it was very important not to do any mistakes. But I managed to stay on the track and could improve my lap times at the end of the session. We hope to fight for positions in the race tomorrow and we are well prepared for it."
Bruno Senna (24th, 1:23.796): "We could have done better today if we would have changed the tyres during the session. The track got quicker at the end of qualifying but unfortunately we couldn't use it. We hope to have more luck tomorrow, when it is expected to be dry again. It is going to be a long and tough race and I am looking forward to compete in a Formula 1 car here at home in Brazil."
Colin Kolles, Team Principal: "We are quite happy with the qualifying result under these difficult conditions. The gap to our competitors was quite small and we showed a solid performance today. We even could have been within half a second from the other new teams but unfortunately Christian Klien lost some time on his last lap when it started to rain again. For Christian, it was the first time in our car on a wet track and he did well. He will start tomorrow from 22nd position due to a five position penalty for Adrian Sutil. Now we hope to go on like this and we want to have good fights in tomorrow's race, which for sure will be a special one for Bruno Senna as he is racing at his home track in Brazil for the first time."
BMW Sauber-Ferrari
Kamui Kobayashi (12th, 1:19.385): "I was very close to making it into Q3, but I could feel on my last lap the tyres were gone. The timing for the tyre change on my car was alright for me. Perhaps one lap later would have been ideal in terms of track conditions, but on the other hand it is good to go for safety in case of a yellow flag or anything else like this. In Q1, when it was wetter, I found the conditions were very good for the car and the tyres. I remained on the same set and in the end I was fifth, but obviously the result of Q2 is what counts. For tomorrow we expect dry conditions and I believe this is good for us."
Nick Heidfeld (16th, 1:19.899): "I must admit I am a bit annoyed. Dry conditions would have suited our car better, but that's not under our control. What we could have done better was the timing in Q2. My tyre change was two laps too early, which meant I wasn't on the track when the conditions were at their best with a set of tyres in good shape. However, as I said, in dry conditions we can be strong here and the forecast for the race tomorrow says it will be dry."
Peter Sauber, Team Principal: "It was a typical Interlagos weekend with an unexpected grid. Congratulations to the Williams team and, in particular, to Nico Hulkenberg, who did a fantastic job to grab pole position."
James Key, Technical Director: "As predicted the rain came today. This morning we went through a programme trying to understand the different conditions and, in particular, the cross over between extra wet and intermediate tyres. We seemed to lose some competitiveness in wet conditions compared to yesterday. The main issue seemed to be warming up the tyres. We made some changes for qualifying, where it was crucial to hit the track and tyre conditions at the right time. Kamui did a reasonable job to get close to Q3, after he had some difficulties in the morning. Nick was a little less happy, and he also suffered from some traffic. It's unfortunate we didn't get through to Q3, but equally it's going to be a dry day tomorrow, so we should be more competitive and we will fight hard. Finally congratulations to Williams and Nico Hulkenberg on the pole position."
Virgin-Cosworth
Timo Glock (19th, 1:22.130): "It was a pretty good qualifying session for us today. I had a very good first run which was already enough to stay in front of the Lotus cars. I had a little bit of a problem with the second set of tyres and I had to switch to the third set, which cost us a lot of time and I was only able to do one timed lap. There was more to come but the tyres were not up to temperature. It's good for us to be the best of the new teams and we are looking forward to tomorrow's race."
Lucas di Grassi (22nd, 1:22.810): "A very wet Saturday at Interlagos. Overall the day went okay, apart from the changeable conditions in qualifying, and we were not on the track when it was at its best. Because of that I am not very happy with the qualifying result as for sure there was more to come. Tomorrow is another day though and I am optimistic about our performance in the dry conditions expected and in what will certainly be a very exciting first Brazilian Grand Prix for me at Interlagos."
John Booth, Team Principal: "Both drivers were pretty happy with the behaviour of their cars in the wet conditions this morning. In qualifying Timo struggled with the balance on his second set of intermediate tyres but did a good lap on his first set which enabled him to be the fastest driver of the new teams. Lucas gambled on the rain arriving earlier than it actually did, which meant he wasn't able to get the most out of his package today. However, he is confident in the performance of the car in the dry conditions expected tomorrow. Congratulations to our engine partner Cosworth on an excellent pole position."