Brazilian GP 2010
NOVEMBER 5, 2010
Friday Team Quotes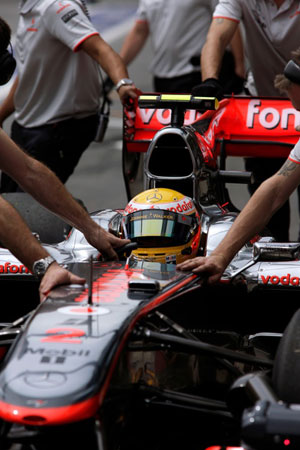 © The Cahier Archive
McLaren-Mercedes
Lewis Hamilton (4th, 1:12.656): "The car felt good today - I'm getting everything out of it - but I still felt it needs just a little more downforce. Still, I'm optimistic for qualifying tomorrow - especially if it rains, which I'm told it probably will. This year's car is much better than last year's car in the wet, so I feel confident that if it rains we should be able to fight for the front row. In terms of pure pace in the dry, the Red Bull looks very quick. But a number of factors will play a part in deciding how things pan out in the next two grands prix - weather, engines, reliability - so it's all still up for grabs."
Jenson Button (7th, 1:13.206): "We spent today playing about with the balance. The car feels good in high-speed corners, but we still need to work on the front end of the car in low-speed corners. Towards the end of today's running, on higher fuel, the car felt pretty good, which was encouraging. The weather forecast says it looks like rain tomorrow, so it'll be interesting to see how that affects qualifying. I think our race car should be good - and that's important because Sunday should be dry. Hopefully, our race set-up won't be too compromised by the anticipated wet conditions in qualifying tomorrow."
Martin Whitmarsh, Team Principal: "Today was an extremely busy day of testing for us as we gathered data on a number of new components, including floor modifications and a selection of rear wings. Both drivers reported that the car wasn't as well-balanced as they'd ideally like, but we feel we have enough data to be able to effect some very positive changes ahead of running tomorrow. Neither Jenson nor Lewis was able to set optimal lap times during their Option-tyre runs, owing to a yellow flag adversely affecting their running. However, our long-run pace looks particularly encouraging and is a very good basis for Sunday's race. In the meantime, the weather forecasters are predicting an 80 per cent chance of rain tomorrow - and that will inevitably have some influence over some of the decisions we take this evening - but we believe we're heading in the right direction for the rest of the weekend."
Mercedes GP
Nico Rosberg (9th, 1:13.333): "We made some good set-up changes and definitely learned a lot over the two sessions today. As a result, I'm confident that we can nail the set-up if it is dry tomorrow. However if the predicted rain arrives, then I will look forward to it even more as we should be a little stronger if it is wet and have a better chance of being further up the field."
Michael Schumacher (10th, 1:13.346): "We had two trouble free practice sessions today and were able to complete a lot of work with the car. I would have wished and expected for us to be closer to the top teams but unfortunately the gap seems to be a little bigger than at the last races. The track itself has improved a lot since I last raced here and the bumps are not really a problem anymore. All in all, we have to see what we can improve for qualifying tomorrow and we will have a deep look into our data now."
Ross Brawn, Team Principal: "Although we had a more challenging Friday than at recent race weekends, it was a useful day to achieve our set-up work in anticipation of a dry race on Sunday. So far we haven't achieved the level of performance that we would like but we have collected good information to work through tonight. The weather always seems to play its part in Brazil and if the rain arrives tomorrow, the conditions may benefit us."
Norbert Haug, Mercedes Motorsport Director: "Today we did not quite achieve the level of performance that we have shown at the last couple of races however we are not too far off. Our high fuel runs looked reasonable but the single lap performance can be improved further before qualifying. The weather forecast predicts heavy rain for tomorrow so we may see a different order in such conditions. So far, the team, Nico and Michael have always performed quite well in wet conditions."
Red Bull-Renault
Sebastian Vettel (1st, 1:11.968): "I think it was pretty good today - of course it's not the most important thing to be at the top of the timing list today, it's more important tomorrow and Sunday - but it's a good start. The car feels alright, I'm not one hundred percent happy with the balance and think we can improve it, but it's looking okay. I think it's likely to rain tomorrow."
Mark Webber (2nd, 1:12.072): "It was a good Friday and we got through everything we wanted. Obviously the track was in a good condition from the outset, so we were able to get down to work. Conditions were good and we made the most of it. We're not too sure what will happen weather-wise, but we're pretty quick and the car works well in all conditions, so we should be set for a good result."
Ferrari
Fernando Alonso (3rd, 1:12.328): "As usual, it is very difficult to draw any conclusions after Friday's two free practice sessions. In fact, the Red Bulls have always been dominant in the last six or seven Fridays, therefore there were no surprises today. Even when we have managed to take pole, they have been very competitive the previous day. For us, it will be important to stay ahead of the McLarens and the other teams, who on this track could be in the mix: by that I mean Renault, Williams and Mercedes. Then, the forecast is for rain tomorrow and anything could happen. It will be vital to understand when and on what tyres to go out on track to set a time. We have introduced a few updates on the car which seems to be a positive step, even if we still need to analyse the data in depth. The engine change between the two sessions was already on the day's programme therefore, in reality I only lost a couple of laps, nothing more."
Felipe Massa (5th, 1:12.677): "I ran wide at Turn 2 and went over the kerb quite heavily: I immediately noticed that the clutch had disengaged and I was unable to select any gear to try and get back to the pits. Nothing like that has ever happened to me before: it was only when the car was brought back to the garage that we discovered it was an electrical problem. It was a shame, because I was on my first run with the soft tyres and I had yet to fully understand how they were working. Overall, I feel we can be competitive this weekend. Sure, the Red Bulls are very strong, as are the McLarens. It is meant to rain tomorrow and, on a wet track, anything could happen. I don't expect any special problems with the tyres as their behaviour seems to match our expectations. It's true I did not do a long run on the softs, but the initial impression is that they are also consistent. The Brazilian crowd is incredible, singing and dancing all day long! They are very passionate about Formula 1 and for a driver who is from here, it is a great pleasure to race in front of these fans: it gives you an extra motivation to give your all to make them happy."
Stefano Domenicali, Team Principal: "I would say there is nothing new under the sun, even here in Brazil. The pecking order seems to be the one we have seen throughout this part of the season, with Red Bull definitely having a slight edge, especially on the first lap. However, tomorrow the forecast is for rain, therefore qualifying will be even more difficult and factors other than the pure pace of the vehicle and the driver's performance will also come into consideration. More than ever, it will be important to keep a cool head and concentrate, in order to manage the various situations that could arise as well as possible."
Chris Dyer: "It was a reasonably average sort of day, apart from the two little problems we had, first on Fernando's car and then on Felipe's. The engine on car 8 had reached the end of its life, so we lost practically nothing, while Felipe's had a problem linked to the electrics in the switch which controls the neutral finder that disengaged the clutch . In terms of performance, today we tried some aerodynamic updates: the first indications are positive and we are thinking of also using them on Saturday and Sunday. On the first flying lap, the situation is not bad, but we definitely have to improve if we want to be in the fight for pole position. Having said that, we are expecting a wet qualifying tomorrow: an opportunity to make up some places on the grid, but at the same time, a risk of losing an equal number. We have seen that on a long run, the car handles very well., but we know how important is the grid position in terms of the outcome of the race."
Williams-Cosworth
Rubens Barrichello (11th, 1:13.520): "Today went ok. We worked through everything we needed to and tried out various combinations. We need to make some improvements and get everything working for tomorrow as I don't think the car was any faster in the afternoon's session. Typically for Brazil, it's looking like it could be wet tomorrow so we have to prepare for that."
Nico Hulkenberg (13th, 1:13.725): "It looks very competitive out there this weekend so I think it could be quite a difficult task to get into the top ten tomorrow. Personally, I didn't get a very clear run on the option on low fuel today but everything else went well. We still have to improve the car ahead of qualifying so we have work to do."
Patrick Head, Director of Engineering: "That was a normal Friday; we ran through a number of options, some of which proved beneficial for us. Nico did a good long run on tanks so we're happy we've done our homework. I understand it could be wet tomorrow so that could make things interesting for everyone."
Renault
Robert Kubica (6th, 1:12.882): "Our position looked pretty good in both sessions today but we know from experience that Friday can be misleading, so we need to be cautious. The main target overnight will be to improve the balance of the car because it was not ideal today - I was struggling with inconsistency and low grip. None of the changes we made really allowed us to make a big step forward, so we need to work hard this evening to make progress. Although the circuit was quite slippery early on, the grip levels picked up quite quickly, so we had a consistent basis for our testing."
Vitaly Petrov (15th, 1:13.818): "We lost quite a lot of time this morning after my accident, and that obviously had a knock-on effect this afternoon as well. It's been a difficult day for me, but I have enjoyed driving this circuit, which gives the driver quite a lot of challenges. We need to work hard tonight to ensure that we can make up for the problems we had today."
Alan Permane, Chief Race Engineer: "It was actually a bit of a frustrating day, and we struggled to find a car balance that Robert was happy with. He suffered from inconsistency, probably owing to the low-grip surface here, and we will work tonight to improve that and make the car easier to drive. Vitaly endured a very tricky day. A problem with the rear wing caused him to crash during this morning's session, and the mechanics did a good job to get him out in good time in the second session. But he was always playing catch-up after that, and never really got comfortable with the car balance. We've still got a lot of work to do tonight, to improve both cars and get to where we want to be. What's more, the weather forecast indicates that we'll probably have rain all day tomorrow. That will be an added challenge - but, as always, could also give us the opportunity to spring a surprise."
Force India-Mercedes
Adrian Sutil (14th, 1:13.741): "Today was a reasonable start to the weekend with no major problems and some solid running in both sessions. We ran through our usual programme of long and shorter runs and tyre work and got lots of information to work on tonight. Unusually for here the surface was quite grippy, even in the morning, so we didn't need to wait for it to rubber in to get the tyre comparison data. We also had some new items to test and the car felt consistent and balanced, even if there wasn't such a huge improvement in time, maybe half a tenth or so. Let's see what we can do tomorrow: the weather conditions for qualifying look to be a bit mixed so it could be an opportunity to show well."
Vitantonio Liuzzi (16th, 1:14.045): "Overall it went pretty well today over the two sessions. We still need to understand a bit more about the set-up as this is a difficult track to get right with the long straights and then the twisty middle section - you need to get the right compromise between the downforce levels. We also had an issue with the switchable rear wing in the morning but we sorted it for the afternoon. We could go some way into understanding the tyre performance but we've got a bit of work to do on the balance to get everything right, although on the positive side we know there's still more to come from us."
Dominic Harlow, Chief Race Engineer: "A trouble free day for both cars, well executed programmes and good quality data. We've a few decisions to take overnight with respect to set up and some of the aero changes we evaluated today. The rest of the weekend will be tactically an interesting challenge for us with compromises for qualifying and the race to be weighed up."
Toro Rosso-Ferrari
Sebastien Buemi (17th, 1:14.304): "The day went quite smoothly, apart from a problem with the brakes at the start of the afternoon session. When you brake at the end of the straight and the pedal goes long, it's not a nice feeling so I came straight back to the pits. Well done to the team for fixing the problem so quickly. After that I was able to finish my programme, getting a good read on the tyres over the long run with both the Option and the Prime tyres. They say it will rain tomorrow, which means it will be a completely different story. We now need to look for ways in which we can improve for tomorrow."
Jaime Alguersuari (18th, 1:14.578): "This was a difficult day in which I struggled with understeer and oversteer and currently we don't look very competitive in the dry, so we must see what we can do to improve as I was not so happy with the balance of the car. But things could be better for us if the rain comes tomorrow as predicted. As for the incident with Schumacher, I had spun at the previous corner and so he came alongside me on the outside going into Turn 1. I tried to keep my inside line as he came round but all the same we touched."
Laurent Mekies, Chief Engineer: "We completed our programmes with both cars, making up for lost time after we had a brake system issue on Sebastien's car this afternoon. We tried a lot of different things across both cars, with Sebastien much happier with the balance than Jaime. Now we must look at the data from both cars and take the best elements from each of them to move forward tomorrow. However, we have to bear in mind that we are heading for a wet Qualifying and any decisions we reach regarding set-up has to take this into consideration, allowing for the fact it should be dry again on Sunday."
Lotus-Cosworth
Jarno Trulli (19th, 1:14.984): "That was a pretty good day. It's good to complete so many laps and have no problems at all. When the car feels well balanced, like it did today, you can push around the whole lap and end up where we did, ahead of the other new guys. I have to say this is one of my favourite tracks. It's very technical and I think it suits my style well. We've made a few changes to the setup for this weekend and that's given me more confidence in the car - I think you can see the results of that in my laptimes, and I think there's more to come tomorrow."
Heikki Kovalainen (20th, 1:15.101): "It was a good day for us. It started well, with the confirmation of the Renault engines next year, and then on track we got through the whole programme with no problems. The car felt good on both types of tyres and with the different fuel loads and when you compare our times with our direct competitors I think we're looking very strong. I really like this circuit - it's been evolving all day and it's a good challenge to find the right setup to cope with the high speed and the low speed sections. When you have a good day like we have had today it's a very rewarding circuit to drive."
Dieter Gass, Sporting Director: "We are all pleased with the performance of both cars today. There is obviously more work to do tonight, and I think there is still more to come from the cars, but the real variable will be the weather tomorrow. The forecasts are looking very interesting and it will be a good challenge for the drivers, the mechanics and the engineers to capitalise on any opportunities that arise on track tomorrow."
Mike Gascoyne, Technical Director: "It was a very successful day for us, perhaps one of the best Fridays of the year. Both cars ran without any problems and the performance looks good on the short and the long runs. We ended up exactly where we wanted to be, and we are maybe looking slightly more competitive with the midfield than we have been. On the whole this was a very good Friday."
HRT-Cosworth
Bruno Senna (22nd, 1:16.070): "I was very excited and happy today to race at home and on this new track for me. It was a good day and I could do many laps. We worked very hard to find more performance from the car and learnt a lot. In the second session, we managed to find a better compromise. We will see what happens tomorrow, as it looks as if it's going to rain and I am looking forward to be in front of my home crowd again."
Christian Klien (23rd, 1:16.082): "The first day started off very well for us and I felt comfortable as soon as I jumped into the car. We could already work on the set-up for the race. Unfortunately, I had to stop before the end of the first session because the second gear was broken. We lost one run with this but in the afternoon, the car was fixed again and I could do some long runs. I am very happy to be back in the car and to complete a full race weekend again after Singapore."
Colin Kolles, Team Principal: "It was an efficient first day in Brazil. We completed 128 laps in total and both drivers got used to the track during the day. In the morning, the second gear on Christian Klien's car broke before the end of the session but the mechanics could fix the problem for the second practice. Other than in Singapore, Christian felt comfortable in the car from the beginning and could adjust the car to his driving style. Bruno Senna showed a solid performance in front of his home crowd. We could close the gap to the other new teams and even end up in front of one of them."
BMW Sauber-Ferrari
Nick Heidfeld (8th, 1:13.222): "I am quite satisfied because I didn't expect us to be that strong here, and the lap time isn't on the edge yet. The long runs were even better than eighth fastest. I feel here I made a step forward with the set up of the car."
Kamui Kobayashi (12th, 1:13.610): "I think our general performance is quite good, but I'm not yet happy with my car. We have to find the right balance, as it is too understeery. Also I expected a bit more grip from the option tyres. At least the puncture at the end of the first session didn't cost track time, and we have completed our programme as planned."
James Key, Technical Director: "We had no development items to test, so it was just a case of setting up the car for both drivers. The track's grip came in quickly this morning, and was already quite consistent in free practice 1. We scanned the downforce levels, and we are happy with what we have now established. In the afternoon we evaluated the tyres. It looks like we have to work a little bit on the prime tyres to fully understand how they are behaving when warming up, and then also with longevity. The option tyres seem to be fairly consistent, and both drivers did a better lap time on them. Nick seems to be reasonably happy with the car. Kamui's got a few more balance issues that we will work on overnight. Overall it was a useful day."
Virgin-Cosworth
Lucas di Grassi (21st, 1:15.433): "Today was my first time ever driving the Interlagos circuit in a Formula One car. It is just an amazing feeling to be racing in my home town and I'm very excited about the whole weekend. Today was a good start; although I missed the first session I was still able to get up to speed quite quickly. I think we made all the right setup changes, so I'm feeling competitive this weekend and of course I have that little extra motivation that a home race brings."
Timo Glock (24th, 1:16.150): "Today was a bit of a strange day. We had a good first session but the second free practice wasn't very helpful. The Prime tyre was working well but we didn't do so well on the Options. After trying the Option tyre we made some setup changes and I'm confident that we have a good direction for tomorrow. After that we will see what the weather brings and what opportunities we can create for ourselves."
Jerome D'Ambrosio: "Today was my final free practice session with the team before I take part in the young driver test in Abu Dhabi in two weeks' time. It was good to finish my fourth session on a positive note and generally I am very happy with my performance. I have learned a great deal and I look forward to bringing all of that experience together in the test. Today was a constructive day for me; we did a lot of laps and some good setup work to make sure we have a good basis for the weekend. I think we can make good progress so I wish the team some good luck for the race."
John Booth, Team Principal: "A good day for the number 25 car with Jerome putting in another polished performance and then Lucas quickly getting up to speed in the second free practice on a circuit that surprisingly he is not that familiar with. Both drivers worked well with their engineers to tune the setup and the car ran perfectly all day. Timo's day was less smooth; he experienced a few electrical gremlins in the morning and struggled to get the best out of the Option tyres in the afternoon. However, by the end of the day he had found a better direction on a dry setup while keeping one eye on the wet weather forecast for tomorrow."