Brazilian GP 2009
OCTOBER 16, 2009
Friday Team Quotes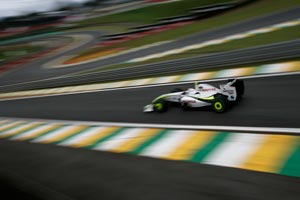 © The Cahier Archive
McLaren-Mercedes
Lewis Hamilton (10th, 1:12.749): "We had a good Friday. We're not the fastest, but our long runs appear to be quite consistent. We're not as quick as the Red Bulls, but, for Brazil - where we haven't traditionally been quick - we're quite happy with the pace we have. In the past, we've always been quick in qualifying but not as quick in the race. KERS is worth close to four tenths in quali and around half that in the race, so I'm optimistic for tomorrow afternoon and think the consistency we showed today will reward us in the race."
Heikki Kovalainen (17th, 1:12.992): "A productive day. The times may not necessarily show it, but we've made some good progress today. We followed a disciplined programme, focusing on our race pace and evaluating both tyre compounds. Our pace on both tyres appears to be very good and we suffered very limited degradation, so I think our race pace will be good."
Martin Whitmarsh, Team Principal: "Firstly, it's a great feeling to be back in Brazil, and, in particular, here at Interlagos. This circuit holds some very happy memories for the whole team, and they came flooding back this morning once the sessions started. Interlagos hasn't normally been a circuit where our race pace has been strong, but today's running has certainly showed a remarkable level of consistency, which we are confident will carry over into the race on Sunday. Today's times also show that the pace of both Red Bulls looks very strong, but we believe we'll have a competitive racing car for this weekend."
Norbert Haug, Mercedes Motorsport Director: "Not a bad day. We've been posting quick and consistent lap times in our race simulations. Lewis in 10th position was a little less than three tenths slower than Rubens Barrichello in third, and the three world championship contenders did similar lap times to Lewis. All 20 cars are separated by less than a second on their fastest laps, so it's closer than ever in Formula 1. I'm not too concerned about our positions in today's rankings. Tomorrow and on Sunday, we hopefully should be as competitive as in the last races, but of course there is always room for improvement."
Ferrari
Kimi Raikkonen (18th, 1:13.026): "I'd say this Friday was not too different to others we have experienced this season, especially in recent races. It's all very close so it will only take a small step forward to climb back up the order, but we are definitely facing a difficult weekend. The tyres suffered with a bit of graining, which made itself felt especially in the second sector, but I believe that, as often happens here, once the track rubbers in, the situation will improve."
Giancarlo Fisichella (20th, 1:13.275): "Eighteenth and twentieth places in FP2 is not a result we can be happy about but, to use a footballing expression, it's all looking very tight, as it has been in fact for much of the year. On top of that, we are also working a lot for 2010 which makes it even harder to understand precisely where we stand compared to the others. We are really struggling in the second sector, where what counts the most is aerodynamic downforce, an area in which the F60 does not really excel. Tomorrow, it will be vital not to make the slightest mistake to try and get a good qualifying result: here it will only take a tenth or even less to fail to make it past Q1."
Stefano Domenicali, Team Principal: "Clearly, we cannot be satisfied with the way things went today. We definitely have a lot of work to do to try and improve the set-up of the car within the limitations of what we have to work with. However, we should also take into account how close the times are, with all twenty drivers out on track this afternoon setting times within the same second. It takes almost nothing to make the difference between being at the front or at the back of the pack. This means that everyone, drivers and team, will have to carry out their work perfectly if we aspire to getting a good result this weekend, starting with tomorrow afternoon's qualifying."
Chris Dyer: "It was a pretty difficult Friday, with very changeable weather, which prevented us from getting through all our planned programme. Furthermore, we had a problem with Fisichella that prevented him from doing his final planned run in FP2. There's a lot of work to do to try and improve the car, which lacks grip, which is particularly noticeable in the second sector, where we are not really competitive. We were also experimenting with some mechanical elements aimed at next season: without any winter testing available before the new car makes its debut, we have to exploit every opportunity, especially given the situation in the championship."
BMW Sauber
Robert Kubica (12th, 1:12.862): "Today, we tried different downforce levels and completed some long runs in preparation for the race. However, it was very difficult to get reliable results because on several occasions it was drizzling, and the conditions were changing frequently during the two sessions."
Nick Heidfeld (15th, 1:12.948): "We changed the car a lot after the first session when it really wasn't good at all. The changes definitely meant an improvement, but the balance isn't yet as I would like it to be. We still have some work to do. The track is better than expected, so I can't complain about any changes for the worse since last year. There are still bumps, of course, but nothing to worry about."
Willy Rampf, Technical Director: "As far as the track conditions are concerned, this was a mixed Friday for all teams. Again and again light rain falling made the set-up work difficult. We concentrated on race preparation and drove with different aerodynamic configurations. For tomorrow we will concentrate on qualifying. There is still work to do."
Renault
Fernando Alonso (1st, 1:12.314): "Today wasn't easy because the weather conditions were changing all the time. That made it difficult to concentrate on the set-up of the car, but in the end we did some good runs with positive results and hopefully tomorrow we can continue this good work. I think that the weather will be the key to this weekend so we need to react quickly to any changes and be flexible. We have a very interesting weekend ahead of us and hopefully we can maximise the work that we do tomorrow morning so that we are in good shape for qualifying."
Romain Grosjean (11th, 1:12.806): "The day has gone quite well but the weather has been so unpredictable. We still managed to make made good progress and tomorrow morning I will continue working hard to improve my times. This was my first experience of the Interlagos circuit and it's a great place, although it isn't easy and the track has lots of uphill and downhill sections which are challenging. Tomorrow I need to continue learning the track as well as completing my preparations for qualifying and the race on Sunday."
Bob Bell, Team Principal: "Today the whole field was very closely matched and at the end of practice there was only a second covering all the cars. In the afternoon Fernando was fastest and Romain was only half a second down in P11. The major problem today was the lack of grip, which I think everybody suffered with, but overall the balance of our car wasn't too bad. During the day we made a few changes which brought some good results and we also have a reasonable understanding of the performance of the tyres. So we are in good shape now in terms of knowing what to do for the race, but we still need to find some more grip."
Toyota
Jarno Trulli (6th, 1:12.605): "Everything went well today and we did our usual Friday testing work. We had some rain in both sessions which makes things a bit harder than normal and particularly in the morning there wasn't much grip. But even though the weather disrupted things for us, we still went through quite a few set-up changes and it feels like we are moving in the right direction. The car seems pretty good on this track and I had no major problems so I hope we can continue this positive progress for the rest of the weekend. After the great result last time in Suzuka I am really motivated to keep up the momentum and I am optimistic we can do that."
Kamui Kobayashi (13th, 1:12.869): "It was a a nice experience to be starting a weekend as a Grand Prix driver for the first time. It was also my first time driving in Brazil; I found that the track is good fun for a driver and also very challenging. Our work went well; just the weather wasn't perfect with the showers which meant the track surface was not consistent. That made it difficult to properly judge the set-up and also to fully learn each corner because the conditions were changing during the sessions. In the end I found a good rhythm and the car felt competitive so it was a good day for me. There are still things we can improve and I'll be working hard with my engineers to prepare properly for my first Formula 1 qualifying sessions. I'm really looking forward to it and I'm confident."
Dieter Gass, Chief Engineer Race and Test: "Overall it has been quite a good start to the weekend for us despite the difficult conditions all day. The drizzle in both sessions was not ideal but nevertheless we did pretty much all the work we wanted to; we just had to adapt the programme a bit to account for the weather. The two tyre compounds behaved largely as we expected, with no problems although the option proved to be a little better than we thought over a long run. Especially considering the difficult track conditions, Kamui's performance is even more impressive on a track he hadn't driven before today. We can only be pleased with how he performed. As usual we now have to look carefully at the data and fine-tune the set-up to get the most out of the car for the rest of the weekend."
Toro Rosso-Ferrari
Sebastien Buemi (2nd, 1:12.357): "I am happy that we seemed quite competitive in the afternoon, after the mechanics did a very good job to rebuild the car after my accident this morning. I came up fast behind Liuzzi, who was going slowly on the racing line and in trying to avoid him, I went over the kerb, lost control and spun. I think we showed good speed, even though this is my first time driving this circuit. Now we have a solid basis on which to improve tomorrow, after studying all the data. Today's session shows that our pace in Japan was not just a one-off. So, I am quite confident for the rest of the weekend."
Jaime Alguersuari (19th, 1:13.041): "I enjoyed my first day at this circuit, which has a nice mix of high speed and slower corners that make it fun to drive and overall, practice went quite well, even though it was tricky when the track was a bit damp. I am still learning and getting up to speed. There is still room to improve the car set-up, especially on the softer tyre, but it's already pretty good."
Red Bull-Renault
Mark Webber (4th, 1:12.514): "We couldn't have got much more out of today. The guys did a good job getting the optimum time on track that we could with the tricky conditions. We were dodging showers here and there, but we timed everything as well as we could. It's one of the more encouraging Friday's that we've had for a long time, so it was good. I hope it carries on tomorrow. We've seen that things can change day to day with this Championship, so I'm looking forward to qualifying - it should be good for us."
Sebastian Vettel (7th, 1:12.611): "All in all, a good Friday. We had another practice day without any engine trouble, even though we did a lot of laps - so thanks to Renault for that. Other than that, we were fast throughout the whole of practice today. We'll look into the data now and I'm sure we can improve further - we should have enough time before tomorrow to make another step forward. Weather-wise, I think today was the day they predicted rain and it didn't rain much, so maybe that means rain for Sunday?... We will see."
Williams-Toyota
Nico Rosberg (8th, 1:12.633): "Today was all about tyre testing for qualifying and the race. We know roughly what we will do but it's not entirely clear for the race; that will depend on how much the track improves. We also spent time looking at our downforce level but it's always difficult and sometimes you need to compromise because, on the one hand, you want to find the quickest lap possible but, on the other, you need to be careful that people are not able to overtake you on the straight. Set-up wise, we just carried out some fine tuning. I don't think there's much to improve on that front for this track. Overall, we've had a good day's work and we are where we need to be."
Kazuki Nakajima (14th, 1:12.929): "The weather was quite tricky today but, fortunately, we still managed to get some running in under dry conditions. We worked through quite a lot of things and we know in which direction we want to head for tomorrow now. Whenever I was out on my new tyres, it started to drizzle so I didn't get to record a good lap time today."
Rod Nelson, Chief Operations Engineer: "As usual, we covered our standard Friday programme; looking at car balance, qualifying set-up and some longer race runs with heavier fuel. Obviously, the first session was somewhat upset by the rain. There was more rain in the morning session than we expected and then less than we had anticipated this afternoon, but it didn't affect us too much."
Force India-Mercedes
Adrian Sutil (9th, 1:12.720): "Today went OK with no major problems, just working through everything as usual with the tyre comparisons. We didn't make any real changes on the car over the day as I was quite happy with the balance so we just waited until the grip improved on track and worked through the programme. The weather was a bit crazy and actually I think everyone expected more rain, but it was quite light. In FP2 in particular the track was wet in some places and dry in others so getting the right timing was important. I was quite pleased with the progress we made and I hope we can have a good day tomorrow in qualifying as well."
Vitantonio Liuzzi (16th, 1:12.950): "With this unpredictable weather it's important to be out at exactly the right time to get the best of the track so perhaps the final classifications are not truly representative of the real order right now. We still have to work on the balance as it is not 100% just yet but overall the car is responding well to all the changes we have made. Unfortunately we just got caught in traffic every time we tried to do a good lap time but I'm happy we are going in the right direction for tomorrow. I think we could be in for a good qualifying, particularly if the weather stays so uncertain or if it rains some more as we have been pretty competitive in these types of conditions so far this year."
Dominic Harlow, Chief Race Engineer: "A couple of periods of light rain during the practice sessions today meant that our programmes were adjusted slightly to get a proper look at the tyres. It seems to be quite a standard set-up with the medium and super soft, and the car balance is not too far away. It's very close through the field, I've never seen so many positions decided on thousandths, not even hundredths of a second. Qualifying will be about traffic management and timing and it looks like the weather could also play a part."
Brawn-Mercedes
Rubens Barrichello (3rd, 1:12.459): "Our focus today was on evaluating our set-up for the race and whilst the times may not have always looked competitive, the data that we gathered will be very useful when we study all the options this evening. The car felt better when we put the softer option tyre on towards the end of the day and I was able to put in a good lap. It's great to finally get the track action underway today and I'm pleased with our progress and happy to be starting my home Grand Prix weekend at the top end of the field."
Jenson Button (5th, 1:12.523): "We achieved more running that we initially expected today with just a few little showers rather than the rain that was forecast. The car seems to be working well on the prime tyre which is encouraging and the pace was good. I'm struggling a little with the balance on the option tyre over one timed lap so hopefully we can resolve that overnight to be ready for qualifying."
Ross Brawn, Team Principal: "We had two good practice sessions today and are reasonably happy with our position at the end of the day. The balance of the cars improved this afternoon and both Rubens and Jenson are fairly comfortable with the set-up over longer runs. We still have some work to do overnight and ahead of qualifying to ensure that we achieve the best one-lap pace tomorrow."