Brazilian GP 2008
NOVEMBER 2, 2008
Brazilian GP, 2008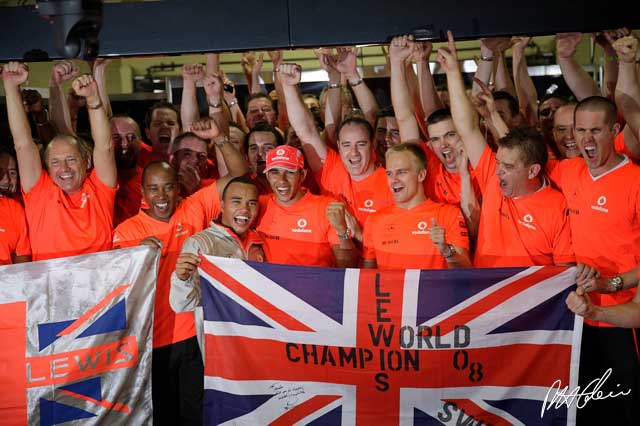 © The Cahier Archive
Timo Glock won the World Championship for Lewis Hamilton in Brazil. He did not mean to do it. When the rains came at the end of the race Toyota took a chance and left Glock and Jarno Trulli out on dry tyres. Timo has been running in seventh place and had nothing really to lose. As those ahead dived into the pits he stayed out and was suddenly fourth. Lewis Hamilton had been running fourth before that, trying to stay ahead of a charging Sebastian Vettel. He had the option to let the German go ahead as Lewis needed only fifth place to win the title. But when Glock stayed out things became rather more critical. Lewis was fifth and could not afford to let Vettel go ahead. There were three laps to go. Halfway around the lap Hamilton slid wide. Vettel went through.
"I don't know what happened," Hamilton said. "My tyres were shot. There was nothing I could do, I was trying to keep the car on the track. My heart was in my mouth. Then I heard it was the last lap I was pushing to get close to Sebastian. Vettel was the guy to beat and I could not catch him. I don't know what would have happened if I had lost it on the very last lap. Then the team told me that I had to get past Glock. I did not know where he was. I was told that he was just ahead but I did not know how far. I was praying that I could catch him. I couldn't believe it when I saw him at the exit of Turn 10.
I knew I had to pass him in the final few corners. He was tiptoeing and I managed to pass him in the last corner. I can only thank God. My heart was about to explode. I don't know how I kept my cool. I was very fortunate. I am going to celebrate with my family. I am speechless. I am struggling to say anything. It was one of the toughest races of my life. I kept saying 'Do I have it? Do I have it?' to the team and they told me as I went into Turn 1. I was ecstatic. It was very emotional. I have cried. My heart is under so much strain right now."
At 23 Lewis Hamilton is the youngest ever World Champion - and so much more.
A little further up the road Felipe Massa's world was falling apart.
"The race was just perfect," he said. "We did everything perfectly. It was such difficult weather at the end and I am so proud about that race. I am so proud of the team and all the people supporting me, more than I ever expected. That is an emotional day for me. You have almost done everything perfectly but then Lewis passing Glock. That's racing. The race finished with the chequered flag. We finished at the front, but unfortunately we missed by one point. We need to be proud of our race. I know how to win and I know how to lose. That is the way it is."
When he climbed from his Ferrari Massa bowed to the crowd.
There was not a soul in the place who did not feel for Felipe. He had been the hero. He had given his all. He stood proud on the podium, holding back the tears with an almost superhuman strength.
He could have done no more. He took defeat with a grace and a style that one rarely sees in modern sport.
It was a showdown so improbable that even Hollywood would not have made a film of it. The scriptwriters would have been laughed out of the studios.
Reality is, was and always will be, way wilder than fiction.
Up in the Media Centre the English and Brazilians agreed that both men were champions. It may not say it in the history books but anyone who watched Felipe Massa knows that inside the chirpy little Brazilian is the heart of a champion. The record books don't really matter.
Glock found himself the centre of attention. Had he slowed down deliberately, they asked.
"People who think I would decide the championship or I would let Lewis pass, they do not have a real idea about racing. First of all, you cannot plan a race like this. We had to stay out. It would have made no sense to pit because we would have lost even more time."
He was disappointed to have lost places to Vettel and Hamilton.
In the whirlwind that came after the chequered flag scant attention was paid to Fernando Alonso and to Kimi Raikkonen, who finished second and third, battling all the way to the flag. The result took Fernando to fifth in the Drivers' World Championship, ahead of Nick Heidfeld and Raikkonen to third in the Drivers' ahead of Kubica.
"We did our maximum," Alonso said. "The team made the right decisions at the right times, and I managed to keep Raikkonen behind me until the finish. It's a fantastic result for the team and a great way to end the season."
Indeed so.
Nelson Piquet's race was rather less successful, however, as he crashed at the second corner.
"I don't really know what happened," he said. "If I was touched or if I simply lost control of the car, but I couldn't see that much and I lost the rear of my car in Turn 3."
For Raikkonen third place was a good end to a poor year.
"I am sorry for Felipe, who has lost the title by a single point," he said. "That's racing and we have to live with it. I am particularly happy for Stefano (Domenicali), in his first year as team principal as I know how much pressure he has had to deal with and I think that this result is a good reward for that. A not very positive season for me has come to an end, but I will do all I can to make up for it next year."
Fourth place was a great result for Vettel, after another terrific race.
"It's great to end the season on a high with this," he said. " I didn't make any mistakes and I feel we deserved this result. It was great to be racing against Massa, Alonso and Hamilton. Great fun! Towards the end I was concentrating on staying on the track and I didn't know where I was in terms of position. I just tried to pass Lewis like any other guy and I succeeded. I passed Timo just at the last corner, as he was struggling on dry tyres. Lewis was behind me at that moment, but as I wasn't sure where I was after the final pit stop for rain tyres, I was definitely not aware that I might be influencing the World Championship. It was hard to know who was a backmarker or not and as it got darker and darker it was even difficult to know who the cars in front of you were."
One had to feel a little sorry for Sebastien Bourdais (again) because having been penalised in Japan for something ridiculous, he was shoved off the track in Brazil and there was no action from the stewards. Trulli's assault on Bourdais was - at best - clumsy. It was a racing incident but if Bourdais was punished in Japan, Trulli ought to have been punished too.
However, it is probably better that we hear less from the stewards rather than more. Let's hope it stays that way in the future.
Bourdais ended up 14th.
Glock and Jarno Trulli ended up sixth and eighth, which was a good result for Toyota but it might have been so much more.
"Finishing in the top six is a decent result for me because I'd been struggling with the car earlier in the weekend but we were very close to fourth place so I am a bit disappointed," said Glock.
Trulli figured strongly early on but then got caught behind Giancarlo Fisichella on dry tyres.
"I didn't have the top speed to overtake him so I lost a lot of time over those laps," he said. "As soon as I got away from him I was one of the quickest on the track, I was recovering quite a lot and closing the gap to the guys in front but it was not enough. When it rained we took the choice to stay on dry tyres and we got a point. Having started second we missed an opportunity."
Kovalainen was pretty much forgotten in the excitement over Hamilton. He finished seventh.
Missing out on points was Mark Webber who was the last man left unlapped at the finish.
"The pace wasn't there and I struggled," he said. "We knew some of the problems we had from practice and we tried to cater for those in the race, but in the end most of them were still there."
David Coulthard went out of F1 with a bang. The only problem was that it was at the first corner. It was not his fault that an errant Williams, driven by Nico Rosberg, punted him up the back, spinning him around and he snagged Kazuki Nakajima. DC was mildly upset as he had a cunning plan.
"I wanted to get to the chequered flag," he said. "I was going to do some doughnuts for the crowd, which is something you normally get fined for, but it didn't work out. I can't complain though, I've had a good career, so thank you to everyone who has supported me."
The big losers in Brazil were the BMW Sauber drivers. They had an awful weekend.
Nick Heidfeld ended up 10th with Robert Kubica 11th
"Losing third place in the Drivers' Championship in the last race is definitely not the best situation," the Pole said. "We made too many mistakes during the weekend and this is the result. During the race I was stuck behind Adrian Sutil for quite a long time. I managed to make up some positions in the final laps of the race, but it was too late."
Stuck behind Adrian Sutil. Oh dear...
It was best to gloss over the Williams weekend as well. At the end of the race Nico Rosberg seemed to think he had driven a good race to finish 12th, failing to mention that he had punted David Coulthard into Nakajima and messed up things.
"The car took a lot of damage to the bodywork and to the suspension which compromised my pace a lot," said Kazuki.
One hopes that the people at Williams will focus on what is important this winter. They need a better car and better drivers. End of story. And if the team does not recognise that then there are big problems ahead.
The two Hondas were 13th and 15th which was nothing to write home about.
"When I did have clean air, the car's performance was actually not bad," said Button, who finished ahead. "Unfortunately the strategy didn't really work out for us. We then needed to stop again for wet tyres at the end of the race anyway and fitting the extreme wets didn't pay off."
Rubens Barrichello also felt the car was competitive but the gamble of going on to extreme wets did not work.
"I was forced to stop again just three laps later because the tyres completely overheated," he said.
At the back in 16th and 18th were Adrian Sutil and Giancarlo Fisichella. This was frustrating as the team made a good strategic move and ran Fisichella on dry tyres from early on and thus he emerged in fifth place at one point (rather than third as the team claimed). During the pit stops the car stalled twice and so Giancarlo returned to his usual hunting ground. Sutil drove a steady race and finished a dull 16th.
It is rare that one sees a sporting event, any sporting event as exciting as the Brazilian GP of 2008. It is rarer still that one sees such sportsmanship and such heart.
Both Lewis Hamilton and Felipe Massa deserved the be World Champion. Hamilton won it, but for many people Massa was the hero of the day.
The real winner, however, was the sport.
F1 could not have asked for a better race.
Brazilian Grand Prix Results - 2 November 2008 - 71 Laps
POS
DRIVER
NATIONALITY
ENTRANT
LAPS
TIME/RETIRE
1.
Felipe Massa
Brazil
Ferrari
71
1h34m11.435
2.
Fernando Alonso
Spain
Renault
71
13.298
3.
Kimi Raikkonen
Finland
Ferrari
71
16.235
4.
Sebastian Vettel
Germany
Toro Rosso-Ferrari
71
38.011
5.
Lewis Hamilton
Britain
McLaren-Mercedes
71
38.907
6.
Timo Glock
Germany
Toyota
71
44.368
7.
Heikki Kovalainen
Finland
McLaren-Mercedes
71
55.074
8.
Jarno Trulli
Italy
Toyota
71
1m08.433
9.
Mark Webber
Australia
Red Bull-Renault
71
1m19.666
10.
Nick Heidfeld
Germany
BMW Sauber
70
1 Lap
11.
Robert Kubica
Poland
BMW Sauber
70
1 Lap
12.
Nico Rosberg
Germany
Williams-Toyota
70
1 Lap
13.
Jenson Button
Britain
Honda
70
1 Lap
14.
Sebastien Bourdais
France
Toro Rosso-Ferrari
70
1 Lap
15.
Rubens Barrichello
Brazil
Honda
70
1 Lap
16.
Adrian Sutil
Germany
Force India-Ferrari
69
2 Laps
17.
Kazuki Nakajima
Japan
Williams-Toyota
69
2 Laps
18.
Giancarlo Fisichella
Italy
Force India-Ferrari
69
2 Laps
R
Nelson Piquet
Brazil
Renault
0
Accident
R
David Coulthard
Britain
Red Bull-Renault
0
Accident
FASTEST LAP:
Felipe Massa
Brazil
Ferrari
36
1:13.376