Brazilian GP 2008
NOVEMBER 2, 2008
Race Notes - Massa takes Brazilian win - Hamilton wins the championship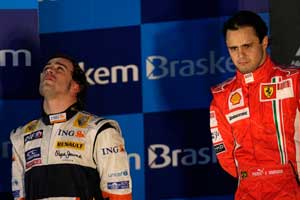 © The Cahier Archive
Felipe Massa won the Brazilian Grand Prix, but Lewis Hamilton took fifth place on the final corner in damp conditions to win the Drivers' World Championship.
Massa, in his Ferrari, did everything he could do to give him a chance for the championship, winning the race in Sao Paulo by 13.2 seconds over the Renault of Fernando Alonso, and Kimi Raikkonen in third place in the second Ferrari, some 16.2 seconds behind.
Hamilton becomes the 30th Formula One World Champion, and youngest ever. Ferrari wins the Constructors Championship for a record 16th time.
Sebastian Vettel (38.0s) in the Toro Rosso-Ferrari finished fourth, followed by Hamilton (38.9s) in the McLaren-Mercedes in fifth, Timo Glock (44.3s) in the Toyota in sixth, Heikki Kovalainen (55.0s) in the second McLaren in seventh and Jarno Trulli (68.4) in the Toyota in the final points paying position.
Before the race, Hamilton only needs to finish fifth, even if Massa wins the race, to secure the World Championship.
Right before the start time a rain shower comes over the track soaking the circuit - the start being aborted and will be started 10 minutes late, allowing teams to change to wet tyres if the choose to do so. Predictions saying that the weather is clear for at least the first 30 minutes of the race.
Drivers starting on intermediate wet tyres, but much of the track looking to be dry.
Robert Kubica pitting for wet tyres at the end of the formation lap.
At the start Massa leads into the first corner with Trulli in second. At the second corner Nico Rosberg touches David Coulthard, who then hits Kazuki Nakajima, Coulthard out on the spot in his final F1 start, while separately Nelson Piquet spins out on corner 2 and is out as well.
The safety car comes out, Giancarlo Fisichella pitting.
The order was Massa leading Trulli, Raikkonen, Hamilton, Vettel, Alonso, Kovalainen and Sebastien Bourdais.
The Safety Car comes in on lap 4, Fernando Alonso and Kovalainen battle in the first corner but the order remains the same.
On lap 6 Nick Heidfeld passes Rubens Barrichello for 11th place.
On lap 7 Rosberg and Jenson Button pit for dry tyres. While Heidfeld passes Mark Webber for 8th place.
On lap 8 Bourdais, Glock, Adrian Sutil and Nakajima pit for drys. The next lap Vettel, Alonso, Webber and Barrichello head for the pits.
On lap 10 the leader Massa, Kovalainen, Heidfeld and Kubica pit. The next lap Trulli, Raikkonen and Hamilton are the last to make the switch to dry tyres.
On lap 12 Nakajima spins but continues. The next lap Trulli loses control, and gets passed by Hamilton, Glock and Bourdais.
On lap 14 Raikkonen, Fisichella (up the standing after stopping first for drys), and Hamilton fighting for fourth place.
After the stops, on lap 17, Massa leads Vettel by 1.0 seconds, followed by Alonso (1.9s), Raikkonen (9.5s), Fisichella (12.9s), Hamilton (13.0s), Glock (13.9s), Bourdais (14.6s), Trulli (19.2s) and Heidfeld (20.6s) in tenth place.
On lap 18 Hamilton passes Fisichella into the first corner to take fifth place.
On lap 21 Trulli attempts to pass Bourdais for 8th place, but they touch, Bourdais going to the grass and rejoining, but falling to 13th place.
Vettel continuing to chase Massa within a second of the leader, while Alonso holding onto third, within three seconds, the leaders trading fastest lap.
On lap 27 Kovalainen passes Trulli for 8th place, while Vettel is the first to pit for fuel from second place - rejoining in sixth place.
At lap 28 Massa leads Alonso by 4.2 seconds, followed by Raikkonen (15.3s), Hamilton (19.6s), Glock (21.7s), Vettel (30.5s), Kovalainen (37.1s), Fisichella (40.6s), Trulli (41.3s) and Heidfeld (42.0s) in tenth place.
On lap 37 Glock makes his second stop from fifth place.
On lap 38 Massa pits from the lead staying on the harder dry tyre. Fisichella pitting from seventh as well as Bourdais the next lap.
On lap 40 Alonso and Hamilton make their pitstops, along with Barrichello, followed by Rosberg the next lap.
On lap 42 Kovalainen and Heidfeld pit, followed by Raikkonen from the lead the next lap, as well as Trulli.
At lap 45 with the second stops completed, Massa leads Vettel (who is expected to stop one more time) by 4.1 seconds, followed by Alonso (7.3s), Raikkonen (18.1s), Hamilton (20.8s), Webber (26.9s), Kovalainen (36.9s), Glock (39.7s), Trulli (53.5s) and Heidfeld (55.3s) in tenth place.
On lap 49 Webber pits from sixth place.
On lap 52 Vettel pits from second place to make his final stop - rejoining in fifth place.
Vettel closes the gap to Hamilton in fourth place, while dark clouds could be seen approaching.
At lap 60, Massa continued to control the lead over Alonso by 12.0 seconds, followed by the rapidly closing Raikkonen (14.4s), Hamilton (25.8s), Vettel (27.0s), Kovalainen (43.8s), Glock (46.5s), Trulli (56.9s), Webber (67.2s) and Heidfeld (67.9s) in tenth place.
Raikkonen continued to close on Alonso in second place, as there are reports of spots of rain drops.
On lap 66 as rain starts to fall Kovalainen, Heidfeld, Barrichello, Rosberg, Bourdais and Kubica pit and gamble on taking on intermediate rain tyres.
On lap 67 Alonso, Raikkonen, Hamilton, Vettel and Button pit, Massa pitting the next lap, Glock and Trulli staying out on dry tyres.
At lap 68 Massa led Alonso, Raikkenen, Glock, Hamilton, Vettel, Trulli and Kovalainen in eighth. Hamilton is being chased by Vettel - the Championship in the balance.
With one lap to go Vettel passes Hamilton - Hamilton in sixth, tipping the Championship over to Massa if the order remains the same.
Hamilton chases Vettel, but cannot catch him. Glock slows, slipping on dry tyres, and Vettel and Hamilton pass Glock - handing the Championship back to Hamilton in the final corner!
On the cool-down lap, Felipe Massa believes he has won the championship, and is crushed when he learns that Hamilton has taken it away.