Brazilian GP 2008
NOVEMBER 1, 2008
Practice 3 Report - Fernando fastest again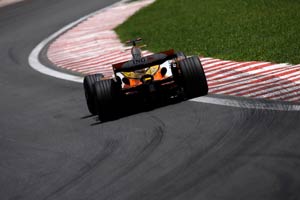 © The Cahier Archive
There are some in Formula 1 who say that Renault's recent performance has been such that it cannot possibly have been achieved given the performance of the cars at the start of the season. There are now films beginning to appear on www.youtube.com purporting to show the team's rear wing doing things that rear wings are not supposed to do, but this does not seem to worry the team. Fernando Alonso set the fastest time of the Saturday morning session in Interlagos, beating Lewis Hamilton by the tiny margin of 0.071s. Such an achievement would have been inconceivable a few months ago but now it seems to be happening on a regular basis, so it perhaps no wonder that people are chattering. There is probably nothing to the stories but it would be wise for the scrutineers to take a look at the car to make sure that all is as it should be. It would be a shame for such things to spoil what is looking like being a great World Championship showdown with the McLarens and Ferraris very evenly matched on the bumpy sweeps of Interlagos, which this year celebrated its 68th year of operation.
It is, however, a great venue for a showdown with the enthusiastic Brazilian fans giving the place a lively feel, despite the miserable overcast weather we have seen all weekend. The performance of the McLarens and Ferraris has been very close throughout practice and on Saturday morning the two McLarens were 2-3 in the timesheets with Felipe Massa fourth, albeit by the smallest of margins. Kimi Raikkonen was 12th fastest but is expected to be more competitive in the qualifying session.
Sebastian Vettel was fifth fastest in his Ferrari-engined Toro Rosso ahead of the BMW Sauber of Nick Heidfeld, the second Toro Rosso of Sebastien Bourdais, Mark Webber's Red Bull and the second factory Renault of Nelson Piquet, which seemed to lack the pace of Alonso's car.
The fastest of the Toyota-engined cars was Jarno Trulli in 10th place, ahead of Nico Rosberg's Williams-Toyota, Raikkonen, Timo Glock's factory Toyota and Robert Kubica's BMW Sauber, which will probably do better in the afternoon. Kazuki Nakajima was next.
Down at the back we had David Coulthard's oddly-liveried Red Bull-Renault, the Hondas of Rubens Barrichello and Jenson Button and the two Force Indias with the unusual result of Giancarlo Fisichella outpacing Adrian Sutil.
With qualifying just a few hours away the excitement at Interlagos was definitely increasing although the weather remains uncertain with a strong wind blowing over the circuit.