Brazilian GP 2007
OCTOBER 21, 2007
Brazilian GP, 2007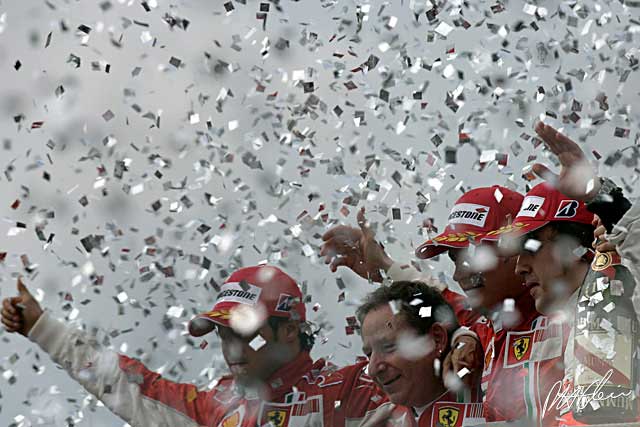 © The Cahier Archive
Kimi Raikkonen, the outsider in the World Championship, won an astonishing victory and the World Championship at Interlagos. The win gave the Finn 10 points and took his total to 110. With Felipe Massa finishing behind him, scoring a Ferrari 1-2, this meant that Fernando Alonso could manage only third place, which took his total to 109. But even that was not good enough to guarantee Fernando runner-up status as Lewis Hamilton overcame several mishaps to fight back to seventh place with a thrilling drive. His two points took his total to 109 and he beat Alonso because he scored more second places in the course of the year.
As the evening wore on in Brazil and Ferrari celebrated, it emerged that the fourth, fifth and sixth placed cars were all under investigation for fuel irregularities. If they were disqualified Hamilton would be champion. The FIA Stewards pondered the matter for hours before deciding that it was impossible to prove with any certainty that the temperature of the fuel was as the Technical Delegate had reported and that given the importance of the decision it was better to take no action.
McLaren said that it would appeal, not because it was trying to oust Ferrari but rather because it wanted to be able to understand how illegal cars were not excluded from the results.
Hamilton had looked the likely World Champion as he had done in China but in the race things went quickly wrong. Felipe Massa made a great start from pole position, to Hamilton's right, and pulled across the protect the inside line. Raikkonen made an even better start from the second row, on Hamilton's right and so the two Ferraris arrived side by side at the first corner with Raikkonen on the outside and Hamilton right behind them. To avoid contact Lewis had to lift off and that allowed Alonso to dive for the inside and hang on down through the Senna S and out on to the straight. Hamilton went to pass him on the outside, was going slightly too quickly and ended up going off. He rejoined in eighth place.
Lewis recovered fast. He passed Jarno Trulli's Toyota and then five laps later went down the inside of Nick Heidfeld to snatch sixth place in the first corner. With that he was back in a championship winning position as Massa continued to lead with Raikkonen second and Alonso third. Then came disaster as on lap eight the McLaren lost its drive and slowed to a crawl. Hamilton tried everything to put life back into the beast and amazingly it worked. The McLaren took off again and Hamilton started to charge. He was 18th
Alonso had already given up any hope of beating the Ferraris and was busy hoping that one of them would break and give him the eight points he needed.
"I could hold the Ferraris initially," he said, "but when they started to push there was nothing I could do."
By lap 20 Hamilton had battled his way up to 11th. The stops did nothing to change the order up front but McLaren decided to put Hamilton on to a light fuel load and soft tyres - which had been a problem for all concerned all weekend - to get them out of the way and to minimise the damage that they would do. This worked well and it looked on lap 35 that Hamilton was still in with a chance. He was ninth and seemed to have done all his stops and as others on different strategies cleared out of the way he rose through the order to eighth. But the damage had been done in those early laps and the gap to the men at the front were simply too big. He drove his heart out and finished seventh, hoping all the way to the flag that people ahead would drop out and give him the points he needed.
It was a realistic hope because all the way to the flag Nico Rosberg and Robert Kubica fought a wild duel for fourth place. If the two had collided and taken one another off - which looked likely several times - Hamilton would have snatched the title back from Kimi.
Even after he had crossed the line, Raikkonen was not sure that he was champion.
"There were people who needed to finish and we did not know 100%," he said. "It took a long time to hear that we had finally won it. It was an amazing day!"
Amazing not only because of the track action but also because Kimi could not stop talking.
It had been an afternoon of surprises.
Massa would probably have won the race on pure pace but there was a bigger picture to consider.
For those who had complained about McLaren supposed lack of equality this was the perfect response. The drivers finished on the same points.
And you cannot argue with that.
The best news of all, however, was that the World Championship had been decided on the race track...
Or so we thought until whispers came of the fuel problems for the two Williams and two BMW Saubers.
The battle for fourth place in the Constructors' title was one of the few issues other than the Drivers' Championship to be resolved and going into the race weekend AT&T Williams had a four point advantage over Red Bull Racing but a rookie driver in the second car. And Red Bull looked strong with Mark Webber fifth on the grid and David Coulthard ninth. Nico Rosberg was 10th and Kazuki Nakajima way back in 19th on the grid.
The Red Bull plans began to fall apart early on when Webber disappeared with a mechanical problem after just 15 laps. Rosberg was charging and went further than many of the frontrunners, which allowed him to run third for a lap. A similarly long second stint took him back up to third again and then he fell back into his fight with the two BMW Saubers. It was not until the start of lap 69 that the matter was solved as Nico went ahead and add five points in the Williams bag to put the fight beyond doubt.
The day belonged to Raikkonen
"We were not in the strongest position but we always believed that we could recover and do a better job," he said. "Even with the hard times everyone was sticking together and we did not give up. We worked hard and improved the situation."
Even Alonso was graceful in defeat
"You have ups and downs and you have better moments and worse moments," he said. "It is not a secret I had difficulties with the team. We tried to work together as well as we could and we finished third in the Drivers championship. I have great memories from this season."
Brazilian Grand Prix Results - 21 October 2007 - 71 Laps
POS
DRIVER
NATIONALITY
ENTRANT
LAPS
TIME/RETIRE
1.
Kimi Raikkonen
Finland
Ferrari
71
1h28m15.270
2.
Felipe Massa
Brazil
Ferrari
71
1.493
3.
Fernando Alonso
Spain
McLaren-Mercedes
71
57.019
4.
Nico Rosberg
Germany
Williams-Toyota
71
1m02.848
5.
Robert Kubica
Poland
BMW Sauber
71
1m10.957
6.
Nick Heidfeld
Germany
BMW Sauber
71
1m11.317
7.
Lewis Hamilton
Britain
McLaren-Mercedes
70
1 Lap
8.
Jarno Trulli
Italy
Toyota
70
1 Lap
9.
David Coulthard
Britain
Red Bull-Renault
70
1 Lap
10.
Kazuki Nakajima
Japan
Williams-Toyota
70
1 Lap
11.
Ralf Schumacher
Germany
Toyota
70
1 Lap
12.
Takuma Sato
Japan
Super Aguri-Honda
69
2 Laps
13.
Vitantonio Liuzzi
Italy
Toro Rosso-Ferrari
69
2 Laps
14.
Anthony Davidson
Britain
Super Aguri-Honda
68
3 Laps
R
Adrian Sutil
Germany
Spyker-Ferrari
43
Damage
R
Rubens Barrichello
Brazil
Honda
40
Engine
R
Heikki Kovalainen
Finland
Renault
35
Accident
R
Sebastian Vettel
Germany
Toro Rosso-Ferrari
34
Hydraulics
R
Jenson Button
Britain
Honda
20
Engine
R
Mark Webber
Australia
Red Bull-Renault
14
Transmission
R
Sakon Yamamoto
Japan
Spyker-Ferrari
2
Accident
R
Giancarlo Fisichella
Italy
Renault
2
Accident
FASTEST LAP:
Kimi Raikkonen
Finland
Ferrari
66
1:12.445