Belgian GP 2022
AUGUST 28, 2022
Sunday Team Quotes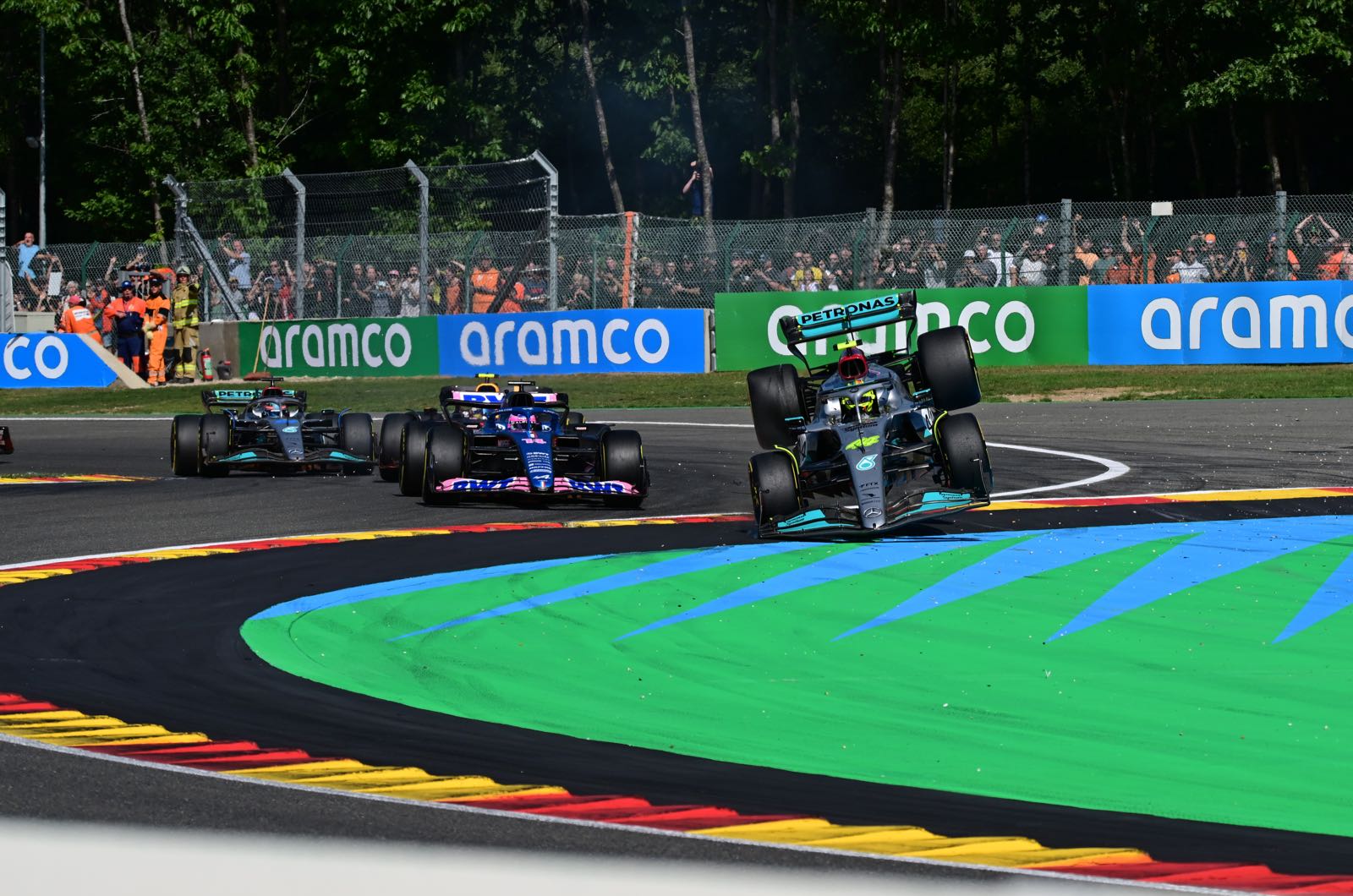 © Mercedes-Benz Grand Prix Ltd.
Mercedes-AMG Petronas F1 Team
George Russell (4th): "I have mixed feelings right now because had you told me last night we will be two seconds off the podium on merit and pure pace, I'd have said that's a good recovery. When I was closing in on Carlos at the end, a second a lap, I thought here we go - we're in for a really good shot here. But then I just had two really scrappy laps and got the tyres out of the window. When the tyres are in that sweet spot, the car is transformed but as soon as I lost them, I knew the podium was game-over. Overall, considering where we were, P4 and two seconds off the podium - not too bad. Today our race pace was probably better than the Ferraris; Carlos started on pole, was leading the first stint and we closed him in both times. So at worst, I think we were equal with Ferrari today, but as we know, it's swings and roundabouts. What is clear is, Max is cruising away at the moment."
Lewis Hamilton (DNF, Damage): "Looking back at the footage, Fernando was in my blind spot and I thought I left more room than I did, so it was my fault and I paid the price. I'm just sorry for the team, we had a chance of P3 and P4 today. The car felt good on the laps to the grid, we'd got it into a good place and I'd made a good start. After three weeks away, I was looking forward to racing today so it's frustrating, but it is what it is. Right now, my job is to focus on the next race, I need to recuperate and get back on the treadmill."
Toto Wolff, Team Principal: "I don't think we can be satisfied with this weekend - if you see Verstappen, he has leaped above us all. We really need to find out how we can improve our car because the gap is just too big. We're giving the drivers a very difficult car to drive and it hasn't got the pace on a single lap so we need to work ourselves out of this situation. Over the next four days, we'll be putting our heads together, setting our sights on the next race and also next season. It's important we stay level-headed, keep our spirits up and don't flip too much between elation and depression - this weekend is a low but in Hungary three weeks ago, we were thinking we will absolutely win a race, so we'll never give up."
Andrew Shovlin: "Well done to Max and Red Bull, he was in a different league today and would have won from anywhere on any strategy. It's a bit of a shock how far ahead he has been this weekend; we've clearly got more work to do than we thought, fingers crossed he isn't this fast around every track! George drove good stints through the race and had better pace than Carlos, he'd just taken a bit too much out of the tyres in the final stint to make a pass. Lewis was unfortunate to be out of the race so early after a strong start. He'd not seen where Fernando was positioned turning into turn 5 and caused himself an early retirement; we've not yet got the car back but hopefully there's not too much damage. The weekend overall has been tough. We'd hoped to move forward here with our updates and whilst it seems that Ferrari are closer to us on race pace, Red Bull are clearly not. We have struggled with the various compromises the car has here, much more so than the races leading into the summer break and that's definitely made our lives more difficult. In many ways that has given some useful learning, the car isn't yet performing well enough over a range of tracks so it's clear we need to widen the working window. We were also poor on the single lap which is another area we have to focus on; with a bit more track temperature today, the warm-up was much better but it's been a recurrent issue over a range of conditions and circuits, and something we have to improve. We've got a couple of days to regroup and plan for Zandvoort, it's got some similar challenges with very fast corners so hopefully we can make a bit of progress having analysed the data from this weekend."
Oracle Red Bull Racing
Max Verstappen (1st): "This whole weekend has been incredible. It's never easy though, it was quite a hectic first lap staying out of trouble, so many things were happening in front of me and everyone was trying to maintain their spot. After the safety car and when it had all calmed down, we made our way forward by picking the right places to overtake and we could look after our tyres. Now we need to keep on working hard and focus on each race ahead of us. We know that we have to finish every race, we don't need to win every race but we want to as a Team. Let's see what we can do in Zandvoort."
Sergio Perez (2nd): "It is a great weekend for the Team and I am very pleased with that because we have been working so hard. Max was on another planet today and so quick, I want to understand my race pace and where I lost out to him, I am aware of the gap and I want to come back stronger. I had a really bad start but luckily I was able to rectify it. I went into a lot of wheel spin as soon as I released the clutch and couldn't get any traction, especially when I went into second gear, it meant I lost a lot of positions. I think my first stint wasn't very strong and that really made a difference and determined a lot of my race. I need to be at a better level for Zandvoort and Monza. There is plenty to look at and hopefully I go into next weekend even stronger, I think things will be a lot closer there so I am looking forward to it massively. We are going to push really hard."
Christian Horner, Sporting Director: "This was our biggest ever achievement to date. We have never won a race from as far back as P14 and to take a 1 - 2 with Checo, along with fastest lap, is an outstanding achievement. It's a fantastic win for Max and he has been in a class of his own on the track this weekend but it really is a team victory; for everyone here and all the team back in Milton Keynes. There is a lot of hard work that goes in behind the scenes that contributes to a performance like today and would also like to thank HRC for their contribution to this victory."
Scuderia Ferrari
Carlos Sainz (3rd): "The car felt quite good today and we did our best, but our pace just wasn't quick enough this weekend to hold on for the win. We ran a solid race from start to finish, with good pit stops and strategy calls, but it wasn't enough to keep the Red Bulls behind, as they simply had more pace. Time to analyse and prepare the next week's race at Zandvoort."
Charles Leclerc (5th): "We started well, then on lap 3 we unfortunately had a tear-off in the brake duct that meant I had to pit when I was in P9. That set us back quite a bit. From that moment on, I knew that it was going to be a difficult race. The feeling in the car was quite ok, but compared to our competitors we were lacking pace. They made a huge step leading up to this weekend and we have to work on closing the gap."
Mattia Binotto, Team Principal: "Today's race did not live up to our expectations. Red Bull has done a great job and the performance difference between them and us this weekend, in terms of pace and also tyre degradation was clear to see. Carlos drove a good race. Charles was unlucky in the very early stages and from then on he had even more of a job on his hands. As a team, we just have to roll up our sleeves and continue to improve the performance of our car. The next race at Zandvoort features a track with completely different characteristics and we are ready to give it our best shot as always, aiming for the win."
McLaren F1 Team
Lando Norris (12th):
Daniel Ricciardo (15th):
Andreas Seidl, Team Principal:
Andrea Stella, Racing Director:
James Key:
Zak Brown:
BWT Alpine F1 Team
Fernando Alonso (6th): "I am happy with the result today with fifth place. Our performance shows that we are consistently ahead in the midfield. It's clear that when we execute our races well, these are the results we can expect to score. We were also handed a little gift with the penalty to Charles [Leclerc] at the end, but we'll take it. The incident with Lewis [Hamilton] was also unfortunate, but it's a racing incident and the car seemed fine despite the contact. We can look back and be very pleased with our weekend here with more points scored in both championships as we look ahead to Zandvoort next."
Esteban Ocon (7th): "What a way to wrap up what's been a fantastic weekend for the team. The car was fast, and I personally had a lot of fun out there racing today, especially with those double overtakes. Well done to the team for their work this weekend, we can all be proud of ourselves. I was feeling confident all race and the car felt great and who knows what could've happened if we had started further up the road! We leave Spa satisfied, knowing it was a job well done, as well as a good haul of points for the team to extend our fourth position in the Constructors' Championship. Bring on Zandvoort."
Otmar Szafnauer, Chief Operating Officer: "We can be exceptionally pleased with our performance in today's race. Taking a sweet sixteen points after starting from third and sixteenth on the grid is a very good effort and certainly deserved. It was a busy race for the drivers who did well to come away unscathed after an entertaining opening few laps. Fernando was unfortunate to collide with Lewis [Hamilton] on the opening lap and it was lucky he did not sustain too much damage. Esteban too had to be sensible to take advantage of some opportunities in front, which allowed him to push towards the points-scoring positions. It was great to see both of our drivers enjoying some brilliant wheel to wheel racing at times and it was equally pleasing to see some fantastic overtakes throughout. It's been another brilliant event for the fans who will enjoy returning to Belgium next year, which is very good news for Formula 1. We'll reflect on today's race, assess where we can continue to improve, and head to Zandvoort ready to do it all over again!"
Scuderia AlphaTauri
Pierre Gasly (9th): "It's been an amazing race, it's my 100th race today, so it's a special one. I'm really surprised with how we've finished, after having to start from the pitlane to come back home in the top 10 is pretty incredible, so we should be happy with that today. We were obviously lined up in P8 on the grid, but had an issue and had to return to the garage, luckily we got the car started, and were able to begin the race from the pitlane. The car isn't quite where we want it to be yet, we've still got some areas we need to work on, but I'm pleased we managed to be back scoring points again today."
Yuki Tsunoda (13th): "Starting from the pitlane was always going to be tough, but I think the pace was strong today and we had a good strategy, being able to make our way forward during the race. Unfortunately, we lost quite a lot of time in the pitstops and then I got stuck in a DRS train, but I'm pretty happy with how I drove today and how the car felt. Hopefully we can maintain the performance we've found this weekend in the Netherlands, alongside a clean race weekend, and aim once again for the points."
Franz Tost, Team Principal: "Firstly, congratulations to Oracle Red Bull Racing for a fantastic 1-2 here in Spa, it was an unbelievable drive from Max. From our side, we managed to score some points today, which is positive, as we've not been able to do this at the last few races. Pierre drove a great race. Whilst on the starting grid, in his P8 spot, the electrical system stopped working so we had to bring his car back to the garage, where we were then able to start the PU to be able to begin the race from the pitlane. We must go away and investigate why it worked again once we returned to the garage. Of course, it was then a difficult race for Pierre, but he drove very well. He struggled with a lack of grip at the beginning of the race but during his later stint on the Mediums, he did a great job, and managed to make up multiple positions. Yuki also started from the pitlane today with a different strategy, with him starting on the hard tyres, he was able to do an extended stint on these, not coming in until lap 18 for the new tyre. I must say, Yuki also drove a really strong race and showed a good performance. He got stuck for some time behind Zhou but was able to overtake him on the last lap and finished in thirteenth. We hope now in the Netherlands to have a race weekend without any technical problems or PU changes so we can return to the performance that we had at the start of the season."
Jody Egginton, Technical Director: "Today's race has been quite eventful. Pierre's car had an issue on the grid, meaning it had to be returned to the garage and start from the pitlane alongside Yuki, who was already committed to a pitlane start. Once the race was underway, both drivers got down to the task of trying to move forward. Yuki put in some very solid stints to move towards the points, but ultimately was bottled up in the train of cars behind Albon and was not able to quite get into the points, which is disappointing as Yuki ran a good race here in Spa. With Pierre the gamble to run a shorter middle stint, and extending the last, was risky as it required a further step of tyre management, but it worked. This allowed him to escape the train behind and come home in a very solid ninth place. To be back to scoring points is very welcome, but we are still making it harder than it needs to be, so there is still plenty of topics to focus on ahead of next week's race."
Aston Martin Aramco Cognizant F1 Team
Sebastian Vettel (8th): "Eighth is a solid result. I was a little bit unlucky with the timing for the second stop. I came out just behind Pierre [Gasly] and lost a lap behind him, which allowed Esteban [Ocon] on new tyres to close down the advantage I had built up during the middle stint. Once again, we were more competitive in the race than in qualifying: we started strongly and I managed to find a decent rhythm. I was able to put pressure on both Alpines, and I think seventh might have been possible, but they were a bit too fast for us today. But we will bank these points."
Lance Stroll (11th): "It was a tricky day out there today, and we were so close to picking up a point. Things did not quite work out for us as we had hoped. Losing some positions early on made it tough, but we had some fun battles out there within the midfield. Later in the race we got stuck in a DRS train behind [Alex] Albon's Williams, and ultimately we came up just short. Our race pace was positive, however, and we are extracting good performance from the car when it matters most."
Mike Krack, Chief Operating Officer: "After qualifying yesterday we said that our aim would be to score points with both cars in today's race, and we very nearly achieved just that: Sebastian finished a fine eighth, and Lance ended up 11th, less than a second behind the 10th-placed finisher [Albon]. We started both cars on Mediums, then split the strategies [Vettel: Medium-Hard-Medium; Stroll: Medium-Medium-Hard]. Both drivers optimised the chances that those two strategies gave them, Lance in particular executing some impressive overtaking manouevres en route, and as I say we were only a whisker away from scoring points with both cars. From here we go straight to Zandvoort [Netherlands], where we will be hoping to add further to our World Championship points total."
Williams Racing
Alexander Albon (10th): "This was one of the tougher races I've done in my career and also one of my personal bests. We did the best job we could today and it's a good feeling. On the lap to the grid, it was clear that tyre degradation was going to be really high and hotter track temperatures than we have had the rest of the weekend made tyre wear worse. On the final stint I was thinking about three-stopping, but we held on, kept Lance [Stroll] behind and then it was about not making any mistakes. I think, as a whole, we executed the weekend from FP1 onwards well, maximised the positive of our car being quick on the straights, and made no mistakes. We experimented, made the best of the tyres in qualifying and maximised the results potential in the race, so I'm very happy. As a team, we had a complete weekend and that's what it shows; when you don't have the fastest car but you do everything right, you can still come away with a point or two."
Nicholas Latifi (18th): "I went a little off the line in turn six, there must have been a lot of marbles from the junior categories and I understeered right off. It felt like driving in the wet on slick tyres. I dipped the wheel in the gravel, and it spun the rear around which caught me by surprise quite a bit. I thought I would go straight into the gravel and come back on slowly, but Instead I spun across the track as a result and made contact with Valtteri [Bottas]. My race was compromised from there as that set of tyres we needed to make the two-stop strategy work were damaged. One to forget but we'll try and bounce back In Zandvoort."
Dave Robson, Senior Race Engineer: "Tyre degradation today was higher than we had anticipated, which meant at least two stops were required. Nicholas's race was largely determined by the collision with Valtteri [Bottas] early in the race, which required him to pit for a new front wing. His start set of tyres were also damaged and so we chose to complete two further stops using a Soft tyre for the final stint. Alex had a difficult start and lost places initially before recovering on the opening lap. We chose to pit him relatively early at each stop to give him the best chance of holding track position and using his straight-line speed advantage to defend. We asked a lot of him in the final stint and he was under a lot of pressure from the cars behind for whole of that stint. He drove very well and played his hand without fault to deliver another hard-earned point."
Alfa Romeo F1 Team ORLEN
Guanyu Zhou (14th): "Our pace was quite alright today, and despite starting from the back due to the penalty, the race has even been quite exciting, with lots of action going on. Unfortunately, I got stuck behind a Williams train towards the end of the race: they were way fast in sector one, making them hard to pass, and eventually, in the last four or five laps, I had no tyres left, so it was a bit difficult to keep up. In terms of results, we obviously wanted more from today, but we sacrificed this weekend for the engine change; hopefully in the upcoming ones we can start further up on the grid and score some good results."
Valtteri Bottas (DNF, Accident): "We had pace today and, with such a mixed-up grid, there could have been opportunities to get a good result, so it's disappointing to finish my race so early. It was a case of being in the wrong place at the wrong time: I saw Latifi spin towards the left, and all I could do was take evasive action to avoid a collision. Unfortunately, I spun on the grass and ended up stuck in the gravel: I tried to go forward and back, but couldn't move. It's not the birthday present I wanted, but hopefully I can still have some fun tonight, before we turn our focus on next week."
Frédéric Vasseur, Team Principal: "The team did a good job, given the circumstances: unfortunately, that was not enough for a point today. We knew that, taking power unit and gearbox penalties with both cars, we'd have a complicated weekend, but we can take heart from the pace we showed. Both drivers had a good shot at the points: unfortunately, Valtteri's race was over immediately, and Zhou got stuck in Albon's DRS train when in sight of the points. These things happen, we'll build on the pace and work hard to make sure we can maximise our results already in Zandvoort."
Haas F1 Team
Kevin Magnussen (16th): "I think we had an idea that this wasn't going to be such a strong weekend. This type of track isn't really our track so we tried what we could, but we didn't really have the pace today. All in all, it hasn't been the best of weekends, but we've got more running, collected more data and that will be useful going forward. I'm looking forward to the next race."
Mick Schumacher (17th): "It was tough, especially after the safety car restart to see those cars driving by. It was frustrating not having any top speed compared to the cars around us. On the other hand, it's great to be here and great to be driving in front of so many people, some German! I think it was circuit specific that we struggled this week but with Zandvoort coming up we should be in a better position where we should be able to fight for points again and also, we should have a better read on the upgrade where it's more comparable to Budapest. I expect us to go a bit forward and hopefully it will give us some points."
Guenther Steiner, Team Principal: "I'm quite disappointed with the result today but it was almost expected. On a high-speed track where we need low drag, our car is just not good enough this year. We'll try to make it up next week in Zandvoort where the car should be better suited to the race track like in Austria and Silverstone. We go away from here a little bit beaten up, but we are ready to come back again next weekend."