Belgian GP 2022
AUGUST 26, 2022
Friday Team Quotes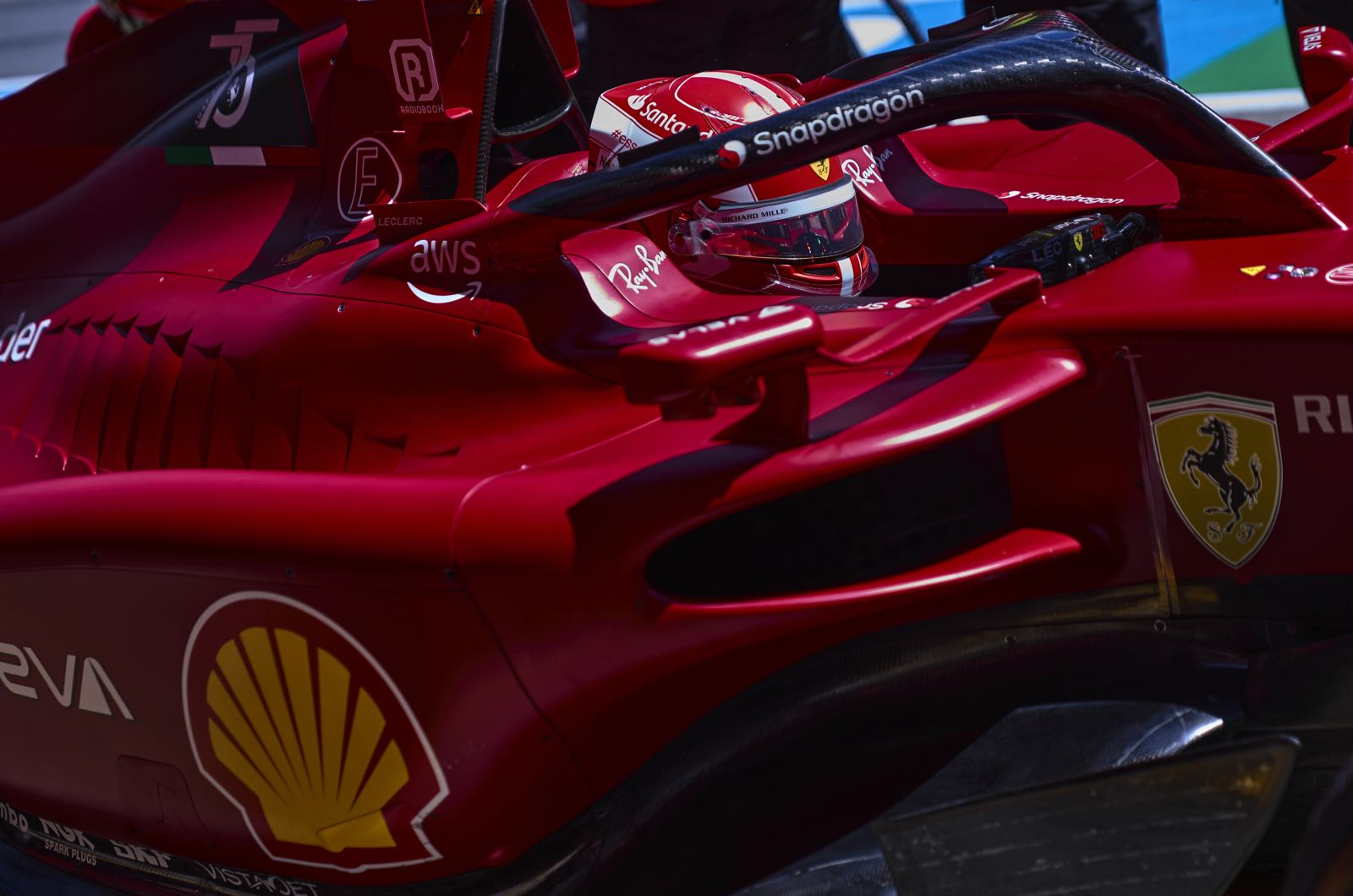 © Ferrari
Mercedes-AMG Petronas F1 Team
Lewis Hamilton (6th, 1:46.893): "We just weren't very quick today and I'm not sure why - it could be tyre temps, wing levels, a multitude of things. It doesn't feel disastrous out there, we're just a long way off. We've experienced that a few times this season on a Friday and then things improve on the Saturday, I hope that's the case this weekend. We've just got to work hard tonight, analyse the data to try and figure out how we get this car in a better place. The car doesn't feel the same as Budapest in terms of qualifying pace but it's not far off how it felt on the Friday so that gives me hope."
George Russell (8th, 1:47.042): "Tyre temperature is something we've struggled with this season and I struggled quite a lot on every compound today. In these conditions, it's definitely something we need to work on. But we know that once you get temperatures in the right window, you can find a huge amount of performance, so there's a little optimism there. We're pretty used to having bad Fridays so let's see if we can turn it around. I don't think there's any guarantee we can find the performance that we had in the last race but we'll be working flat out tonight to try and get on top of it. Totally different day tomorrow, conditions will be very different, hopefully warmer and drier so let's see what it brings. There's not much to compare here to Budapest - a low downforce track, cold and wet conditions, not many comparable settings you can carry over - but that's the unique thing about F1, every single time you go out you have different conditions and limitations to work around."
Andrew Shovlin: "Quite a messy day with a bit of a rain and a red flag but we were able to get a read on the main issues to work on overnight. Our single lap performance clearly needs a bit of focus, neither driver had a good feel for the Soft tyre and probably we're not getting it into the right window. There wasn't much useful learning on a long run given the conditions. We had the Hard tyre in the second session which was particularly difficult in the cool and damp but the Medium was working reasonably well in FP1. Clearly there is an opportunity with the number of cars that are taking penalties, but we do need to find a bit of pace overnight if we are to capitalise on that."
Oracle Red Bull Racing
Max Verstappen (1st, 1:45.507): "From the first laps we did today I could feel that the car was working well, so that's positive. Not much really changed throughout the sessions, we just looked at how we could set up the car in the best possible way and I think as soon as we went out, the car was looking pretty good. Of course, there are always things that we want to fine tune, like the balance, but we can work on that. When it started to rain, I of course didn't push as much, hopefully today was the worst of it so we should have some cleaner sessions."
Sergio Perez (10th, 1:47.346): "We didn't have the rhythm out there today and part of that was down to the conditions, but we also had a little issue with the rear wing, so we stopped for some time but that was resolved. Our time on track wasn't ideal today due to the weather, especially on the final lap of FP2 on the soft tyre when things were a bit on the damper side. As soon as you get a damp corner you fully lose the balance on the track and it is very hard to learn anything. We will see what we are able to pick up in the data but I think we are looking good and can be competitive, so we just have to make sure we get everything right for qualifying and the race. Driving on this track is always very enjoyable so I am looking forward to the rest of the weekend."
Scuderia Ferrari
Charles Leclerc (2nd, 1:46.369): "It feels good to be back in the car after the break. We completed a solid number of laps while running in variable conditions, with rain coming and going in different parts of the track. It's still difficult to determine the pecking order for this weekend, as all teams ran completely different programmes. Our main focus will be on race pace tomorrow, as qualifying will not be as relevant due to our penalty."
Carlos Sainz (5th, 1:46.649): "Overall it was a good Friday. In FP1 I felt comfortable with the balance of the car. For FP2 we tried some changes which didn't really work as expected and we lost the feeling a bit. However, I'm confident we know where to find the lap time for tomorrow and the long run pace was also ok, so I believe we are in a good place for the rest of the weekend."
McLaren F1 Team
Lando Norris (3rd, 1:46.589): "A reasonable first day back and it was good to get back out there. There are a few different parts on the car this weekend, so I think just understanding those and understanding the lower downforce configuration was good. Obviously having the power unit grid penalties this weekend, we were trying to focus more on the race, rather than qualifying. Today was more about optimisation, which hopefully will pay off more come Sunday but overall, a fairly good day."
Daniel Ricciardo (9th, 1:47.255): "It was ok today. We were expecting a wet day and it wasn't that wet, so we got mostly dry running, so I think it was solid. There are a few points on track which we can improve on, but I think it's clear where they are. It's now just trying to optimise the set-up and figure it out as we can go in one of two directions, so we can decide which direction's best tonight. It's nice to be back on track, it was dark and kind of miserable weather, but yesterday it was beautiful, so hopefully it's sunny and that it'll be even cooler for qualifying and the race."
Andrea Stella, Racing Director: "Both practice sessions today at Spa-Francorchamps were affected by the weather, which is not a surprise here. We were well-prepared for it but nonetheless, it did impact our programme, which was aimed at understanding the tyres, choosing our best aerodynamic configuration and mechanical set-up. We have gathered useful information this afternoon and will pull it together this evening to prepare us, as much as possible, for qualifying tomorrow and Sunday's Belgian Grand Prix. Obviously Lando has taken a power unit penalty at this event and will be starting from the back of the grid – but he has shown good pace today, and we are optimistic he can make up positions."
BWT Alpine F1 Team
Fernando Alonso (7th, 1:46.975): "Firstly, it's good to be back! Driving Formula 1 cars in Spa-Francorchamps always gives you adrenaline, so it was a fun Friday. The circuit changes are not too different to before, just with the safer run-off areas. We didn't have stable weather conditions to test the tyres, so we still have a couple of things to assess tomorrow in Free Practice 3. The car feels quite good to drive here, so hopefully we should be in for another competitive weekend."
Esteban Ocon (16th, 1:47.944): "It's great to be in the car again after the summer break and it's always a nice feeling to drive this classic track. As far as our Friday was concerned, it was not a straightforward day. We had a driveshaft issue early in Free Practice 1, so we missed most of the session and Free Practice 2 was disrupted with the weather so we couldn't really execute a smooth programme. All in all, we definitely have work to do but we have gathered enough data today to work well ahead of tomorrow. There's more to come from us."
Pat Fry: "Both of today's sessions have been affected by the weather, which made it difficult for everyone across the field to get through their programmes. As far as we can tell in these conditions, our upgrades are performing as expected and our times look promising. In the morning Esteban had an issue, which we investigated and fully understand, and it should not affect us for the rest of the weekend. We are also taking a complete Power Unit change on Esteban's car, as a number of other teams are: the length of the track and its configuration minimises the impact. With little rain predicted for the rest of the weekend we can look forward to a cleaner Saturday and Sunday."
Scuderia AlphaTauri
Yuki Tsunoda (13th, 1:47.658): "It's been an ok day, the conditions weren't great, but still I think we've managed to gather a lot of good data. We've had some traditional Spa weather here today, with rain in only one section of the track, so it's been quite tricky, but I like this circuit and I've really enjoyed the day. After the summer break it was great to just be back out in the car, having fun driving and getting back into the rhythm. In FP2 we made a good step forward, but it wasn't enough. We know there's some areas we can work on tomorrow to make a bigger improvement for Quali and the race."
Pierre Gasly (14th, 1:47.782): "It felt good to be back driving after the summer break. Liam was obviously in the car for the first session, so I tried to give him a few tips before he headed out and help him where I could. It's a great experience for a young driver, being able to get out in an F1 car for a proper session and I think he really enjoyed it. As for my session, it's not been that easy, having missed FP1, but I think we've still managed to gather some good data. We've got quite a lot to work on, I'd like to make some changes to the balance ahead of tomorrow, so we'll review everything tonight and look at the best solutions, but I'm pleased with how the day has gone overall. There's quite a few drivers starting from the back for the race, so for sure we need to try and make the most out of these opportunities and aim to be as far up the grid as possible."
Liam Lawson: "I've enjoyed getting to drive the car around such an iconic track, it's been a crazy experience. The car was great to drive, the limit is so much further than I was ready for, it took a bit of time to get used to that, but I think I built up the pace steadily on the Hards and was ready to push on the Softs at the end, so it's a bit of a shame I didn't get the opportunity to really go for it. I want to say a big thank you to Scuderia AlphaTauri and Red Bull for giving me this opportunity. It's been really cool spending the weekend with the team, it's a crazy step up from F2. There's so many more people than I'm used to, but having this opportunity is really great for us young drivers so we can understand what it's like in an F1 team and learn as much as we can. I've loved every second of today and am extremely appreciative for this opportunity."
Jonathan Eddolls, Chief Race Engineer: "It was great to welcome Liam back to the team, with him taking over the FP1 testing duties in Pierre's AT03. The conditions were not straightforward for his session - cold temperatures, hard tyres, damp track, a Red Flag and rain at the end of the session - but he kept his head down and completed all of the work we asked of him. He did a good job. Yuki's focus was based around some aero testing and also to evaluate the new rear wing we have brought for this event. Moving to FP2 our aim was to improve the balance, which was understeer limited. We made good steps, but there is still more work to do for tomorrow. The light drizzle at the end of the session limited the long run data we could all gather, so we will head into Sunday with less tyre information than usual, but it's the same for everyone and could help present some opportunities, particularly in light of the fact that many drivers are taking PU penalties."
Aston Martin Aramco Cognizant F1 Team
Lance Stroll (4th, 1:46.635): "It felt good out there today and the lap-times looked good as well. We tried all the tyre compounds, and the performance felt decent across all three. We do not know what the weather will bring tomorrow, so it is really tricky to figure out where we will be when qualifying comes around, but I am hopeful we will be in the mix for some good points this weekend."
Sebastian Vettel (15th, 1:47.867): "It is always great to drive at Spa – even in today's changeable conditions. I struggled a little bit in the second session – I did not really feel very confident with the car – but I am pretty sure tomorrow will be better. The sessions were mostly dry, but it was more about trying to find a feel with the car today. We will have a proper look at the data tonight and I am sure we will take a step forward for tomorrow."
Williams Racing
Alexander Albon (11th, 1:47.520): "The new track changes and tarmac is helping us by giving a little bit more grip. I think we're in a good place. Balance wise we're more or less there. Still a bit of work to do for tomorrow but for a Friday it's been pretty good."
Nicholas Latifi (19th, 1:48.612): "Overall, nice to be back behind the wheel after the summer break. We got off to a good start in FP1, but FP2 was a bit different with some mixed track conditions so maybe not the most productive running for everyone all round. We'll see if we can make some minor changes and keep building in FP3."
Dave Robson, Senior Race Engineer: "It was a fairly typical Spa day with a near constant mizzle and the occasional heavy shower. Whilst this disrupted our plans a little, we were able to adapt much of the programme and complete most of our key tests. The new parts that we brought for the front and rear wings were tested and showed no concerns and they are now available to the race engineers to deploy as required during the rest of the weekend. Alex and Nicky both coped well with the changing conditions today and were able to learn a lot about the car and the changes to the circuit. We expect the track to be a little different tomorrow as the weather returns to drier and warmer conditions, but much of what we discovered today should still be relevant."
Alfa Romeo F1 Team ORLEN
Guanyu Zhou (12th, 1:47.617): "It felt good to get back in the cockpit after the summer break; the car felt quite ok on this low-downforce track. Everything was working well today and I felt pretty good in the car: as always, though, there are a few bits that need to be fixed ahead of tomorrow, but I feel confident so far at the end of day one. We tried different setups between FP1 and FP2, as the day was about figuring out the best and biggest changes on the car, to have it at its best for quali tomorrow and for the race on Sunday. Everything seemed to go quite smoothly today, so hopefully this weekend we can take a step up from the past few races and get back to our previous form."
Valtteri Bottas (18th, 1:48.419): "I was satisfied with the balance of the car, even though we obviously missed out on a session and we had to play catch-up in the rest of the day. The main limitation today was the grip levels, especially when I switched to the hard tyres, which are a big step from the soft: it's nothing to worry about, though, I fully expect to figure it out tomorrow with a few more laps. We had a hydraulic leak in the first session and rain compromised the running towards the end of FP2, so hopefully we can get a bit more track time in the final practice session. We need a clean day to finish what we couldn't do today."
Haas F1 Team
Kevin Magnussen (17th, 1:48.208): "We had an issue and had to stop but we changed it for FP2 and had no further issues. I got a bit of running in FP1 so didn't lose out too much and then it started raining so it's fine. FP2 was ok in low-fuel but I didn't really get any running on high-fuel because it started raining just enough to make it irrelevant, so we still have some question marks on high-fuel. The car felt ok on quali runs and we just need to as always find a bit more pace and work on things tonight."
Mick Schumacher (20th, 1:49.941): "It was mixed conditions out there so with the upgrade it was hard to feel a big difference and we're on a very different track compared to Budapest, but it felt good. We obviously focused on different things compared to Kevin but we still learned a lot on track, and I enjoyed driving every minute out there so looking forward to tomorrow."
Guenther Steiner, Team Principal: "It was not an easy day today knowing that Mick is starting from the back of the field, so we ran a completely different program for him. Kevin had an issue with his energy storage unit in FP1 and the team did a good job to get him ready for FP2. It was a little bit of a mixed session, it wasn't perfect, but normally in FP1 and FP2 we're running a little bit behind but we'll make sure tomorrow we get back to where we want to be."