Belgian GP 2021
AUGUST 27, 2021
Friday Report - Split Honors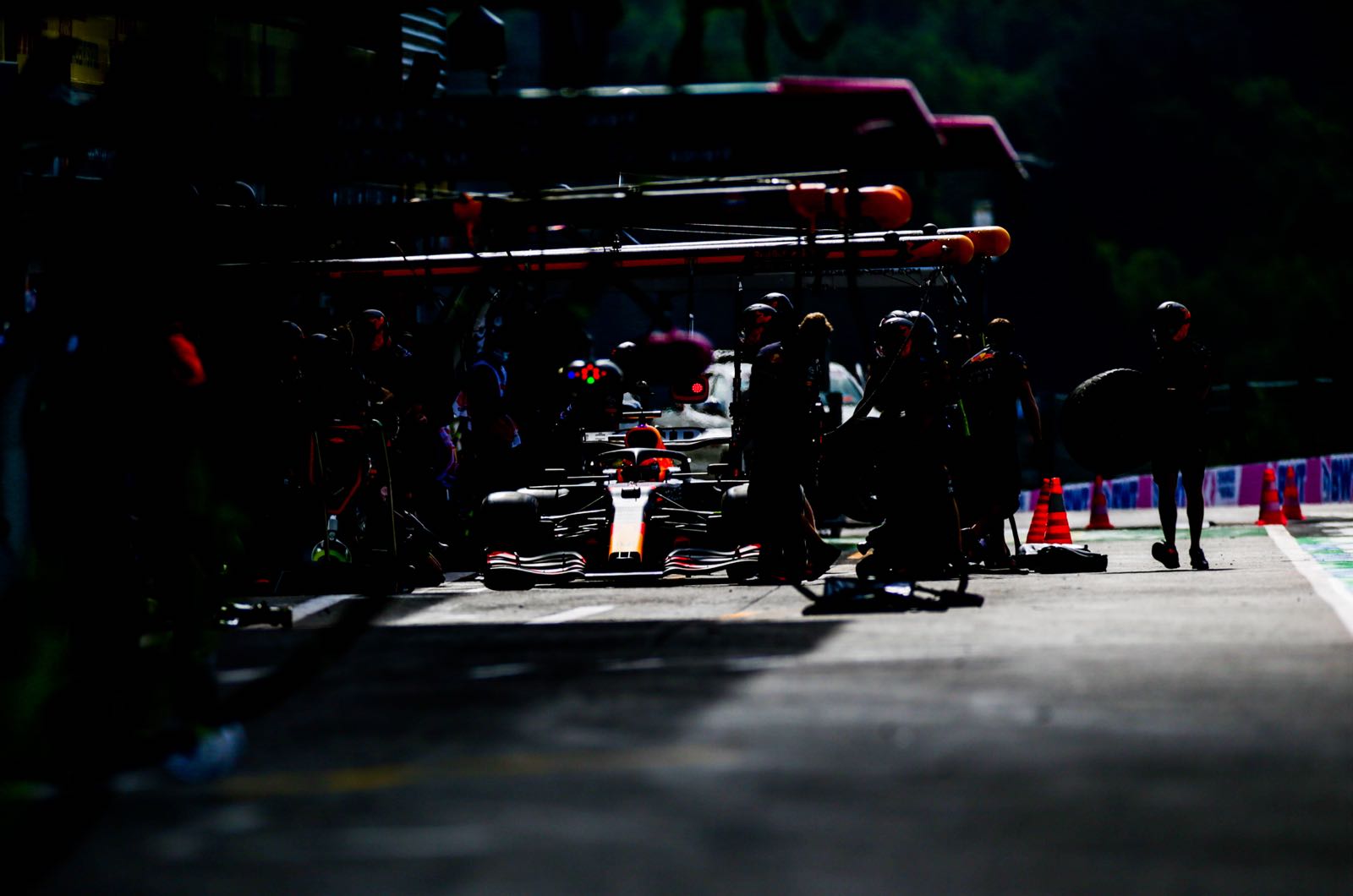 © Red Bull
By Dan Knutson
Mercedes and Red Bull split the honors in Friday's practice sessions for the Belgian Grand Prix, with Valtteri Bottas fastest in FP1 and Max Verstappen in FP2. Verstappen crashed at the end of FP2.
The line-up for the weekend was: Mercedes – Lewis Hamilton and Valtteri Bottas; Red Bull Honda – Max Verstappen and Sergio Perez; McLaren Mercedes – Lando Norris and Daniel Ricciardo; Aston Martin Mercedes – Lance Stroll and Sebastian Vettel; Alpine Renault – Fernando Alonso and Esteban Ocon; Ferrari – Charles Leclerc and Carlos Sainz; AlphaTauri Honda – Yuki Tsunoda and Pierre Gasly; Alfa Romeo Ferrari – Kimi Raikkonen and Antonio Giovinazzi; Haas Ferrari – Nakita Mazepin and Mick Schumacher; Williams Mercedes – George Russell and Nicolas Latifi.
FP1 started with a wet track that dried as the session wore on. Bottas was fastest at 1:45.199.
FP2 started with the track still damp but not enough to warrant the intermediate Pirelli wet tires as the racing line was drying.
The ambient temperature at the start of the 60-minute FP2 session was 59 degrees Fahrenheit (15 degrees Centigrade) and the track temperature was 68 degrees Fahrenheit (20 degrees Centigrade).
Norris, on the hard compound slicks, clocked the first time – 1:48.219 and then improved that to a 1:47.138. About half the drivers waited in the pits for the first 10 minutes.
But now, with more cars on the drying track, the times started to come down. Bottas clocked a 1:44.513, and Hamilton a 1:44.544. Both were on the medium compound slicks. Verstappen, also on the mediums, slotted into third at 1:45.127, which he improved to 1:44.597.
Just before the midpoint of FP2 the Mercedes drivers headed out on the soft compound Pirelli tires. Hamilton set a 1:44.898, so he did not improve. Neither did Bottas. Both Merc drivers were running reduced power modes.
Alonso jumped up to fourth ahead of Stroll and Gasly. Verstappen's run on the softs yielded a 1:44.472 and first place. Hungarian Grand Prix winner had a spin with 20 minutes remaining.
Red flags came out with 17 minutes remaining when Leclerc crashed at Turn 6. Most drivers had been doing their race simulations, and they resumed doing that when the session was restarted with 10 minutes to go. Just about all the drivers immediately headed out.
Then, with three minutes remaining, the session was red flag and not restarted when Verstappen crashed at Turn 7.
The top 10 at the end of FP2 were: Verstappen, Bottas, Hamilton, Alonso, Gasly, Stroll, Ocon, Vettel, Norris and Perez.