Belgian GP 2020
AUGUST 28, 2020
Friday Report - No Orange Army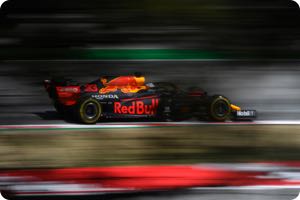 By Dan Knutson
Red Bull driver Max Verstappen clocked the quickest time in Free Practice 2 for the Belgian Grand Prix. But the Orange Army – his legions of Dutch fans – were not there to cheer for him as no spectators were permitted at the Spa-Francorchamps circuit.
The line-up for the weekend was: Mercedes – Lewis Hamilton and Valtteri Bottas; Ferrari – Sebastian Vettel and Charles Leclerc; Red Bull Honda – Verstappen and Alexander Albon; McLaren Renault – Carlos Sainz and Lando Norris; Renault – Daniel Ricciardo and Esteban Ocon; AlphaTauri Honda – Daniil Kvyat and Pierre Gasly; Racing Point Mercedes – Sergio Perez and Lance Stroll; Alfa Romeo Ferrari – Kimi Raikkonen and Antonio Giovinazzi; Haas Ferrari – Romain Grosjean and Kevin Magnussen; Williams Mercedes – George Russell and Nicolas Latifi.
Bottas topped FP1 with a time of 1:44.493, which was just 0.069 of a second faster than Hamilton.
Nobody rushed out when the FP2 session began. The track may have been damp in places after a light rain earlier in the day.
The ambient temperature at the start of the 90-minute session was 61 degrees Fahrenheit (16 degrees Centigrade) and the track temperature was 7 degrees Fahrenheit (22 degrees Centigrade).
Then, 11 minutes into FP2, Giovinazzi ventured out. He has completed just two laps in FP1 due to mechanical difficulties. Raikkonen joined him.
Others got going as well, including Ocon, Ricciardo, Bottas and Gasly. Ocon clocked a 1:45.445. Albon beat that with a 1:45.212.
Bottas clocked a 1:44.658 as the session reached the 24 minute mark. Perez slotted into second, 0.035 of a second slower, and Hamilton took third.
A couple minutes later Verstappen took over first place with his 1:44.354.
At the 30 minute mark the top 10 were: Verstappen, Hamilton, Bottas, Stroll, Perez, Albon, Ocon, Ricciardo, Sainz and Kvyat.
At the 38 minute mark all 20 drivers were in the pits. And then Bottas and Hamilton headed out on the soft Pirelli compound tires to do a slow warmup lap prior to their qualifying sims.
Bottas turned a 1:44.662, which briefly put him first, but Hamilton passed him with a 1:43.840. And Albon took second and Perez third, so Bottas was knocked down to fourth.
Just past the midpoint of FP2, Verstappen retook the lead with his 1:43.744 while Ricciardo jumped up to second.
With just over 30 minutes remaining, and after most drivers had done a qualifying lap, the order was: Verstappen, Ricciardo, Hamilton, Albon, Perez, Bottas, Norris, Ocon, Sainz and Gasly.
Last year's winner Leclerc was down in 15th, as he and the other drivers with Ferrari power were struggling for pace. Vettel was back in 17th.
"Stop the car, Daniel, stop the car," the team radioed to Ricciardo. He duly parked the Renault on the Kemmel straight with 22 minutes remaining. The car had lost hydraulic pressure.
During the latter third of FP2 the drivers switched to long run race simulations.
Thirteen minutes remained when the session was red flagged. Debris in Turn 1. An advertising hoarding on the barrier had come loose. Workers quickly removed it. The session was restarted with nine minutes to go.
At the end of FP2 the order remained: Verstappen, Ricciardo, Hamilton, Albon, Perez, Bottas, Norris, Ocon, Sainz and Gasly.