Belgian GP 2019
SEPTEMBER 1, 2019
Race Notes - Leclerc takes first victory at Spa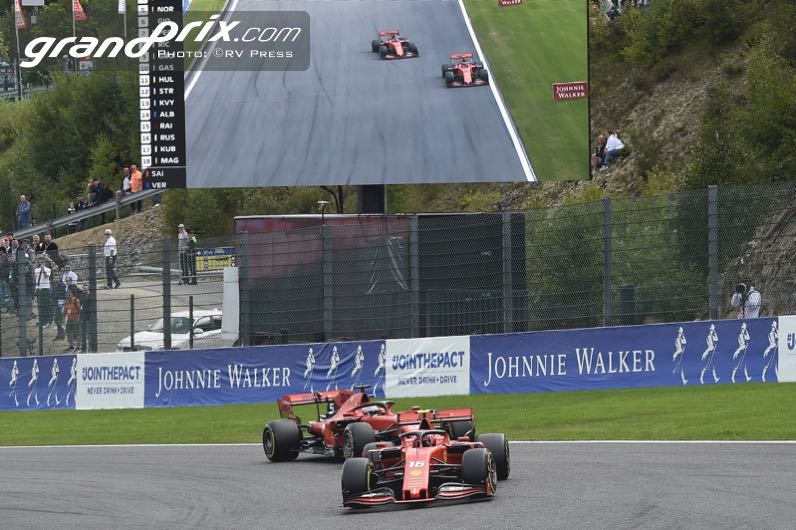 © RV Press
By Mark Karp
Charles Leclerc took a dominant first win at the Belgium Grand Prix today in his Ferrari, 0.9 seconds ahead of a charging Lewis Hamilton in his Mercedes GP in second, with his team mate Valtteri Bottas (12.5s) in third place.
Leclerc said after the victory, "It's very difficult, I would like to dedicate my first win to Anthoine. We grew up racing together with Esteban. I cannot enjoy fully my first victory, but it is a memory I will treasure forever."
It is Leclerc's maiden F1 victory, after leading several races earlier in the season. He is the 108th Grand Prix winner in history. It is Ferrari's first win since Kimi Raikkonen's win in Austin last year.
Hamilton contineus to lead the drivers world championship over Bottas, Verstappen and Vettel. Mercedes continues to lead Ferrari and Red Bull in the constructors championship.
Sebastian Vettel (26.4s) finished fourth in the second Ferrari, followed by Alex Albon (1m21.3s) in the Red Bull-Honda in fifth, a career best finish, Sergio Perez (1m24.4s) in the Racing Point in sixth, Daniil Kvyat (1m29.6s) in the Toro Rosso-Honda in seventh, Nico Hulkenberg (1m46.6s) in the Renault in eighth, Pierre Gasly (1m49.1s) in the second Toro Rosso was ninth, and Lance Stroll (1m49.8s) in the second Racing Point took the final point in tenth place.
Leclerc took his third pole position of the season, and will start with his Ferrari team mate Vettel alongside on the front row. Hamilton and Bottas in the Mercedes start on row two, Verstappen and Raikkonen on row three, Perez and Magnussen on row four and Grosjean and Ricciardo round out the top ten. New Red Bull man Albon will start in 17th place.
A minute of silence before the start for F2 driver Anthoine Hubert, who died of injuries on Saturday.
The teams anticipating dealing with cooler temperatures than during the earlier part of the weekend, and a 40% of rain to keep things interesting. Most of the field starting on soft tyres.
At the appointed time the grid came around, the lights went out and the race began with polesitter Leclerc in the lead, Sainz stalls, Vettel goes wide at La Source, and Hamilton goes into second. Up the hill Vettel passes Vettel and retakes second place. Raikkonen and Verstappen touch in the first corner, and then with a damaged front track rod, Verstappen slides into the barriers at Eau Rouge - the safety car is out.
Raikkonen limps back to the pits and they change his front wing. Ricciardo has contact and pits.
Under the safety car, Leclerc leads Vettel, Hamilton, Bottas, Norris, Grosjean, Magnussen, Perez, Gasly and Stroll in tenth place.
Sainz pulls to the side of the track and retires - the field stays under safety car for another lap.
At the start of lap 4 the race restarts with Leclerc leading Vettel, Hamilton and Bottas. Vettel locks up going into La Source. Bottas makes a run at Hamilton up the hill, but can't get past.
Hulkenberg gets past Albon for 13th.
Perez is chasing Magnussen for seventh place.
Hamilton tells Mercedes that "Vettel is not that quick."
On lap 7 Vettel sets fastest lap at 1m49.459s.
Perez makes a try to pass Magnussen, but does not have enough.
On lap 8 Leclerc sets fast lap at 1m49.452s.
On lap 10 Perez passes Magnussen for seventh.
At lap 10 Leclerc leads Vettel by 2.4s, followed by Hamilton (3.4s), Bottas (5.8s), Norris (13.0s), Grosjean (15.7s), Perez (19.2s), Gasly (21.9s), Magnussen (23.2s) and Stroll (24.5s) in tenth. Albon runs 14th (27.3s).
On lap 11 Bottas sets fast lap at 1m49.342s.
Hamilton is closing slowly on Vettel.
Gasly passes Magnussen for eighth, then Stroll gets past Magnussen as well.
On lap 12 Leclerc sets fast lap at 1m49.004s.
Albon passes Ricciardo for 13th.
On lap 13 Leclerc sets another fast lap at 1m48.917s.
On lap 14 Gasly pits and switches to medium tyres and rejoins in 16th.
On lap 15 Albon passes Magnussen for 11th. Stroll pits for medium tyres and rejoins in 17th.
On lap 16 Vettel pits from second place and takes on medium tyres and rejoins in fifth. Perez pits for medium tyres and rejoins in 13th.
Ricciardo passes Magnussen for tenth.
Vettel passes Norris for fourth place.
Mercedes looks ready to pit Hamilton, but he stays out.
Perez and Gasly pass Raikkonen up the hill for 12th and 13th.
On lap 17 Vettel sets fast lap at 1m47.087s.
Hulkenberg passes Raikkonen for 14th.
Vettel is now 16 seconds behind Leclerc, and will probably get into the lead when he pits.
Gasly and Magnussen touch, and Magnussen goes wide at the chicane.
On lap 20 Norris pits from fifth for medium tyres and rejoins sixth.
Norris passes Kvyat for fifth.
At lap 20 Leclerc leads Hamilton by 4.1s, followed by Bottas (8.3s), Vettel (14.7s), Norris (43.2s), Kvyat (44.1s), Giovinazzi (43.5s), Albon (45.2s), Ricciardo (47.4s) and Grosjean (48.3s) in tenth.
On lap 22 Leclerc pits from the lead for medium tyres and rejoins in fourth behind Vettel.
The next lap Hamilton pits from the lead for medium tyres and rejoins in fourth, behind Leclerc. Bottas leads from Vettel, Leclerc and Hamilton.
On lap 23 Bottas pits for medium tyres and rejoins in fourth behind Hamilton.
Leclerc sets fast lap at 1m46.664s, and then again the next lap at 1m46.580s.
Kvyat pits for soft tyres and rejoins in 13th.
Leclerc closes to a second behind Vettel in the lead.
On lap 25 Bottas sets fast lap at 1m46.551s.
Ferrari tells Vettel to let Leclerc by, and Leclerc retakes the lead goinginto La Source on lap 27.
Perez passes Ricciardo into the chicane for seventh place.
Vettel asks if they will pit again, Ferrari says no, but Vettel says they will not last all the way to the finish.
On lap 27 Bottas sets fast lap at 1m46.465s.
Hamilton has closed to under a second behind Vettel.
Giovinazzi pits for medium tyres and rejoins in 14th.
At lap 30 Leclerc leads Vettel by 4.8s, followed by Hamilton (5.5s), Bottas (9.5s), Norris (40.3s), Perez (56.5s), Ricciardo (1m03.5s), Grosjean (1m04.1s), Kvyat (1m06.4s) and Gasly (1m08.5s) in tenth.
On lap 31 Hamilton gets alongside Vettel at the chicane but can't get the place, but makes the pass for second place in DRS up the hill. Leclerc now leads Hamilton by 6.3 seconds.
Albon passes Gasly for tenth place.
Kubica pits for soft tyres.
Bottas is now closing on Vettel in third place.
On lap 33 Vettel pits, switching to soft tyres and rejoins in fourth.
On lap 34 Albon passes Ricciardo for eighth.
At lap 35 Leclerc leads Hamilton by 6.9 seconds, followed by Bottas (11.4s), Vettel (30.6s), Norris (49.7s), Perez (1m07.1s), Kvyat (1m18.9s), Albon (1m19.3s), Ricciardo (1m26.3s), and Gasly (1m27.5s),
On lap 36 Vettel sets fast lap at 1m46.409s.
On lap 37 Albon passes Kvyat up the hill for seventh place.
Norris is complaining of a strange feeling lockup as he runs fifth.
At lap 40 Leclerc continues to lead Hamilton by 3.9 seconds, followed by Bottas (5.9s), Vetttel (25.8s), Norris (57.6s), Perez (1m25.4s), Albon (1m29.9s), Kvyat (1m36.5s), Giovinazzi (1m37.5s) and Gasly (1m41.9s) in tenth place.
Hulkenberg and Stroll pass Grosjean for 12th.
On lap 42 Hulkenberg and Stroll get past Ricciardo for 11th.
On the last lap Leclerc leads Hamilton by just over one second.
On the last lap Giovinazzi goes in barriers. Norris stops on the start-finish straight. Albon and Perez battling hard - Albon taking to the grass.
At the flag Leclerc takes his first grand prix win over Hamilton and Bottas.
On the cool down lap Leclerc says, "This is for Anthoine, it feels good but difficult to enjoy on a weekend like this."
The podium is a muted affair, with no champagne being sprayed.
Hamilton said, "The Ferraris were just too fast on the straights, we couldn't keep up with them. Congratulations to Charles on his first win, he's had it coming all year," says Hamilton, whilst joking that while 44 is his lucky number, he needed more than 44 laps today to get the job done."