Belgian GP 2019
SEPTEMBER 1, 2019
Race Analysis - Bittersweet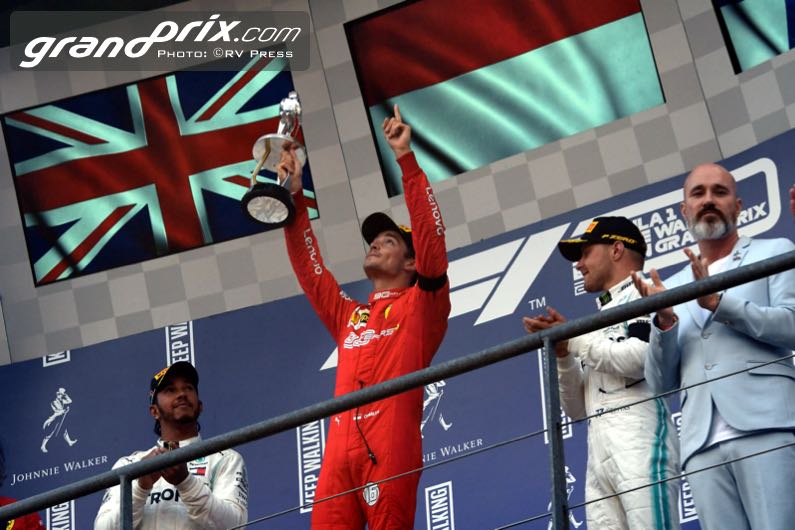 © RV Press
By Dan Knutson in Spa-Francorchamps
The agony of having his good friend Anthoine Hubert die in a Formula 2 accident the day before he earned his first ever Formula 1 race victory left Charles Leclerc with mixed emotions on the weekend of the Belgian Grand Prix. Here is how his bittersweet weekend unfolded.
THE JOY OF THREE
On Saturday afternoon Leclerc earned his third F1 pole position. He shared the front row of the grid with his Ferrari teammate Sebastian Vettel.
ROW TWO
The Ferraris had had the edge over the Mercedes cars on the flowing Spa-Francorchamps circuit. Lewis Hamilton and Valtteri Bottas filled row two.
FAN FAVORITE
Tens of thousands of Dutch fans packed the track to cheer for their hero Max Verstappen who qualified his Red Bull fifth. Kimi Raikkonen (Alfa Romeo) joined him on row three.
FORMULA 2
The first of two Formula 2 races started shortly after the end of F1 qualifying on Saturday.
NASTY
A nasty accident exploded on the second lap of the race. Hubert lost his life. Juan Manuel Correa suffered leg injuries.
HALTED
The race was red flagged and not restarted. At 6:35 p.m. doctors at the track medical center pronounced that Hubert had passed away as a result of his injuries.
SHOCKED
Race fans and those in the paddocks at the track were in shock. But none more so than Hubert's family, and his close friends Leclerc, Pierre Gasly and Esteban Ocon.
PAYING TRIBUTE
There was a minute's silence before the Formula 3 and Formula 1 races on Sunday to pay tribute to Hubert. The Formula 2 race had been canceled.
AND HE IS AWAY
Leclerc made a clean getaway to take the lead ahead of Vettel, Hamilton, Bottas and Lando Norris (McLaren).
FAN FRUSTRATION
Those thousands of Dutch fans were frustrated when Verstappen's race ended with not one but two tangles with Raikkonen.
"It was of course not a great end to the weekend, but it's not the worst thing that can happen in life as we have seen yesterday," said Verstappen who was also a friend of Hubert's. "I got a poor start; the reaction was not great and then I got wheelspin when I released the clutch. I tried to stay on the inside into Turn 1 but I think Kimi expected to be fully ahead of me and just followed his line.
"I don't think you can blame anyone and I guess he just didn't see me, once I was next to him and he was turning then we couldn't back out. We touched, my track rod was broken so I went straight on into the barrier at Eau Rouge and the race was over."
EARLY STOP
All the front runners had started the race on Pirelli's soft compound slicks. Vettel pitted early, after 15 laps, to switch to the medium compound tires.
FIVE MORE
Leclerc stayed out for five more laps before making his stop.
IN THE LEAD
So now Hamilton led for two laps and pitted.
SEB'S AHEAD
Vettel took over first on lap 23.
THE SWITCH
Ferrari asked Vettel and Leclerc to switch places on lap 27. Vettel was slowing on his older tires, so the best way to protect a win for the team was to let Leclerc go into the lead.
CORRECT
That proved to be the correct strategy as Vettel would fade back to fourth.
We have to understand why my car had such high tire degradation," Vettel said, "and we will do a full analysis of the situation to understand the reasons why I did not feel comfortable. It was definitely not a great weekend for me, but it was a great weekend for the team and that's the main thing. So congratulations to all the guys in the team and well done to Charles for his first win!"
THE FORCE
Hamilton finished a close second.
"I gave it absolutely everything I had," he said. "Ferrari were a very strong force but for us to be that close at the end means there are plenty of positives to take. I'm happy for Charles, he did a fantastic job all weekend so congratulations to him."
A TOUGH WEEKEND
"It's been a tough weekend for everyone after yesterday's sad news," Bottas said after finishing third. "I was trying as hard as I could out there but not many opportunities came my way. The race pace felt okay, but Ferrari were stronger on the straights as we expected. I was maybe lacking a bit at the end of the first stint with tire drop off but the second stint was strong. However, there was no other opportunity for me to attack before the end of the race, so we decided to save the engine and the gearbox."
THE BITTERSWEET END
Thus the race ended with Leclerc winning in his 34th F1 start.
"Very difficult to enjoy this win with the situation we have had yesterday," he said, "but overall it is just a dream come true. Since I was a child, I've been looking up to Formula 1, dreaming to be first a Formula 1 driver, which happened last year, and then driving for Ferrari this year and then the first win today.
"It's a good day but on the other hand, losing Anthoine yesterday brings me back to 2005, my first ever French championship. There was him, Esteban, Pierre, myself and we were four kids that were dreaming of Formula 1. We've grown up together in karting for many, many years and to lose him yesterday was a big shock for me but obviously for everyone of motorsport.
"It was a very sad day and, as I said, very difficult to enjoy it fully today, but hopefully in two or three weeks I will realize what happened today."