Belgian GP 2019
AUGUST 31, 2019
Qualifying Report - The Triple Cemented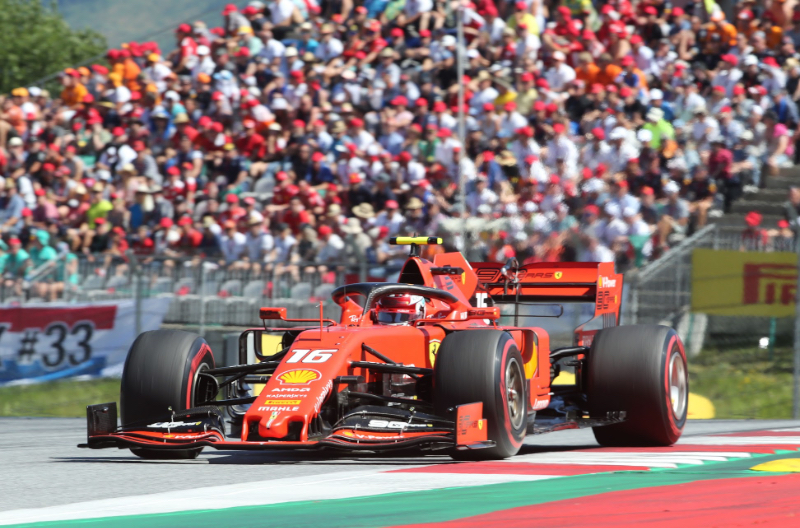 © RV Press
By Dan Knutson in Spa-Francorchamps
Charles Leclerc cemented his third pole position of the season and his Formula 1 career after clocking a faster lap time than his Ferrari teammate Sebastian Vettel during qualifying for the Belgian Grand Prix.
The line-up for the weekend was: Mercedes - Lewis Hamilton and Valtteri Bottas; Ferrari - Vettel and Leclerc; Red Bull TAG Heuer -Max Verstappen and Alexander Albon; Renault - Daniel Ricciardo and Nico Hulkenberg; Haas Ferrari - Romain Grosjean and Kevin Magnussen; McLaren Renault - Carlos Sainz and Lando Norris; Racing Point Mercedes - Sergio Perez and Lance Stroll; Alfa Romeo Ferrari - Kimi Raikkonen and Antonio Giovinazzi; Toro Rosso Honda - Daniil Kvyat and Pierre Gasly; Williams Mercedes - George Russell and Robert Kubica.
Leclerc was fastest in FP3 with a time of 1:44.206.
A number of drivers would be taking grid penalties for getting new gearboxes or power unit components. Included on the list were: Albon, Sainz, Hulkenberg, Kvyat, Stroll and Ricciardo.
QUALIFYING 1
The ambient temperature at the start of the session was 84 degrees Fahrenheit (29 degrees Centigrade) and the track temperature was 108 degrees Fahrenheit (42 degrees Centigrade).
It was hot at the back of Kubica's car as well which was smoking and caught fire. He parked it out on the track. That brought out the red flags five minutes into the session.
After 10 minutes - the clock does stop during a red flag period in qualifying but it does not in free practice - the session was restarted. All but Kubica were soon on track.
Hamilton crashed in FP3, but now the Mercedes mechanics had a bit of extra time due to the red flag to get his car repaired in time for Q1.
"Problem!" Verstappen radioed as he did a slow lap time. Not so for Hamilton who posted a 1:45.260. But Bottas beat that with a 1:45.141. And Leclerc smashed that with a 1:43.587.
After the first runs the order was: Leclerc, Vettel, Bottas, Abon, Ricciardo, Giovinazzi and Grosjean.
With three minutes remaining in the session, Gasly was 15th and on the cutoff line for advancement to Q2. Norris was 14th and Sainz was 16th.
The Ferrari drivers stayed in the pits while the rest of the drivers tried their luck with one more run.
Verstappen leaped from 18th to third.
But a red flag with 43 seconds to go - Giovinazzi's engine had blown up - ruined the laps of many of the other drivers who were about to start or were on their fast laps. The session was not restarted.
The five drivers who were eliminated at the end of Q1 were: Gasly, Sainz, Kvyat, Russell and Kubica.
The fastest 15 drivers who moved on to Q2 were: Leclerc, Vettel, Verstappen, Bottas, Hamilton, Albon, Ricciardo, Giovinazzi (actually not), Grosjean, Perez, Magnussen, Raikkonen, Hulkenberg, Stroll and Norris.
QUALIFYING 2
Q2 lasted 15 minutes, and it didn't take long for the 14 drivers - no Giovinazzi - to get into action.
Verstappen turned a 1:44.132, but was surpassed by the Mercedes drivers who in turn were surpassed by the Ferrari drivers: Leclerc - 1:43.376, and Vettel - 1:43.506.
So after the first runs the orders was: Leclerc, Vettel, Hamilton, Bottas, Verstappen, Raikkonen, Ricciardo, Perez, Stroll, Magnussen, Hulkenberg, Grosjean, Norris and Albon.
Given the length of the Spa-Francorchamps circuit there would only be time for two fast runs during the session.
Leclerc improved to 1:42.938 to retain the top spot. Vettel's 1:43.037 held him in second place. Hamilton, Bottas, Ricciardo, Verstappen, Raikkonen, Hulkenberg and Magnussen rounded out the top 10 moving to Q3.
The five drivers who were eliminated at the end of Q2 were: Grosjean, Norris, Stroll, Albon and Giovinazzi.
QUALIFYING 3
Q3 lasted 12 minutes. So, again, only time for two fast laps.
There was a traffic jam as a number of drivers queued up to on their out lap.
After the first round of those laps, Leclerc's 1:42.644 put him in the lead ahead of Hamilton, Vettel, Bottas, Verstappen, Ricciardo, Perez, Raikkonen, Magnussen and Hulkenberg.
Another traffic jam ensued on the out lap with two Mercedes cars, two Ferraris and a Red Bull.
After the second run, Leclerc's improved time of 1:42.519 cemented his third F1 pole.
Vettel took second with Hamilton third and Bottas fourth. Verstappen, Ricciardo, Hulkenberg, Raikkonen, Perez and Magnussen rounded out the top 10.