Belgian GP 2019
AUGUST 31, 2019
Practice 3 Report - Leclerc fast as Hamilton crashes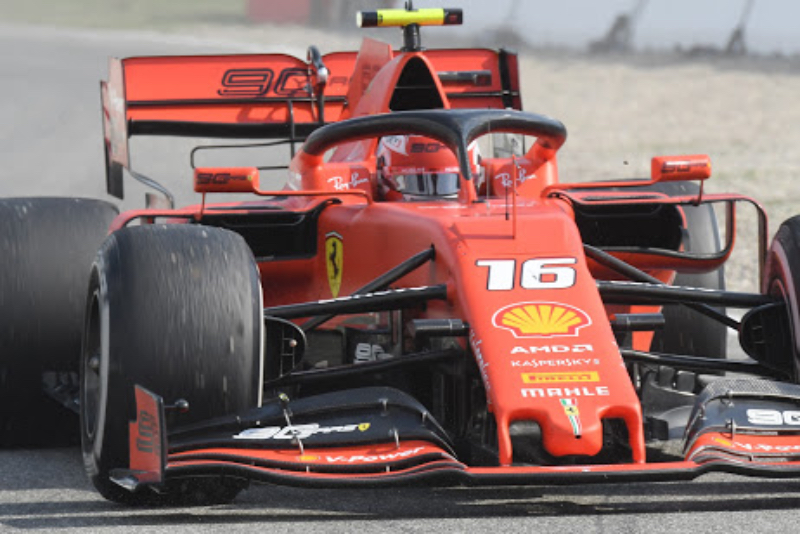 © RV Press
By Dan Knutson in Spa-Francorchamps
Ferrari driver Charles Leclerc clocked the fastest lap time in Free Practice 3 for the Belgian Grand Prix. Lewis Hamilton, meanwhile, crashed his Mercedes during the session.
The line-up for the weekend was: Mercedes – Hamilton and Valtteri Bottas; Ferrari – Sebastian Vettel and Leclerc; Red Bull TAG Heuer –Max Verstappen and Pierre Gasly; Renault – Daniel Ricciardo and Nico Hulkenberg; Haas Ferrari – Romain Grosjean and Kevin Magnussen; McLaren Renault – Carlos Sainz and Lando Norris; Racing Point Mercedes – Sergio Perez and Lance Stroll; Alfa Romeo Ferrari – Kimi Raikkonen and Antonio Giovinazzi; Toro Rosso Honda – Daniil Kvyat and Alexander Albon; Williams Mercedes – George Russell and Robert Kubica.
The Ferraris were comfortably faster on Friday, and Leclerc clocked the best time: 1:44.123.
"Despite our good positions in free practice, we do have to stay realistic and expect our rivals to be very competitive Saturday," he said. "Our qualifying pace was strong today, but we still have some work ahead of us in improving it over the long runs. If we are quick on the straights, we will hopefully have some good opportunities for overtaking on Sunday, which is a positive."
Norris and Raikkonen kicked off FP3.
The ambient temperature at the start of the 60-minute session was 79 degrees Fahrenheit (26 degrees Centigrade) and the track temperature was 93 degrees Fahrenheit (34 degrees Centigrade).
Only 11 drivers did an install lap in the first 10 minutes.
Kubica completed the first flying lap – a 1:50.877 – 14 minutes into the session.
And now more drivers were flying, including Leclerc who clocked a 1:44.879 on Pirelli's soft compound tires. Vettel then beat that with his own 1:44.657.
One-third of the way through FP3 there was still no sign of Verstappen, Stroll, Perez, Bottas and Hamilton. But a few minutes later they got going.
Everybody was on the soft compound Pirellis except for Norris who was on the mediums.
Bottas turned a 1:45.216 on his first flier, which put him third ahead of Hamilton, Perez and Raikkonen as midpoint of the session approached.
The red flags came out with just over 28 minutes remaining.
"I'm on the wall guys, sorry," Hamilton radioed.
He had buried the nose of the Mercedes into the tire barriers after losing control of the car at Les Fagnes. He climbed out.
The order at the time was: Vettel, Leclerc, Bottas, Hamilton, Perez, Ricciardo, Verstappen, Raikkonen, Stroll and Hulkenberg.
The clock continued to click down, and 13 minutes remained when the track was clear and the session restarted. So now there was a rush for the other drivers to get their qualifying simulations completed.
Leclerc certainly was in a rush as he set a time of 1:44.206, 0.451 of a second faster than Vettel. With eight minutes remaining every driver except Hamilton was on track.
Verstappen jumped up to fourth. Then his former teammate Ricciardo swiped the place away from him.
The top 10 at the end of the crash-shortened session were: Leclerc, Vettel, Bottas, Ricciardo, Verstappen, Perez, Hamilton, Raikkonen, Giovinazzi and Gasly. Albon ended up 20th.
Qualifying began just two hours later, so the Mercedes mechanics had lot of work to do in a short time on Hamilton's crashed car.