Belgian GP 2019
AUGUST 30, 2019
Practice 2 Report - The switch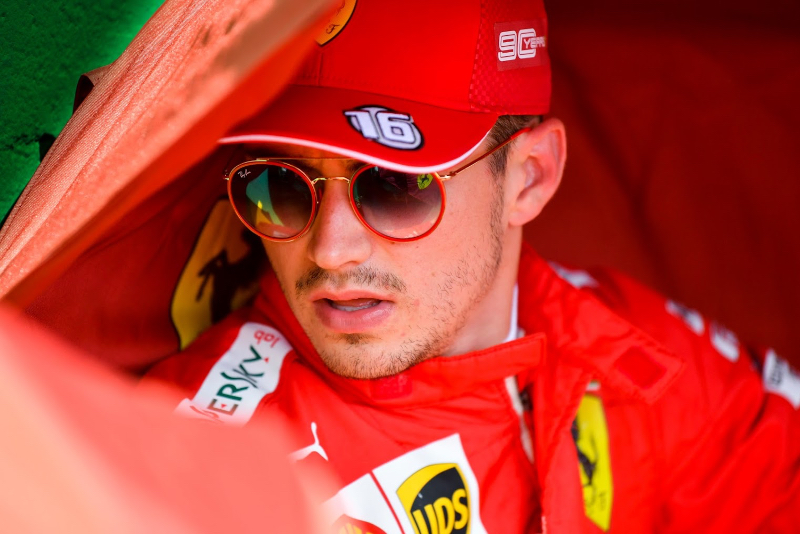 © RV Press
By Dan Knutson in Spa-Francorchamps
Ferrari topped Free Practice 2 for the Belgian Grand Prix just as it had in FP1. But the Scuderia's drivers switched positions as Charles Leclerc, second in FP1 behind Sebastian Vettel, took over first in FP2. While the Mercedes drivers were a bit closer than they had been in FP1, Valtteri Bottas and Lewis Hamilton were still nearly nine-tenths of a second slower than the Ferraris.
The line-up for the weekend was: Mercedes – Hamilton and Bottas; Ferrari – Vettel and Leclerc; Red Bull TAG Heuer –Max Verstappen and Pierre Gasly; Renault – Daniel Ricciardo and Nico Hulkenberg; Haas Ferrari – Romain Grosjean and Kevin Magnussen; McLaren Renault – Carlos Sainz and Lando Norris; Racing Point Mercedes – Sergio Perez and Lance Stroll; Alfa Romeo Ferrari – Kimi Raikkonen and Antonio Giovinazzi; Toro Rosso Honda – Daniil Kvyat and Alexander Albon; Williams Mercedes – George Russell and Robert Kubica.
Vettel's lap of 1:44.574 in FP1 was nearly a second clear of Verstappen, who was in third and the first non-Ferrari driver.
Magnussen and Grosjean were the first out in FP2.
The ambient temperature at the start of the 90-minute session was 75 degrees Fahrenheit (24 degrees Centigrade) and the track temperature was 104 degrees Fahrenheit (40 degrees Centigrade).
Magnussen did a 1:48.560. Vettel chopped that down to a 1:46.069. Leclerc sliced that off to 1:45.377. All three were on the medium compound Pirelli slicks as were most of the other drivers.
Perez slotted into third. Racing Point was poised to announce his confirmed contract for 2020.
Then, 20 minutes into the session, Hamilton claimed second and Bottas third, which pushed Vettel down to fourth ahead of Perez, Hulkenberg and Ricciardo.
A few minutes later Verstappen moved into second place with a lap a mere 0.017 of a second slower than Leclerc. But then Verstappen radioed that something in his engine had switched off and he had lost power. He headed for the pits.
After 30 minutes the order was: Leclerc, Verstappen, Hamilton, Bottas, Vettel, Perez, Hulkenberg, Albon, Ricciardo and Giovinazzi. The top 18 drivers had all set their times on the medium compound Pirellis. Only the two, and slowest Williams cars, had been on the soft slicks.
All 20 drivers were now in the pits preparing for their qualifying simulations on the soft tires. Grosjean and Magnussen, followed by Vettel, were the first out in qually mode.
Vettel got down to a 1:44.753 to take over first place. Bottas could not beat that on his run, which was 0.216 of a second slower. Neither could Hamilton, who was 0.262 of a second slower.
But Leclerc could as he slammed in a 1:44.123, which was 0.630 of a second better.
Albon's attempt landed him in eighth place, which later became 10th.
Verstappen, sixth, had yet to do a soft run. But he started out on that exactly halfway through FP2. And he stayed sixth having failed to improve his time.
So the order was Leclerc, Vettel, Bottas, Hamilton, Perez, Verstappen, Raikkonen, Stroll, Ricciardo and Albon with 40 minutes remaining. And once again most of the drivers were in the pits, but now it was to prepare for race run sims on used soft and medium compound tires in the last part of the session.
Perez came to a smoking halt out on the track, fire seeping from the rear of the car, with five minutes remaining. And that ended the day for the fifth fastest driver. And it ended the day for the rest of the drivers as FP2 was red flagged.