Belgian GP 2019
AUGUST 30, 2019
Practice 1 Report - First by a second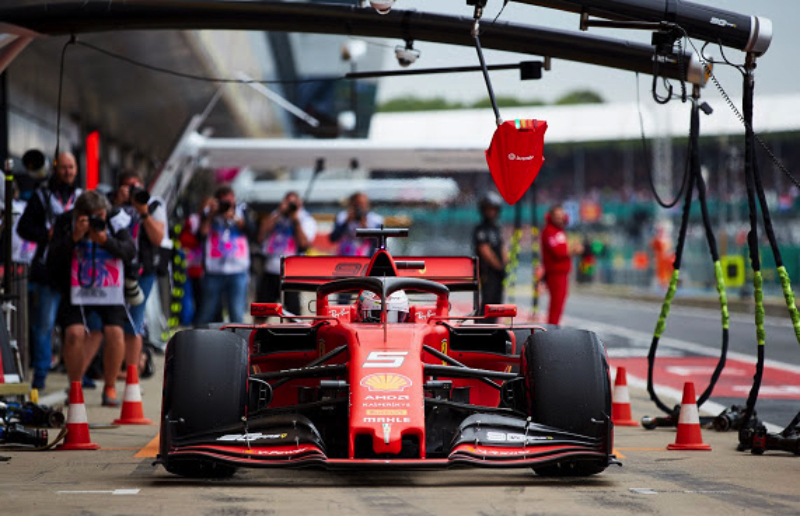 © RV Press
By Dan Knutson in Spa-Francorchamps
Sebastian Vettel clocked the fastest lap in Free Practice 1 for the Belgian Grand Prix. His Ferrari teammate Charles Leclerc turned the second fastest time. Vettel was nearly a full second faster than Max Verstappen who wound up third in his Red Bull Honda. In his first practice session with Red Bull Albon did a solid job to take the fourth spot.
The line-up for the weekend was: Mercedes - Lewis Hamilton and Valtteri Bottas; Ferrari - Vettel and Leclerc; Red Bull TAG Heuer - Verstappen and Albon; Renault - Daniel Ricciardo and Nico Hulkenberg; Haas Ferrari - Romain Grosjean and Kevin Magnussen; McLaren Renault - Carlos Sainz and Lando Norris; Racing Point Mercedes - Sergio Perez and Lance Stroll; Alfa Romeo Ferrari - Kimi Raikkonen and Antonio Giovinazzi; Toro Rosso Honda - Daniil Kvyat and Pierre Gasly; Williams Mercedes - George Russell and Robert Kubica.
The changes, of course, compared to the first 12 races of the season, were that Gasly and Albon have now switched teams.
And, for FP1 only, Nicolas Latifi drove Russell's Williams.
Ironically, Stroll is not a big fan of the 19-turn 4.352-mile (7.004 km) Spa-Francorchamps circuit.
"Spa has never been my absolute favorite circuit," Stroll said, "which is quite unusual because I know most drivers love racing there.
"It's obviously a legendary track with some special corners and it's very high-speed. Eau Rouge is the corner everybody talks about, but it's a flat-out corner these days so you just need to be very precise to carry as much speed through it as possible. Getting a clean exit out of turn one is also really important because you're on full throttle all the way up the hill to Turn 5.
"It's another home race for me because my mother is from Belgium so in that sense it's a bit more special for me. I'd love to kick off the second part of the year with a strong result."
Local hero Verstappen (his mother his also Belgian) was the first out on track. Everyone save Bottas and Hamilton soon joined him.
The ambient temperature at the start of the 90-minute session was 66 degrees Fahrenheit (19 degrees Centigrade) and the track temperature was 81 degrees Fahrenheit (27 degrees Centigrade).
Fifteen minutes into the session the Mercedes duo finally did the install lap. Bottas continued for a second lap while Hamilton slowly drove back to the pits.
"I lost power," Hamilton radioed.
Bottas clocked the first flying lap at 2:04.174, but Latifi blasted that with a 1:50.884. But Bottas got up to speed on his fourth lap and posted a 1:47.535 on the medium compound Pirelli slicks. Stroll, also on the mediums, beat that as he did a 1:47.444.
Kvyat had a quick spin at the La Source hairpin but avoided any trouble.
Ricciardo used the soft Pirelli's to get a 1:47.790. Everyone but Hamilton was on track as the half-hour mark approached.
Verstappen was now second ahead of Leclerc, Stroll, Bottas and Hulkenberg.
The Virtual Safety Car was deployed when the whole right-side engine cover detached itself from Stroll's car and broke to bits on the track at the top of the hill.
Once things got back up to speed, Verstappen took the lead when he turned a 1:45.803 using the softs. His new teammate jumped up to third place, albeit 1.1 seconds than Verstappen. And now Hamilton was back out for a second lap.
At the 40-minute break, when the drivers must return a set of tires to Pirelli, the top 10 were: Verstappen, Ricciardo, Albon, Bottas, Leclerc, Hulkenberg, Vettel, Sainz, Stroll and Perez.
Sainz was the first and only one to go back out. He leapfrogged to second with a time of 1:46.557. Then others got into the act including Hamilton who went out for his third lap of the session.
Ricciardo took over second only to be replaced by Albon. And this time Albon was just 0.281 of a second slower than Verstappen.
But then right at the one-hour mark the Ferrari drivers struck. Vettel did a 1:44.574 and Leclerc a 1:44.788 for a Ferrari one/two. On the soft compound Pirellis.
Verstappen improved to a 1:45.507 and Albon to a 1:45.584, so they were second and third. Bottas was fifth. Hamilton moved from last to 10th to sixth. The Merc drivers were using the medium tires. Everybody else had set their times on the softs.
The second-faster Vettel stayed in front of Leclerc at the end of FP, followed by Verstappen, Albon, Bottas, Hamilton, Stroll, Ricciardo, Perez and Sainz.