Belgian GP 2018
AUGUST 25, 2018
Practice 3 Report - It needs to click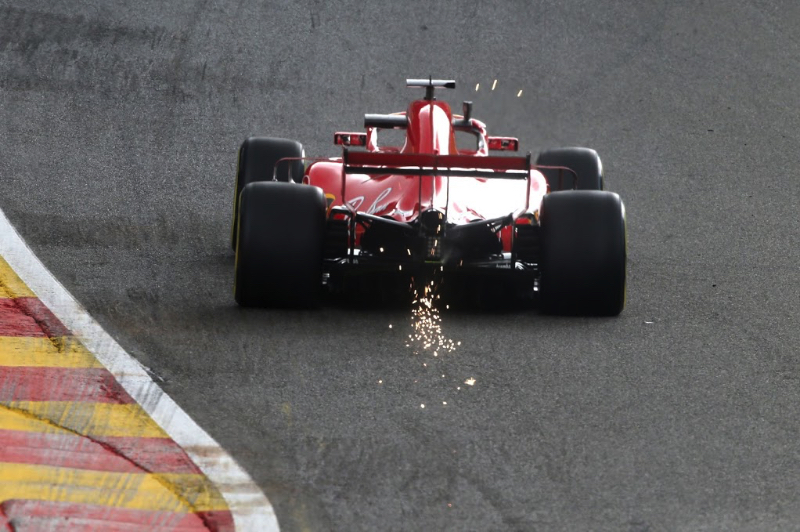 © RV Press
By Dan Knutson
Sebastian Vettel was only fourth quickest in practice on Friday while his Ferrari teammate Kimi Raikkonen topped the times. But Vettel was confident that he could find more speed in his car on Saturday. And indeed he did just that as he narrowly beat out Raikkonen to clock the fastest lap time in Free Practice 3 for the Belgian Grand Prix.
"We have a bit of margin; there's quite a bit more in the car," Vettel said Friday. "I need to make sure I get to it Saturday. Here is important that you are confident to get the right timing as there isn't much time to think about when to turn in and so on because the cars are quite fast. It needs to click. On one lap (for me today) it didn't click. But overall, it's going in the right way."
The line-up for the weekend was: Mercedes – Lewis Hamilton and Valtteri Bottas; Ferrari – Vettel and Raikkonen; Red Bull TAG Heuer – Daniel Ricciardo and Max Verstappen; Racing Point Force India Mercedes – Sergio Perez and Esteban Ocon; Williams Mercedes –Lance Stroll and Sergey Sirotkin; McLaren Renault – Fernando Alonso and Stoffel Vandoorne; Renault – Nico Hulkenberg and Carlos Sainz; Toro Rosso Honda – Brendon Hartley and Pierre Gasly; Haas Ferrari – Romain Grosjean and Kevin Magnussen; Sauber Ferrari – Marcus Ericsson and Charles Leclerc.
Raikkonen was fastest on Friday, turning a time of 1:43.355 on the super soft Pirellis.
Grosjean was the first out on Saturday. Rain overnight had washed the track, and the skies now were a mixture of sun and dark clouds.
The ambient temperature at the start of the 60-minute session was 52 degrees Fahrenheit (11 degrees Centigrade) and the track temperature was 68 degrees Fahrenheit (20 degrees Centigrade).
Raikkonen got quickly back up to speed with a time of 1:43.425 on the super soft compound Pirellis. The other compounds for the weekend were the soft and medium. Vettel was second and 0.444 of a second slower 15 minutes into the session.
A few minutes later Hamilton, on the softs, got within 0.098 of a second of Raikkonen. Bottas was now third ahead of Vettel.
Verstappen and Ricciardo had yet to post a time 25 minutes into FP3, but when they finally did so they slotted into fifth and sixth.
As the midpoint of the session approached, many of the drivers began to prepare for their qualifying simulations on the super soft Pirellis. But it would be a while before the big guns did their laps.
Vettel did a run and got within 0.033 of a second of Raikkonen who had posted a 1:42.734. Hamilton moved into third, 0.064 of a second off the top time.
After a cool down lap the drivers tried another fast lap. Raikkonen improved his time by 0.010 of second. But Vettel got down to a 1:42.661 to take the lead by 0.063 of a second over his Ferrari teammate.
Hamilton was third, 0.137 of a second slower than Vettel. And Bottas was fourth ahead of Verstappen and Ricciardo.
But the Red Bulls had yet to do their qualifying sims with 15 minutes remaining.
Then the session was red flagged with nine minutes remaining as Vandoorne spun on the Kemmel Straight after going onto the grass disputing the same piece of track with Bottas.
Only two minutes remained when the session restarted. There was a long line of drivers waiting to get out to try for one last fast lap.
Vettel and Raikkonen remained one/two ahead of Hamilton/Bottas. Verstappen improved his time as did Ricciardo, but they remained fifth/sixth. Leclerc was the best of the rest, and Perez, Hulkenberg and Ocon rounded out the top 10.